* Please note that while this speaker's specific speaking fee falls within the range posted above (for Continental U.S. based events), fees are subject to change. For current fee information or international event fees (which are generally 50-75% more than U.S based event fees), please contact us.
Top25 Speaker Voting

Glen Hiemstra needs 6 vote(s) to make it into the Top 25 speakers on Speaking.com!
Speaker Booking Tip
"Tip: speakers bureaus can provide: speaker fee negotiation, insurance, smooth logistics and value add-ons such as extra sessions. "
For Event Planners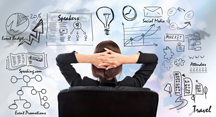 • Keynote Speaker Booking Toolkit.
• Booking a Celebrity Speaker.
• How to Find and Book the Right Speaker.
• Google+ Event Planning Forum.
• Tips for International Clients Booking U.S. Based Speakers.
Similar Speakers
Rowan Gibson

Leading innovator and futurist, Rowan Gibson is widely regarded as one of the most important business innovation thought leaders in the world. Among the labels…

Gerd Leonhard

Listed by WIRED Magazine as one of the top 100 most influential people in Europe , Gerd Leonhard helps organizations prepare for the many "Megashifts"…

Kenneth Gronbach

Kenneth W. Gronbach is a nationally recognized expert in the field of Demography and Generational Marketing who uses his research and quick wit to transform…

Everyone at your speakers agency were professional and helpful throughout the process, making it easy to book, communicate, and prepare for our event.
Hewlett Packard
About SPEAKING.com
Established in 1994, we are exclusive agents for some of the world's leading experts, celebrities and professional speakers.
We offer event planners a fully staffed speaker logistics planning team, plus a personal SPEAKING.com Account Executive – a knowledgeable and trustworthy partner. We guarantee your satisfaction with your speaker and a smooth booking process.
Contact us today to book your favorite speaker.

"Thank you for speaking at our customer advisory meeting. Our customers thoroughly enjoyed your presentation. There wasn't a person in the room who couldn't identify with one of your scenarios. I hope you will come back and speak to our group in the future."
S. Marcus,
Lexis Nexis

"Your keynote presentation to the Aging conference was insightful and right on target. And as moderator you guided the policy maker panel to highlight key points in this critical topic."
T. Wade,
Andrew Young School for Public Policy

"This is the most inspired that I have been since graduate school, when Gene Roddenberry came to speak about the future and Star Trek!"
Audience member comment after Glen spoke in San Diego

"As usual your presentation was stimulating and very provocative. All the Kyocera comments I received, from both our senior management in the States as well as Japan were positive and complimentary. You certainly have a way of opening people′s minds and at the same time, being very entertaining."
R. Collins,
VP Sales,
Kyocera

"The way you turned the often presumptuous crystal-ball gazing process into a realistic, logical outlook on society and technology evolution was remarkable. Your effervescent, witty style reminded me of BBC's James Burke, creator and host of the TV series, The Day the Universe Changed and Connections."
M.Cavalli,
Olivetti Technost

"Thank you for your hard work in making our Solutions World Sales Conference a huge success. The feedback on your keynote was extremely positive. I'll be sure to recommend you to anyone looking for an informative, enlightening and entertaining presentation."
R. Choco,
Marketing Development Manager,
Attachmate

"I have received more positive feedback from your presentation than any other I have been involved with."
D. Kunigonis,
Manager,
Boeing Airplane Company

"Thank you for a Suuupppeeerrr job! Everyone commented on what an interesting and thought provoking keynote you gave at our Conference. You could have heard a 'pin drop' from start to finish."
D. Cole,
Assoc. of Mortgage Brokers,
Western States Conference

"I have known Glen professionally for years, and have seen him working with large and small groups, and he has an almost-mystical ability to bring groups together and inspire them. He is also rather brilliant. I would recommend him without reservation."
Mark R. Anderson, President,
Technology Alliance Partners
Strategic News Service (TM)

"I have heard many speakers on many topics in my years as an association executive, and can say without exaggeration that your presentation, Beyond 2001, was one of the most interesting programs I've heard in a long, long while. The content was fascinating, attention-holding, challenging, meaningful and was delivered in a down-to-earth, easy style."
B. Derr,
Sheet Metal and Air Conditioning Contractors of North America

"Two years after your speech we still talk about the concepts we heard that day. That's impressive."
Hospital Executive

"Every person evaluating the conference gave you the highest rating possible. Never in my 7 or 8 years has anyone received such a high rating."
T. Palmer,
Association Executive,
WOIS

"Glen, your 'story-telling' method of presentation is marvelous. Your stories make it safe for the audience to think about the future in a way that doesn't make it overwhelming. We loved you."
B. Wood,
New Horizons for Public Managers

"Thanks for the outstanding job you did at the High Technology and the Future of the American Economy conference. People are still talking about the stimulating presentation you made. If I can reciprocate, just whistle."
Congressman Jack Buechner

"One of the best presentations yet! Glen was a real person. He was obviously intelligent and professional, but what was different — he was real."
R. Kissler,
Manager
Hewlett- Packard Company

"I enjoyed your speech — the more so because of the spirited and extemporaneous delivery!"
A. Wilson,
Director International Public Relations
McDonnell Douglas
Millennial City: How a New Generation Can Save the Future

This book is about cities and young people and how their future is bound up together. In the way that we envision and build and modify and retrofit the cities of the future we can unlock the mystery of whether we are, quite literally, going to make it or not. Canadian sustainability futurist and expert Dennis Walsh, and American futurist and Founder of Futurist.com Glen Hiemstra observe that our great human migration to urban areas continues, and that city life is especially attractive to the youth of today. The vitality and promise of the Millennial Generation and those who will follow is not lost on cities, which compete aggressively to attract them to live and work in metro areas.


Turning the Future Into Revenue: What Business and Individuals Need to Know to Shape Their Futures
DISCOVER THE FUTURE OF BUSINESS

In Turning the Future into Revenue, Glen Hiemstra, founder of Futurist.com and noted expert on emerging business opportunities, explores how our changing world will transform private enterprise and public policy. From shifting demographics to global warming to new energy policies, change is coming. Turning the Future into Revenue shows how these new realities can be turned into profitable new ventures.

Some of the topics Hiemstra discusses include:


Five long-term trends you should be prepared for

Global warming and the urgent need for green business

Profiting from technology and energy trends

Predicting the future of your business or career

Hedging your bets on future business

Ten key practices of the future-oriented enterprise

Future planning exercises, tools, and activities

Tactics for forecasting the future

Shaping your career for future success


Order Here



Beyond 2025: The Shape of Things to Come
Glen's updated keynote, offering a sweeping and entertaining overview of the key trend areas shaping the next decade and beyond: demographics, technology, the knowledge-based economy, and the next energy revolution. The predictable but often surprising nature of the future is explored. Listeners are challenged both to wake up to the future and to take the creation of a preferred future into their own hands. Specific developments that are noted, depending on customization to the audience, include telepresence, nanotechnology, 3D communication and entertainment, consumer and brand trends, the real situation with oil and energy, aging and youth demographic trends, confronting the great divides in society, environmental challenges and green business opportunities, and biotech advances that offer the hope of longer and healthier lives. This speech inspires listeners to develop successful strategic leadership and to create the future. Full of surprises, this customizable keynote offers a balanced view of the future, and a hopeful vision for the rest of the 21st Century.
Lessons from the Future – Navigating the New Economic Era
This is a keynote tuned to the 2010 economic realities. Glen was one of the earliest voices to warn of an impending economic collapse, more than a year before it happened. In this keynote Glen explores how we got here, and then moves to the the real question, now that we're here, is how do we move forward? He lays out a vision for a preferred future based on revised values, innovation and new technology. Acting wisely now can lead to a future that is more sustainable, of higher quality, and happier than what has come before. Glen believes that we have a rare opportunity to create a world that works. It may not be our father's recession, but it can become our children's renaissance.
Our Disruptive and Electric Future
Three technologies are on exponential development curves that will, sooner than almost anyone anticipates, disrupt the global market and open new business opportunities to those who see the future coming. The three technologies are exponential growth in solar energy along with decreasing cost, exponential developments in artificial intelligence and the Internet of Things, and the soon to begin explosive growth of intelligent, driverless (or robotically driven) vehicles, primarily autos but including drones large enough to carry humans and cargo.
Everyone is aware of these developments, but most people still tend to imagine them as a kind of science fiction future that may emerge several decades from now. However, in this presentation we learn why these developments will disrupt the traditional energy business, city development, and the transportation industry in the quite near future.
Other Popular Programs:
Creating the Preferred Future
The Future of Marketing in a Data Flow Culture
21st Century Healthcare
The Future of Transportation
Create a Custom Program
We learn about your industry and apply our targeted futures research toward a vision of the future that will specifically address the special interests of your audience. Past examples include The Future of: global trade, workforce, human resources, public works, cities and communities, bioethics, technology, computing and the internet, insurance, housing and real estate, construction trades, education, manufacturing, banking and financial services, global investing, philanthropy.

Keynote Speech
Glen Hiemstra jumpstarts minds with a single question: "What does your image of the future look like?" Delving deeper, he analyzes how our conceptions, desires, and fears of the future ultimately play a heavy hand in molding the present.
For example, great innovators like Steve Jobs, Bill Gates, and Henry Ford were driven to create game-changing technology because when they imagined the future, they envisioned those devices and a reality ultimately altered because of them. "If you want to change the world today, change the future," Glen recommends.
Glen Hiemstra, Futurist: Keynote at Landmark Solutions Innovation Forum
Glen Hiemstra, Futurist: Keynote at Lundbeck Global Conference