* Please note that while this speaker's specific speaking fee falls within the range posted above (for Continental U.S. based events), fees are subject to change. For current fee information or international event fees (which are generally 50-75% more than U.S based event fees), please contact us.
Top25 Speaker Voting

Gary Vaynerchuk needs 7 vote(s) to make it into the Top 25 speakers on Speaking.com!
Speaker Booking Tip
"Tip: find a speaker in your local area to save on travel costs. Most speakers will also reduce their keynote fee for local events. "
For Event Planners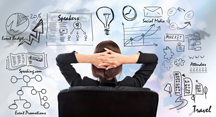 • Keynote Speaker Booking Toolkit.
• Booking a Celebrity Speaker.
• How to Find and Book the Right Speaker.
• Google+ Event Planning Forum.
• Tips for International Clients Booking U.S. Based Speakers.
Similar Speakers
Kris Jenner

Years before Kris Jenner became a nationally recognized figure on Keeping Up With the Kardashians, she was already a master of marketing, presentation, and making…

Kris Jenner

Years before Kris Jenner became a nationally recognized figure on Keeping Up With the Kardashians, she was already a master of marketing, presentation, and making…

Richard Sherman

Arguably the best cornerback in the league, Richard Sherman crafted a global name for himself within three years of getting drafted by the Seattle Seahawks…

THANK YOU for your consistent communication, organization, and hard work. It truly has been a pleasure partnering with you too, we would love to stay connected with you for future events.
National Human Resources Association
About SPEAKING.com
Established in 1994, we are exclusive agents for some of the world's leading experts, celebrities and professional speakers.
We offer event planners a fully staffed speaker logistics planning team, plus a personal SPEAKING.com Account Executive – a knowledgeable and trustworthy partner. We guarantee your satisfaction with your speaker and a smooth booking process.
Contact us today to book your favorite speaker.

"I just wanted to let you know that Gary was amazing at our Symposium last week. It was the best guest speaker we have ever had at an event. People are still talking about it. He was so sincere and engaging with every person who approached him."
Sitecore
"It was amazing. I have had much of the audience tell me Gary was the best outside speaker over the two days. He 'crushed it!'"
VP North America Merchandising, Nike
"Gary was great. He provides a fresh counterpoint to the majority of speakers out there."
Salesforce.com
"He was awesome, awesome, awesome. Best speaker ever. I am so grateful that he did this for us and that you made it happen. Thank you!"
RE/MAX Prestige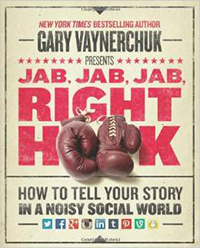 Jab, Jab, Jab, Right Hook
New York Times bestselling author and social media expert Gary Vaynerchuk shares hard-won advice on how to connect with customers and beat the competition. A mash-up of the best elements of Crush It! and The Thank You Economy with a fresh spin, Jab, Jab, Jab, Right Hook is a blueprint to social media marketing strategies that really works.
When managers and marketers outline their social media strategies, they plan for the "right hook"—their next sale or campaign that's going to knock out the competition. Even companies committed to jabbing—patiently engaging with customers to build the relationships crucial to successful social media campaigns—want to land the punch that will take down their opponent or their customer's resistance in one blow. Right hooks convert traffic to sales and easily show results. Except when they don't.
Thanks to massive change and proliferation in social media platforms, the winning combination of jabs and right hooks is different now. Vaynerchuk shows that while communication is still key, context matters more than ever. It's not just about developing high-quality content, but developing high-quality content perfectly adapted to specific social media platforms and mobile devices—content tailor-made for Facebook, Instagram, Pinterest, Twitter, and Tumblr.
Crush It!: Why NOW Is the Time to Cash In on Your Passion
Do you have a hobby you wish you could indulge in all day? An obsession that keeps you up at night? Now is the perfect time to take that passion and make a living doing what you love.
In Crush It! Why NOW Is the Time to Cash In on Your Passion, Gary Vaynerchuk shows you how to use the power of the Internet to turn your real interests into real businesses. Gary spent years building his family business from a local wine shop into a national industry leader. Then one day he turned on a video camera, and by using the secrets revealed here, transformed his entire life and earning potential by building his personal brand. By the end of this book, readers will have learned how to harness the power of the Internet to make their entrepreneurial dreams come true.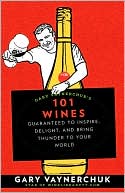 Gary Vaynerchuk's 101 Wines
Millions have logged onto Gary Vaynerchuk's Wine Library TV—watching him boldly and unconventionally rate hundreds of wines. Viewers are attracted to his youthful energy, unique voice, and often outrageous descriptions. Now, in Gary Vaynerchuk's 101 Wines, Vaynerchuk reveals his first ranked list of the most exciting and tantalizing spirits he has sampled while traveling the globe.
Deeming himself "the wine guy for the average Joe," Vaynerchuk avoids the pomposity of traditional educators. Unlike wine guides that lack animation and lecture rather than inspire, 101 Wines shows you how to develop the necessary go-drink-wine attitude. Vaynerchuk encourages you to trust your own palate—stressing that your love of a certain wine makes it good regardless of what the experts or the price on the bottle say.
Vaynerchuk's recommendations span a wide range of prices, nations, grapes, and styles—allowing everyone from novices to connoisseurs to expand their wine horizons. Unlock the secret to why Vaynerchuk labels wines "From Ruins to Riches," "Red with Fish," and "Not Your Father's Spumante." Discover wines that taste like ones 10 times their price. Read as Vaynerchuk illuminates his top choices with vivid terminology such as "Bring the Thunder" and "Riding the Rainbow." Demystify conventions that once limited your wine-tasting desires. Journey through wine styles and break down barriers with his technical notes and stories behind the vintage. Smile as you realize you too can become a wine aficionado.
With your newfound knowledge, you will out-entertain and enlighten your friends, host extraordinary parties and treat your taste buds to an exhilarating ride. So if you are ready to become a "Vayniac"—one devoted to selecting wines based on Vaynerchuk's innovative principles—grab that corkscrew because a wine sampling adventure like no other awaits.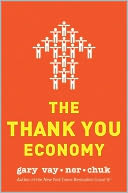 The Thank You Economy
It's easy to think of business sales as one-sided transactions: good productions pumped into the hands of production-hungry consumers. But according to 34-year-old entrepreneur/author (Crush It), those one-way exchanges no longer tell the true story of what's really on in the American marketplace. Using example after cogent example, he explains how our new Thank You Economy is superseding old models with its combination of constant communication, honesty, responsiveness, quality, and value. Relevant and readable.
Suggested Speaking Topics:
Jab, Jab, Jab, Right Hook: How to Tell Your Story in a Noisy World
Why Smart People Dismiss Social Media, and Why They Shouldn't
The Thank You Economy
CRUSH IT! Why NOW Is the Time to Cash In On Your Passion
Watch Sales Skyrocket Through Internet and Social Media Marketing
Personal Branding in the New Media Landscape
Using Video Blogging to Maximize Personal and Business Brand Awareness
Trust Your Palate: How to Choose, Decant, and Savour Wine
Building Wine Self-Esteem
Gary Vaynerchuk: How to Tell Stories in an A.D.D. World
Gary Vaynerchuk explains to his audience where his focus lies. He tells them, "For me, the only thing that interests me is what binds us all together. No matter what you do in this room, no matter what your profession is, an entrepreneur, work for an agency, designer, developer, no matter what you do, always and forever our job is to tell our story, and that is never going to change. The way you make real money, the way you make real impact, the way things get changed is by great storytelling."
Explaining how to learn the techniques of storytelling, he tells the audience, "We really need to reverse engineer what's happening, and that's what I spend my time doing. Not knowing how many of you know me, my whole career is predicated on reverse engineering what I think is going to happen in the next 24 months, because that is still practical. Yes I know we're all going to be robots eventually, but that's 40 or 60 or 80 years out, I'm worried about 24 months out."
Looking at some of the difficulties he experiences in business, Gary explains, "My biggest problem right now is that I feel that in general the majority of people, businesses, media organizations, all across the board, are storytelling like it's 2007 in a 2015 world, and that's all I ever think about. All I think about is how to tell stories in micro-moments, we live in the greatest ADD culture of our time."
Gary Vaynerchuk: Jab Jab Jab Right Hook
Gary Vaynerchuk at Live Talks Business Forum, Los Angeles
Keynote Speech