* Please note that while this speaker's specific speaking fee falls within the range posted above (for Continental U.S. based events), fees are subject to change. For current fee information or international event fees (which are generally 50-75% more than U.S based event fees), please contact us.
Top25 Speaker Voting

Gary Swart needs 6 vote(s) to make it into the Top 25 speakers on Speaking.com!
Speaker Booking Tip
"Tip: find a speaker in your local area to save on travel costs. Most speakers will also reduce their keynote fee for local events. "
For Event Planners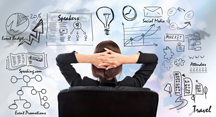 • Keynote Speaker Booking Toolkit.
• Booking a Celebrity Speaker.
• How to Find and Book the Right Speaker.
• Google+ Event Planning Forum.
• Tips for International Clients Booking U.S. Based Speakers.
Similar Speakers
Laila Ali

Laila Ali is a world-class athlete, fitness and health expert, ambassador for children in need, television personality, and family woman. The four-time undefeated boxing world…

Keith Ferrazzi

Keith Ferrazzi is one of the preeminent experts in professional relationship development. He uses two decades of research and experience to transform the lives and…

Ram Charan

World-renowned consultant, author and speaker Ram Charan has made an extraordinary life journey, from working in the family shoe shop in a small town in…

This has been one of the most outstanding speaker agencies I have had in my 25+ years in the hospitality industry. They have helped my company secure speakers for years to the delight of my attendees. They have secured high profile speakers, even within the confines of a tight turnaround and an even tighter budget. I recommend their services without hesitation. They are truly leaders in their profession looking out for their clients: excellent is all I can say!
AHIMA
About SPEAKING.com
Established in 1994, we are exclusive agents for some of the world's leading experts, celebrities and professional speakers.
We offer event planners a fully staffed speaker logistics planning team, plus a personal SPEAKING.com Account Executive – a knowledgeable and trustworthy partner. We guarantee your satisfaction with your speaker and a smooth booking process.
Contact us today to book your favorite speaker.

"I wanted to reach out and personally thank you for joining our Unleashed Talent event last week. You were the perfect kick-off speaker, setting the tone for the event wonderfully. I loved how in depth you got, especially with each audience question; I feel like attendees really could walk away with some important information."
- Unleashed Talent Event
"Just wanted to thank you for taking the time to speak at Amplify last night. I go to a lot of these talks and I found yours to be the most insightful discussion yet."
- Amplify Event
The Future of Work
Pay a visit to any Silicon Valley startup and you'll hear about the disruptive technology that is being deployed across any number of vertical markets. But are these innovations actually disruptive? Or are they, instead, transformative?
As the builder of one of the largest online marketplaces in the world and investor in the next generation of revolutionary companies, Gary will speak about how today's innovations are expanding the size of the pie to include more players, not less, and how this "lift, not shift" dynamic offers incredible opportunities for efficiency and innovation. In this candid discussion, Gary will identify the major drivers of the future workplace along with winning strategies to inspire leaders to think outside of the box and thrive in the new normal.
Beyond Perks: How to Create an Inspiring Culture and Win the Talent War
Every CEO knows the importance of creating a strong culture that reflects the core values of their organization and why it's key for attracting and retaining the best talent. But how many CEOs are actually getting it done? The reality is that most leaders can't define their core values, let alone build a meaningful culture around them.
As the war for talent heats up, there is no better time to talk about how a well-defined culture can actually be the strongest recruiting and retention tool a business can leverage. In this conversation, Gary will walk you through his culture creation roadmap (starting on Day 1), complete with fast track options and tips for working around roadblocks. Touching on how to identify your company's needs and core values, to creating the clarity necessary for brilliant execution, to ultimately ensuring the success and delight of your teams, Gary will share tactical approaches and anecdotes from more than three decades operating in both small startups and leading global enterprises about what it takes to grow a great organizational climate.
The Universal Entrepreneur: Where, What, When, Why and NOW You don't need to own a business or work out of a garage to be an entrepreneur.
Today, being "an entrepreneur" is actually a mindset, not a job title, that's critical to business success. Companies that encourage their team to develop entrepreneurial practices—experimenting with new, big ideas or trying radically different processes—are seeing incredible organic growth and innovation from within the organization.
Sharing practical strategies for identifying and inspiring the entrepreneurs at your organization to embracing your own aspirations of becoming an innovative leader, you will walk away from this discussion with a strong understanding of what it takes to find the entrepreneur in everyone. Gary will guide you through the entire process—touching on the pitfalls and benefits of this approach. Equal parts startup stories and practical tips, it's a message that resonates with students, early stage entrepreneurs, and veteran business leaders who want to ignite innovation within their business.
From the Jungle to the Highway: How to Scale Your Company without Losing Your Primal Edge
Scaling a business from startup to enterprise requires a broad skill set that must evolve significantly over time. What was once most important in the early stages could kill your company once it reaches maturity. In this discussion on the company journey, Gary will share valuable lessons learned from scaling businesses throughout his three decades as an operator, and most recently building oDesk from inception to a globally recognized brand. He will also touch on how company founders should set priorities and make critical decisions at meaningful inflection points in the company's lifecycle.

GARY SWART: Keynote CPMX6
Gary shares the criteria that led to his entrepreneurial ventures in the tech industry and some of the major business decisions he's made including selling oDesk to Elance. He emphasizes that his career has not been one smooth success, pointing out that his earliest business projects were based in the metal manufacturing industry, an area where he lacked both passion and talent.
"I would hope that everybody picks a career with something that they're really passionate, and even better if they're good at it," Gary imparts. He soon traded his early ventures for the west coast, where he could tell "20 years ago" that technology was going to be much bigger in the U.S. than metal manufacturing.
GARY SWART: Talk at Webster University