* Please note that while this speaker's specific speaking fee falls within the range posted above (for Continental U.S. based events), fees are subject to change. For current fee information or international event fees (which are generally 50-75% more than U.S based event fees), please contact us.
Top25 Speaker Voting

Gary Bradt needs 8 vote(s) to make it into the Top 25 speakers on Speaking.com!
Speaker Booking Tip
"Tip: find a speaker in your local area to save on travel costs. Most speakers will also reduce their keynote fee for local events. "
For Event Planners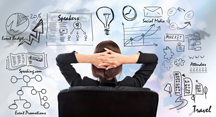 • Keynote Speaker Booking Toolkit.
• Booking a Celebrity Speaker.
• How to Find and Book the Right Speaker.
• Google+ Event Planning Forum.
• Tips for International Clients Booking U.S. Based Speakers.
Similar Speakers
Todd Buchholz

A managing director at the $15 billion Tiger hedge fund, Todd Buchholz has an extraordinary resume, encompassing the presidency of an international consulting firm employed…

Connie Dieken

Formerly a broadcast journalist, Connie Dieken brings the insights from her bestsellers Talk Less, Say More and Become the Real Deal to thought leadership presentations…

Saj-nicole Joni

Saj-nicole Joni, Ph.D. is a gifted business strategist and confidential CEO advisor, speaker, and author who works with top leaders and boards to solve their…

Our Account Executive is an extraordinary person. Always available, very kind and funny. Eager to help and always quick to respond. I have so much fun working with him. A very delightful experience. I hope continue working together for years to come!
Credicorp Bank
About SPEAKING.com
Established in 1994, we are exclusive agents for some of the world's leading experts, celebrities and professional speakers.
We offer event planners a fully staffed speaker logistics planning team, plus a personal SPEAKING.com Account Executive – a knowledgeable and trustworthy partner. We guarantee your satisfaction with your speaker and a smooth booking process.
Contact us today to book your favorite speaker.

We recevied nothing but positive feedback about Roger Dawson. Excellent presentation and message - was clear and the audience was completely engaged!
- Jamieson Laboratories Ltd
(Event booked by Speakers Platform)
Thank you for the absolutely fabulous presentation you did last week. It was more than a home run. I guess the bases were loaded and you hit a home run. They just haven′t stopped talking about the quality of the presentation and the impact of the presentation. Our goal of arming the organization with some practical doable things at the end of the presentation was clearly, clearly well met.
-Bristol-Myers Squibb
In short, he was great -- perfect for our theme of "Change and Opportunity..." And, for what it′s worth, very approachable and someone who seems like a very good guy. I would strongly recommend him.
– AstraZeneca Canada
He was an incredible speaker. What I really liked was the actual tools he gave us to use. All too often speakers tell you to do something but not how to do it. It wasn′t just an abstract lecture, but a fun, inspirational, how-to event. Really enjoyed it.
–Medical Group Management Association
It′s rare that you can take home more than one good point from a one day course, with yours there were too numerous to name. Thank you for a very enjoyable and fulfilling day.
–Annie Penn Memorial Hospital
The group LOVED you and your message. Personally, I learned so much from you that I applied immediately in both my professional and personal life. Thank you for helping us create such a memorable program. -Actelion Pharmaceuticals
I would like to personally thank you for taking the time and effort to be a part of our National Sales Meeting last week in Montreal. The feedback to your presentation on Monday evening has been everything from ′Fantastic′, ′Awesome′, ′Wow′, ′Very thought provoking′, etc.
– GlaxoSmithKline Canada
I have actually used Gary to work with my teams 3 times…. I have never met anyone that wasn′t touched by Gary′s message and his approach. I actually sent his book to everyone in my family…. I really can′t imagine a group that deals with real life issues daily, that is under tremendous stress and that wants to do a better job wouldn′t love Gary′s message and his delivery.
- Harland Clarke
Gary was one of the best speakers I′ve heard or contracted in my 18 years with NCL. He was outstanding and resonated fully with the audience. We would absolutely like to utilize Gary′s talent at other upcoming meetings.
– Norwegian Cruise Lines
A ten on a scale of ten. Gary's presentation had relevant topics that captured the attention of our audience. Very positive response overall from our attendees, and our CEO was exceptionally pleased with the level of professionalism and forethought placed on the session′s contents.
- Marine Corps Community Services
This year's NA LIM was the highlight of my PMI career to date, and it was due in very large part to your professional, inspiring and thought-provoking keynotes – our leaders responded exactly as we had hoped would be the case. You were without doubt the finest keynote speaker I have ever had the privilege to work with, and I hope very much that we have future opportunities to work together.
– Project Management Institute
Excellent. Way beyond my expectations. I wish you could have heard the feedback I was getting. Life change took place today.
– Baptist Convention of Maryland/Delaware
Dr. Bradt is an excellent presenter, and his metaphor of the ring in the rubble opened my eyes to situations, present and past. I have used it almost daily with life situations and it has provided me a greater understanding of why things happen as they do, and the purpose behind them. His book is fabulous too.
- Alberta Canada Provincial Government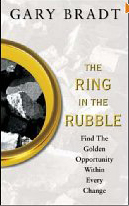 The Ring in the Rubble: Dig Through Change and Find Your Next Golden Opportunity
Change always creates hidden opportunities. A leader′s job is unearthing them. In
The Ring in the Rubble
, change authority Gary Bradt reveals the secrets to moving beyond the rubble of disruption, fear, and uncertainty that change often creates, to finding the golden ring of opportunity that always lies beneath.
Each chapter of this breakthrough book delivers a powerful principle for leading change, supported by engaging real-life experiences of the author and other well-known business executives that illustrate how to put principles into action. Bradt asks penetrating questions that help you dig deeper and pinpoint the best ways for applying these principles to your specific change effort.
You will discover how Richard Schulze weathered a devastating event that threatened to destroy everything he′d worked so hard to build-and became the founder of Best Buy in the process. You′ll see how a 65-year-old man, nearly broke after having suffered a string of disastrous setbacks, dug through the rubble to emerge as Colonel Harland Sanders, who remains the face of Kentucky Fried Chicken to this day. Change itself doesn′t dictate the eventual outcome of your situation; how you think about and handle change is what makes all the difference. You′ll never find the ring if you don′t start digging!
Order Here


Adapt. Ignite. Win! Because Change Happens
More than a catch phrase, Adapt, ignite and win is Gary Bradt′s rallying cry for success in a world that moves fast and doesn′t wait for stragglers. Bradt increases the capacity of people and organizations to rise to the challenge of change by delivering highly customized presentations that address the unique objectives of each event.
A clinical psychologist and C-Suite executive coach, Bradt knows how to engage the heads and the hearts of his audiences for maximum effectiveness using masterful storytelling, humor, simple exercises and solid content. Navigating change successfully means being willing to change yourself first, he explains. He shows how learning to adapt leads to new levels of performance and personal and professional success.
Every audience is different. The challenges they face are different. What event planners appreciate most about Gary is his preparation. By the time he gets in front of an audience, he has a deep understanding of the group and the issues they're dealing with. He's spent hours creating a message to meet the objectives of the event. Bradt adapts some of his most popular stories and combines them with compelling insights that inspire people to confidently move into the future with practical and usable tools.
Bringing together a group of people for an event is a great opportunity. Adapt, ignite and win is a message that will make the most of their precious time together and will help galvanize a new spirit of possibility whenever change is involved.
The message of Adapt and Ignite! can be tailored to address:
Leadership at any level
Sales organizations
Organizational change
Industry consolidation
Organizations in transition
Technology-driven change
Regulatory change
Industry-driven change
Internal Reorganization
Market-driven change
Personal change
Increasing personal performance
Empowering the team
Individual and group accountability
Gary Bradt - Speech Excerpt
"Who do we hire? We hire people who look like us." Gary Bradt explains how too many business people are happy with their comfort zone and refuse to embrace the change which is necessary to transform the success of their companies.
Gary Bradt - Speech Excerpt
Speech Excerpt