* Please note that while this speaker's specific speaking fee falls within the range posted above (for Continental U.S. based events), fees are subject to change. For current fee information or international event fees (which are generally 50-75% more than U.S based event fees), please contact us.
Top25 Speaker Voting

Garrison Wynn needs 8 vote(s) to make it into the Top 25 speakers on Speaking.com!
Speaker Booking Tip
"Tip: speakers bureaus can provide: speaker fee negotiation, insurance, smooth logistics and value add-ons such as extra sessions. "
For Event Planners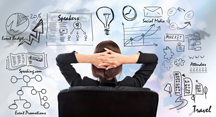 • Keynote Speaker Booking Toolkit.
• Booking a Celebrity Speaker.
• How to Find and Book the Right Speaker.
• Google+ Event Planning Forum.
• Tips for International Clients Booking U.S. Based Speakers.
Similar Speakers
Erica Orange

From 4D printing to the reinvention of agriculture, Erica Orange pinpoints and explores future possibilities, translating the practical implications to Fortune 500's, trade associations, and…

Phil Hansen

When Phil Hansen's dedication to his art led to permanent nerve damage and a shaking hand, he turned a limitation into a creative catalyst that…

Valorie Burton

Valorie Burton is dedicated to helping individuals succeed, even in the face of challenges. Ms. Burton has been called one of the top 100 thought…

THANK YOU for your consistent communication, organization, and hard work. It truly has been a pleasure partnering with you too, we would love to stay connected with you for future events.
National Human Resources Association
About SPEAKING.com
Established in 1994, we are exclusive agents for some of the world's leading experts, celebrities and professional speakers.
We offer event planners a fully staffed speaker logistics planning team, plus a personal SPEAKING.com Account Executive – a knowledgeable and trustworthy partner. We guarantee your satisfaction with your speaker and a smooth booking process.
Contact us today to book your favorite speaker.

"Your ability to deliver strong, customized content and to be so funny at the same time is unmatched. We have received excellent feedback for the 20+ keynotes you have delivered at conventions across the country."
AIM Investments
"Garrison got more laughs than Jay Leno and David Letterman combined."
The Houston Chronicle
"Garrison was able to get through to our people like no one else. We thought we knew it all; we were wrong."
Chevron Texaco
Rave reviews would be and understatement, you are one of the best speakers we have ever had at Smith Barney. I really appreciate your preprogram research and funny to-the-point delivery. Let's try to match schedules for multiple dates next year. Thank you for all that you did for us.
Frank P. Breazeale, III Regional Sales and Training Officer, Smith Barney
Your presentation to the APICS group on 11/6 was beyond excellent! I truly enjoyed your presentation and found it extremely informative. It is among the best I have ever seen - and I spent 27 years in the telecom industry and took 5-10 days of training each year!
Joan Robbins, PMP Technical Project Manager, Global Infrastructure Technology Process Planning Organization, Schering-Plough Pharmaceuticals Corporation
I am thrilled to have been able to attend 2 of your presentations. They were interesting, funny, thought-provoking and educational. Your skill and talent as a professional speaker is evident. Your thoughts and ideas are concise and insightful. Thank you so much for presenting for my organization. You met and exceeded all of our expectations.
Randi Klein, CPIM, C.P.M. Alpha Wire Company
Garrison did a fantastic job! We had to split our group in half and he did two one-hour programs back to back. He delivered "very customized" programs the same way with equal impact. We shot video of the sessions and sent them to be viewed by a location in Phoenix that could not attend our event. They gave the same great feed back as the groups that attended the live presentation.
Steve Malfitano, National Sales Director, USAA
Garrison, your presentation was terrific! The entire team took something away!
Richard Kase, CEO, Cypress Health Care
Excellent! Mixing humor with serious topics and talking with the audience instead of to the audience, kept everyone involved.
Conoco-Phillips
The Real Truth about Success: What the Top 1% Do Differently, Why They Won′t Tell You, and How You Can Do It Anyway!
"Everyone is looking for the real in whatever they endeavor. Garrison Wynn went out looking for real answers to real success challenges—and he found them. If you want them, get this book real fast!" —Jeffrey Gitomer, New York Times and Wall Street Journal bestselling author of The Little Red Book of Selling

Life and business aren't fair, which is good. If they were, you couldn'tseize the unfair advantage.Think about it. Is your CEO the smartestperson in the company? Is the head of yourdepartment more driven than you? Does theleading company in your industry make thebest products? Probably not. They all have onething in common, though: They're on top ofthe pile because they discovered and exploitedtheir unfair advantage—and with the help of business expert and motivational dynamo Garrison Wynn, you can do the same.

The Real Truth about Success is the culminationof ten years' worth of interviews with morethan 5,000 top performers in their fields. During the process, Wynn discovered thatbetter brains, a positive attitude, and superiorall-around quality rarely drive true success. Rather, the most successful people inthe world leverage their unique, distinctivequalities—whatever they may be—to propelthemselves to the front of the line.
Order Here





Making the Most of Difficult Situations
Changing Markets, Changing Times
This funny, insightful keynote combines relationship building with no-fluff motivation and change to deliver real solutions in uncertain times. Motivational speaker and business relationship expert, Garrison Wynn, examines the challenges we face and shows how we can laugh at our problems while using them as catalysts for success. This session covers a lot of ground and provides no-cost, easily implemented, proven solutions that your people can use right away.
Available in Motivational, Sales and Management versions
The Truth About Success
Being the Best vs. Being Consistently Chosen™
Success is more than being good at what you do; it′s about being consistently chosen to do it. Garrison helps people to understand why their products, services, or leadership styles-or those of their competitors-are selected. People don′t necessarily choose what′s best; they choose what they are most comfortable with, whether it′s the best or not. We′ve all heard the importance of "best practices" and superior knowledge, so why aren′t the smartest people with the most information always in charge or number one in their field? This keynote provides original research on managing expectations and emotions and shows that there really is more to success than being the best.
Available in Sales, Leadership and Customer Service versions
Getting Great Results Turning Talent Into Performance
In this keynote, results from the largest management survey ever conducted are combined with real-life management and leadership solutions to get the most from your people, regardless of their skill level. Participants learn to manage their ego-driven top producers, how to listen like leaders and make their people feel heard, how to hire for talent and turn it into top performance, how to create a culture of excellence with their most promising people, and how to help their low performers to fight their way to the middle.
Available in Leadership and Management versions
Generations Working Better Together
This extremely informative, entertaining, solutions-based session explores why younger and older people don't see eye to eye and what to do about it in the workplace. From pointers on motivating, managing and retaining younger employees to ways of preventing older managers from losing their minds, this research-based program shows it's possible for baby boomers and Gen X and Y employees to work well together.
The Real Truth About Success:
What the Top 1% Do Differently and Why They Won′t Tell You
A decade of Wynn Solutions research reveals what makes owners and managers of top-performing businesses so effective – and it′s not what you′d expect! If you enter this keynote session expecting to learn all about best practices and superior products, you′d better read the title again. Standout success in a difficult economy often comes from personal advantage – whether it′s cosmetic, leadership communication, personality, resources or access to privileged information.
Top performers rarely acknowledge this because it tends to make their success sound less impressive or undeserved. Prepare to laugh and learn as Garrison leads program segments that include:
Lies about success – and why we believe them
From interview to confession: The research
Why would anybody want to be in a fair fight?
Create your own advantage in leadership and business development
The Truth About Success™
Being the best vs. being consistently chosen
Action and adaptability create opportunity
Establish a repeatable process for success
How to Win an Unfair Fight:
Influencing People You Have No Authority Over
A great idea rarely wins out on its own merit. Sound, well-structured logic regularly loses out to mediocre ideas from people who really know how to influence. This enlightening, research-based session delves into the human condition, revealing that the true key to influence is not intelligence or logic, but an understanding of what people really value. Through a collaborative toolkit, this program delivers the tips and strategies you need to make people see the value of your ideas so you′re well positioned to gain agreement. Program segments include:
Gaining an understanding of what people really value and how that impacts agreement
Developing strategic advocates and create your own personal "influence upward" plan
How to get people to agree with you
Why some people disagree with everything, and what you can do about it
How to get people to listen to your ideas
Managing your boss: How to help your supervisor make your job easier
How to gain more influence from any position in your organization
Reading between the lines: Learning how to adjust your approach
How to hold people more accountable on projects without conflict
How to make sure your input is seen as consistently valuable to others
Creating a repeatable process for agreement: Making the tools work well
Influence in Action:
How to Consistently Hold People Accountable
Great ideas are rarely good enough to get people to take action. Sound, well-structured logic regularly loses out to mediocre ideas from leaders who really know how to influence. This high-impact, research-based session focuses on revealing the true key to accountability: not intelligence or strategy, but an understanding of what makes people feel valuable. In this entertaining, interactive and sometimes brutally honest session, Garrison shows executives how to create a culture of accountability, even among employees at different performance levels. You'll learn how to push your average and low performers to reach a higher level and how to hold ego-driven top performers accountable without causing them (or you) to lose the will to live.

Speech Excerpt