* Please note that while this speaker's specific speaking fee falls within the range posted above (for Continental U.S. based events), fees are subject to change. For current fee information or international event fees (which are generally 50-75% more than U.S based event fees), please contact us.
Top25 Speaker Voting

Fraser Doherty needs 8 vote(s) to make it into the Top 25 speakers on Speaking.com!
Speaker Booking Tip
"Tip: speakers bureaus can provide: speaker fee negotiation, insurance, smooth logistics and value add-ons such as extra sessions. "
For Event Planners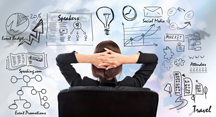 • Keynote Speaker Booking Toolkit.
• Booking a Celebrity Speaker.
• How to Find and Book the Right Speaker.
• Google+ Event Planning Forum.
• Tips for International Clients Booking U.S. Based Speakers.
Similar Speakers
Joanne Lichten

Known as "America's On-The-Go Health Guru", Dr. Jo Lichten has presented over 1,000 keynotes and programs for busy professional adults looking to boost their energy,…

Zonya Foco

As an author, TV host, and national speaker, Zonya Foco is leading America in the fight against obesity, diabetes, cancer, and heart disease through smart…

Mallory Brown

Social entrepreneur Mallory Brown represents a new generation of philanthropy. At age 24, she founded World Clothes Line, an online business that donates one article…

Everyone at your speakers agency were professional and helpful throughout the process, making it easy to book, communicate, and prepare for our event.
Hewlett Packard
About SPEAKING.com
Established in 1994, we are exclusive agents for some of the world's leading experts, celebrities and professional speakers.
We offer event planners a fully staffed speaker logistics planning team, plus a personal SPEAKING.com Account Executive – a knowledgeable and trustworthy partner. We guarantee your satisfaction with your speaker and a smooth booking process.
Contact us today to book your favorite speaker.

"A really great speaker. Down to earth. Entertaining. Inspirational. Nice chap."
Lava PR

"One of the best speakers we've ever had. Inspirational, humorous; one of the leading speakers in the UK!"
Scottish Chambers of Commerce

"You have an amazing story to tell."
Gordon Brown

"Fraser is an exciting young entrepreneur with an amazing story. His jams taste really fantastic too!"
Duncan Bannatyne – BBC 'Dragon's Den'

"He gives hope to anyone who ever dreamed of selling their homemade products to a wider market."
Lorraine Kelly – ITV's GMTV

"The best speaker we′ve ever had."
Tutor2U, Business Studies Teacher Annual Conference

"One of the best speakers we've ever had. Inspirational, humorous; one of the leading speaker's in the UK!"
Liz Cameron, Chairman, Scottish Chambers of Commerce

"Fraser has taken a product that's old-fashioned and completely reinvented it; giving it a young and up-to-date image."
Michael Simpson-Jones, Waitrose Supermarkets

"He entertained the audience with a clear and thoughtful talk and handled over 30 minutes of questions with aplomb."
Geoff Riley, Eton College
SuperBusiness: How I Started SuperJam from My Gran′s Kitchen
At just 14 years old, Fraser Doherty was selling jars of homemade jam to his neighbours. A few years later, SuperJam was flying off the shelves of the world′s largest supermarket chains.

SuperBusiness tells how he transformed a hobby into a much-loved brand, selling millions of jars along the way. Fraser explains how he did it – from his own kitchen table, without huge investment – and how you too, can come up with a killer idea, build a brand, make money, and do good in your community.

Those crazy business ideas really can grow into something amazing and life changing. If this story doesn′t inspire you to start your adventure, nothing will.
Order Here




The Super Jam Cookbook: Over 75 Recipes, From Jams to Jammy Dodgers and Marmalades to Muffins
SuperJam is a delicious range of jams and marmalades. They're "super" because they're made with "superfruits," such as cranberries and blueberries, and fruit juice, rather than sugar, meaning they're healthier than your average pot of jam.

This cookbook is a juicy celebration of all things jammy. As well as being packed full of recipes for jams, marmalades, chutneys and jellies, the book offers more unusual ideas for spreads, such as Banana and Rum Curd, Dulce de Leche and Chilli Jam. Exquisitely designed and lavishly photographed, The SuperJam Cookbook will be a lovely gift or simply the perfect way to indulge your love of one of life's greatest comfort foods.
Order Here





Fraser has been invited to share his incredible story at hundreds of events, in 17 countries around the world. He has spoken before multinationals such as Kraft Foods, IBM, Accenture and KPMG, as well as financial institutions including Barclay's and RBS. He shares the journey he has been on from his Gran′s kitchen in Glasgow to the shelves of thousands of supermarkets. His is a story of reinventing a product that has been around for hundreds of years, of not giving up at the first hurdle and of doing good along the way.
He has spoken at leading universities such as Columbia in New York, the London School of Economics and Moscow State University. He's been invited to speak at The Scottish Parliament, the Bank of England, the Chartered Institute of Personnel Development and the Institute of Directors.
Many of Fraser's audiences have been small business owners and budding entrepreneurs – such as at his national tour with Business Link, his speech for Etsy.com at the Hello Etsy conference in Berlin and at the Collegiate Entrepreneur's conference in Chicago.
Fraser has spoken about Social Media at the British Library, Packaging Design at Howest University in Belgium, FMCG Marketing at the 'Food Industry Council' conference in Vancouver and to over 2,000 schoolchildren at Disneyland.
He has delivered motivational speeches at various university and college graduation ceremonies and provided a 'live case study' for MBA students in Ireland as well as new recruits at the consultancy firm Accenture.
Suggested Speaking Topics:
The Story of SuperJam
Entrepreneur
Marketing
Branding and Advertising
Social Media
Motivation and Inspiration
Keynote Speech
SuperJam creator Fraser Doherty recounts his incredible journey of jumping hurdles to secure a contract as a supermarket supplier at the age of seventeen. After presenting his product to a Waitrose representative at a business fair, the representative told him he still had many details to iron out including labels, mass production, and recipe perfection.
While labels seemed easily doable, building a jam factory was a much less feasible endeavor. "I was going to have to convince an existing jam factory to work with me to produce my recipes on a big scale," Fraser narrates. After visiting around 100 plants and finding a factory that agreed to work with him, Fraser received yet another "NO" from Waitrose representatives who were unsatisfied with the label's concept, the jam flavors, and production expenses. He comments light-heartedly, "Basically everything that I'd just spent a year working on had to be thrown in the bin and I had to start all over again."
Keynote Speech
Fraser Doherty claims that if he can start a business, anyone can as long as they are passionate and committed to seeing it through. He debunks the common idea that starting a business requires borrowing large sums of money or finding an investor. "I guess what my story shows is that you can start something on a small scale in your kitchen at home, selling your product on evenings and weekends, and just let it grow organically from there."
Offering advice to aspiring entrepreneurs, Fraser admits that he started to question what he was doing when Waitrose rejected his product after he'd committed a year to developing it according to their standards. One of their biggest problems with his earlier SuperJam pitch was the humorous comic book style labels on the jars. "I then got some great advice from a few people and realized that a brand should only have one message that it's trying to get across," he explains. "In the case of SuperJam that message was '100% fruit.'"
Keynote Speech (Archive Speech from 2012)