* Please note that while this speaker's specific speaking fee falls within the range posted above (for Continental U.S. based events), fees are subject to change. For current fee information or international event fees (which are generally 50-75% more than U.S based event fees), please contact us.
Top25 Speaker Voting

Frank Luntz needs 6 vote(s) to make it into the Top 25 speakers on Speaking.com!
Speaker Booking Tip
"Tip: find a speaker in your local area to save on travel costs. Most speakers will also reduce their keynote fee for local events. "
For Event Planners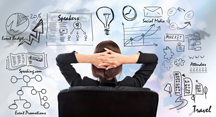 • Keynote Speaker Booking Toolkit.
• Booking a Celebrity Speaker.
• How to Find and Book the Right Speaker.
• Google+ Event Planning Forum.
• Tips for International Clients Booking U.S. Based Speakers.
Similar Speakers
Tom Oliver

Award-winning speaker and philanthropist Tom Oliver combines leading business practices with social corporate responsibility - a holistic recipe for success in the 21st century. He's…

Ty Pennington

Television show host, designer, model, writer. Born on October 19, 1965, in Atlanta, Georgia. Known for his enthusiasm, creativity, and good looks, Ty Pennington is…

Travis Bradberry

Dr. Travis Bradberry was awarded his BSC in Clinical Psychology by the University of California, San Diego, and holds a dual PhD in clinical and…

Our agent was great to work with. Very easy to reach when needed and promptly returned messages. Thank you for making our event such a big success, we are looking forward to working with you again soon!
American Lung Association
About SPEAKING.com
Established in 1994, we are exclusive agents for some of the world's leading experts, celebrities and professional speakers.
We offer event planners a fully staffed speaker logistics planning team, plus a personal SPEAKING.com Account Executive – a knowledgeable and trustworthy partner. We guarantee your satisfaction with your speaker and a smooth booking process.
Contact us today to book your favorite speaker.

"Frank Luntz knows how to engage a crowd. His speech was precise, funny, and knowledgeable and is able to convey his message with humor and charisma. He′s one of a kind and truly knows how to deliver a message."
Jeff Montejano, Vice President, K-COMM, Inc.
"Dollar for dollar, Frank was the best speaker we′ve had in a decade. His give-and-take with the audience was refreshing and very funny. He understands the American people better than anyone, but more importantly, he has an effective presentation style that conveys his knowledge with wit and wisdom."
Jesse Sharf, Partner, Gibson Dunn & Krutcher
"Frank walked into a room filled with the top business people in California and just took it over. The energy and excitement he brought to his speech was electrifying. The audience was really involved and nobody wanted to leave."
Kevin McCarthy, Minority Leader, California State Assembly
"His methodology has always been outstanding. He thinks outside the Washington box and brings a fresh, new perspective to issues."
Andy Sieg, Vice President, Citigroup
"Words are enormously important to me. I love language, the sheer pleasure of words in the right order. Frank Luntz is brilliant about words."
Former New York City Mayor Rudy Giuliani
"Great words can accomplish great things. If you really want to capture the power of communication, you have to read Frank Luntz's book."
Frederick W. Smith, Chairman and CEO, FedEx Corporation
"He is also, arguably, one of the most influential people in modern politics, having advised a long list of conservative clients in the United States and around the world."
The Ottawa Citizen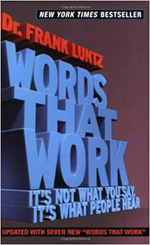 Words That Work
The nation's premier communications expert shares his wisdom on how the words we choose can change the course of business, of politics, and of life in this country.
In Words That Work, Luntz offers a behind-the-scenes look at how the tactical use of words and phrases affects what we buy, who we vote for, and even what we believe in. With chapters like "The Ten Rules of Successful Communication" and "The 21 Words and Phrases for the 21st Century," he examines how choosing the right words is essential.
Nobody is in a better position to explain than Frank Luntz: He has used his knowledge of words to help more than two dozen Fortune 500 companies grow. He'll tell us why Rupert Murdoch's six-billion-dollar decision to buy DirectTV was smart because satellite was more cutting edge than "digital cable," and why pharmaceutical companies transitioned their message from "treatment" to "prevention" and "wellness."
If you ever wanted to learn how to talk your way out of a traffic ticket or talk your way into a raise, this book's for you.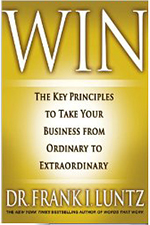 Win: The Key Principles to Take Your Business from Ordinary to Extraordinary
From The New York Times bestselling author and top pollster Dr. Frank Luntz comes an unprecedented examination of communication excellence and how top performers win in all areas of human endeavor by utilizing superb communication skills. From Mike Bloomberg and Arnold Schwarzenegger to business icons Rupert Murdoch, Steve Wynn, and Fred Smith; to the CEOs of MGM Resorts, J. Crew, and Gibson Guitar; to legendary sports superstars like Larry Bird, Jimmy Connors, and Mike Richter; to media legends Roger Ailes, Don Imus, and dozens more, Luntz tells their stories—in their own words—and demonstrates how their style of operation and communication is absolutely essential to their success. Luntz makes it clear that following the rules of effective communication is indispensable in any successful human endeavor.
Dr. Luntz offers more than seventy new "words that work" for private one-on-one meetings with your boss, for public presentations to hundreds of colleagues, or for television appearances that reach millions. There are more than three dozen specific lessons and recommendations—and each one directly illustrates the nine essential action-oriented principles of winning at every level: People-Centered, Paradigm-Breaking, Prioritizing, Perfection, Partnerships, Passion, Persuasion, Persistence, and Principled Actions.
Do you have what it takes Win is an unprecedented examination of the art, science, and language of winning, and a must-have for people who want to understand and emulate the winners of today.
THE DEFINITION OF WINNING
The ability to grasp the human dimension of every situation
The ability to know what questions to ask and when to ask them
The ability to see the challenge, and the solution, from every angle
The ability to communicate their vision passionately and persuasively
The ability to connect with others and create an enduring chemistry
and 10 other universal attributes of winners.
A Behind-the-Scenes Look at the White House & Washington
Frank Luntz has the most comprehensive library of presidential debate performances and political advertising in America today. He knows Barack Obama's words as well as the President himself, having tested the President's speeches for Fox News, ABC News, PBS and HBO.
To some, the halls of power are painted with mystery and intrigue, but pollster and political consultant Frank Luntz has enough experience on Capitol Hill to make him the 536th member of Congress.
He will share the wisdom and experience that helped write the Contract With America and bring a party to power after 40 years of failure. Members of Congress from both parties actively seek the help of Dr. Luntz to refine their message and better interact with their constituents.
This presentation will give you insight on current and future political issues that every lobbyist, government affairs executive and member of Congress wishes they had.
Words that Work
The most important element in the free market is the individual. To communicate free-market principles effectively, we must first understand the people who drive the free market economy. Dr. Frank Luntz has spent his career studying language use all over America. He has a deep understanding of what motivates, what inspires, and what connects with hardworking American consumers. His new, bestselling book "Words that Work" is an exciting look at the process that creates the words and phrases we all recognize and remember – from politics to commercials to corporate America. Dr. Luntz will share his intimate understanding of how America thinks, how America feels, and how America communicates. This presentation will make available the communicative tools needed to craft a free market message that is sure to appeal to the American citizenry.
What Americans Really Want… Really
Most public opinion experts can only tell you what they think is on the minds of ordinary Americans, but Dr. Frank Luntz lets ordinary Americans speak for themselves. Through thousands of hours of intense direct response/focus group dial testing, Dr. Luntz has his fingers on the pulse of every issue Americans talk about today. Dr. Luntz will provide expert insight and analysis that can help you, the business leader, the politician, or just the average citizen, understand the thoughts and feelings of the average American.
Focus on Your Organization
Organizations worry about their bottom line, but sometimes forget that bottom lines are often affected by how their customers and vendors perceive their products or services. And many organizations or companies ignore this - at their peril. But changing attitudes and opinions is difficult. That is where renowned pollster Frank Luntz comes in. Dr. Luntz will bring your customers to you. Live. He can conduct a focus group in front of any size audience. There is perhaps no better way to "get employees on board" than to let them listen directly to what their customers think. Dr. Luntz uses cutting edge technology to show the audience, in real time, exactly how customers react to company communications. From ad testing to sales training to virtually any other interaction with customers, it is impossible to ignore the impact of these sessions on their audience.

Frank Luntz, Communication Specialist: Keynote
Prominent pollster Frank Luntz takes a look at how the business and financial sectors can alter their communication and actions to gain more respect from the American public. Frank outlines data that shows professionals in these sectors are among the least respected occupational groups in the U.S. today, coupling this with a study that demonstrates 58% of Americans, ages 18 through 29 view socialism as the most compassionate economic system as oppose to the 33% who responded capitalism.
Luntz views this as a disconnect between the positive accomplishments of corporate America and their failure to communicate them and their positive influence to the general public. "The business community has done nothing to explain what it does or how it does it," he states. "18 to 29-year-olds hate you and you are the ones who are creating jobs for them and creating the opportunities for them."
Frank Luntz, Communication Specialist: Interview, Real Time with Bill Maher