* Please note that while this speaker's specific speaking fee falls within the range posted above (for Continental U.S. based events), fees are subject to change. For current fee information or international event fees (which are generally 50-75% more than U.S based event fees), please contact us.
Top25 Speaker Voting

Frank Bucaro needs 6 vote(s) to make it into the Top 25 speakers on Speaking.com!
Speaker Booking Tip
"Tip: ask your speaker to do a book signing or attend a VIP meal with your guests. "
For Event Planners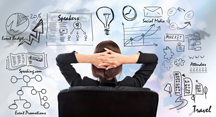 • Keynote Speaker Booking Toolkit.
• Booking a Celebrity Speaker.
• How to Find and Book the Right Speaker.
• Google+ Event Planning Forum.
• Tips for International Clients Booking U.S. Based Speakers.
Similar Speakers
Steve Ford

Inspirational speaker Steve Ford is a successful actor, recovering alcoholic and one-time resident of the White House (as the son of President Gerald R. Ford…

Dr. Will Miller

A seasoned psychotherapist, respected faculty member at Purdue University, and well-traveled stand-up comedian, Dr. Will Miller's approach to shaking off stress is second-to-none. The nationally…

Dr. Jo Ann Pina

Dr. Jo is an ethnically diverse speaker who truly excels in cross-cultural communication. Dr. Jo is the daughter of a migrant worker, a first-generation Hispanic…

THANK YOU for your consistent communication, organization, and hard work. It truly has been a pleasure partnering with you too, we would love to stay connected with you for future events.
National Human Resources Association
About SPEAKING.com
Established in 1994, we are exclusive agents for some of the world's leading experts, celebrities and professional speakers.
We offer event planners a fully staffed speaker logistics planning team, plus a personal SPEAKING.com Account Executive – a knowledgeable and trustworthy partner. We guarantee your satisfaction with your speaker and a smooth booking process.
Contact us today to book your favorite speaker.

"I have worked with hundreds of speakers in my conference planning career. I place you right at the top of the list. Not just for your skill and passion (which is what I believe transcended to our participants resulting in all of the many contacts and immediate praise) but down to little details like the nice personal note I just received. I decided to sit and listen to your words and advice. It reached me and touched on so many of the virtues I believe are visible with many of our loyal members.

We are working on our post conference Evaluations however the instant reactions indicated the "Perfect Score" objective in our eyes we enjoy observing. Like the Olympic Judging, the Perfect 10 is given few and far between and it′s about as rare for us as it is in Olympic history."
American Credit Union Mortgage Association (ACUMA)
(Event booked by Speaking.com)

"Your presentation on ethical leadership was outstanding and highly relevant. The standing ovation you received says it all. Thanks for being such a memorable asset to our meeting."
Stephen A. Ralls, DDS, EdD, MSD
Executive Director, American College of Dentists

"Frank Bucaro is one of the most versatile and effective trainers my team has ever encountered. He customized a program specific to our industry and our customer relations and delivered the message with incredible vigor and passion. His techniques and subject matter appealed to employees in all departments as it can be applied towards not only professional but personal lives too…. His sessions have left a long-lasting impression that will be talked about for years to come."
Michelle Hoyt, Vice President, Sales and Marketing
Ryland Homes, North Central Region

"Thank you for guiding us through the creation of our Code of Ethics… Ethics can be a serious, dry topic and your well-placed humor helped to keep the session light yet dutifully focused on a very important moment in our company's evolution. We look forward to working with you again in the future."
Scott Jamieson, President & CEO
The Care of Trees

Faith Regional Health Services Comments from Attendee Survey:
• This is the best speaker I have heard in years.
• The entire program was incredible.
• One of the best motivational speakers I have heard!
• The best workshop I have ever attended!
• Did a great job of presenting things, incorporated jokes at appropriate times.
• Best seminar I have ever attended. Wish all employees of the hospital could have been here.
• Can't wait to buy and read your books. Thank you! Your talk was excellent. Very enjoyable!
Faith Regional Health Services Comments from Attendee Survey, Dec. 2005

---

Selected Clients:

American College of Dentists
American Payroll Association
Bank Marketing Association
Benedictine University
Blue Cross Blue Shield
Boise Cascade
Canadian National Illinois Central Railroad
Canadian Pacific Railway
Caterpillar
Culligan Dealers Association of North America
Duracell
Eastern Michigan University College of Business
ENMAX Energy
Fiserv Insurance Solutions
Grand Island Chamber of Commerce
Human Resources Professionals Association of Ontario
Illinois Development Council
Illinois Hospital Association
Illinois Rural Health Association
Livingston Internationalv
Merck
Million Dollar Round Table
Minnesota Land Title Association
New York Life Insurance Company
North American Building Material Distribution Association
North American Wholesale Lumber Association
Oklahoma State University Spears School of Business
Old Republic National Title Insurance Company
Ontario Sales Congress
Oticon
RE/MAX International
Ryland Homes
Stewart Title Guaranty Company
Talecris Biotherapeutics
University of Texas Houston Health Science Center
Trust Me! Insights into Ethical Leadership
This eBook focuses on the demanding roles that leaders must play in their organizations. Ethics and the role it plays in leadership development is the mainstay of this eBook.

Chapters include:

Law and ethics don′t always mix
Managing adaptation
How to develop a code of ethics
Ethical challenges for Boards of Directors

"If you read only one book on developing the leader inside you, this is the book to read and re-read. Frank Bucaro has set forth, in a very simple but powerful framework, numerous insights into the core values of leadership. This could be the book that finally redirects the attention of leaders to the new bottom line - a loyal customer base developed through ethical leadership."
Allen Riggs,
CK Franchising, Inc., Dayton, Ohio
Order Here

Taking The High Road: How To Succeed Ethically When Others Bend the Rules
This book is about the role of ethics and values in business today.From ethical reflection to steps in making ethical decisions, this book gives hands-on information and applications to make the best ethical choices possible.The fact that businesses today can be successful and ethical is the premise and foundation of the book.

"This is a"hands-on" approach to ethical decision-making. In the years I have been speaking on the subject of Ethics, clients have continually asked me to put a portion of my material into a simple, easy read, practical format. Here it is and the material can be applied to business, personal life as well as family life. If we all had a few tools and insights to make better decisions, our world might be a little bit better place to live and work." -- Frank Bucaro

How to order :
Click here to learn more about this book and to order it securely online from Amazon.com. When the Amazon.com screen comes up, simply click "add it to your shopping cart" to order.

Frank continues to WOW his audiences with outstanding program outcomes through up-to-date research, easy to implement tools, and his uniquely humorous stories and powerful examples. Frank's customization techniques further ensure that the presentation will provide relevant and useful information and will help to ensure that your event exceeds expectations.
For over 20 years, Frank has spoken to hundreds of clients in various industries about the importance of ethics in business. He has been interviewed on BusinessWeek Online, CNNfn (now CNN Money), RE/MAX Satellite Network, New York Life Satellite Network. His articles have appeared in Best Practices in HR, Affluent, The American Salesman , Business First of Louisville, Corporate Incentive & Travel Online, and American Way (American Airlines magazine), just to name a few.
Building an Environment of Trust
Trust is the glue of personal relationships and rewarding working relationships as well. The most trusted organizations in business today can be vulnerable to one poor decision made by a single employee. In this presentation Frank explores five elements of ethics training that will help participants understand the key role of trust a) for effective leadership b) for maintaining uninterrupted growth and profitability and c) for building rewarding relationships.
The Five elements:
1. The Power of Values-based Leadership

Values as the foundation for solid leadership
Three things leaders need to do well

2. Commitment to "High Road" Behavior

Ethics vs. compliance
"You can′t get there without a map"

3. Trust and Transparency

How transparency relates to trust
Negative vs. positive ethics

4. Enhancing the Moral Compass

How do leaders use their moral compass?
Moral obligations of leaders

5. Reputation Safeguarding

The reputation you want
What you have to do to get it and keep it
High content, entertaining format, and humorous business ethics cases that will help leaders and the organization maintain and grow a high trust environment!
Good Company: Be the Organization That People Want To Work For, Partner With, Invest In and Buy From!
What is "good company"? What does it mean to be "good company"? It is the organization that people want to associate with — the organization that is successful and strong to the core.
Covered in this presentation:
Five reasons to operate a business in an ethical manner.
Five virtues for effective and profitable leadership.
Three ways to foster an ethical culture.
Five tips to help determine the right thing to do in challenging situations.
Discover how doing the right thing, at the right time, for the right reason is not only wise, it is profitable. Examples, humorous stories, and hands-on ideas for maintaining an ethical culture are the focus of this presentation.
This program works well for executive level employees and boards of directors.
Taking the High Road: How to Succeed Ethically When Others Bend the Rules
Problems and consequences attributed to poor ethical decisions can arise when ethical behavior is not defined, understood, or demonstrated.
Emphasizing the value of ethics training will help to foster an environment where:
Ethical behavior is valued.
Ethical behavior is considered the norm.
Ethical decisions help to contribute to long-term success.
This program features easy-to-understand definitions of ethics, guidelines for tackling difficult decisions, practical examples, and a generous amount of humor; the result is an upbeat look at a key factor in long-term success.
This program is a general ethics presentation for employees organization-wide.
Trust Me! Insights into Ethical Leadership
In a business climate where corporate leadership is often under the ethics microscope, leaders are increasingly being challenged to find ways to deepen trust, foster collaboration, and build customer loyalty. This program will help participants gain a clearer understanding of ethics, show how ethics is a key ingredient in business and personal success, and will provide practical ideas to help with difficult decisions.
Topics that will be covered include:
Two types of ethics and which will serve you and the organization best.
How to identify the "ethics gap."
Five virtues that will enhance an ethical and productive workplace.
Five key challenges to businesses and how to overcome them.
Four points to consider in making the best decision.
This presentation combines timely and useful material with humorous stories for an experience that is informative, practical in application, and entertaining in delivery.
This program works well when the audience is made up of key leaders and managers.

Speech
Frank Bucaro sets out the diametrically opposed types of ethics that exist within business. He tells them, "There's two types of ethics, positive ethics and negative effects. Negative ethics tells us what not to do, and most companies do this, it's in your employee handbook, it's no employee shall, no employee shall, no employee shall… now for the creative employee, he's going to look at that and say that's what I can't do, the rest must be okay!"
Explaining the flaw in this approach, Frank says, "It's ethics, but it's the least form of ethics. If you wanted to cover every possible form of behavior, you would need an employee handbook of 150,000 pages. And then leaders become cops, judge and jury, because now you got to watch them, don't you?"
Explaining the alternative, he says, "The goal is positive ethics, and positive ethics gives us guidelines for what we should do. Guidelines, because who then is accountable for the behavior? Everybody."