* Please note that while this speaker's specific speaking fee falls within the range posted above (for Continental U.S. based events), fees are subject to change. For current fee information or international event fees (which are generally 50-75% more than U.S based event fees), please contact us.
Top25 Speaker Voting

Frances Cole Jones needs 19 vote(s) to make it into the Top 25 speakers on Speaking.com!
Speaker Booking Tip
"Tip: ask your speaker to do a book signing or attend a VIP meal with your guests. "
For Event Planners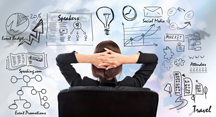 • Keynote Speaker Booking Toolkit.
• Booking a Celebrity Speaker.
• How to Find and Book the Right Speaker.
• Google+ Event Planning Forum.
• Tips for International Clients Booking U.S. Based Speakers.
Similar Speakers
Erika Andersen

For more than three decades, Erika Andersen has been providing customized corporate coaching that focuses on preparing leaders at all levels for future challenges. She…

Jack Daly

With more than 25 years of business experience, including numerous stints as CEO of fast-growing national companies, Jack Daly knows how to help companies achieve…

Sarano Kelley

The founder of The Game and author of The Game: Win Your Life in 90 Days, Sarano Kelley grew up in the gang-infested neighborhood of…

Our Account Executive is an extraordinary person. Always available, very kind and funny. Eager to help and always quick to respond. I have so much fun working with him. A very delightful experience. I hope continue working together for years to come!
Credicorp Bank
About SPEAKING.com
Established in 1994, we are exclusive agents for some of the world's leading experts, celebrities and professional speakers.
We offer event planners a fully staffed speaker logistics planning team, plus a personal SPEAKING.com Account Executive – a knowledgeable and trustworthy partner. We guarantee your satisfaction with your speaker and a smooth booking process.
Contact us today to book your favorite speaker.

"Frances Cole is an outstanding presenter. I needed a dynamic speaker for a small business expo and Frances was the perfect fit. In particular, her tips on presentation techniques were great takeaways. In fact, it was fun to watch her put them into place while simultaneously learning what they are.   Once you hear a presentation from Frances, you're on your way to a more engaging delivery style. Her sense of humor, wit and directness is both instructive and entertaining and a true asset to any event or training. I highly recommend her for speaking engagements."
Kimberly Duva,
Director of Business Development,
The Wall Street Journal

"I just wanted to thank you again for the incredible job you did speaking at The Art of Sales in Calgary and Vancouver. You were excellent. I have heard numerous comments from attendees on how much they enjoyed your presentation."
Scott Kavanagh,
Principal,
"The Art of" Productions

"Frances made such an impact on our group. People who were presenting after her, scrambled to change their presentations based on the teachings they had just learned. I have had numerous comments from my attendees about how useful Frances′ information was and will be in their every day business"
Robin Mercer,
VP of Sales Operations,
Picis, Inc.

"Frances brings her books to life with an engaging and entertaining presentation. I would highly recommend Frances to any group or organization wanting to improve their ability to make an positive, lasting impact their clientele."
Robert Gowan,
Managing Partner of Southern Strategy Group of Tennessee
The Wow Factor: The 33 Things You Must (and Must Not) Do to Guarantee Your Edge in Today′s Business World
In today's volatile business world, success requires an edge—a factor that sets you apart from the crowd. Who needs the Wow Factor? Executives seeking to reinvent themselves, recent graduates facing fierce competition, entrepreneurs looking for funding in a world where funding is seemingly nonexistent, or anyone who has been downsized, outsourced, or simply blindsided by harsh economic realities. In this paperback edition, corporate coach Frances Cole Jones has added new ways to wow. She shares vital things you must (and must not) do to survive in the current sink-or-swim environment, including how to:

identify and transform the habits that dull your edge

restore your confidence in these days of "look hungry, go hungry"

target your dream job, outprepare your interviewer, and get your résumé to the top of the pile

fine-tune the "soft skills" that will amplify your network

perfect your written communications—text, email, snail mail

get the ten worst business sayings out of your vocabulary

Through perfectly timed advice, amusing anecdotes, and proven strategies, The Wow Factor ensures that your ideas and skills remain both timely and timeless—giving you the confidence to wow anyone, anywhere, anytime.
Order Here


How to Wow: Proven Strategies for Selling Your [Brilliant] Self in Any Situation
In today's fast-paced world, where an elevator ride with your CEO can turn into an impromptu meeting, your lunch date can become a job interview, and your conversation at a cocktail party may be a preamble to a potential business merger, knowing how to market yourself in any situation is vital. Corporate coach Frances Cole Jones has helped numerous CEOs, celebrities, and public personalities present their best selves on camera and onstage, in boardrooms and in person; now in her book, How to Wow, she shares her strategies for making your mark in business and in life.

Every encounter, Jones believes, provides you with an opportunity to positively influence colleagues, employers, neighbors–even competitors. Not only your words, but your tone of voice and your body language speak volumes. The question, however, is: Are they working together to say what you want them to, as effectively as possible?

Inside, you'll learn how to

leave a lasting impression with a simple introduction

effectively employ the twelve most persuasive words in the English language and command the stage, boardroom, or lunch table

read nonverbal responses accurately–and shift negative ones immediately

motivate your team under deadline

interview fearlessly and flawlessly

write the perfect pitch, résumè, cover letter, or e-mail

deliver speeches that bring people to theirfeet

transform a PowerPoint presentation into a powerful success

With easy-to-follow advice, amusing anecdotes, and immediately employable hints, Jones's guidelines can keep you cool (even in hot water). From asking the right questions to giving the right answers, How to Wow will provide you with the confidence to be calm and commanding in all you do and to wow anyone anywhere anytime.
Order Here




10 Things You Can Do Today to Wow Tomorrow
Big ideas are all well and good, but if you need your team up to speed by tomorrow, you need this talk. It includes: how to incorporate the 12 most persuasive words in the English language; techniques for inter-office conflict resolution; how to read others' body language to decode unspoken agendas and achieve your objective; efficient, effective, and professional phone/email guidelines; the art of the interruption; how to handle hostile Q & A.

The Art of Selling
Regardless of your product, there is a proven formula for selling anyone, anything, anytime - a literal A + B = C. This session breaks down the mystery behind why some pitches work and others fail, so you never again leave wondering, "What happened?"

Catch Your Customer′s Attention - Keep Their Trust
Every selling situation has a driver, a gatekeeper, and a facilitator - do you have the bait necessary for each? And once you′ve caught them, do you know how to keep them coming back? This talk offers immediately applicable methods for finding new, and retaining established, customers.

Feels Like (Virtual) Team Spirit
With more and more companies spread across offices, time zones, and countries, virtual teams are becoming a must. Through group participation and case studies, Frances demonstrates the elements necessary for maximum efficiency and effectiveness.

Position Yourself for Promotion
In the current economic climate, it′s easy to think, "I′ll just lie low until this blows over." In fact, these turbulent times provide enormous opportunity for those with the guts and skill to seize it. This talk gives you immediately applicable skills you can use to position yourself for the promotion you want and deserve.

3 Interviews You Must Master
The Chance, The Informational, and the Formal

You′re at a cocktail party or on the street and you meet the person you′ve been trying to get on the phone - what do you say that gets you in the door? Why are informational interviews important, how do you get them, and what should your takeaways be? You have an important interview scheduled, what are the 3 questions you MUST be able to answer in order to get hired, regardless of the situation? Find out!
Frances Cole Jones: Speech Excerpt
Drawing from extensive research, Frances Cole Jones reveals how details such as word choice, tone of voice, and body language determine how memorable and persuasive we are as communicators. However, when it comes to getting what you want from somebody else, the most important tool she reveals, lies in your ability to express how "your success intersects with the success of the other person" or "what are they going to contribute to what you want so that their success becomes your success as well."
Frances explains that she was once able to help an actress vying for a role by having the actress research and cite the past successes of the producer she was meeting with as part of her motivation for pursuing the part. "He was so happy…that's what he was contributing to this particular project," Frances explains.
TEDx Talk
Frances Cole Jones: Speech Excerpt
Demo Video