* Please note that while this speaker's specific speaking fee falls within the range posted above (for Continental U.S. based events), fees are subject to change. For current fee information or international event fees (which are generally 50-75% more than U.S based event fees), please contact us.
Top25 Speaker Voting

Ford Saeks needs 6 vote(s) to make it into the Top 25 speakers on Speaking.com!
Speaker Booking Tip
"Tip: speakers bureaus provide added value that you cannot get by booking speakers directly. "
For Event Planners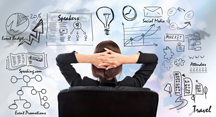 • Keynote Speaker Booking Toolkit.
• Booking a Celebrity Speaker.
• How to Find and Book the Right Speaker.
• Google+ Event Planning Forum.
• Tips for International Clients Booking U.S. Based Speakers.
Similar Speakers
Shawn Dubravac

As Chief Economist for the Consumer Electronics Association (CEA®), Dr. Shawn DuBravac is at the forefront of the latest consumer technology trends. An internationally sought-after…

Mark van Rijmenam

Founder of Datafloq.com, Mark van Rijmenam guides organizations through the rapidly growing field of Big Data. Equipped with a background in marketing and strategy, he…

Scott Steinberg

Ranked the #1 technology expert by Google, TechSavvy Global CEO, Scott Steinberg has a talent for wearing many hats. The author and international speaker's trends…

Our event was what I would call 'over the top'... The survey results were at 92% very favorable. The speakers formed such a good relationship with myself and others at the conference. I am confident we will bring them back to do more. I will definitely contact you when we are in need of additional services. You have been the best!
American Express
About SPEAKING.com
Established in 1994, we are exclusive agents for some of the world's leading experts, celebrities and professional speakers.
We offer event planners a fully staffed speaker logistics planning team, plus a personal SPEAKING.com Account Executive – a knowledgeable and trustworthy partner. We guarantee your satisfaction with your speaker and a smooth booking process.
Contact us today to book your favorite speaker.

"Ford Saeks is a very innovative and creative person. He is a master in creating concepts to assist business professionals in taking their status to the next level. He spoke at our coaching program and blew the crowd away with his charm, knowledge and expertise in the social media space. We will continue to utilize him for upcoming events and highly recommend him!"
Kimberly Branch,
President,
4ward Financial Marketing

"Your opening general session and your breakout session were both extremely beneficial and served as a wonderful kick-off to our conference. Participants really enjoyed your high energy and practical take-away information. I look forward to working with you again in the future."
Allison Manny,
Director of Development & Education,
Community Health Care Services Foundation

"It is obvious that Ford is passionate about improving results. His dedication and enthusiasm inspires me to ′think outside the box′ and set higher standards for myself. His wealth of knowledge and ideas are amazing."
Niki Williams,
Marketing Coordinator Complex Marketing,
Comcast Spectacor

"Ford put much effort into understanding our company and developing a program that would successfully meet our training objectives. His attention to detail and extensive preparation were impressive, and we look forward to inviting him back in the future."
Suzanne Erker
Bank Of America

PARTIAL CLIENT LIST

4Ward Financial Marketing
AMA - American Management Association
American Marketing Association
AstraZeneca
Bank of America
Card-X Systems
CMD - Center for Management Development
CareerTrack / Fred Pryor Seminars
CAPS: Canadian Assn. Of Professional Speakers
Channel Three Productions
Citation Shares Aircraft-Cessna
Coach Ken Mastermind
Comcast Spectacor
ConsultingWorld Conference
Dynamic Performance Institute
Eduville.com
Entrepreneur′s Organization (EO)
EXFO UV, Inc.
First Union Bank
Floating Swimwear, Inc.
Emmerich Financial Group, Inc.
Friends University
Gage Research & Development, Inc.
Global Spectrum
Health Care Providers, Inc. (HCP)
Independent Computer Consultants Assn.(ICCA)
Insurance Women of America
International Speakers Network(ISN)
Les Brown Enterprises
LS Radio Network
Mayer Motivations Inc.
Mission Valley Bank
National Seminars Group, Inc.
Nationwide Marketing Group
New York State Telecommunications Association
New York State Assn. of Health Care Providers, Inc.
Next Financial Services
National Speakers Association Convention(NSA)
Peak Performance Mastery
Philadelphia 76ers (NBA)
Philadelphia Convention & Visitors Bureau
Philadelphia Flyers (NHL)
Print Services & Distribution Association (PSDA)
Proudfoot Consulting, Inc.
Public Relations Society of America (PRSA)
Quantum Expositions, Intl.
Real Estate Mastery Conference
Richwood Banking Company
Rockhurst University
Rx-Success.com
Tom McCarthy Enterprises
Total Action Products
The Success Training Network (TSTN)
United States Postal Council
Viking Corporation
Visionary Apps
Wichita Area Chamber of Commerce
Wichita State University
Marketing Magic!: Innovative Tips on Marketing, Media, and Public Relations from Some of America′s Cutting-Edge Leaders
Innovative Tips on Marketing, Media, & Public Relations from some of America′s Cutting-Edge Leaders.

Imagine sitting down with 18 of America′s most notable marketing experts and learning their most innovative and effective strategies and techniques! Marketing Magic! presents cutting-edge ideas from men and women with proven track records and long lists of satisfied clients. There′s treasure in every chapter!

Featuring Ford Saeks, Brian Tracy, Jay Conrad Levinson, Robert Bly, Merrie Spaeth, Bette Daoust,Ph.D., Allen Stam, Bob Pritchard, Charles Clarke, Kelly McDonald, Ed Bond, Don Benton, Jill Lublin, David Edstrom, Ken Banks, Rosemary Walter, Rick Cooper and Richard Tyler.
Order Here





All of Ford′s presentations are customized for YOUR specific industry, audience level, and desired length of program.

Custom articles are available for client publications. Resources, books, audio and training tools also available for bulk purchase or audience gifts – ask us about quantity and special event discounts.

Innovative Marketing Mastery™
Creativity in Action to Produce Profitable Results

Whether marketing is just part of your job or the whole enchilada, whether you're selling products or services—or fundraising for a non-profit/not-for-profit, there are times when you need to come up with creative new ideas to attract attention and stand out above the competition. This program shows you and your audience creative methods you can use to generate tons of new ideas and improve your sales & marketing efforts.

This high-energy "how-to" session offers you a multitude of creative marketing techniques for subtly—and not so subtly—getting your prospects and customers to buy more products and services.

Web 2.0 and Beyond™
How to Monetize Social Media Marketing Efforts

In this presentation I'll reveal the seven critical components you must implement effectively to make the most of your online marketing investment.

Starting with how to improve your Website's usability, get top search engine's rankings and drive targeted traffic to your site… to using the Social Media Marketing Websites to protect your brand and increase your sales… this presentation is packed with Internet Marketing Strategies and Tactics to add more value and grow your business. Everyone wants more traffic to their site, but what they really want is targeted traffic that converts into sales and repeat customers.

This presentation is perfect is everyone, regardless of your individual role in the process OR your level of technical expertise, you′ll walk away with many strategies, tactics and resources to supercharge your selling online.

Secrets of Sales Success™
Beyond Your Typical Sales Training

Let′s face it, most companies have trouble finding, training and keeping excellent salespeople. Giving people the right skill set is only part of the process, the other elements are attitude and an outstanding commitment to provide value to your customers.

This isn't just another rah-rah, blah-blah presentation, but an interactive "Action-Training" that creates a lasting positive impact. If you want to supercharge your management and sales force for long-term success and keep them performing at higher levels, then this is the program to choose.

Like all of my presentations… it's about Actions and Results. I'll help your audience Increase first-time and repeat sales while improving customer loyalty. I'll guide them through proven strategies, providing your group with immediate action steps they can use to maximize their sales efforts.

Business Growth Acceleration™
Improving Your Find-ability, Unique-ability and Profitability!

Ignite the passion of your team with easy to implement strategies that improve performance and profits. This program is designed for organizations that want to attract new customers, wow their current customers, gain a competitive edge, and put the fun back into their workplace.

You'll Learn:


The 3 secrets of expanding your digital footprint that put your products and services in front of your target market.
What you can do within 24 hours to improve your unique-ability attracting new customers like a magnet.
How to re-energize your people to improve performance and enjoy the process.
Implementable ideas and action steps that accelerate your success.



Demo Video
In his demo video, Ford Saeks begins by discussing things that block creativity, including perceptions and stereotyping, emotions like fear and risk, cultural belief systems and environmental factors. He encourages the audience to adjust their environment for better creativity. "What's your environment like now?" he asks. "Is there anything that helps you fidget? Do you have any toys or anything on your desk that you can sit and play with? …If it helps you be more productive, or helps you get to the results you want, it shouldn't matter if you have toys on your desk… I don't know what's going to work best for you, but get yourself something… Surround yourself with an environment to shake that up."
Ford goes on to discuss the two halves of the brain: the right brain and the left brain. "The key to creativity is focusing on being creative when you're being creative, and not editing," he says. "When you're in the creative process, when you're a power thinker—and we're all power thinkers… being a power thinker means being able to turn the creativity on like that." He continues by providing tools to help the audience discover their inner "power thinker" and turn on their creativity.