* Please note that while this speaker's specific speaking fee falls within the range posted above (for Continental U.S. based events), fees are subject to change. For current fee information or international event fees (which are generally 50-75% more than U.S based event fees), please contact us.
Top25 Speaker Voting

Faith Popcorn needs 5 vote(s) to make it into the Top 25 speakers on Speaking.com!
Speaker Booking Tip
"Tip: ask your speaker to do a book signing or attend a VIP meal with your guests. "
For Event Planners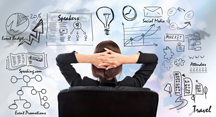 • Keynote Speaker Booking Toolkit.
• Booking a Celebrity Speaker.
• How to Find and Book the Right Speaker.
• Google+ Event Planning Forum.
• Tips for International Clients Booking U.S. Based Speakers.
Similar Speakers
Larry Huston

Larry Huston is the former Vice President of Innovation, Procter & Gamble and the father of the Connect + Develop business model. Under Larry's watch,…

Daymond John

Marketing and branding expert Daymond John drew his inspiration and his first successes from the hip-hop scene in his native community of Hollis, Queens, New…

Keith Yamashita

Consultant, author and speaker Keith Yamashita helps companies turn their struggling businesses around and rebrand themselves. He helps organizations become stronger by encouraging their members…

Our event was what I would call 'over the top'... The survey results were at 92% very favorable. The speakers formed such a good relationship with myself and others at the conference. I am confident we will bring them back to do more. I will definitely contact you when we are in need of additional services. You have been the best!
American Express
About SPEAKING.com
Established in 1994, we are exclusive agents for some of the world's leading experts, celebrities and professional speakers.
We offer event planners a fully staffed speaker logistics planning team, plus a personal SPEAKING.com Account Executive – a knowledgeable and trustworthy partner. We guarantee your satisfaction with your speaker and a smooth booking process.
Contact us today to book your favorite speaker.

"Your expertise and insights into consumer trends set the tone for a powerful afternoon of programming for all those in attendance. Since returning I have heard nothing but rave reviews for your session and the day in general. Our bookstore manager noted that your books were one of the first to sell out!"
Janine Pesci,
Managing Director of Programs,
Urban Land Institute

"You were brilliant! You are an amazing speaker, I was very entertained and I learned a lot. Your talk refueled me!"
Elise Beth Kramer,
International Spa Association

"Our client, Wessanen, was thrilled to have her speak at their general session. Her speech was energetic and articulate! All of the attendees remarked on how the subject matter fit in with what the company is trying to achieve in the near future."
Katie Kirchner,
Program Manager,
PGI

"Faith Popcorn′s outstanding presentation was regarded as the highlight of the ′Berlin Resources Summit 2000′ by the whole audience."
Wolfgang Schutt,
INTEC GmbH

"Closing with your key note address helped to make it one of the most successful conferences we have ever had. The feedback from the clients and our own associates who attended your presentation was tremendous. You demonstrated a truly unique style of thought leadership that simply dazzled the audience. I was immensely impressed with the remarkable way in which you engaged us and stimulated our thinking around some of the new trends and ideas that you have forecasted. We were engrossed as we pondered the questions you raised around everyday life issues that we, as business leaders and marketers, should absolutely have on our radar screen."
Constance M. Bentley,
President,
Consulting & Training Division Time Mirror Training Group

"I have just seen the final evaluations from the AAAA annual meeting and wanted to confirm to you what you should have heard — you were a smash! Eighty percent of the respondents gave you an excellent rating - one of the highest scores we've ever seen."
O. Burtch Drake,
President and Chief Executive Officer American Association of Advertising Agencies

"As you know, we face significant business challenges. Having you on our team, partnering with us – enhances our changes of success dramatically. Sharing your thoughts with a broader group of personnel expands your influence on where we are heading. Thank you for your fabulous presentation, and most of all for your thoughts on our business."
Jim Goldman,
President Nabisco Tablespreads Company

"I think the overall reaction to Faith′s speech was good. It was very thought - provoking! I spoke to one of the attendees who was in marketing before he joined Andersen Consulting, and he spoke very highly of Faith, and thought the presentation was outstanding. We deeply appreciate your efforts to work with us to develop an excellent presentation."
Jennifer Benson,
Andersen Consulting

"I want to thank you for the contribution that you made. You helped empower women and your message was an excellent springboard to the introduction of our new Sense personal care line."
Dallin Larsen,
USANA
Eveolution: Understanding Women--Eight Essential Truths That Work In Your Business And Your Life
Faith Popcorn′s name is synonymous with prediction: She has accurately foretold the business and personal trends that have defined our lives for the past two decades. Her frequent media appearances and groundbreaking national best-sellers, The Popcorn Report and Clicking, have made her familiar to most of the world. Called "the Nostradamus of marketing" by Fortune magazine, Popcorn now turns her incredible acumen to one of the most important segments in marketing: the female consumer.

Every day we read about a new scientific study that confirms the physiological differences between the sexes: how women′s brains are different; how they see, hear, acquire and use language differently. What we haven′t heard is how these differences manifest themselves in the marketplace -- until now.

Today, women make 80% of all purchasing decisions. In EVEolution, Faith Popcorn shows you that you cannot succeed in business or successfully start one without understanding how to market to women. Whether you make cornflakes or concrete, pillows or pixels, she reveals why women must be your chief target. Even if you just want to understand the landscape of tomorrowland, this book is a must read.
Order Here





Revolutionary Consumer Trends
If you could know everything about tomorrow, what would you do today? Leaving no aspect of our lives untouched, Faith Popcorn provides a blueprint for future business growth using her uncanny ability to "Braille the Culture" and see what products and processes will motivate consumers in the coming decade. Her tailored presentations are interactive, guaranteed to challenge the beliefs, jump-start creativity and improve the business and personal decision-making process of virtually any audience.
Demo Video
Conscious Capitalism Speech
Speech Excerpt