Top25 Speaker Voting

Faisal Hoque needs 3 vote(s) to make it into the Top 25 speakers on Speaking.com!
Speaker Booking Tip
"Tip: some speakers might provide one of their popular book titles as a free gift to your audience. "
For Event Planners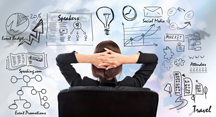 • Keynote Speaker Booking Toolkit.
• Booking a Celebrity Speaker.
• How to Find and Book the Right Speaker.
• Google+ Event Planning Forum.
• Tips for International Clients Booking U.S. Based Speakers.
Similar Speakers
Thomas Kuczmarski

Innovation guru, Thomas Kuczmarski has helped hundreds of clients, ranging from small businesses to Fortune 100 corporations, boost their competitive edge and performance by building…

Doug Lipp

Disney University training veteran, Doug Lipp is sought after for his expertise in helping organizations build adaptive, world-class service cultures that fuel growth and long-term…

Jim Carroll

Jim Carroll is at the forefront of global futurism, helping an array of blue-chip clients to predict the trends and innovations of coming years before…

Our account rep was fantastic; he is very responsive, handled registration for our speaker, submitted the contract and invoice quickly - so easy to work with. Thank you!
Deloitte
About SPEAKING.com
Established in 1994, we are exclusive agents for some of the world's leading experts, celebrities and professional speakers.
We offer event planners a fully staffed speaker logistics planning team, plus a personal SPEAKING.com Account Executive – a knowledgeable and trustworthy partner. We guarantee your satisfaction with your speaker and a smooth booking process.
Contact us today to book your favorite speaker.

Everything Connects: How to Transform and Lead in the Age of Creativity, Innovation, and Sustainability
The constant cascade of new technologies and social changes is creating a more empowered population. Workforces are increasingly dispersed, demanding of self-expression, and quite possibly disengaged. Within this topsy-turvy context, leaders must spark creativity, drive innovation, and ensure sustainability.
What are the remedies? The newest problems of the world find solutions in the oldest and time-less practices such as mindfulness, authenticity, and perseverance—because Everything Connects.
Everything Connects is a kaleidoscopic view of the way humans—by being able to think out of the box—have been able to achieve greatness for themselves, their organizations, and the world at large. It is your step-by-step guide for working with yourself and others—for meaningful success.
Using real-life practical experiences, serial entrepreneur and thought leader Faisal Hoque teams up with journalist Drake Baer to provide a personal and professional playbook that shows how to:
Holistically connect the "when" and "what" with who you are
Inspire and lead inside and outside of your organization
Generate ideas, grounded decisions, and long-term value
Part philosophy, part business, and part history, Everything Connects offers the wisdom of 2,500-year-old Eastern philosophies and the interconnected insights of Leonardo da Vinci. Couple that with Fortune 100 corporate cross pollination for creativity and startup thinking for how to adapt with ease, and you'll quickly discover that Everything Connects.
This isn't just a quick fix for your next financial quarter; this is how you succeed in the long run. It is a systemization of the best practices of spirituality and entrepreneurship—loaded with knowledge, humor, and humanity.

HOW TO REINVENT WITH AN ENTREPRENEURIAL MINDSET
Somewhere along the way, people became convinced that stasis is safer than movement. Consistency feels comfortable; volatility is frightening. Consciously or not, we attempt to protect ourselves against life's volatility by cultivating routine in our lives.
But, in this ever-changing world, we are constantly forced to reinvent ourselves. And this reinvention process by very nature requires an entrepreneurial mindset. Constant reinvention requires:
Driving long-term vision
Creating platforms for growth
Fostering synergistic ecosystems
1. A SENSE OF PURPOSE TAKES VISION
Vision is what we're to do with the time that we have. If you look at the central business theses of a few leading companies, we can see that they prioritize not only revenue–though surely that's essential–but also the purpose of the work that they do. And that purpose is critical to staying a long-term course.
2. FINDING THE PLATFORMS THAT ARE ALREADY THERE
If vision is an expression of the soul of a person, platform is its body. We often call these "core competencies," which tend to grow organically. Whether an organization (or an individual) recognizes it in themselves, these competencies are platforms, or assets with business applications. Platform generation is taking assets that have already been created and finding new ways to use them.
3. FOSTERING SUSTAINABLE ECOSYSTEMS
Why are ecosystems–and understanding them–crucial to sustainable value creation?
They are the structure that surrounds and supports our businesses. They spread stakeholdership out from the business and into society.
Sometimes an ecosystem can sprout up around a product, like the range of cases, headphones and other paraphernalia that surround the mobile devices. As well, a company can sprout whole economic worlds, as was the case of the App Store–and in that case, the App Store itself was a new platform for Apple. In a very similar sense, ecosystem thinking has become a cornerstone of web publishing–the broad swathe of unpaid contributors creating content for the Huffington Post, BuzzFeed and other publishing platforms do so in exchange for growing their own individual readership and brand.
Taken together, constant reinvention process is a combination of inner and outer awareness.
Leading and Transforming in the Age of Creativity and Innovation
With the cascade of new technologies and social changes, we are constantly challenged to spark creativity, drive innovation, and ensure sustainability. What are the remedies? How do we work with ourselves and others? The newest problems of the world find solutions in the oldest timeless practices like mindfulness, authenticity, and devotion- because everything connects.
Connectivity is a sense of journey, to the sense of purpose–it is an individual, lonely pursuit and a collective, companionable one at the same time. Our individual, interpersonal, and organizational working lives all interconnect. By examining these connections, we learn new ways to create, innovate, adapt, and lead.
In this part philosophy, part business, and part history talk, Faisal will cover:
Connecting with Who We Are. Learn how understanding leads to authenticity, mindfulness cultivates authenticity, and how devotion is mindfulness, mindfulness is devotion.
Inspiring and Leading Inside and Outside of our Organizations. How to give people freedom and structure as well as how to curate talent.
Generating Ideas, Grounded Decisions, and Long-Lasting Value. How to promote ideas through curiosity, improve decisions by mapping them, and creating value over the long term.
This isn't just a quick fix for your next financial quarter, or a business plan; this is how you succeed in the long run. It is a systemization of your art, science, business, and spirituality.
WHY LEADERSHIP IS ABOUT POETRY AND PLUMBING
HOW TO INSPIRE AND ENCOURAGE EVERYONE YOU WORK WITH
TRADITIONAL HIERARCHICAL MANAGEMENT STYLE IS DEAD. YOU HAVE AN ALL-STAR TEAM AND VISION FOR MILES — WHAT'S MISSING? BRING YOUR FOCUS BACK TO YOUR PEOPLE'S POTENTIAL WITH THESE TIPS.
Nobody succeeds in a silo. Whatever we venture–personal, professional, philanthropic, political, or private–we must remember the people involved in and essential to our success.
Everything Connects is about lessons in leadership, from how to be more present to how technology is changing our worlds. A standout theme contained in this talk is our treatment of each other as humans–not just as employees, supervisors or CEOs–and the success this awareness brings.
Here are five ideas for connecting with the people that make business run.
1. EMPOWER THE INNER VISIONARY
Commitment-oriented companies are proven to be successful because colleagues are treated like family, not cogs in a machine. If we want to cultivate the visionary in others, we need to attend to the whole system surrounding them.
2. LEVERAGE TALENTS
Just as you can't force a flower to grow on a sidewalk, you can't tell someone to be what they aren't when they're in the wrong place. Categorize your organization's needs by what kinds of talent can fill them.
3. ENCOURAGE AMBITION
So you've curated your dream-team of visionaries–but what if they're dreaming of their individual success, instead of the greater good? The idea is that those ambitions are what create connections: when people are working together on projects they want to do, they'll form relationships.
4. POWER INNOVATION
Companies and individuals alike are pushed to reinvent or fizzle out faster than ever. Innovation isn't an option anymore; it's a requirement. Sustained innovation is powered by people who come together to share ideas, compare observations, and brainstorm solutions to complex problems.
5. PRACTICE MINDFULNESS
Rushing from task to task detaches us from our creative potential, the authors say–and isolates us from the people that make our endeavors possible. When we stop being curious, we stop being innovative, create complexity, and ultimately fail.

Ideas for Leaders
"To be a leader, first you have to be human and you have to connect with yourself before you can lead other people." Faisal Hoque rejects the popular concept of a "life work balance," arguing that everything in the universe is connected; therefore, we cannot be leaders at work unless we understand our identity, desires, and path in our personal lives.
SAYWE : Faisal Hoque Keynote - "Do You Have Courage to Survive and Thrive as an Entrepreneur"
The Transformational Triangle: Innovation, Agility, and Operational Excellence
Keynote Speech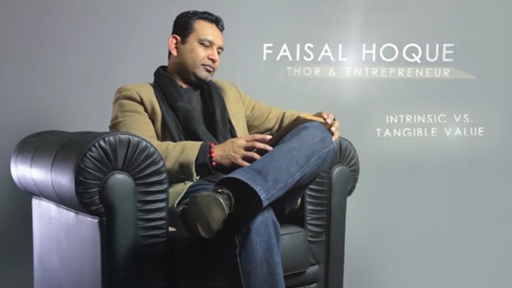 As a renowned thinker and authority in mindful leadership, Faisal Hoque is frequently invited to speak at business conferences worldwide. His books, blog, and articles on innovation, entrepreneurship, creativity, and building resilience attract readers worldwide, including many high profile CEOs. His latest book is Survive to Thrive – 27 Practices of Resilient Entrepreneurs, Innovators, And ... more