* Please note that while this speaker's specific speaking fee falls within the range posted above (for Continental U.S. based events), fees are subject to change. For current fee information or international event fees (which are generally 50-75% more than U.S based event fees), please contact us.
Top25 Speaker Voting

Erik Qualman needs 7 vote(s) to make it into the Top 25 speakers on Speaking.com!
Speaker Booking Tip
"Tip: find a speaker in your local area to save on travel costs. Most speakers will also reduce their keynote fee for local events. "
For Event Planners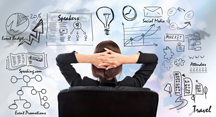 • Keynote Speaker Booking Toolkit.
• Booking a Celebrity Speaker.
• How to Find and Book the Right Speaker.
• Google+ Event Planning Forum.
• Tips for International Clients Booking U.S. Based Speakers.
Similar Speakers
Mike Walsh

CEO of Tomorrow, a global consultancy for business design, Mike Walsh is in great demand from leading companies worldwide, both as a consultant and a…

Marc Prensky

Dedicated to designing a new pedagogy and curriculum for the digital generation, Marc Prensky is a world leader in the application of new technology and…

James Canton

Founder, CEO and chairman of the Institute for Global Futures, Dr. James Canton has been recognized by Successful Meetings Magazine as "one of the top…

It was an extreme pleasure to work with our account rep. She was friendly, flexible, and knowledgeable about all their speakers. She made the process simple. I cannot begin to put into words the impact that our speaker had on our audience. People are still taking about his presentation and his program set a standard on all diversity programs.
FDIC: Federal Deposit Insurance Corporation
About SPEAKING.com
Established in 1994, we are exclusive agents for some of the world's leading experts, celebrities and professional speakers.
We offer event planners a fully staffed speaker logistics planning team, plus a personal SPEAKING.com Account Executive – a knowledgeable and trustworthy partner. We guarantee your satisfaction with your speaker and a smooth booking process.
Contact us today to book your favorite speaker.

Qualman is to social media what Demming is to quality and Drucker to management.
Scott Galloway, NYU Stern School of Business
Erik's opening keynote hit it out of the park and excited our audience. The feedback was exceptional and many attendees went out of their way to comment on how inspirational and informative his keynote had been. We hope to have Erik back to our events in the future and are glad that we had the opportunity to share his insights with our delegates.
Kat Drucker Digital Media Summit Toronto
Erik's presentation was the most important business presentation — in terms of immediate impact in how I approach my job — that I have sat through in 10 years.
EVP of Sales ADP
In his key note speech Erik built a bridge between information and entertainment. It's impressive how easily he adapted to the audience and the topic of the conference. A very professional performance… and we are looking forward to welcome Erik Qualman again.
Corinne Hengartner EAM Marketing & Campaigns Credit Suisse
Erik Qualman's keynote was the highlight of our Starbucks Conference. He is one of the most engaging and entertaining speakers I've come across, and was able to make the content relevant to our audience and fitting to our theme. His depth of insight and breadth of examples have prompted us to shift our thinking to stay connected to our partners and our customers.
Starbucks Katya Cautillo Recruitment Manager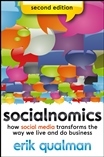 Socialnomics: How Social Media Transforms the Way We Live and Do Business
The benchmark book on to the effects and implications of social media on our daily lives, and how businesses can harness its power
Socialnomics is an essential book for anyone who wants to understand the implications of social media on our daily lives and how businesses can tap the power of social media to increase their sales, cut their marketing costs, and reach consumers directly. In this revised and updated second edition, author Erik Qualman presents new material based on meeting with 75 Fortune 1000 companies, 50 colleges and universities, and over 100 small businesses & non-profits since the first edition. Qualman's materials have been used from IBM to NASA to Harvard to local businesses.
Lists the top ten easy opportunities that companies and organization miss when it comes to social media
Describes where social media should reside in an organization and the necessary building blocks for success
Explains why over 50 percent of companies still block social media to their employees and why this is a detriment to success
Shares proper training methods for your ENTIRE organization on social media; not just the chosen few
Reviews the top companies, organizations and individuals using social media, explaining what separates them from other companies and how to replicate their success

Social media can transform your business and your relationship with consumers. Discover what social media can do for you, and what you can do for others while using social media.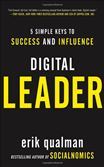 Digital Leader: 5 Simple Keys to Success and Influence
"Digital footprints are what we post about ourselves. Digital shadows are what others upload about us. Collectively, they have changed the world forever. As leaders and future leaders we need to adapt to this new world."
-- from Digital Leader
Digital leaders are made, not born--you have it within you to become an effective digital leader. As a leader in the digital age, your reach is boundless. With advanced technologies, you can exert more direct and indirect influence than ever before--anywhere at any time. And everything you do, fail to do, and wish you didn't do is documented forever in the digital universe.
Digital Leader explains how to take full advantage of everything the digital age has to offer, while avoiding common pitfalls that can damage your "digital legacy."
Bestselling author Erik Qualman explains what modern leadership means and describes how to be an effective leader in the digital world. In order to succeed, you need to adjust your leadership skills to adapt to today's digitally open world--and you need to start today. Qualman breaks the process down into five powerful truths you can use to establish your leadership "stamp":
Erik Qualman is an international best selling author and motivational keynote speaker. Qualman delivers 50 performances per year.
He has spoken in 44 countries and his top three topics are: Digital Leadership, Digital Reputation & Ratings, and Disruptive Innovation. His partners include Starbucks, Raytheon, Chase, Sony, National Guard, IBM, Airgas, Disney and over 200 Universities. He has been nominated for the Pulitzer Prize and voted the 2nd Most Likeable Author in the World behind Harry Potter's J.K. Rowling. Qualman is a sitting professor at Harvard & MIT's edX labs.
Digital Leadership & Motivation
Digital leaders are made - not born. Learn the 5 Habits that all digital leaders practice. Learn to create profitable & innovative disruption in the marketplace.
Digital Reputation
Privacy is dead. Learn the new rules of reputation for your brand, employees and family. Digital reputations are determining the success of everything.
Disruptive Innovation
What technologies are emerging? Merging? How do I harness the power of Socialnomics? Qualman explores which innovative trends are cutting edge and which are bleeding edge to ensure your organization is not only on the correct path, but ahead of the curve. Most importantly he explores how to infuse more disruption and innovation into your business. Big Data
This entertaining session highlights how top tier organizations convert unstructured data into actionable information to drive incredible bottom line results. Qualman showcases how Big Data can be harnessed to win elections, track the outbreak of the flu, reduce urban crime, generate more sales leads, dramatically increase revenue and beyond.
Socialnomics: It's a People-Driven Economy
Products and services are being pushed out way through social media. The ones that provide the best value will win, rather than the companies that are the best at marketing and messaging. Erik Qualman explores why flourishing companies are acting like Dale Carnegie: listening first and selling second, and explains how social media isn't a fad - it's a revolution.
Word of Mouth Goes World of Mouth
Erik Qualman, the best-selling author of Socialnomics: How Social Media Transforms the Way We Live and Do Business, will explain how companies can rely on social media to stay ahead of the competition and why the most successful businesses act more like content aggregators than advertisers.
Digital Leader: 5 Simple Keys to Success and Influence
How do I lead my best life with the help of digital media? How do I get more followers? What is my digital legacy? These are the top three questions social media expert Erik Qualman gets asked, and he shares the answers in this instructive, future-thinking presentation on how to assess your "digital footprint" and "digital shadow." Based on his latest book of the same name, Qualman walks audiences through the five key constructs of how to be a digital leader and take control of the "S.T.A.M.P." they leave on the digital landscape.
Introduction - Speech Clips
"It's not a question of if we're going to make a mistake, it's a question of when and how we handle it in the social media world," Erik Qualman tells his audience, demonstrating how social media errors can become "flawsome." "How do you make digital lemonade out of digital lemons?"
The Future of Social Commerce
Social Media Keynote Speaker
Online Marketing and Social Media Author
OPENING KEYNOTE - Erik Qualman