* Please note that while this speaker's specific speaking fee falls within the range posted above (for Continental U.S. based events), fees are subject to change. For current fee information or international event fees (which are generally 50-75% more than U.S based event fees), please contact us.
Top25 Speaker Voting

Erica Dhawan needs 8 vote(s) to make it into the Top 25 speakers on Speaking.com!
Speaker Booking Tip
"Tip: speakers bureaus can provide: speaker fee negotiation, insurance, smooth logistics and value add-ons such as extra sessions. "
For Event Planners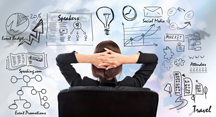 • Keynote Speaker Booking Toolkit.
• Booking a Celebrity Speaker.
• How to Find and Book the Right Speaker.
• Google+ Event Planning Forum.
• Tips for International Clients Booking U.S. Based Speakers.
Similar Speakers
Tony Alessandra

Nobody delivers lectures quite the same way as Dr. Tony Alessandra, who combines valuable learning with humor and energy for a lively presentation you won't…

Lynne Lancaster

One of the nation's most highly regarded generational experts and cultural translators, Lynne Lancaster can help you transform your corporate culture and employee relations so…

Olivia Fox Cabane

Author of The Charisma Myth: How Anyone Can Master the Art and Science of Personal Magnetism, Olivia Fox Cabane is an executive coach to the…

Your speakers bureau was a tremendous resource for the NHL as we planned and executed our NHL Club Business Meetings. Their assistance with securing our keynote was invaluable. They provided detailed information in a timely manner which was crucial to the success of the event. The execution was seamless!
National Hockey League
About SPEAKING.com
Established in 1994, we are exclusive agents for some of the world's leading experts, celebrities and professional speakers.
We offer event planners a fully staffed speaker logistics planning team, plus a personal SPEAKING.com Account Executive – a knowledgeable and trustworthy partner. We guarantee your satisfaction with your speaker and a smooth booking process.
Contact us today to book your favorite speaker.

"Erica's presentation was absolutely perfect for our leaders. Our group was diverse and Erica was a hit with everyone! Her storytelling style of presenting along with a healthy dose of informative case studies kept everyone engaged and interested–and excited about using connectional intelligence to transform our business."
-George Chavel, Chairman and CEO emeritus of Sodexo
"Erica was the keynote speaker at our 7th annual Women in Shared Services and Outsourcing event in NYC. She was excellent in all respects. Erica is a dynamic, thoughtful speaker. I would recommend her to any business with multi-generational work force."
-Barbara Melby, Partner, Morgan Lewis
"Erica Dhawan was an inspiring and provocative keynote speaker at our executive retreat. I highly recommend her and her work to senior executives seeking to build a thriving talent pool in the today's world!"
-Allen Hockenbury, Director at Deloitte
"Erica Dhawan delivered a superior keynote at our annual Business of Social Media Women's Leadership Summit in New York, June 2013. I could not have been happier with her work. Our attendees raved: 'Erica presented a provocative and compelling view of the impacts from and implications for use of social connectivity." "great keynote speaker…vibrant and passionate about the topic with great insights and stories.' Several also added 'Wow' – which is what I want to say. Wow. I HIGHLY recommend Erica as a speaker."
– Janet Wigfield, Vice President, Executive Director, Conferences + Events, Working Mother Media
"Erica is one of those rare speakers who are analytical, creative, and inspiring. Erica used those talents to WOW our audience at the POWER Detroit Conference. She has the ability to translate her ideas into clear presentational formats that not only educate, but engage executives and show bottom line impact. I would recommend her to present at any forum geared toward guiding today's leading Fortune 500 executives."
- Deirdre Joy Smith, Founder & President, POWER: Opening Doors for Women™
"We received extremely positive feedback on Erica's keynote presentation on Millennials. She delivered an informative, compelling session and captivated the audience with her energetic, dynamic delivery. Thank you for an outstanding presentation!"
- Tannis Redenkopp, Next Generation Leadership Summit, Rotman School of Management
"Erica was one of the best speakers we've had. Her message was of great value to our teams at FedEx who ranged from Gen Y to Traditionalists! We left with specific actions we could use right away to drive more innovation across our teams."
- Mary Haley, Senior Advisor, FedEx Corporation
"Erica is an extremely passionate & inspirational speaker. I would recommend her to any organization that is looking to take their young employees and leaders to the next level — and provide them with tools to be truly successful."
- Jo-Ann Tan, Marketing Manager, Acumen Fund
"We hired Erica to help move our Institute to the 'next level', and her support helped us define our core mission, clarify key opportunities for profitable growth, and develop a powerful strategic retreat. Thanks, Erica, for your great work!"
- Otto Scharmer, Founder, Presencing Institute.
"Erica is very gifted teacher, learner and leader. I recommend her enthusiastically to any organization that requires learning, teaching, and leadership."
- Marshall Ganz, Professor, Harvard University
"Erica's Innovation is an Art workshop was totally engaging and you could tell from the conversation, the comments, how long people stayed and their enthusiasm around the work that it was a huge success! Erica has a natural ability to make everyone feel at ease and dive into the work, and then learn from each other through a sharing of experience."
- Michelle Stanners, Founder of Cultural Agents Initiative, Harvard University
"Charisma, versatility, and charm make Erica's Bollywood dance workshop a can-do for people of all ages and abilities! Before you know it, total strangers are engaged in a group dance like nothing you have experienced before."
- Rachel Keyser, Dartmouth Hitchcock Medical Center
"Erica's Navigating your Career workshop was game-changing. Erica helped me see the structures that had been blocking me, which I had not even realized. The strength of her training was that she posed simple yet profound questions, focused on the individual. I ran to my desk after those sessions, energized to work through the questions that she had posed. Within a one-hour training and two-hour homework session, I had re-connected with my calling and my fears had receded in the face of the resolve I now felt to pursue my path."
- Voop de Vulpierres, Harvard University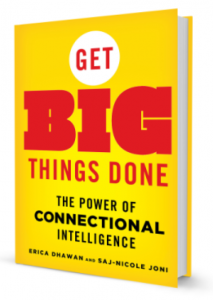 Get Big Things Done: The Power of Connectional Intelligence
We typically associate success and leadership with smarts, passion and luck. But in today's hyper-competitive world, even those gifts aren't enough. Get Big Things Done argues that the game changer is a thoroughly modern skill called Connectional Intelligence. Virtually anyone can maximize his or her potential, and achieve breakthrough performance, by developing this crucial ability.
So, what is it? Put simply, Connectional Intelligence is the ability to combine knowledge, ambition and human capital, forging connections on a global scale that create unprecedented value and meaning. As radical a concept as Emotional Intelligence was in the 90s, Connectional Intelligence is changing everything from business and sports to academics, health and politics by quickly, efficiently and creatively helping people enlist supporters, drive innovation, develop strategies and implement solutions to big problems. Get Big Things Done unlocks the secrets of how the world's movers and shakers use Connectional Intelligence to achieve their personal and professional goals–no matter how ambitious.

Get Big Things Done: Unleash your Connectional Intelligence:
We typically associate success and leadership with smarts, passion and luck. But in today's hypercompetitive world, even those gifts aren't enough. Strategist Erica Dhawan argues that the game changer is a thoroughly modern skill called Connectional Intelligence (CxQ). Virtually anyone can maximize his or her potential, and achieve breakthrough performance, by developing this crucial ability.
So, what is it? Connectional Intelligence is the ability to combine knowledge, ambition and human capital, forging connections on a global scale that create unprecedented value and meaning. As radical a concept as Emotional Intelligence was in the 90s, Connectional Intelligence is helping people enlist supporters, accelerate innovation, develop strategies, and sustain solutions to big problems.
This dynamic keynote will help employees understand the practice of using connectional intelligence as the key to professional success and leadership in the 21st century. Attendees will learn from real-life stories and leave with an action plan to become a power player in your organization.
Learning outcomes include:
How anyone can excel not just through skills and smarts, but through Connectional Intelligence
Keys to leveraging your networks and connections, and creating contagious positive results
Successful tactics used to address connectional overload and in changing turbulent times
How leaders create deep connections of fierce loyalty and respect from their team and customers
How connectionally intelligent leaders outperform the competition and create remarkable 
results

 Now it's your turn to leverage the secrets of the people using connectional intelligence. It's your turn to "Get Your Big Things Done." You'll be surprised at just how easy it is.
How to Build a Connectionally Intelligent Organization:
Connectional Intelligence (CxQ) helps organizations accelerate and sustain the capability to drive breakthrough innovation and results by harnessing the power of relationships and networks. In our new world of an embedded digital, global infrastructure that connects all of our lives, the power of connectional intelligence holds exponential and previously untapped potential for breakthroughs in ways we can barely begin to imagine in the workplace. To harness CxQ, we have to work with the future workforce differently – because they are ahead of the rest of us in harnessing connective capacity.
In this keynote, Erica Dhawan shares insights into how leaders can bring out the connectional intelligence of your employees and utilize the talents that different silos, cultures, and generations all bring to the table. This is a powerful, interactive presentation for leaders who seek to breakthrough generational friction, drive innovation, shift company culture and transform the untapped connectional intelligence of your entire workforce.
Learning Objectives:
Understand the resources each employee brings to the workplace
Decode the connectional capacity of each generation and culture and use that knowledge to significantly improve innovation
Transform workforce conflicts into growth points
Create processes designed to maximize the ability to connect people, ideas, and resources for breakthrough results
How to Maximize Value from Millennials:
Millennials are the rising generation in the workforce today. Millennials expert Erica Dhawan reveals the #1 key to determining their workplace performance: Connectional Intelligence. For millennials, engagement with different kinds of connection is not just about social media – it's embedded in all aspects of their daily life and work. This engagement enables them to realize exponential results from Connectional Intelligence (CxQ) leading them to drive growth, streamline costs and improve the overall performance of your business. The way to acquire, engage and retain top millennial talent to generate fast results is to stop with the play and perks. Instead, put their fundamentally different, powerful, radical, and disruptive Connectional Intelligence to work.
This presentation and/or workshop will decode the millennials' employment mindset, reveal how to maximize millennials recruitment, retention and performance, and offers specific actions to unleash your millennials' Connectional Intelligence.
Other Speaking Topics:
Preparing for the Global Workforce
Marketing to Millennials
Erica Dhawan, Business Strategist: Keynote
Erica Dhawan reveals that we are seeing the rise of "The Connectional Enlightenment," a paradigm where our ability to build networks and collaborate with others will be the chief driver of success. She illustrates this with the story of a law firm who's youngest members simultaneously boosted productivity and reduced their hours by inventing a twitter like communication system that they used to exchange information regarding the cases they were working on.
Erica discusses how groups can prepare for the new age we're entering, noting that the change is not just about our smart phones. "This enlightenment is fueled not only by digital technology," she insists, "but by technology and power, logistics, material sciences, and transport and it's creating unimaginable transformations in the world."
Erica Dhawan, Business Strategist: TEDxBeaconStreet
Erica Dhawan, Business Strategist: Sizzle Reel
Erica Dhawan, Business Strategist: Google Talk