Top25 Speaker Voting

Duncan MacPherson has been currently voted into the Top25 speakers on Speaking.com, congratulations! To help keep Duncan MacPherson in the Top25, vote below:
Speaker Booking Tip
"Tip: find a speaker in your local area to save on travel costs. Most speakers will also reduce their keynote fee for local events. "
For Event Planners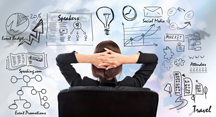 • Keynote Speaker Booking Toolkit.
• Booking a Celebrity Speaker.
• How to Find and Book the Right Speaker.
• Google+ Event Planning Forum.
• Tips for International Clients Booking U.S. Based Speakers.
Similar Speakers
Roberto Carlos (RöC)

One of Latin America's most influential leaders in innovation, Roberto Carlos (RöC) is the creator of Factor WOW, a methodology that is revolutionizing the way…

Sasha Strauss

One of the most brilliant minds in marketing, Sasha Strauss is the founder and manager of the consulting firm, Innovation Protocol. From Fortune 500 companies…

Dan Coughlin

Executive coach Dan Coughlin goes the distance to bring your organization outstanding customized service. Dan helps companies achieve higher sustainable profits by working with executives…

Working with your speakers bureau has been a pleasure. Everyone on your team was extremely responsive and informative, and really helped us to customize our event. I will be sure to reach out to your agency again in the future with any speaker needs that I may have.
The Advisory Board Company
About SPEAKING.com
Established in 1994, we are exclusive agents for some of the world's leading experts, celebrities and professional speakers.
We offer event planners a fully staffed speaker logistics planning team, plus a personal SPEAKING.com Account Executive – a knowledgeable and trustworthy partner. We guarantee your satisfaction with your speaker and a smooth booking process.
Contact us today to book your favorite speaker.

"I′ve received such a positive response from our event held last Thursday that I′m beginning to wonder how I will top it next year! Your presentation was most certainly a highlight of the day for everyone in attendance. After listening for two hours, I′m sure there was not one [who] could claim leaving without a new idea or simply a "new-found" enthusiasm to put to use in their business."
-- Mutual Funds Branch Manager, Manulife Securities, London, ON

"Duncan, I just wanted to thank you for coming to speak to us at the Greater Oakbrook Chapter of the FPA. Your talk was exceptional! My hand still hurts from taking so many notes that I′m convinced will raise my service to my clients. You were exactly right when you wrapped up your comments. You provided me with insight to new ideas as well as validated some of the things I′m already doing. Thanks again, it was great seeing what a Canadian looks like."
-- Waddell & Reed, Naperville, IL

---

Selected Clients:

Wells Fargo Advisors
Raymond James Financial
Merrill Lynch
Morgan Stanley Smith Barney
LPL Financial
Franklin Templeton Investments
First Trust Portfolios
CIBC Wood Gundy
RBC Dominion Securities
HSBC Securities
American Funds
Fidelity Investments
Nationwide
Principal Funds Distributors
Lincoln Financial
American Express Financial
Bank of America
PaineWebber
Prudential Securities
Sun America
John Hancock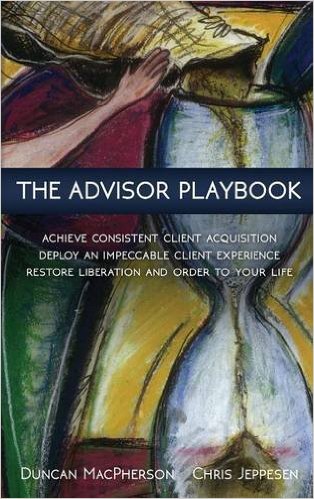 The Advisor's Playbook
Practice management is often misunderstood.
The Advisor Playbook
will take the mystery away.
Practice management is confused with marketing, or is limited to strategizing about branding, or simply equated to old-school salesmanship.
Practice management is how you build an organized toolbox of all your processes – branding, marketing, service activities, core functions – and constantly tune and keep that toolbox efficient and effortless. It's a network of interrelated skills, processes and strategies that build value in a business while making it manageable, scalable and ensuring the owner runs the business and not the other way around.
Duncan MacPherson and Pareto Systems have been in the forefront of practice management in the realm of the professional advisor for a quarter-century. Chris Jeppesen of First Trust brings his own decades of professional knowledge to the table. The processes in The Advisor Playbook have grown over those years, through constant refinement and improvement. They'll help you to perform that same refinement and improvement on your business, and regain liberation and order in your personal and professional life.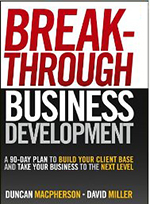 Breakthrough Business Development: A 90-Day Plan to Build Your Client Base and Take Your Business to the Next Level
Increase Profits, Be more Organized, attract a Higher Quality and Quantity of Referrals, Run Your Business so That It Doesn't Run You, Take Your Business to the Next Level... With Breakthrough Business Development!
Breakthrough Business Development shows you how to attract and keep great clients, while running a profitable and efficient business. It helps every knowledge-for-profit professional to maximize your most valuable client relationships, and to develop a personalized business development plan to mine the untapped potential in your business.
Praise for the Pareto System, Featured in Breakthrough Business Development.
"I am just beside myself on the results gathered so far from instituting the Pareto System. I use an agenda for meetings now and have formulated a standard package given to new clients. Already I have sent out twenty thank-you cards to new referrals. I even got a referral from a referral if that makes sense. Some clients didn't know that I was still expanding my business. I am also finding advocates that I didn't classify as such. Opening twenty accounts in this short time span is amazing but already I have another ten leads in the pipeline. You guys were right, it does work."
"We have been building client relationships for 45 years... Pareto Systems successfully helped us to pause and then guided us through the process of defining the appropriate business structure and systems which will strengthen and enhance our best client relationships. We are now focusing on a comprehensive, systematized program for select clients. The results have been amazing-client satisfaction is way up and so are revenues."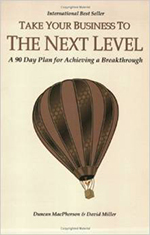 Take Your Business to the Next Level: A 90-Day Plan for Achieving a Breakthrough
Pareto Systems' co-founders, Duncan MacPherson and David Miller, have created and refined a process that entrepreneurs can implement with precision and certainty. And what is most exciting is that, minor adjustments can lead to major improvements. Readers are given a full array of actionable tools to actually translate ideas into results immediately. This approach is time-tested and proven to help make meaningful and measurable progress.
Readers are also prompted to take action at the end of each chapter using the corresponding templates and samples on the included Actionable Tools CD-ROM. Learn how to attract a higher quality and quantity of referrals; use stewardship rather than salesmanship to attract high-value clients; competitor-proof clients by consistently using a service matrix; ensure clients focus on what you're worth rather than what you cost; build a more profitable practice; restore liberation and order in your personal life; and run your business so it doesn't run you.
Breakthrough Business Development
How to Crack the Code for Consistent Client Acquisition
Duncan MacPherson, co-founder of Pareto Systems, works closely with some of the most effective professionals in North America. This presentation is filled with actionable, proven strategies that can be deployed for measurable results—quickly and predictably.
In this presentation, Duncan addresses 5 universal issues:
Outstanding Branding—to ensure you are perceived and described as a consultant with a process rather than as a salesperson trying to close sales
Client Acquisition—so that you can consistently attract high value clients rather than endlessly chasing them
The Fee-Worthy Consultant—a proven approach to ensure your clients focus on what you are worth rather than what you cost
Organization and Structure—so that you can run your business like a business and restore liberation and order to your life
The Next 5 Years—to strategically plan your ideal life and business so that ultimately you are positioned for anything
This presentation is ideally suited for:
Financial Advisors
Insurance Specialists
Consultants
Accountants
Lawyers
And any other knowledge-for-profit professionals
The Advisor of the Future—Transitioning to a Fee-Based Model
Pareto Systems has consulted with some of the most professional and effective financial advisors in the business on how to transition to an advisory platform. Using a sequential and proven 3-step process, you will discover how to make this transition predictable and productive.
Step 1—The Ramp Up
Purpose and Process—Gaining Clarity on the Why and How. In this module you will understand the issues that can undermine your full potential. The foundation of meaningful relationships is trust and Duncan outlines our process referred to as The 4-C's.
Outstanding Branding—Communicating Your Value. Being aware of how you are perceived by prospective clients and how you are described existing clients and strategic partners is essential. You will also learn the importance of creating a meaningful value proposition.
Defining Your Ideal Client—Beyond Client Classification. In this module Duncan discusses the importance of a panoramic Ideal Client Profile and how establishing rules of engagement and knock factors can ensure you consistently attract clients that are a perfect fit for your business.
The Service Matrix—A Process that Ensures You Allocate Your Time Effectively. Your ongoing objectives are to competitor-proof your best clients, gain their full empowerment and earn their endorsements.
Step 2—The Launch
3 Numbers in the Combination—Cracking the Code. There are 3 steps in the process that create awareness, interest and trust for your client.
The Agenda Driven Meeting—Contrast Takes the Client from Predisposition to Buy-in. In this module Duncan outlines the distinctions between salesmanship and stewardship and how they impact the outcome of this process.
The Re-Framing Approach—Explaining Your Evolution and its Impact on the Client. In this module Duncan outlines a compelling and sensible communication approach that ensures clients see the merit in this approach.
Establish a Fit—Clients Will Buy-into a Process Instead of Buying a Product. How you re-set a relationship will determine how it unfolds in the future.
Step 3—The Follow-Through
On-board the Client—Validate Their Decision With Elevated Service. Duncan provides an outline for how to fast-track a client to Advocate status in order to improve your refer-ability.
Maintain Fee-Worthiness—Deploy a Consistent and Proactive Service Process. Duncan discusses an approach to ensure clients continually focus on what you are worth to them rather than what you cost them.
Continually Support Your Value-Proposition—An On-going Process for Value Awareness. Capture money-in-motion with ongoing communications.
Respond to On-going Moments of Truth—Value-added that Your Client Will Value. Put processes in place to ensure that a relationship never plateaus or declines over time.
The Multiplier Method
In speaking with financial advisors, there are two groups we often see. The advisors aged 50+ who are looking down the road at the eventual sale of their business. These advisors have been in the business many years, achieved much success, and are now three to five years out from embarking on the next chapter in their lives. Then there are the ambitious advisors aged 30+ who want to light the after-burner in terms of business growth. But these advisors don't want to rely solely on organic growth, they want to acquire a business (or two), ideally from someone who has patiently and methodically built a durable business and is looking to exit.
We've also seen many of these same advisors investigate the idea of partnering with another advisor but rule that concept out for a variety of reasons. When not done properly, 1+1 often equals 1.5, along with an increase in overhead and hassle factor.
In the Multiplier Method presentation, Duncan focuses on a process to help advisors be best positioned to multiply the value of his or her business upon selling, as well as helping advisors be best positioned for a predictable and profitable acquisition and transition upon buying a practice.
1. Don't Sell a Book, Sell a Business
Look beyond simply 'trailing 12' for key performance indicators
What is the quality of the client relationships?
Put time on your side—deploying a process ensures there is minimal opportunity leakage
There are more sellers than buyers—organization, structure and sound best practices unlock value, and differentiates you from others
Acquire a real asset, not just a collection of assets
2. Establish a Fit—Identifying an Alignment of Interests between the Buyer and Seller
Accelerating grow through acquisition is great, but the focal point should be on the quality of the clients not the quantity
Consistency is crucial—advisors who tend to consistently attract the same type of clients in terms of average asset size and attitudinal qualities is a great indicator of fit
Maverick talent vs. documented procedures
How did they start their client relationships?
Fees vs. Commissions
Be prepared—preparation will help both parties squeeze more juice out of the orange
2. The 3-Step Process to Execute the Transition
Client buy-in and perception is critical
Step 1—the Ramp Up. Six to 12 months is best
Step 2—the Launch. A client relationship re-framing process is key
Step 3—the Follow-through. A predictable and sustainable process to meet and exceed the expectations set for the clients involved
Note: This presentation can be delivered as a high level step-by-step overview in 45-90 minutes at an industry conference, or drilled down in more detail in a one or two-day boot camp format.
Ultimate Client Experience
Ultimate Client Experience is one of Duncan's newest presentations. It was designed specifically for elite advisors that want to achieve a breakthrough with his/her top clients, and deploy a proven process to consistently attract high-value clients going forward.
Part 1—Develop a personal branding strategy to ensure you are perceived and described as professional consultant with a process
be consistent and have your actions be driven by process
stand out from the pack
Part 2—Deploy a family investment legacy process to ensure you are well positioned within the family tree
discover your sense of purpose
securing multi-generational family legacies/clients is powerful and deeply fulfilling
Part 3—Gain full empowerment- capture money in motion
uncover hidden assets by converting partial customers into fully empowering clients.
Part 4—Be positioned for anything—a sequential approach to create a trajectory that is aligned with your goals
your time is your most valuable asset. Create organization, structure and process to maximize efficiency
be consistently refer-able
Fast Track to Referrals
Today's financial advisor understands that it costs far more time and effort to convert a prospect into a client than it does to convert an existing client into a flag waving advocate. But consider the personal fulfillment involved as well. It can be draining and anticlimactic to be perpetually convincing new people to work with you. Why not work more effectively with the people who are already convinced and let them do the convincing on your behalf? The real value in a client relationship is not in the initial commissions you earn, it's in the commitment the client demonstrates to you over the lifetime of your relationship.
There are no silver bullets when it comes to referrals. They are not realized because of clever phrases or by asking your clients well-timed questions. Most referral approaches are transparent and make the advisor look needy and put the clients on the spot. Top advisors attract a steady stream of referrals because of reciprocation felt by their clients, not because of obligation.
In this presentation you will learn how to:
Address the unspoken resistance that prevents your clients from referring
Survey your clients for their referral awareness and predisposition
Install a consistent and congruent process that earns trust
Project a degree of scarcity that enhances your perceived value
Train your clients why, to whom and how they should be referring to you
Position referrals as a service to your clients rather than a benefit to you
Attract referrals like a consultant rather than chase them like a salesperson

Total Client Engagement: Become their Personal CFO
With the commoditization of the financial services industry, and the volatility in the market place there has never been a better time to be more relevant to your clients. In uncertain times, clients have anxiety and apprehension, and you need to help them look to the future with anticipation. Duncan MacPherson's process will unlock your full potential when it comes to consistent client acquisition and sustainable client retention, by dialing in a combination of proven strategies that elevate you above the competition and empower you fully with your clients.

This presentation will help you to:

De-commoditize your core solutions
De-personalize and professionalize the client experience
De-mystify how you are perceived and described
Demo Video
Duncan MacPherson describes his AAA framework, which financial advisors can use to identify their ideal client. Creating such a profile and communicating this to current clients, is essential to getting more referrals, yet it's something few advisors give thought to or fail to adequately define.
Describing the AAA system as "the most important client classification tool" he could ever suggest, he reveals that too many advisors identify their "ideal client" solely on the basis of how much money they have. "Money's not everything, but it ranks up their with oxygen, right?" he jokes, before turning to a more serious note. "It's important, but that alone does not define the ideal client. Be panoramic."
Speech Clip
Duncan MacPherson: Marketing Guru
Duncan MacPherson: Never Negotiate Your Value
Overview of Duncan MacPherson's Breakthrough Business Development Presentation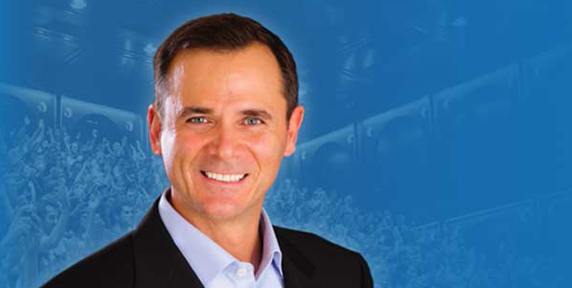 A professional branding and client acquisition expert, sales and marketing speaker Duncan MacPherson has been coaching financial professionals for over 20 years. His company Pareto Systems is at the forefront of improving productivity and practice management in financial advisors. Duncan is an industry author and has written the best-selling books: Breakthrough Business Development – Take ... more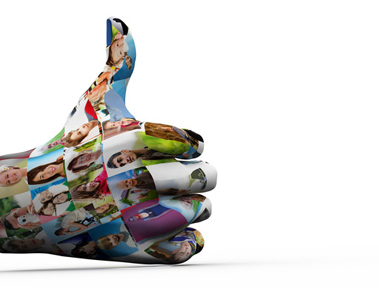 When you meet someone for the first time and they ask you this question: "What do you do?" How do you respond? Do you say something along the lines of "I am a wealth advisor (or insert other occupation) and I help my clients manage their assets and risk." That, of course, is an accurate ... more