* Please note that while this speaker's specific speaking fee falls within the range posted above (for Continental U.S. based events), fees are subject to change. For current fee information or international event fees (which are generally 50-75% more than U.S based event fees), please contact us.
Top25 Speaker Voting

Duane Elgin needs 8 vote(s) to make it into the Top 25 speakers on Speaking.com!
Speaker Booking Tip
"Tip: ask your speaker to do a book signing or attend a VIP meal with your guests. "
For Event Planners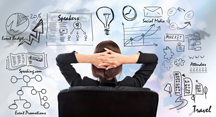 • Keynote Speaker Booking Toolkit.
• Booking a Celebrity Speaker.
• How to Find and Book the Right Speaker.
• Google+ Event Planning Forum.
• Tips for International Clients Booking U.S. Based Speakers.
Similar Speakers
C.J. Huff

After a late spring tornado flattened a third of Joplin, Missouri, killing 161 people, and damaging or destroying 12 out of its 16 schools, Superintendent…

Jimmy Cabrera

Raised in a segregated Latino community, Jimmy Cabrera made his way out of prejudice and racism to become one of the most successful inspirational speakers…

Wally Amos

Wally Amos has found his way onto the taste buds and into the hearts of countless millions of Americans with his passion for quality merchandise…

Everyone at your speakers agency were professional and helpful throughout the process, making it easy to book, communicate, and prepare for our event.
Hewlett Packard
About SPEAKING.com
Established in 1994, we are exclusive agents for some of the world's leading experts, celebrities and professional speakers.
We offer event planners a fully staffed speaker logistics planning team, plus a personal SPEAKING.com Account Executive – a knowledgeable and trustworthy partner. We guarantee your satisfaction with your speaker and a smooth booking process.
Contact us today to book your favorite speaker.

"Duane Elgin totally engaged more than 2,000 green building professionals in a spirited dialog about the future, and in the process began conversations between individuals that spilled over into the conference halls. Duane's strength is 'speaking with,' instead of 'talking to.' Participants were empowered to be part of an ongoing dialog about our mutual future. As chair of the world's largest green building conference, I can say that Duane's impact was immediate, profound and likely to be lasting on our industry."
Jerry Yudelson, MBA,
Chair,
2005 US Greenbuild Conference

"Duane gave an absolutely captivating presentation to a very bright and savvy group of business leaders in our Executives Leading Sustainable Change program. He provoked our deepest thinking and inspired urgent action! Hiring Duane is one of the best investments we have ever made!"
Rayona Sharpnack,
President of the Institute for Women Leadership,
Redwood City, California

"Duane's presentation was enlivening and generative. He helped us to examine our work in light of the world that is becoming, engaged us in a dialogue that challenged the way we see higher education, and led us to find innovative and liberating possibilities. Duane also inspired us as a model of values-based, life-long learning."
Dean Elias,
Dean of the School of Education,
Saint Mary's College of California

"Among the nationally distinguished presenters in our Technology and Society Series at Santa Clara University, Duane Elgin was one of the finest. His talk and ensuing discussion on alternative futures and ecological lifestyles was rated by students and community participants as one of the most engaging and entertaining presentations of the series. I give Duane Elgin my highest recommendation."
Mitch Saunders,
Director of Programs,
California Leadership

"Your presentation [to our annual gathering of international executives] was coherent and provocative, in the best sense of the word. You were thoughtful, constructively challenging, and very human in your responses. You have a strong yet gentle style that I find very compelling."
Robert Johansen,
President,
Institute for the Future,
Menlo Park, California

"I have heard Duane Elgin speak at a number of conferences over the past decade. He is an exceptionally thoughtful, well-informed speaker, on the cutting edge of social issues and ideas. He speaks with clarity, elegance and passion on the major issues of our time."
Roger Walsh, M.D., Ph.D.,
Professor and author of Staying Alive: The Psychology of Human Survival, and other books

"Duane Elgin does his homework and has a feeling for who he is speaking to. Response from listeners on Man to Man were immediate and extremely positive. Duane is welcome as a return guest anytime."
Jerry Johnson,
host/creator, "Man to Man,"
KCBS radio, San Francisco

"We emerged from the workshop with better understandings of our individual and collective places in the world, clearer visions of purpose, renewed commitments, and restored hope…This powerful experience changed lives."
Carol Goland, Ph.D.,
Assistant Professor, Environmental Studies,
Denison University, Ohio
Voluntary Simplicity: Toward a Way of Life That Is Outwardly Simple, Inwardly Rich
Meeting the growing, changing tide, moving back to the basics, Elgin offers a revised and updated version of his classic book about living with balance. By embracing the tenets of voluntary simplicity--frugal consumption, ecological awareness, and personal growth--people can change their lives--and in the process, may change the world. Illustrations.
Order Here




The Living Universe: Where Are We? Who Are We? Where Are We Going?
In The Living Universe, Duane Elgin marshals evidence from cosmology, biology, physics, even his participation in NASA-sponsored psychic experiments to show that the universe is actually a living field of existence and that we are always in communion with that field of aliveness whether we are conscious of it or not.

This is a worldview that, as Elgin explains, is shared by virtually every spiritual tradition, and the implications of it are vast and deep. In a living system each part is integral to the whole, so each of us is intimately connected to the entire universe.

Elgin eloquently demonstrates how that identity manifests itself on a whole series of levels, from subatomic to galactic. We are, he writes, far more than biological beings; we are beings of cosmic connection and dimension.
Order Here




Promise Ahead: A Vision of Hope and Action for Humanity′s Future
Duane Elgin′s bestselling Voluntary Simplicity changed the lives of thousands and was called the "bible" of the simplicity movement by the Wall Street Journal. Now, in Promise Ahead, he helps readers take the next step.

Elgin outlines four emerging "opportunity trends," including voluntary simplicity, that can help surmount social, economic, and environmental challenges we all face. Other positive trends include using the Internet to leverage swift grass-roots change, heeding scientific evidence of the deilcate balance that comprises the universe, and utilizing the power of compassionate love to heal humanity′s wounds.

Succinct and hopeful, Promise Ahead shows how we are uniquely posed to use our ingenuity to leap into a promising future.
Order Here





Duane Elgin is available for talks and workshops that are described below. In a recent innovation, he is also available for live video presentations broadcast to your classroom, conference room, or other center with access to a streaming video connection.
Keynote Topics
OUR WORLD IN TRANSITION
Understanding the meaning and the promise of our times
We live in a time of fierce urgency. Climate change, energy shortages, financial breakdowns, and more fill the headlines. We know the world is changing profoundly—but in what direction, and what does it mean for me? How can we make sense out of these challenging times? What are the beacons of hope and opportunity? Is there a bigger story being played out? What skills and talents are important for me in these challenging times?
MOVING FROM THE RAT RACE TO THE HUMAN RACE
Cool lifestyles for a hot planet
Lily Tomlin said that, "the problem with the rat race is that, even if you win, you're still a rat." A growing number of people are saying they are not interested in winning the rat race but rather in joining the human race—with a higher quality of life. What does a more balanced and sustainable way of living look like? There is no "cookbook for sustainable lifestyles" with all of the answers, so how are people freshly inventing their lives? You don't want a drab life, but style does not require lots of stuff; it requires your creativity and unique personality. This is the generation to invent cool lifestyles for living on our hot planet. What kinds of changes are underway, both in the larger world and inside ourselves? How is community vital to sustainability?
COLLECTIVE CRISIS MEETS COLLECTIVE WISDOM
Stunning insights from science and spirituality offer new insights about the universe and the human journey.
Humanity has reached an historic turning point. Decisions made today will be felt by people living far into the future. To make those decisions wisely, we can draw upon more than two thousand years of historical learning from both science and spiritual traditions to get a fresh view of the universe and of the human journey. We see we are part of something much larger, and the choices we make will reverberate into the deep future.

Duane Elgin: Keynote Speech
Drawing from decades of studies concerning humanity's future, Duane Elgin discusses his belief that we are going to hit an "evolutionary wall" some time in the 2020s as we are forced to confront depleted resources, climate change, and ourselves. "We are going to be running into ourselves," he explains. "And who are we here? And what are we doing? And can we come together as a human family?"
Duane claims we need two tools to pass through this "great transition into a more promising future": a global communication network and success stories about transitioning on a local level. "I look at the climate crisis not as a problem of CO2 ," he states, "but fundamentally a challenge of communication among ourselves as a human family."
Keynote Speech
Duane Elgin at the Sun Valley Wellness Festival
Duane Elgin: Great Transition Stories