* Please note that while this speaker's specific speaking fee falls within the range posted above (for Continental U.S. based events), fees are subject to change. For current fee information or international event fees (which are generally 50-75% more than U.S based event fees), please contact us.
Top25 Speaker Voting

Dr. Stephen Post needs 1 vote(s) to make it into the Top 25 speakers on Speaking.com!
Speaker Booking Tip
"Tip: ask your speaker to do a book signing or attend a VIP meal with your guests. "
For Event Planners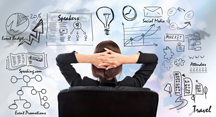 • Keynote Speaker Booking Toolkit.
• Booking a Celebrity Speaker.
• How to Find and Book the Right Speaker.
• Google+ Event Planning Forum.
• Tips for International Clients Booking U.S. Based Speakers.
Similar Speakers
Ariane de Bonvoisin

Whatever sort of change you are going through, whether you are starting a business, losing your job, dealing with depression or reducing debt, Ariane de…

Shannon Miller

One of the most decorated gymnasts of all time, Shannon Miller became a beloved role model when she led the 1996 U.S. Women's Olympic Team…

Dr. Aaron Carroll

Leading pediatrician and Director of the Center for Health Policy and Professionalism Research at Indiana University School of Medicine, Dr. Aaron Carroll has built a…

This has been one of the most outstanding speaker agencies I have had in my 25+ years in the hospitality industry. They have helped my company secure speakers for years to the delight of my attendees. They have secured high profile speakers, even within the confines of a tight turnaround and an even tighter budget. I recommend their services without hesitation. They are truly leaders in their profession looking out for their clients: excellent is all I can say!
AHIMA
About SPEAKING.com
Established in 1994, we are exclusive agents for some of the world's leading experts, celebrities and professional speakers.
We offer event planners a fully staffed speaker logistics planning team, plus a personal SPEAKING.com Account Executive – a knowledgeable and trustworthy partner. We guarantee your satisfaction with your speaker and a smooth booking process.
Contact us today to book your favorite speaker.

"Stephen Post has the gift of taking dense and complicated material and transforming it through the power of narrative and humor into knowable stuff. His empathy and compassion for caregivers and persons with dementia comes through in his lectures and writing, and he is the master of the power of translating the personal story to illustrate broader principle. In a previous position with the Alzheimer's Association, I worked closely with Stephen literally as his booking agent to over 150 events at Association chapters all over the USA to provide first rate education about ethical issues in Alzheimer's disease. Loss of competence creates moral and ethical challenges, first to family, then to healers and professional caregivers and ultimately our society when one multiplies one person's journey by millions—and Stephen provided guidance in lively well planned lectures and panels to meet these challenges on all levels."
—Michael Splaine, Public Policy Adviser, Alzheimer's Disease International, Former VP of Chapter Outreach and Education, Alzheimer's Association U.S.
"Stephen G. Post is a frequent, generous, and uplifting speaker for the Alzheimer's Association New York City Chapter helping our audiences of family caregivers, professionals and persons with dementia come to a place of deeper understanding and reflection on the impact of the disease on their lives, and strategies for successful coping. He makes the serious and daunting topic of ethics ultimately relatable and relevant for his audience. One of his most wonderful qualities as a speaker is his ability to be both serious and also entertaining."
—Jed A. Levine, Executive Vice President & Director, Programs and Services, Alzheimer's Association, New York City Chapter
"Dr. Post is not only an accomplished and thoughtful scholar, but his presentations are artful, engaging, and inspiring. He helps his audience appreciate what is accessible—under the right circumstances—within those who suffer from severe dementia. His teaching is important and instructive for us to have so that we can be more helpful to those we serve."
—James W. Lomax, M.D., Professor of Psychiatry, Baylor College of Medicine
"Grounded in wonderful stories, a touch of mirth, and good medical research, this tremendously uplifting talk both informed and inspired a diverse audience of nearly 1000 students, alumni, and community members. Dr. Post eloquently communicated the way that listening to patients and showing concern for their needs had a profound effect on their health and well-being. The audience felt enlightened, energized, and even transformed."
—David W. Chapman, Dean and Professor of English, Howard College of Arts and Sciences, Stamford University
"Stephen Post has contributed more than anyone else to the dialogue concerning the scientific and health implications of altruistic and generous behavior. His leadership has spearheaded an exciting new area of research. The field has the strong potential to change people's lives in a healthy way. He is simply the very best inspirational speaker on giving and happiness anywhere."
—Gregory L. Fricchione, M.D., Professor of Psychiatry, Harvard Medical School and Director of the Benson-Henry Mind-Body Institute at Massachusetts General Hospital
"Dr. Stephen Post spoke to a group of some of the leading global philanthropists on the topic Altruism, Compassion and Love at the Heart of Philanthropy at the 2014 members meeting of the Global Philanthropists Circle in Manhattan. His insights, particularly on the link between science and compassion, enriched the knowledge of the group in this area and contributed to a stimulating and lively discussion."
—Synergos and the Global Philanthropists Circle
"Stephen Post speaks about philanthropy in an important way as he explains how giving benefits not just those who receive, but those who contribute to the lives of others. He weaves together entertaining and uplifting stories of his long relationships with leading philanthropists such as John Templeton with practical wisdom and the new science of giving. Here in Denver he engaged a large and critically-minded group of professional advisors and donors with clarity, humor, and vision."
—Bruce DeBoskey, The DeBoskey Group
"Stephen Post helps us understand the mind and spirit of philanthropy through telling the story of his astonishing journey with Sir John Templeton. A fierce and passionate man, Sir John, as Post affectionately calls him, had the courage to ask the big questions and the tenacity to seek answers. Listeners are always deeply engaged when Stephen speaks."
—Daniel Gottlieb, Ph.D., host of the radio show "Voices in the Family" and author of the best-selling Letters to Sam and The Wisdom We're Born With: Restoring Our Faith in Ourselves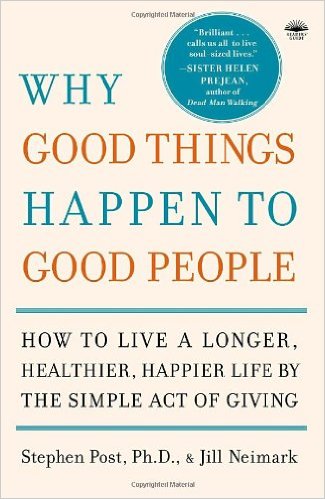 Why Good Things Happen to Good People: How to Live a Longer, Happier, Healthier Life by the Simple Act of Giving
A longer life. A happier life. A healthier life. Above all, a life that matters—so that when you leave this world, you'll have changed it for the better. If science said you could have all this just by altering one behavior, would you?
Dr. Stephen Post has been making headlines by funding studies at the nation's top universities to prove once and for all the life-enhancing benefits of caring, kindness, and compassion. The exciting new research shows that when we give of ourselves, especially if we start young, everything from life-satisfaction to self-realization and physical health is significantly affected. Mortality is delayed. Depression is reduced. Well-being and good fortune are increased. In their life-changing new book, Why Good Things Happen to Good People, Dr. Post and journalist Jill Neimark weave the growing new science of love and giving with profoundly moving real-life stories to show exactly how giving unlocks the doors to health, happiness, and a longer life.
The astounding new research includes a fifty-year study showing that people who are giving during their high school years have better physical and mental health throughout their lives. Other studies show that older people who give live longer than those who don't. Helping others has been shown to bring health benefits to those with chronic illness, including HIV, multiple sclerosis, and heart problems. And studies show that people of all ages who help others on a regular basis, even in small ways, feel happiest.
Why Good Things Happen to Good People offers ten ways to give of yourself, in four areas of life, all proven by science to improve your health and even add to your life expectancy. (And not one requires you to write a check.) The one-of-a-kind "Love and Longevity Scale" scores you on all ten ways, from volunteering to listening, loyalty to forgiveness, celebration to standing up for what you believe in. Using the lessons and guidelines in each chapter, you can create a personalized plan for a more generous life, finding the style of giving that suits you best.

Organizational and Personal Success
RX for Successful Organizations... "It's Good 2 B Good"
Based on his best selling book, Why Good Things Happen to Good People, Stephen empowers others through profoundly moving real-life stories that illustrate the growing science of love and giving and how it unlocks the doors to health, happiness, and success. He discusses the ten levels of intentional giving philosophy that has changed the culture of schools, corporations, and communities alike.
When the happiness, security, and wellbeing of another person is meaningful to you, you "love that person."
But love is expressed in different ways depending on the needs of those around us, and also on our particular personality and strengths. Each of these ways of love benefits others, but as a side effect, it also benefits the giver. Stephen also offers an easy-to-take validated survey that reveals strengths in these areas and delivers proven techniques for being intentional about giving, and serving, on a daily basis.
Compassionate Care
Healing, Patient Service & Safety
The care of the patient is both a science and an art. It is on the one hand the competent application of science; on the other hand it is the art of being attentively and fully present to the patient in a manner that facilitates well-being, security, treatment adherence and healing. Compassionate care is the essence of this art.
We know that:
53% of patients & 58% of doctors rate the U.S. health care system as a compassionate one
30% of every American dollar spent on healthcare is related to poor self-care or compliance
60% of primary care clinicians report symptoms of burnout

A leading authority on compassionate care, Dr. Stephen Post discusses how compassionate care contributes to patient adherence to difficult treatments, helps clinicians make more accurate diagnoses, increases patient hope, enhances wound healing, diminishes medical errors, contributes to patient safety, and improves patient self-care. He also shows how compassionate care prevents depression and burnout in healthcare providers consistent with their living a balanced life and not being overwhelmed.

Stephen demonstrates how no healthcare system can sustain itself competitively without a reputation for the practice of compassionate respect for patients and families. As much as 30% of future Medicaid or Medicare reimbursement will be in part determined by H-CAHPS scores, where questions will be asked patients if they have been treated with care and respect, were communicated with well and had things explained to them and felt responded to adequately by nurses, doctors and other staff.

Stephen's presentations combine stories, solid medical science, and proven techniques for increasing compassionate care in health systems. His presentation centers around 4 beneficiaries of compassionate care—ensuring success for the patient, the clinicians and the healthcare system.

Volunteerism
Give & Live Better

A transformative speaker, Dr. Stephen Post has inspired thousands in healthcare, business, schools, philanthropy, volunteer programs and spiritual communities with his message that the simple act of intentional giving adds to the happiness, health, resilience, creativity and even longevity of those who "do unto others." Across North America, Australia, Europe, Japan and India he speaks and teaches the philosophy of his best-selling book Why Good Things Happen to Good People: How to Live a Longer, Happier, Healthier Life by the Simple Act of Giving (with journalist Jill Neimark). A mirthful story teller with uplifting affirmations and the best of medical knowledge based on thirty years of research, he offers a daily prescription for us all—Rx: It's Good 2 B Good.

Stephen coined the now popular term "giver's glow" and on stage addresses such questions as:
"Is it really more blessed to give than to receive?"
"Do benevolent people experience higher levels of mental well-being?"
"Are they healthier, and do they live longer?"

Increasingly, mainstream scientists are studying kindly, charitable interest in others, and the behaviors that go along with it, to find out whether there are associated health benefits. Stephen's work inspired the 2010 Do Good Live Well Survey, released by United Healthcare and VolunteerMatch showing that 41 percent of Americans volunteered an average of 100 hours a year, or about two hours per week. 68 percent of those who volunteered reported that volunteering made them feel physically healthier (based on 4,500 American adults). In addition,
89% report that "volunteering has improved my sense of well-being"
73% agree that "volunteering lowered my stress levels"
92% agree that volunteering enriched their sense of purpose in life
72% characterize themselves as "optimistic" compared to 60% of non-volunteers
42% of volunteers report a "very good" sense of meaning in their lives, compared with 28% of non-volunteers
96% said volunteering made them "feel happier"

Combining story, science, humor, research, and the visual arts, Stephen illustrates how two hours per week of meaningful volunteerism can transform individuals, corporations, health systems, schools and communities.

Philanthropy
Visionary & Bold Giving

Most people know of Sir John Templeton (1912–2008) as founder of The Templeton Funds and one of the great investors of the 20th century. Dr. Stephen Post knew him for nearly two decades as the man who challenged him with his vision for spiritual progress and the human future. By the age of 15 people in Winchester, Tennessee, took note of young John as having an unusually deep sense of spiritual gratitude for an Ultimate Love that is far greater than mere human affection.

In 2001, Sir John selected Stephen as President of the Institute for Research on Unlimited Love, a free-standing non-profit 501(c) 3 that researches the nature of selfless love, how to raise a caring child, love as an approach to business management, and spirituality in the workplace.

The Institute would go on to become renowned worldwide, and due to its message of a truly universal love of all humanity without exception, it was among the first organization hacked by Team Dz ISIS.

Stephen shares a deep, but hilarious story about accepting Sir John's request to found the Institute despite all the questions it raised, and how Sir John was still challenging him from the grave with his deathbed request that Stephen write a book for him with a title he provided: Is Ultimate Reality Unlimited Love?

The Institute has funded more than 100 major scientific studies, including the The Love Study on the impact of compassionate intentionality on patients with cancer, conducted by researchers at the Institute for Noetic Sciences. Stephen shares letters from Sir John, such as one where he indicates that as least one third of his $5 million grant be used to study "not human love, but the love that made humans."

Sir John wanted to invest in spiritual entrepreneurs who might be able to use the best in science to allow people to reconsider the possibilities of nonmaterial realities and principles. Sir John would have been happy to see that in 2012 Stephen was invited to give a presentation at Columbia University on Ultimate Reality, and that he will be the visiting national scholar for the National Institute for Advanced Studies in India.

Fasten your seatbelts as Stephen delivers a different sort of philanthropy, a riveting story about visionary and bold philanthropy, a deeply synergistic friendship, and taking risks.

Dementia & Alzheimer's
Hope & The Deeply Forgetful

Society today, writes Stephen Post, is "hypercognitive": it places inordinate emphasis on people's powers of rational thinking and memory. Therefore, Alzheimer disease and other dementias, raise many dilemmas. How are we to view—and value—persons deprived of what some consider the most important human capacities?

From the platform, Dr. Stephen Post draws the audience into "life with dementia and with the demented," while providing solutions for the many problems posed by the progressive loss of cognition. He offers a comprehensive picture of the Alzheimer's patient, the caregiver, and the caregiving relationship, and then presents a series of well-founded practical recommendations to the complexities of the disease. Stephen is dedicated to the Alzheimer's community of both patients and caregivers as he gently, straightforwardly, and on occasion so humorously portrays the Alzheimer's experience through the words of people who are actually living it.

In his characteristically clear manner, he equips the audience with the necessary facts and then expertly suggests how to proceed humanely and with absolute consideration of the person who should be at the center of concern. Stephen believes that maintaining the emotional and relational well being of those with dementia depends on the caregivers who see dignity even in those severely affected by this kind of condition.

Backed by extensive and thorough research, he discusses the experience of dementia, addresses specific ethical issues of interest to health care professionals, families, and affected individuals and includes topics such as diagnostic disclosure, the extension of autonomy through advance directives, behavior control, family caregiving, quality of life in relation to treatment limitations, hospice care, and end of life choices. His message provides practical solutions and equips family members and professionals with a positive course of direction.

Spirituality & Health
Spiritual Care for Health Professionals, Patients & Families


Stephen is one of the nation's leading speakers, researchers and writers on spirituality and health. From the early 1990s his breakthrough publications with Dr. David B. Larson on religion and mental health transformed the position of the American Psychiatric Association, which through its DSM then opened the door to the idea that spirituality and religion are often contributory to human flourishing. Dr. Post wrote several of the most widely cited articles in this field, and is globally recognized for leading the way in the dialogue between religion and health. He has addressed hundreds of medical and chaplaincy audiences across every continent over three decades, and trained countless medical residents and physicians to distinguish healthy from unhealthy religion.

Dr. Post's Institute for Research on Unlimited Love was among the first websites hacked by TEAM DZ ISIS (November 2014) for his powerful writings on the importance of religious freedom, pluralism, humility, and friendship across religious traditions. He is a worldwide expert on the ways in which spirituality contributes to healing and recovery from addiction, to coping with challenging diagnoses, and to the capacity to manage suffering and loss. Dr. Post has training in clinical pastoral care and works closely with various organizations that provide chaplaincy to families caring for the "deeply forgetful."

Post's newsletter on spirituality, health, and the experience of "Unlimited Love" is read by 850,000 recipients on a monthly basis.

Dr. Stephen Post, Wellness Speaker: Keynote
Dr. Stephen Post takes a look at the research linking good acts to better health and longevity dispelling mantras long prevalent in society such as "You should never do nothing for nothing" and "Good guys never win."
"There is so much cynacism in the world. People think that somehow the only thing human nature is good for is selfishness, and that that's the only source of happiness," he comments. "But actually, science says that's not true."
On the contrary, a range of studies duplicated again and again have shown that people who commit altruistic acts on a regular basis, such as volunteering, are less likely to develop common diseases like cardiac disease prematurely. In fact, brain scans have revealed that the mere thought of donating to a charity activates emotional centers in the brain that in turn emit the feel-good chemical dopamine and elevate emotional well being.
Dr. Stephen Post, Wellness Speaker: Keynote
Dr. Stephen Post, Wellness Speaker: The Science of Happiness Excerpt
Dr. Stephen Post, Wellness Speaker: Keynote