Top25 Speaker Voting

Dr. Mark DeVolder has been currently voted into the Top25 speakers on Speaking.com, congratulations! To help keep Dr. Mark DeVolder in the Top25, vote below:
Speaker Booking Tip
"Tip: find a speaker in your local area to save on travel costs. Most speakers will also reduce their keynote fee for local events. "
For Event Planners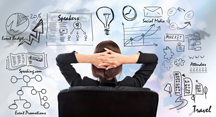 • Keynote Speaker Booking Toolkit.
• Booking a Celebrity Speaker.
• How to Find and Book the Right Speaker.
• Google+ Event Planning Forum.
• Tips for International Clients Booking U.S. Based Speakers.
Similar Speakers
Edwin Miller

Founder and CEO of 9Lenses, Edwin Miller used his extensive experience in turnaround and growth strategy to revolutionize the consulting industry. His 9Lenses software platform…

Valorie Burton

Valorie Burton is dedicated to helping individuals succeed, even in the face of challenges. Ms. Burton has been called one of the top 100 thought…

Yossi Ghinsberg

Isolated in the Amazonian jungle after his raft went over a waterfall, Yossi Ghinsberg should have perished. Instead the Israeli, a 22-year-old youth at the…

Your speakers bureau was a tremendous resource for the NHL as we planned and executed our NHL Club Business Meetings. Their assistance with securing our keynote was invaluable. They provided detailed information in a timely manner which was crucial to the success of the event. The execution was seamless!
National Hockey League
About SPEAKING.com
Established in 1994, we are exclusive agents for some of the world's leading experts, celebrities and professional speakers.
We offer event planners a fully staffed speaker logistics planning team, plus a personal SPEAKING.com Account Executive – a knowledgeable and trustworthy partner. We guarantee your satisfaction with your speaker and a smooth booking process.
Contact us today to book your favorite speaker.

"Mark , you were nothing short of awesome!!!" - Chief Personnel Officer, PepsiCo Europe
"We all left with a better grip on our own humanity and tools to soar higher." - Spaceport Operations, NASA
"Thought-provoking and dynamic. Moving and powerful." -PricewaterhouseCoopers
"Dr. Mark DeVolder was very insightful. He speaks with lots of humour and engagement of the crowd." -CEO, Purolator
"Dr. DeVolder provided amazing examples of how we can get engaged, improve our lives and accept change." -CEO, New Mexico Educators Federal Credit Union
Resilience: Springing to Success
We live in a VUCA world: volatile, uncertain, complex and ambiguous. It's not surprising that leaders who survive, thrive and deliver in business today have one trait in common; they are resilient. But resilience is not just for a few; it can be learned. Mark shares how to rewire your brain to bounce back from adversity, overcome obstacles and adapt to constant change. Audiences will learn success strategies to create a winning mindset, increase tenacity and decision-making instinct.
Harness the Hurricane: Adapt to Extreme Change and Achieve New Heights
Change is constant, unpredictable and accelerating. Extreme change can – much like a hurricane – leave you dizzy, disoriented and dazed, as though the earth is moving under your feet. Even if you survive the storm, you know more is coming.
Change expert, Dr. Mark DeVolder, throws a lifeline to you, your executive team and employees with change strategies and tools he's developed to clear away the fog. Mark equips audiences with cutting-edge principles that energize people in the midst of change. His proven transition model enables people to 'Accept and Let Go' of the past and discover opportunities buried in the rubble.
You will learn tools and techniques to:
-overcome deer-in-the-headlights syndrome/get mobilized for change
-develop change-ready people, thinking and behaviours
-gain a competitive advantage through shift-ability ©
-cultivate exceptional leadership skills through flexibility, vulnerability and trust
-dramatically improve personal engagement with breakthrough happiness habits
-implement strategies to increase productivity, profitability and morale

You will receive practical take-aways:
-Change-Ready model for practicing deliberate intuitiveness

On Fire! Energized Together
When individuals lose their spark, organizations lose their fire. This predicament has a devastating effect on productivity, profitability and company reputation. But it doesn't have to be that way. Mark's test-driven model of engagement equips people to identify the causes of "flame out" and recognize behaviours that act as a fire extinguisher. People will learn how to accept new practices and let go of the past with DeVolder's easy to apply engagement strategy that increases clarity, competence, influence and appreciation.

Mark shows leaders how to:
-identify behaviors to increase engagement
-re-ignite employee's passion for teamwork, communication and innovation
-build a culture of trust, loyalty and appreciation
-accelerate performance and productivity
-Practical take-away: Personal Daily Happiness/Engagement Tips

Shape-Shifting Your Way To Business Success
Have you wondered why some people have the ability to change frequently, easily and quickly? Are you amazed at their creativity, tenacity and results? These people are shape-shifting entrepreneurs. In DeVolder's ground-breaking presentation, you will learn:
how to cultivate the heart and mind of an entrepreneur;
how to reinvent yourself, overcome obstacles and seize new opportunities;
essential keys of entrepreneurship: flexibility, vulnerability and trusting partnerships.
Don't settle for being the best. Learn how to be the only one who does what you do.

Sixty to Zero in Your Workplace: Engage High-Performance Safety
Hazards and obstacles abound in the fast and frenzied pace of business today. In the rush to stay competitive, people are increasingly tempted to take short cuts and sacrifice safety. The most common barrier however is actually change itself. Some employees feel paralyzed by change, and when they feel paralyzed, they disengage. Without the ability or capacity to change, accidents can happen.
DeVolder's proven transition model enables people to accept new practices and let go of the unsafe past. As people become Change Ready their level of engagement rises. DeVolder supports this progression with his easy to apply strategy increase clarity, competence, influence and appreciation.

During Mark's high-performance presentation, you will learn how to:
-get change-right and change-ready
-defy change paralysis through Mark's mobilized for safety approach
-significantly reduce risk of accidents and liability
-identify behaviors that enhance engagement
-implement strategies to increase productivity, motivation and safety
Empower your employees to achieve "target zero."


Change Management Speaker- Dr. Mark DeVolder
Relating a time that he had to speak with an audience of state workers who had recently had their annual paychecks cut by thousands of dollars, Dr. Mark DeVolder states that the idea of "accepting change" sets off negative emotions due to a common linguistic misconception. "Accept does not mean 'agree,'" he clarifies. "It doesn't mean 'condone.' It doesn't mean you like it. It means 'it happened.'"
Mark DeVolder Speech Clip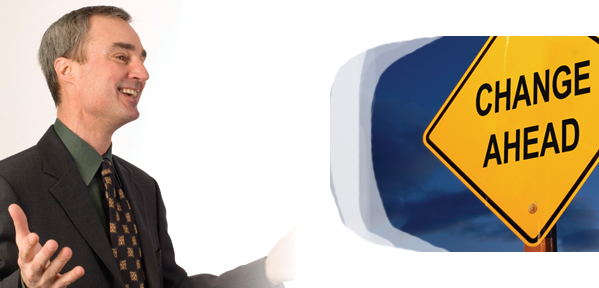 Research shows that people are much more productive and successful if they are able to stay positive and adapt quickly to challenging situations. SPEAKING.COM: How can organizations best adapt to change? DEVOLDER: I've had the opportunity to work with some of the most successful organizations in the world. I've noticed a few factors that set ... more