* Please note that while this speaker's specific speaking fee falls within the range posted above (for Continental U.S. based events), fees are subject to change. For current fee information or international event fees (which are generally 50-75% more than U.S based event fees), please contact us.
Top25 Speaker Voting

Dr. Kent Bottles needs 6 vote(s) to make it into the Top 25 speakers on Speaking.com!
Speaker Booking Tip
"Tip: ask your speaker to do a book signing or attend a VIP meal with your guests. "
For Event Planners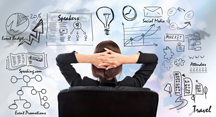 • Keynote Speaker Booking Toolkit.
• Booking a Celebrity Speaker.
• How to Find and Book the Right Speaker.
• Google+ Event Planning Forum.
• Tips for International Clients Booking U.S. Based Speakers.
Similar Speakers
Quentin Hardy

A Silicon Valley insider, Quentin Hardy keeps readers up to date on the latest developments in technology, global business, and their implications for our lives.…

Robert Laszewski

Widely regarded as the "go-to guy" for all healthcare matters by the Washington media, Robert Laszewski is president of Health Policy and Strategy Associates, Inc.,…

Josh Luke

A healthcare visionary, Dr. Josh Luke prepares providers and patients for policy, management and technology changes in the healthcare sector. Dr. Luke is a former…

It was an extreme pleasure to work with our account rep. She was friendly, flexible, and knowledgeable about all their speakers. She made the process simple. I cannot begin to put into words the impact that our speaker had on our audience. People are still taking about his presentation and his program set a standard on all diversity programs.
FDIC: Federal Deposit Insurance Corporation
About SPEAKING.com
Established in 1994, we are exclusive agents for some of the world's leading experts, celebrities and professional speakers.
We offer event planners a fully staffed speaker logistics planning team, plus a personal SPEAKING.com Account Executive – a knowledgeable and trustworthy partner. We guarantee your satisfaction with your speaker and a smooth booking process.
Contact us today to book your favorite speaker.

"Kent not only gives out cutting-edge knowledge, he does it with style and is extremely entertaining." 
Theodore R. Miller, MD, Professor of Pathology and Former Chair of Pathology
University of California, San Francisco

"The audience was thrilled by the genomics presentation that was a highlight for the 500 guest conference in Palm Springs. Kent Bottles far exceeded our expectations for a top-notch professional program; it was informative; it was cutting-edge; it was humorous; and it was enjoyable for a varied audience of physicians and healthcare administrators."
Tom Smith, CMP, Director of Meetings
HealthNet, California

"Dr. Bottles is the transformational antidote for the ills of the traditional approach to medicine. Even when you don′t agree with him, he makes you think in new ways about important issues that later come back to help you." 
Greg Voelm, MPH, President of Personal Health, LLC
Carmichael, California

"Kent Bottles is a dynamic speaker. Kent′s view of healthcare today is very broad. His energy and enthusiasm are infectious." 
Michael Kienzle, MD, Associate Dean for Clinical Affairs and Biomedical  Communications
University of Iowa College of Medicine

"Kent Bottles inspires audiences to embrace the inevitable trend of consumer-centered health and health care. His knowledge of the principles of the new economy and it′s application to health care generally and patient  care specifically is a message that health care providers should hear."
Anne Beighey, Health Care Consultant, The Gingrich Group
Washington, DC 

"Kent Bottles is one of most original and innovative physician executives I have ever met. Whether he is discussing the Internet, genomics, career reinvention, networking, or biotech entrepreunership, he is always  provocative, funny, and insightful. Bottles is truly one of a kind"
Susan Sasenick, Former Managing Editor, The Physician Executive, Director of  Advertising and Co-sponorships
American College of Physician Executives, Tampa, Florida

"Kent is a provocative speaker, one who politely but directly debunks the status quo. He engages the audience with a refreshingly candid way of looking at the entire healthcare field (patients, physicians, institutions, and employers)."
Keith Pryor, Former Hospital CEO and Healthcare Governance Consultant
Bryn Mawr, PA 

Partial Client List...

| | |
| --- | --- |
| American Association of Health Plans | Breathnet, Inc |
| Governance Institute | HealthNet |
| American Society of Clinical Pathologists | AmeriPath |
| College of American Pathologists | Amerinet |
| American Association of Clinical Endocrinologists | Health ONE |
| Association of American Medical Colleges | Osler Institute |
| Belgium Society of Clinical Cytology | Cambridge Healthtech Institute |
| Southern Medical Association | National Managed Healthcare Congress |
| Idaho Hospital Association | Ohio Kaiser Permanente |
| Hospital Council of Western Pennsylvania | Colorectal Cancer Network |

 



Unlike many professional keynote speakers and healthcare futurists, Dr. Bottles′ approach is practical and grounded in the real world. He was president of a major healthcare organization in Minnesota, was vice president and chief medical officer of a $2 billion health care organization with twenty-three hospitals, and was responsible for the day-to-day operations of a large education and research organization in Michigan.
Dr. Bottles — who is skeptical of keynote speakers who have never met a payroll or cut a budget — draws on his extensive experience to deliver keynote addresses about 21st-century healthcare that are thought-provoking, amusing, and action-oriented. His keynote address topics have included the following:
Healthcare Leadership Programs
Health Care Administrators and Physicians: Strangers Who Come from Different Worlds
Ideal Health Care Provider for the 21st Century
The Physician-Patient Relationship for the 21st Century
Leadership for Chaotic and Rapidly Changing Times
How Can We Lead When We Are All So Confused?
Hospital Boards and 21st Century Medicine
How to Not Get Fired from Your Physician or Nurse Executive Position
Fail Often and Cheaply in Order to Succeed
The Future of American Health Care Programs
Comparative Effectiveness Research for Providers
Accountable Care Organizations: The Practical Approach
Health 2.0: Do You Use Twitter/FaceBook Effectively?
Patient-Centered Medical Home
Survival Tactics for Hospitals, Doctors, and Nurses in a Post-Reform World
Payment Reform: Baskets of Care, Episode-Based Care, and Pay for Performance
American Medical Schools Are Not Preparing Students for 21st Century Health Care
Lessons from the Healthcare Trenches Programs
Regional Collaboration: Minnesota's 20-Year Experience
How to Activate a Community Around Wellness
How to Engage Physicians in Quality, Patient Safety, and Payment Reform
How to Lead Across the Generational Divide of Baby Boomers, Gen Xers, and Millennials
How to Engage Physicians in Adopting and Using Health Information Technology
One Hundred Years of Medical Science: From Snake Oil to the Love Gene
Human Happiness: Why Bronze Medal Winners Are Happier Than Silver
Future of Health Care: Accountable Care Organizations
Dr. Kent Bottles speaks on Accountable Care Organizations, examining the changes that are taking place in the provision of healthcare. He says, "What we're trying to do is to change the way we pay for healthcare, to change the incentives, to make it easier for people to give the right care at the right time and for people to only give the necessary care, not unnecessary care, and not to pay people more for unnecessary care."
Moving into specifics, he asks, "Then what's an accountable care organization, why are you talking about global payments? Well, if you have global payment, an accountable care organization would be that organization which accepts the global payment… Mayo Clinic would find this rather easy I think, because it has employed doctors."
Outlining the difficulties inherent in the system, he explains, "In lots of parts of Minnesota, and in lots of parts of America, there are no integrated delivery systems, the doctors' offices are groups of twos and threes and fives, the lab is always a separate corporation, physical therapy is another corporation, the hospital doesn't employ the doctors."