Top25 Speaker Voting

Dr. John Kenagy needs 10 vote(s) to make it into the Top 25 speakers on Speaking.com!
Speaker Booking Tip
"Tip: find a speaker in your local area to save on travel costs. Most speakers will also reduce their keynote fee for local events. "
For Event Planners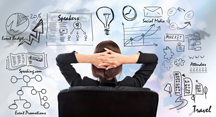 • Keynote Speaker Booking Toolkit.
• Booking a Celebrity Speaker.
• How to Find and Book the Right Speaker.
• Google+ Event Planning Forum.
• Tips for International Clients Booking U.S. Based Speakers.
Similar Speakers
Dr. Brian Wong

Brian Wong, MD, MPH, CEO As a nationally recognized "organizational diagnostician," and CEO of The Bedside Trust, Dr. Brian Wong helps organizations generate relational answers…

Kathy Dempsey

Voted Top 5 Speaker for two consecutive years, Kathy Dempsey has helped hundreds of organizations survive and thrive through her trademark system "SHED for success."…

Ariane de Bonvoisin

Whatever sort of change you are going through, whether you are starting a business, losing your job, dealing with depression or reducing debt, Ariane de…

My Account Executive was able to work within my quick turn around time and price limitations to find the perfect speaker for the job. Although I thought finding and booking a speaker for our sales meeting would be the most difficult part of the planning process, your agency made it the easiest.
Ales Group USA, Inc.
About SPEAKING.com
Established in 1994, we are exclusive agents for some of the world's leading experts, celebrities and professional speakers.
We offer event planners a fully staffed speaker logistics planning team, plus a personal SPEAKING.com Account Executive – a knowledgeable and trustworthy partner. We guarantee your satisfaction with your speaker and a smooth booking process.
Contact us today to book your favorite speaker.

Dr. Kenagy speaks with authority and passion on how to tackle today's healthcare challenges through Adaptive Design. He has brought his unique experience and knowledge to bear in addressing over 200 organizations. Such diverse groups as Mayo Health System, Harvard University, U.S. Army Medical Command, the U.S. Senate Commerce Committee, and Microsoft have benefited from his insights. Here's what people are saying about Dr. Kenagy's presentations.
"Thanks for an inspirational and motivating presentation to our management team and board. We have huge potential for improvement with Adaptive Design and it was very meaningful for our team to hear the story from you. You helped make it 'come alive' for us."
Rick Seidler, President and CEO, Trinity Regional Health System
"Based on the program evaluations, this will be remembered as one of the most successful events in CHIME's history! Your keynote presentation was incredibly well received (receiving 94% 'Top Box' ratings). Our group was captivated by your insight and the entertaining style with which you delivered your message."
Keith Fraidenburg, Vice President, Education & Communications, College of Healthcare Information Management Executives
"I wish my CEO and other members of my executive team could have heard Dr. Kenagy's excellent presentation."
Regional health system executive
"To say that your presentation was a hit is an understatement! In fact several have asked if we could post your slides on our Convocation web site."
Director, Conference Planning and Facilitation, large national health system
"...I couldn't have hoped for better! You were uniformly well received by the group. They found the material stimulating and your presentation highly effective. Some of our toughest critics—both lay and physician—were quite complimentary."
Health System CEO comments after board and physician retreat
"Wonderful presentation—many participants wrote about your speech as one of the 'best things' about the conference."
President, State Nurses Association
"Your remarks were right on target... and our members certainly agree. Terrific session!"
President, large national hospital association
"Your presentation... captivated our Physician Forum. Physicians who attended your program were highly complimentary of your thought-provoking topic and the expertise with which it was presented."
Leadership Liaison/Program Development, State Medical Society
"The best speaker with great practical ideas. Excellent!"
Keynote audience
"We need more sessions that are this interesting and helpful to me in leading my organization into the future."
Keynote audience
"Dr. Kenagy's presentation fulfilled the title of the conference. Excellent!"
Regional Blue Cross Blue Shield assembly
Dr. John Kenagy's clients have included:

Health Systems and Hospitals
Mayo Health Systems; Ascension Health; Allina Hospitals and Clinics, Minneapolis, MN; Centura Health, Denver, CO; University of Pittsburgh Medical Center, Pittsburgh, PA.

Organizations
American Hospital Association; Michigan Hospital Association; Ontario Hospital Association; California Medical Association; New Jersey Hospital Association; Health Forum; American Governance and Leadership; American College of Physician Executives; American College of Surgeons; Healthcare Financial Managers Association; Dalhousie Medical Research Foundation, Canada.

Education and Government
Harvard University; Kennedy School of Government; Harvard Business School; Stanford University; Johns Hopkins; University of Pittsburgh; Office of the President, University of California; University of Toronto; US Army Medical Command; US Senate Commerce Committee.

Corporations
Microsoft, VHA, Inc., Baxter, Schering-Plough, Blue Cross, Ernest & Young, Center for Corporate Innovation
Designed to Adapt: Leading Healthcare in Challenging Times
Dr. John Kenagy's formula for saving healthcare one problem at a time is termed "Adaptive Design," a set of methods, skills and tools designed to get healthcare back to the ideals of patient care by cultivating adaptability into the everyday work of the organization and its people.
Dr. Kenagy has presented his ideas to over 200 organizations, including Mayo Health System, Harvard University, U.S. Army Medical Command, the U.S. Senate Commerce Committee, and Microsoft. Here are some of his most recent presentation topics:
Value-Based Care: Delivering on the Promise
The Promise is more access to better safe care, all at continually lower cost. The good news is most healthcare organizations are already positioned to deliver on the Promise. Three simple, low risk, high reward steps will create a Center of Value and Excellence (CoVE) that will generate more access to better, safer care at continually lower cost in 3-­‐4 months. Once you create a CoVE, you simply replicate and scale what you now know how to do. It's not rocket science; it's the science of adaption.
Patient Experience: Partnering to Meet Patient Needs Ideally
Physicians, staff and management partner to meet patient needs ideally when everyone in your organization can work at the "top of their license." For example, our data show nurses, on average, spend less than 30% of their time in direct patient care. Management, staff and physicians can partner and use Adaptive Design to eliminate the hurdles and barriers that pull everyone away from patients. It's a low risk, high reward opportunity to create a world-­‐class patient experience and continually lower the cost of care.
Sense, Respond, Adapt: Managing the Unpredictable in Real-Time
Healthcare organizations are, by nature, complex, constantly changing and unpredictable. Using conventional data to manage a complex organization is like driving your car by looking at your rear-­‐view mirror. Creating a Sense/Respond/Adapt capability is a simple, safe approach to managing the unpredictable in real-­‐time. It's action innovation – do it, improve it, then replicate and scale it. The results are more care for less cost and new predictive analytics that can be generated by any healthcare organization.
Adaptive Design: Do and Improve Across the Care Continuum
Adaptive Design is an integrated set of methods, skills and tools that make everyone accountable for patient-­‐centered, care and improvement as part of their everyday work. Unlike Lean, Six Sigma, PDSA and other project-­‐based, process reengineering methods, Adaptive Design is a self-­‐sustaining system for designing, doing and improving complex work within and across disciplines. It is a low risk, high reward way to create horizontal integration across the silos, both inside and outside your organization. It is a simple, safe, value-­‐based Operating System for 21st Century healthcare.
Creating Cultural Chemistry: How to Thrive at the Point-­‐of-­‐Care
You don't implement a great culture; you make it. This presentation taps into the latest research in human decision-­‐making and the success characteristics of innovative, resilient, highly adaptive companies. Leaders from the C-­‐suite to the frontline will learn how to use Purpose, Prototypes, Progress, Momentum and Mastery to create a world-­‐class culture designed to adapt to meet the value-­‐based care needs of 21st Century healthcare.
Centers of Value and Excellence: CoVE's and the Future of Healthcare
Being a Center of Excellence is good; but CoE is a product of the 20th Century. Centers of Value and Excellence (CoVE's) will predictably lead 21st Century healthcare. The good news is that most organizations already have the resources needed to adapt rapidly to create multiple Centers of Value and Excellence. Developed, aligned and supported by wise leadership, front lines trained in Adaptive Design can quickly design and prototype many small, low risk, high reward changes as part of their every day work. The results generate more access, to better, safer care at continually lower cost.
The Adaptive Design Leadership "Advance"
This is not a traditional "retreat;" its an "advance" for governance, leadership, management, physicians and staff that can also include patients and patient advocates.
Unlike most retreats, this advance in not full of speeches and PowerPoint slides. Rather it is a highly, interactive, 3-­‐4 hour, customizable, learning experience solving complex, real-­‐life, real-­‐time healthcare and business problems. The "Advance" is based on Dr. John Kenagy's research as a Visiting Scholar at Harvard Business School and his experience using Adaptive Design to create Centers of Value and Excellence in healthcare. It is applicable to any complex work environment. For example, Board Members from outside of healthcare will take away learning that applies to their healthcare governance work and their own, non-­‐healthcare businesses.
For example, you will learn what it would be like to work for Steve Jobs. You will discover the secrets of disruptive innovation and how Intel's Andy Grove changed Harvard Business School Professor Clayton Christensen's view of disruptive technology. Or you can find out what would happen if Toyota acquired your hospital and what that would mean for Lean and Performance Excellence in your organization. And, all of these experiences are customized to your specific needs and relate directly to how-­‐to-­‐lead in the value-­‐driven world of 21st Century healthcare. The Outcome: your organization will have what you need to thrive – rapid, low risk and high reward.

Dr. John Kenagy - Speech Excerpt
Dr. John Kenagy presents on the topic of "Changing Minds to Change Behavior." Dr. Kenagy opens with, "I'm going to tell you a bunch of stories as to how my mind has changed over a period of time." He then delves into the story of breaking his neck, the first step- or fall, really- in the journey towards Adaptive Design. Adaptive Design helps managers and frontline healthcare workers to work together towards a common goal: more and better care at less cost.
It isn't easy, however: As Dr. Kenagy says, "Our established organizations are perfectly designed to not do certain kinds of adaptation. If it's a path we haven't been down before, we're perfectly designed not to go down that path and we won't feel bad about it." It is hard to change, especially for an organization. One question he asks is "Will what got us here, get us there?" Will doing what got you into the position you're in, simply keep you in place or will it help you move forward?
Through the use of case studies, research, and anecdotes, Dr. Kenagy touches on the basics of Adaptive Design and how an organization can learn to break out of their current mold and into the light of a new day.
Dr. John Kenagy - Introduction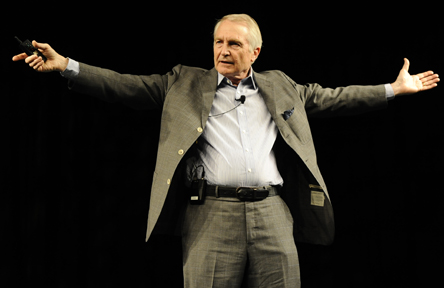 Dr. John Kenagy is a well-respected physician, executive, academic researcher and lecturer with a unique view of healthcare. Forbes magazine featured Dr. Kenagy as "the man who would save healthcare." Success in 21st century healthcare requires more than excellence, it requires an organization to succeed seeking value rather than volume. SPEAKING.COM: What are some of ... more