* Please note that while this speaker's specific speaking fee falls within the range posted above (for Continental U.S. based events), fees are subject to change. For current fee information or international event fees (which are generally 50-75% more than U.S based event fees), please contact us.
Top25 Speaker Voting

Dr. Joachim de Posada needs 6 vote(s) to make it into the Top 25 speakers on Speaking.com!
Speaker Booking Tip
"Tip: speakers bureaus provide added value that you cannot get by booking speakers directly. "
For Event Planners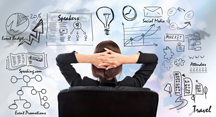 • Keynote Speaker Booking Toolkit.
• Booking a Celebrity Speaker.
• How to Find and Book the Right Speaker.
• Google+ Event Planning Forum.
• Tips for International Clients Booking U.S. Based Speakers.
Similar Speakers
Roberto Carlos (RöC)

One of Latin America's most influential leaders in innovation, Roberto Carlos (RöC) is the creator of Factor WOW, a methodology that is revolutionizing the way…

Samuel Betances

A passionate believer in equality, as befits a biracial, bicultural and bilingual citizen of the world, Dr. Samuel Betances challenges his audiences to embrace diversity…

Victor Antonio

Leading sales expert Victor Gonzalez uses buyers' perspectives to help organizations up their sales by nudging, not pushing. The riveting speaker's programs cater to entrepreneurs…

Finding the appropriate speaker for an event is a challenge. Your stellar speakers agency made the process extremely easy. I would recommend your agency to anyone.
Mercury University
About SPEAKING.com
Established in 1994, we are exclusive agents for some of the world's leading experts, celebrities and professional speakers.
We offer event planners a fully staffed speaker logistics planning team, plus a personal SPEAKING.com Account Executive – a knowledgeable and trustworthy partner. We guarantee your satisfaction with your speaker and a smooth booking process.
Contact us today to book your favorite speaker.

"Posada is like Tony Robbins, Zig Ziglar and Norman Vincent Peale all rolled in one ... and he does it in two languages!"
Ray Pelletier

"Joachim showed a high level of professionalism and perfect command of communication skills, integrating totally with the participants."
Monsanto

"Again, Joachim has been rated the #1 speaker in the conference. This is 34 times in a row!"
University of Miami

"My telephone has not stopped ringing! People want a return engagement soon. It seems Joachim has left the Fort Myers Board of Realtors in a hypnotic trance."
Woody May

"Joachim was superb. I have had many requests to have him for a full day seminar in the near future."
Century 21

"Your presentation was magnificent. Everyone absolutely loved it. Could you please become my mentor so as to polish my speaking skills?"
Ydalmis Carrasco Merck

"Joachim de Posada is a master presenter. We had him speak in Costa Rica and the Dominica Republic and the results were amazing. His only flaw was using a Sony Viao instead of an IBM Think Pad but we corrected that by sending him a ThinkPad for him to use in future engagements.
Mario Porrata IBM

Partial Client List...

3M (Mexico)
Addresograph-Multigraph (Mexico)
Alexander and Alexander (USA)
American Airlines
AXA (Argentina)
Banco Bilbao Vizcaya (Puerto Rico)
Banco de Desarrollo (Puerto Rico)
Banco Popular (Puerto Rico)
Banco Uno (Panama)
Barros y Carrion Insurance (Puerto Rico)
Bipan (Panama
Burdines (USA)
Caesar Park Hotel (Panama)
Camara de Comercio de Guayaquil (Ecuador)
Camara de Comercio de Puerto Rico (Puerto Rico)
Canadian Football League (CFL)
Cargill Inc. (USA, LatinAmerica)
Carousel Designs (USA)
Century 21 (USA)
Channel 23 (USA)
CODETEL (Dominican Republic)
ExxonMobil
Verizon
Walmart
full list available upon request
Don′t Gobble the Marshmallow Ever! The Secret to Success in Times of Change
Maintain the Marshmallow Principle-with this follow-up to the international bestseller!

Everyone′s favorite stumbling striver returns in another simple and telling parable from acclaimed motivational expert Joachim de Posada. Arthur has been practicing the principles of success, but after he accepts a lucrative new job, he finds himself reverting to his old gobbling habits. Perfect for anyone in transition, this book explains how to apply the principles of success to changing circumstances. In our go-go culture, "wait" has become the most offensive of four-letter words, but patience is not the same as self-sacrifice, and holding out for something you really want is far more satisfying than settling for whatever is available. Don′t Gobble the Marshmallow...Ever! teaches the importance of lifelong non-nibbling-and promises sweet rewards.
Order Here




Don′t Eat The Marshmallow...Yet! : The Secret to Sweet Success in Work and Life
Arthur is a chauffeur who is intellectually gifted. Jonathan is no less bright than Arthur, equally hard-working, and a billionaire. So why is Jonathan in the back seat of the limousine and Arthur in the front? What explains the difference between success and failure? And what does it mean to you and your children?

Joachim de Posada, a world-renowned motivational speaker, found the answer in a landmark Stanford University study of children who were able to delay gratification-in the form of a marshmallow they′d been given to eat-with the promise that they′d be rewarded with an additional marshmallow if they resisted eating the first for fifteen minutes. Ten years later, the children who held out had grown up to be significantly more successful than those who had eaten their marshmallow immediately.

Posada saw that the key difference between success and failure is not merely hard work or superior intelligence, but the ability to delay gratification. "Marshmallow resisters" achieve high levels of success while others eat all their marshmallows at once, so to speak-accumulating debt and dissatisfaction despite their occupations or incomes. But it doesn′t have to be that way. Using a simple parable and real-life examples (including basketball great Larry Bird and major league baseball catcher Jorge Posada, Joachim′s cousin), this life-changing book shows readers how the moves made today can pay off big tomorrow-if they just don′t eat the marshmallow...yet!
How to Survive Among Piranhas: Motivation to Succeed
How to Survive among Piranhas is a mini-encyclopedia containing some of the best ideas available in the areas of business and personal development. In addition to the wonderful ideas on such topicas as motivation, sales, marketing, negotiation, and customer srvice, Joachim De Posada will entertain and fascinate you with personal stories of his life. Read, learn, and enjoy." Michael LeBoeuf, author of "The Millionaire in You
Effective Sales Skills: Creating Headaches, the Smart Way to Sell:
In this interactive program, we go to the one-on-one, face-to-face skills that are needed to satisfy the customer′s wants and needs. The word persuasion will have a new meaning after you have learned the different techniques that will make you more effective. How to create a headache in a customer so that he or she will feel inclined to buy the aspirin (your product or service) is the heart of this program.

You will learn what questions to ask and how to ask them so that you may find the true customer′s need and can then match it to the benefits of your product or service, leading to an effective close. "Spray and pray" will no longer be the method to sell. Finally, you will learn how to handle the different customers′ attitudes that you will have to face in a sales call.

How to Get Customers and Keep Them for Life--A Road Map to Success:
In this exciting and practical program, participants learn the latest ideas that have been researched in state of the art customer service. One of the single greatest keys to long-term business success can be summed up in three simple words: quality customer service. Why is excellent service so rare? How can we change our culture to one of providing exceptional service? How do we get to the minds and attitudes of all our employees so that they see the value of great service? This practical, down to earth program will reveal immediate actions that can be applied right away and that will transform the company if they are implemented.

Pitfalls and Paradigms: What You Need to Know to Succeed in Business:
Most businesses fail, it is no secret. There are however some pitfalls that business owners fall into that will lead them to certain failure. We have identified 10 major reasons businesses fail and how to abort those attitudes and practices before it is too late. The intended audience for this program are small businesses that must compete on a day to day basis with larger and better funded companies. How to do so successfully is at the core of this program.

Psychology Applied to Sales: The Power of the Mind:
Participants are invited to experience, first hand, the potential each and every one has to achieve whatever goals they want to achieve. Results in your life can be obtained to a degree you never dreamed you could achieve. Joachim will share his special blend of mental and perception exercises designed to make you understand that there is much more out there than what you are seeing now. At the end of this program, you will know and feel that you have what it takes and it all depends on you.

The Power of Effective Leadership:
Today, leadership is needed more than ever. Can everyone be a leader? Who can and should be a leader? Using the personality instrument, we determine the qualities that a leader must possess and which of those qualities can be developed or must be compensated. It is a leader′s job to coach people, to lead and empower them to be the best they can be. This program helps people take a good look at themselves so that they can make the internal changes needed to gain the respect, the loyalty and the cooperation of those they lead.

The Synergistic Results of Working as a Team: Using the knowledge acquired about our personality style, we delve into each individual′s behavior caused by each person′s characteristics. Why do we react differently? How do we accommodate differences and similarities? How do we discover our individual responsibility to the team? What are the characteristics of a winning team and how do we develop them? The RING exercise, developed by Dr. Posada is a central part of this program. It is unique, it is instructional, it is fun and it clearly demonstrates what happens to losing and winning teams.

Unclog Your Brain!--A Proven Way for Increasing Creativity:
This program is not a boring, theoretical, lecture session. It is a fun talk that will inspire ways to enhance your day to day thinking and stimulate your brain to find alternatives to problems we all face on a daily basis. We will discuss methods for thinking smarter, faster and better, methods that should enhance your creativity 100%. Unclog your brain, will show you how to establish your mark in a "me too society." It will give you permission to live your dreams, to make them reality.

Why Aren′t You More Like Me?--An Analysis of Your Personality
Through research that began shortly after World War II, five distinct personality factors have been identified. A new paradigm has emerged in personality testing. This program analyzes these five and where in the continuum you are in each of the factors. The better you know yourself, the easier you can decide what you want to accomplish in life. Appreciating how personal style influences your behavior is a very important and valuable step toward gaining more control over your life. Very important also is encouraging you to know others as they really are rather than concentrating on how you wish them to be.
Dr. Joachim de Posada Introduction
Dr. Joachim de Posada TEDx
Dr. Joachim de Posada Speech