* Please note that while this speaker's specific speaking fee falls within the range posted above (for Continental U.S. based events), fees are subject to change. For current fee information or international event fees (which are generally 50-75% more than U.S based event fees), please contact us.
Top25 Speaker Voting

Dr. Jo Ann Pina needs 8 vote(s) to make it into the Top 25 speakers on Speaking.com!
Speaker Booking Tip
"Tip: some speakers might provide one of their popular book titles as a free gift to your audience. "
For Event Planners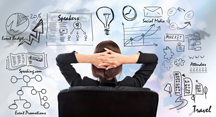 • Keynote Speaker Booking Toolkit.
• Booking a Celebrity Speaker.
• How to Find and Book the Right Speaker.
• Google+ Event Planning Forum.
• Tips for International Clients Booking U.S. Based Speakers.
Similar Speakers
Dayna Steele

Dayna Steele is the creator of YourDailySuccessTip.com, the author of the 101 Ways to Rock Your World book series and a success strategist for individuals…

Meagan Johnson

Turning a problem into a passion-driven career, Meagan Johnson has become the go-to generational expert. Her research keeps pace with today's fluctuating workplace dynamic as…

Jordan Goodman

Jordan Goodman, is known as America's 'Money Answers Man' for a good reason. He has been answering America's questions about personal finance for over 35…

Our event was what I would call 'over the top'... The survey results were at 92% very favorable. The speakers formed such a good relationship with myself and others at the conference. I am confident we will bring them back to do more. I will definitely contact you when we are in need of additional services. You have been the best!
American Express
About SPEAKING.com
Established in 1994, we are exclusive agents for some of the world's leading experts, celebrities and professional speakers.
We offer event planners a fully staffed speaker logistics planning team, plus a personal SPEAKING.com Account Executive – a knowledgeable and trustworthy partner. We guarantee your satisfaction with your speaker and a smooth booking process.
Contact us today to book your favorite speaker.

"Your delivery style is inspirational, uplifting and entertaining -- and, more importantly, enlightening."
Martin Bates, Program Chair
Association of Wedding Professionals
"...You imparted solid information and techniques in an inspiring way. Your ideas and energy for communication training have enriched all of us. You have a solid background in communication and management, and you impart your knowledge with high energy and lively examples."
Janet Larsen Palmer, PhD President
Communications Excellence Institute (CEI)
"You are great at what you do. Your 2-day investment in consulting has translated to us focusing on what really counts in the years to come. And you successfully got all major stakeholders to the table to negotiate a resolution, something no one else had been able to do, even the previous consultant."
Carlos Mendoza, District Director
U.S. Small Business Administration (SBA)
"Dr. Jo Ann Piña is America ′s leading expert in applying cultural values to the understanding of cross-cultural communication. Dr. Jo will expand your power to influence and enhance your personal effectiveness."
Leonor McCall- Rodriguez
Founder and Presdent Latino Speakers Bureau
"Dr. Jo, it is not only your magnetism that keeps audiences at rapt attention when you make a presentation, it is your ability to establish an almost instantaneous rapport with an audience. At this event, you did it again! Moreover, your high energy level is contagious; there is no time to get bored if Dr. Jo is around. Your content is so stimulating, you are bombarded with comments, questions, and stories. You handle those with aplomb and still manage to remain pretty close to established time frames. Amazing!!!"
C. Sylvia Proctor
Secretary NOVA Chapter NFBPA
"Fabulous, Dr. Jo! Your keynote stirred us to understand how Hispanic values drive behavior and influence communication styles in the workplace. Your dynamic message was just what we needed to bring a better awareness of the Hispanic community within the meetings and hospitality industry. Our participants said you were 'challenging and exhilarating' with 'fantastic energy and delivery!"'
Margaret Gonzalez, President & CEO
International Association Hispanic Meeting Professionals
"Your expertise and instructional stills in communication, coaching, cross-cultural communication and diversity made a major contribution to the success of several nation-wide multi-media training programs for over 7,500 to 10,000 employees, supervisors and managers.Whether it is one-on-one coaching of troubled managers or 300+ in a hotel ballroom, your content, delivery, energy and ability to inspire others distinguishes you as 'simply the best!'"
Ben Alexander
ACT, Inc.
"Dr. Jo, your presentations are so informative, energetic, motivational and most of all fun. You took us from no presence to a powerful presence. We only wish we had access to you all of the time. You are a small, but powerful package."
Kimberly Robinson
Director New Leader Program
Partial Client List:
American University
Association of Wedding Planners
Baltimore City Planners
Cablevision 6 o′clock news
CitiGroup
Commonwealth Edison
Department of Commerce
Department of the Interior
Department of Transportation
Federal Transportation Administration
Housing and Urban Development
Johns Hopkins University′s Leadership Development Program
Lockheed Martin
Northrup Grumman
National Institutes of Health
Social Security Administration
United States Coast Guard
United States Park Service
And many more....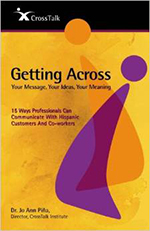 Getting Across...Your Message, Your Ideas, Your Meaning: 15 Ways Professionals Can Communicate With Hispanic Customers and Co-workers
Getting Across is the only book that shows you how to connect with America's growing multi-ethnic, multi-cultural and immigrant populations. Getting Across is written to give you powerful and effective case studies illustrating Hispanic values. It demonstrates how values drive behavior and communication styles and even gives you tips on how to get your message across and reach your Latino customers and co-workers. It is a must for anyone wishing to penetrate the 2 trillion dollar multicultural market especially those wanting to increase their influence and power with the Latino workforce and customer base.
Dr. Jo, through her seminars, keynotes and consulting, assists leaders, employees and business owners in grasping that all communication is culturally influenced. She works with organizations and companies to develop effective and culturally competent leaders who gain the ability to: Understand that communicating across different cultures requires the skill to discern what different things mean to people from contrast cultures.
Once leaders understand their own as well as another person′s values, they can more quickly pinpoint and decode communication subtleties and establish rapport. This is extremely important in today′s multicultural business world, where people use the same words but often mean different things. As a consequence, people often fail to communicate and are unsuccessful in penetrating a cultural market. In short, Dr. Jo reveals the secrets of how you and your leaders can create teams whose members pull in the same direction to achieve desired results. In the process, morale rises, effectiveness and profits increase, and, best of all, you, as the leader, become a hero.
In the process, morale rises, effectiveness and profits increase and, best of all, you as the leader become a hero.
You increase your power, your influence and your company′s bottom line and profits.
Dr. Jo′s Most Popular Programs:
Harness Your Share of the Huge Multicultural Market
Companies and entrepreneurs often miss market penetration because of the failure to understand the target group′s cultural values and customs. Stop losing your share of the huge 2 trillion dollar multicultural market! Getting your share requires more than translating your English materials into Spanish or re-shooting your ad or commercial with diverse talent. It demands really crafting and framing your message specifically for your target cultural market.
Guess Who′s Coming To Business? As the multicultural population in the US explodes, so does the market potential and multicultural workforce. Dr. Jo brilliantly bridges the communication gap among Anglo Americans, Hispanics and Asian Pacific Americans. Cultural, ethnic and gender programming often gives words and actions completely different meaning to people of diverse backgrounds. In today′s multicultural, multiethnic, dual-gender work environment, we may all be speaking the same language, but we certainly are not communicating. Understanding the cultural values and customs of other cultures is essential in order to penetrate a cultural market and to reach your multicultural customers and co-workers.
Getting Across...Your Message, Your Ideas, Your Meaning
Hispanics are now the largest minority group in America. Dr. Jo can guide you and your staff to understand Hispanic/Latino values to better influence and motivate your Hispanic co-workers and customers. By understanding Latino cultural values, you will discover what drives behavior such as communication style and spending behavior to better capture your share of the surging $650 billion dollar Hispanic/Latino spending market.
Under-The-Table Rules: Unwritten Corporate Secrets Every Leader Must Know
Find out in this entertaining session, corporate secrets that every leader must know those unspoken, unwritten corporate norms that can derail your career or propel it forward. A corporation′s unwritten rules are influence by the founder′s and executive leaders cultural and ethnic values. Often these unspoken rules contrast with the values and beliefs of people from different cultures. Accelerate your leadership ascent by uncovering your company′s unwritten, under-the-table-rules.
Leadership:
Developing the Leaders Around You
Mentoring minority and female leaders ensures retention and organizational Strength. Dr. Jo′s program assists your employees reach their full potential. She also works with the mentors to develop their cultural competency.
Situational Leadership in These Turbulent Times
Turbulent times often create crisis and crisis respond best to situational specific leadership. In this popular seminar, you′ll characterize followership and leadership, examine your leadership inclinations and apply leadership principles to your own work situations.
Under-The-Table-Rules
In this highly informative session, Dr. Jo shares with you those unspoken, unwritten corporate norms uncovered during research with over 250 corporate executives. Discover those corporate secrets that you must know to keep your career on trackespecially your company′s under-the-table-rules.
Developing the Leader in You
Getting the job done in today′s workplace means taking your turn as a leader. Be prepared by examining your leadership inclinations and enhancing the leader in you.
Communication
East Meets West: Asian Pacific Communication Style in the Workplace
Values differ from culture to culture. Discover how Asian Pacific values drive behavior and influence communication styles in the workplace. Learn how to motivate and influence your Asian Pacific American employees.
Communication:
Stand Up and Be Heard...in the Boardroom
This popular session shows how, by simply switching conversation styles, men and women can more clearly understand each other. In this stimulating, interactive session, find how different conversation styles can affect your credibility, career and advancement. You′ll gain the confidence to be taken seriously and soar.
Getting Across Your Message To Your Hispanic Customers And Co-Workers
What one culture understands and values may surprise, confuse or even shock another culture! In this interactive, role-playing session, you′ll discover how Hispanic values drive behavior and influence communication styles in the workplace. You′ll also learn how to motivate and influence your Hispanic co-workers and employees. And you will discover keys to reaching your Hispanic customers.
Cultural Diversity
Diversity Awareness: Understanding Your Customers and Employees
Cultural and ethnic diversity is challenging the way we do business in the United States. Your company′s success may depend on its ability to compete for and retain today′s multicultural work force. In Dr. Jo′s interactive workshop, you will learn tools and mental models to help you appreciate and understand your customers and employees who are members of contrast cultures.
Developing Culturally Competent Leaders
Cross-cultural misunderstandings are at the core of many complaints and grievances. Avoid the hassles created by employee complaints and grievances by developing your ability to recognize a culture′s core values and understand the corresponding behavior. Furthermore, learn tips that enhance your ability to influence your diverse workforce.
Profiting From Your Hispanic Employees and Customers
Hispanic Americans are the fastest growing minority group in the United States. Learn how to motivate your Hispanic employees and profit from the barely tapped Hispanic market.

Dr. Jo Ann Pina: Demo Video
Dr. Jo Ann Pina: Become A Successful Business Leader