* Please note that while this speaker's specific speaking fee falls within the range posted above (for Continental U.S. based events), fees are subject to change. For current fee information or international event fees (which are generally 50-75% more than U.S based event fees), please contact us.
Top25 Speaker Voting

Dr. Jeff Salz needs 8 vote(s) to make it into the Top 25 speakers on Speaking.com!
Speaker Booking Tip
"Tip: ask your speaker to do a book signing or attend a VIP meal with your guests. "
For Event Planners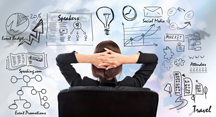 • Keynote Speaker Booking Toolkit.
• Booking a Celebrity Speaker.
• How to Find and Book the Right Speaker.
• Google+ Event Planning Forum.
• Tips for International Clients Booking U.S. Based Speakers.
Similar Speakers
Murray Banks

Murray Banks combines his natural flair as a speaker with the skills of an experienced educator who has taught at every level from grade school…

James Mapes

Author of the acclaimed book Quantum Leap Thinking, James Mapes is the authority on the psychology of applied imagination. Drawing from his unique background in…

Rocky Bleier

The extraordinary life story of Rocky Bleier is an inspirational one of a man who overcame terrible adversity to achieve his dreams. From the football…

Our agent was great to work with. Very easy to reach when needed and promptly returned messages. Thank you for making our event such a big success, we are looking forward to working with you again soon!
American Lung Association
About SPEAKING.com
Established in 1994, we are exclusive agents for some of the world's leading experts, celebrities and professional speakers.
We offer event planners a fully staffed speaker logistics planning team, plus a personal SPEAKING.com Account Executive – a knowledgeable and trustworthy partner. We guarantee your satisfaction with your speaker and a smooth booking process.
Contact us today to book your favorite speaker.

Our team really needed, appreciated and absorbed your message. I am sure you picked up on this with the two standing ovations you received. You provided a great service for our organization and helped us create a memorable experience for our employees. I still hear them talking about it today! You really enhanced our efforts in driving our organization to the next level.
-- Glen Tullman, Chief Executive Officer Allscripts Healthcare Solutions

I'll sum up his speech in one word: fantastic! I have over the years seen many speakers and booked quite a few of them, and I can honestly say that Jeff is the most moving and powerful I have seen. In today's business environment, speakers like Jeff are exactly what is need to get people fired-up and working more efficiently. I can highly recommend Jeff, as he is certain to be the highlight of any event.
-- Stephen Shapiro, Founder Global Process Excellence Program Accenture

Superb! If top CEO's are your audience then Jeff Salz is the man for your meeting.
-- Craig Low, Vice President IBM

Jeff Salz could not have been better for our group! He did all the right things and did a great job of integrating the right language and issues into his message. He is an infectiously enthusiastic speaker that kept the audience entranced. Our keynote speaker last year was Colin Powell – a tough act to follow. Jeff Salz took no back seat to him!
-- Roger Seymour, Executive Assistant Professional Housing Management Association

Amazing, powerful, passionate, entertaining! Jeff took 1200 people deep into Patagonia and across a lake on a Weetabix without leaving the room. Due to the tight agenda he only had 60 minutes and the true professional that he is, he made those 60 minutes count. In these times of shocking, soul-destroying images in the media, more people need to experience Jeff - his beautiful images, his faith in humanity and his stories - which restore our own faith in life. Jeff is every agent's dream: standing at the back of the room with my client and his US boss both captivated by Jeff′s presentation, and turning to me every few minutes saying "thank you, Derek thank you."
-- Derek Sweeney, President The Sweeney Agency
What is adventure? As Jeff Salz shows us in this wise, wonderful, extraordinary book, it is the most vital way of living your life every day. Few people can write about adventure with the authority of Dr. Jeff Salz. Mountaineer, explorer, anthropologist, professor, business consultant, and motivational speaker, Salz has experienced adventures from the Himalayas to Patagonia. In this book he recounts his thrilling, often perilous journeys and reveals how each one provides an essential lesson for living with authenticity, courage, and imagination in any circumstance. Open this book and embark on your own journey of self-discovery.
Jeff offers audiences clear instructions that enable them to put the passion and commitment of adventure to work in their organizations and daily life.

ATTAINING THE HIGHEST COMMON DENOMINATOR™
TIMELESS CERTAINTIES FOR UNCERTAIN TIME SIX STEPS TO THE TOP
After 30 years, Dr. Salz has identified the unique differentiator within resilient cultures called the Highest Common Denominator.

Through his many experiences with traditional peoples around the globe Jeff has uncovered a powerful, common ground "survival" platform that has stood the test of time for centuries and today provides a remarkable foundation for success.

The Highest Common Denominator is supported by the Four Pillars. These are:

Vision
Wisdom
Vitality
Courage

The Six Steps to the Top:

LEAP BEFORE YOU LOOK… The antidote to paralysis by analysis, bold action leads to discoveries that remain inaccessible to those who are afraid to risk.
AIM HIGH… An infectious atmosphere of support and excitement is created when teams set audacious goals and share a common vision.
GIVE IT ALL YOU'VE GOT… Discover the impact of generosity, sharing resources and, ideas, insights, perspectives and best practices.
WORK SOME MAGIC Learn to see a world that does not yet exist. Engage the imagination and creativity and create the future from the "magician's perspective."
KEEP ON YOUR BEARING Nothing creates more synergy in a team than embracing a culture of service. Teams that are in service to each other are teams that can over come any obstacle or adverse situation. They are unstoppable.
ENJOY THE VIEW Take the time to honor your accomplishments, soak up success and gain new insights from looking at life from the "mountaintop perspective."

HIGHEST COMMON DENOMINATOR EXPERIENTIAL PROGRAMS…are designed and customized for both the individual performer and for teams. WAY OF ADVENTURE's master team of experiential designers will craft an impacting program that educates, informs, and engages your audience.

LEADING FROM THE INSIDE OUT
Drawing from 30 years of remarkable adventures - the study of ancient wisdom, forgotten cultures and mythic traditions that has taken him to the most remote corners of the world - Jeff has fashioned a new model for leading breakthrough organizational change. Documented by a breathtaking multi-media presentation - Jeff provides fresh yet time-tested tools to help leaders create durable, successful and profitable organizations that thrive in times of greatest adversity.

Embark on the Journey and Discover these Secret Pearls:

What makes a leader truly ′great′
How the best leaders inspire a team to become - and remain - ′the best in the business′
The Four Principles that guarantee balance, dynamism and longevity - in individuals and organizations
The Magical Art of Doing More with Less

Join the handful of top level executives in organizations like Microsoft, eBay, Disney, and who have already benefited from the remarkable lessons in leadership of Leading from the Inside Out. We guarantee that attendees will leave invigorated, enthused and with ideas the can put into action today!

THE ADVENTURE OF CHANGE
TIMELESS CERTAINTIES FOR UNCERTAIN TIMES
Jeff Salz presents a unique perspective on adventure - not just the adventure that occurs in rarefied air – but the adventure that is ours everywhere, all the time. Jeff shows audiences how a sense of adventure can bring new meaning to our workplace and our lives…everyday!

During this presentation Jeff reveals his Six Steps to the Top – the lessons learned in over 30 years of exploration and expedition leadership. He gives audiences the tools they need to be adventurous in their work and life using stirring tales drawn from the legends, myths and personal lives of people he encountered in remote regions around the world. With award-winning photography AND music, Jeff′s presentation shows audiences how to redesign both their attitudes and their environments so they can face adversity with a sense of adventure!

Jeff's philosophy about adventure enables audiences to understand The Hero's Journey - the roadmap through change. Audiences learn:

Easy times are our enemy - adversity is truly a gift – it wakes us up
The journey of change is ceaseless – the real challenge is to face it with a joyful heart
True success and vitality stem from the commitment to be the best you have ever been

During client interviews, Jeff learns about an organization′s challenges and goals. He makes those connections throughout his presentation, personalizing the experience for each organization. Jeff′s energetic and humorous style combined with the tools he shares, guarantee an outstanding event every time, inspiring audiences to "Be the best you have ever been!"

WISDOM OF THE MOUNTAINS
BE THE BEST YOU′VE EVER BEEN
How do you become the best in the business?
How do the best keep getting better?


What is your boldest dream?
What is your higher than Everest goal?


In this presentation, world-class explorer, renowned anthropologist and philosopher, Dr. Jeff Salz, takes you on an exhilarating journey around the globe while providing:

a simple model for deep and lasting cultural change in your organization
a means for taking your professional and personal effectiveness to new heights
inspiration for your organization to truly excel

Throughout this presentation, Jeff reveals simple and profound wisdom for expertly navigating today's increasingly complex and confusing world. In turbulent times the leader is the one with the map. Jeff provides you with that map. Drawing from over 35 years of living with and studying diverse cultures around the world, he guides you on a remarkable journey of discovery. You will discover universal 'best practices' for maximizing personal and professional effectiveness.

The Four Key Areas of Learning are:

Vision … How to find one
Energy … How to create it
Inner Strength … How to develop and maintain it
Wisdom … How to live it


Synthesizing ancient wisdom with contemporary cutting edge business models, Jeff inspires, enables and instructs you and your organization to become the best you've ever been!
Speech Excerpt
The Adventure of Change
Demo Video