* Please note that while this speaker's specific speaking fee falls within the range posted above (for Continental U.S. based events), fees are subject to change. For current fee information or international event fees (which are generally 50-75% more than U.S based event fees), please contact us.
Top25 Speaker Voting

Dr. Farrah Gray needs 6 vote(s) to make it into the Top 25 speakers on Speaking.com!
Speaker Booking Tip
"Tip: ask your speaker to do a book signing or attend a VIP meal with your guests. "
For Event Planners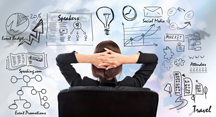 • Keynote Speaker Booking Toolkit.
• Booking a Celebrity Speaker.
• How to Find and Book the Right Speaker.
• Google+ Event Planning Forum.
• Tips for International Clients Booking U.S. Based Speakers.
Similar Speakers
Bill Benjamin

With 25 years of real-world business experience as a senior leader, leadership coach and motivational speaker, Bill Benjamin knows what it takes to succeed in…

John Jantsch

Dubbed "the Peter Drucker of small business marketing tactics," John Jantsch is the creator of Duct Tape Marketing, a system that has been used by…

David Pearce Snyder

Consulting Futurist David Pearce Snyder is a data-based forecaster whose thousands of seminars and workshops on strategic thinking have been attended by representatives from most…

My account executive was very professional as well as patient with us. The entire experience of working with your agency was cordial and professional, with attention to all the, sometimes complicated, important details.
U.S. Department of Agriculture
About SPEAKING.com
Established in 1994, we are exclusive agents for some of the world's leading experts, celebrities and professional speakers.
We offer event planners a fully staffed speaker logistics planning team, plus a personal SPEAKING.com Account Executive – a knowledgeable and trustworthy partner. We guarantee your satisfaction with your speaker and a smooth booking process.
Contact us today to book your favorite speaker.

PRAISE FOR DR. GRAY...

"I know Farrah Gray and we have discussed his future. His motivation determines what he will do. His attitude determines how well he will succeed at making a difference."
-Bill Clinton, Former President of the United States of America

Farrah Gray Dubbed by Oprah Winfrey as an "all-star" with "priceless advice."
-O, The Oprah Magazine

"Farrah Gray is the ultimate American success story. "
-Good Morning America

"America's Reallionaire."
-ABC 20/20

"We are impressed by your list of accomplishments, your enthusiasm and your optimism."
-Bishop T.D. Jakes and First Lady Serita Jakes "(Farrah) I can't imagine where you'll be 20 years from now I hope your running for office and making this world a better place."
-Donny Deutsch, Host of CNBC's THE BIG IDEA and Chairman, Deutsch, Inc.

"Gray brings this clear cut frontal perspective to everything he does. His list of accomplishments is truly incredible."
-Marc H. Morial President/CEO National Urban League

"His name is synonymous with success and triumph…and is already considered to be an entrepreneurial icon, business mogul and best selling author."
-Ebony Magazine

"You are just the best & the real thing."
-Suze Orman, New York Times Bestselling Author

"Indeed, you are making it happen."
-Stedman Graham

"Farrah Gray: acclaimed entrepreneur shows how to chart your own path to financial freedom."
-Jet Magazine
Reallionaire: Nine Steps to Becoming Rich from the Inside Out
A remarkable teenager who went from public assistance to a million dollar net worth shares his story and offers 9 key principles to success.

Farrah Gray is no ordinary teenager. He wears a suit and tie; he has an office on Wall Street and another one in Los Angeles . . . and he sold his first business at the age of 14 for more than a million dollars. He invested that money in a partnership with Inner City Broadcasting, one of the most prominent African-American owned businesses in the country, and now is heading the relaunch of their signature magazine, InnerCity. According to People magazine, Farrah is the only African-American teenager to rise from public assistance to a business mogul without being in entertainment or having a family connection.

Reallionaire tells Farrah′s extraordinary and touching story. When he was just six, Farrah′s mother became seriously ill, prompting his decision to provide for this family, and he spent the first $50 he ever made taking them for a real sit-down dinner. At the age of eight, he founded his first business club. By fourteen, with a million dollars in his pocket, Farrah was well on his way to business success.

Each stage of Farrah′s progress is marked by one of the principles of success he learned along the way, creating not just an extraordinary story but also a step-by-step primer for others to create success in their own lives with honor; charity and compassion.

In the tradition of great motivators and leaders, this is both an instructional book and a story to inspire others to live life to the fullest. And readers don′t have to be interested in business to enjoy it. In fact, Farrah is a role model for everyone.
Order Here




Get Real, Get Rich: Conquer the 7 Lies Blocking You from Success
Raised in the impoverished South Side of Chicago, Farrah Gray defied the odds and became a self-made millionaire by the age of fourteen. His success is due, in part, to his emphatic rejection of the most pervasive lies about what it takes to succeed. In Get Real, Get Rich, Dr. Gray debunks seven common myths that people perceive as barriers to achieving their goals, in chapters such as The Born Lucky Lie, The Money Lie, and The Work Hard Lie. Listeners are presented with a new way to think about the road to wealth, as well as practical strategies they can use to propel themselves toward success.
Order Here




The Truth Shall Make You Rich: The New Road Map to Radical Prosperity
The bestselling author of Reallionaire challenges common misconceptions about success and lays out the road map to a richer life

Raised in the impoverished south side of Chicago, Farrah Gray defied the odds and became a millionaire by age fourteen. He was the youngest person to have an office on Wall Street, and the youngest to receive an honorary doctorate. Now, at 24, he is an inspiration to millions and the bestselling author of Reallionaire, #1 Essence Bestseller.

In The Truth Shall Make You Rich, Gray shares the secret to his success: an emphatic rejection of the seven fallacies most people believe about money and success: the Born Lucky Lie, the Celebrity Lie, the Money Lie, the Debt Lie, the Google and Gates Lie, the Wall Street Lie, and the Work-Hard Lie. By revealing the truth behind the myths, Gray empowers readers to blaze their own paths and make their own millions.
Order Here





Suggested Speaking Topics:
Education
Empowerment
Excellence
Entrepreneurship
Ethics
Motivation
Leadership
Mentoring
Social Entrepreneurship
Public Service Commencement Speaker
Financial Literacy
Diversity
Speech
Dr. Farrah Gray calls for black people to shed labels such as African-American, Haitian, or Kenyan, and unite to resolve the poverty that many blacks still face. From educational level to religion to political parties, he claims these are all just distractions that have made blacks forget that in the end they are "one people."
"We go and get our BS degrees," he says. "But if you're not helping other people that's exactly what it is: B.S." He reminds highly educated class blacks that no matter how high a degree they get, the most important thing is that they use the status and wealth they've obtained to give back to the community. "We have to help and love each other. That's the only way we'll be successful."
Interview