* Please note that while this speaker's specific speaking fee falls within the range posted above (for Continental U.S. based events), fees are subject to change. For current fee information or international event fees (which are generally 50-75% more than U.S based event fees), please contact us.
Top25 Speaker Voting

Dr. Bruce Clark needs 6 vote(s) to make it into the Top 25 speakers on Speaking.com!
Speaker Booking Tip
"Tip: speakers bureaus provide added value that you cannot get by booking speakers directly. "
For Event Planners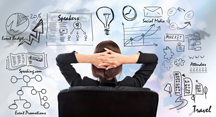 • Keynote Speaker Booking Toolkit.
• Booking a Celebrity Speaker.
• How to Find and Book the Right Speaker.
• Google+ Event Planning Forum.
• Tips for International Clients Booking U.S. Based Speakers.
Similar Speakers
Jeanne Robertson

As a 6' 2" high school basketball player, Jeanne Robertson averaged more than 30 points per game in her junior and senior years. She was…

Jeffrey Bauer

Recognized internationally as a medical economist and leading thinker on the future of healthcare, Dr. Jeffrey Bauer can help you to develop practical policy and…

Dr. John Kenagy

Dr. John Kenagy is a well-respected physician, executive, academic researcher and lecturer with a unique view of healthcare. One summer day in 1992, while climbing…

Everyone at your speakers agency were professional and helpful throughout the process, making it easy to book, communicate, and prepare for our event.
Hewlett Packard
About SPEAKING.com
Established in 1994, we are exclusive agents for some of the world's leading experts, celebrities and professional speakers.
We offer event planners a fully staffed speaker logistics planning team, plus a personal SPEAKING.com Account Executive – a knowledgeable and trustworthy partner. We guarantee your satisfaction with your speaker and a smooth booking process.
Contact us today to book your favorite speaker.

"In the eight years we have been running this client conference your presentation was proclaimed to be the best we've ever had."
- 3M

"Your contribution to the Retirement Forum put the evening over the top. Our Advisor's were taking notes furiously on your lively discussion of the reinvention of retirement and preparing for the second half of life. Thank you for helping me end the year with such a great event."
- Morgan Stanley Smith Barney

"Your ideas, insights and humor truly changed the way we think about our clients. You were easily the most engaging speaker we've had in years. Thank you for being both entertaining and substantive— in this difficult environment our attendees needed both."
- Genworth Financial
"Your keynote presentation at our 100 Year Centennial was insightful and inspiring, with a superb balance of substance and humor. I have heard nothing but the most positive remarks from our 350 attendees. Thank you for making this important event a huge success."
- Baylor University Medical Center, Dallas
"Over the past ten years we work hard to find a speaker for our annual meeting that can clearly address major health issues. Your presentation last week was by far our most outstanding."
- MaineHealth
"Dr. Clark, I truly enjoyed your talk, it was exactly to the point. Profuse thanks for making our meeting a success."
- Adams, Harkness & Hill Investment Bankers
"Given our very high expectations, all I can say is your presentation was a triumph!"
- Advice & Consent
"I received calls from several of our Board Members who heard your presentation at our Annual Conference and thought it was truly outstanding."
- National Assn. For Women's Health
"…Insightful, timely, stirred me to action, motivating…are just a few of the comments we received. Dr. Clark, it is rare that a speaker can be so challenging—you exceeded my expectations."
- HealthPlus of Michigan
"I have attended countless conferences and seminars over the years and I cannot recall one that generated as many positive comments."
- BlueCross BlueShield of Massachusetts
"As I expected, your presentation received the highest ratings of all conference speakers from our attendees. I look forward to working with you again."
- PICOM Insurance Company
20/20 Vision: The Transformation of HC Viewed through the Lens of the "New Consumer"
In this keynote, six consumer-centric trends transforming American HC over the next 5 years creating enormous change, challenge and opportunity for both employers and employees in it's wake. Those trends include:
Transition from "Faith in" to "Fear of" Health Care
Lifestage vs. Age: The "New Consumer"
Digital Health Revolution: "Homo Informaticus*"
Chronic Disease Pandemic and the Community Care Solution
Smarter Consumer, Better Choices, More Scrutiny, Less Compliant
Evolution of the Insurance Model

*Homo informaticus is the rational consumer smartly using technology to filter information... 62% of people are digital consumers, they are smarter, more cautious, connected - researching and considering before they buy, considering price (across all categories), value and quality, and support after the purchase. Healthcare is about to meet this consumer.

Getting Beyond HC Reform to the Opportunities Ahead: From Policy to Purpose
In this program, Dr. Bruce Clark delivers 5 trends that will redefine our future in healthcare:
It's About "Health Purpose" not "Health Policy": What matters most for your constituents in post-reform America is to stay laser-focused on how customer/patient needs and concerns are evolving vs. getting too mired in the details of reform. For them, it is about "health purpose" vs. "health policy". You want attendees leaving your meetings thinking about the opportunity they have to make a real difference in the lives of millions of consumers who are uncertain at this transformative moment in American HC.
The Demise of the Patriarchal System -- The Healthcare Cost, Insurance and Benefits Crisis Continues Post Reform: As consumers enter their high utilization years, "faith in" healthcare is being replaced by "fear of" healthcare. Healthcare costs and the loss of insurance and benefits consistently rank at the top of lists of what consumers fear most. Just as Americans have had to assume the burden of financing their retirement, they are now confronted with the additional burden of financing their families' healthcare. The defining characteristics of patients in a post healthcare reform world.
A "New" Consumer Marketplace: What recent research reveals about the perspectives of providers, employers and consumers on the future of healthcare, what consumers want from their healthcare provider, and strategies for successfully segmenting this emerging market. What this "new consumer" wants from healthcare and the business opportunities that are about to emerge in caregiving, community healthcare, digital health and the home-care revolution.
Our Multi-generational Marketplace: 80 million baby boomers are entering their high utilization years with unprecedented service demands, a redefinition of quality and little in common with the previous generations "reverential" approach to their healthcare providers. Healthcare is poorly prepared to address "generational diversity" and boomers, not to mention Millennials and X'ers, will be the most demanding and skeptical consumers to ever inhabit a waiting room. What are the service and quality demands of this new consumer?
Technology: The Gamechanger: Advances in technology are a familiar story in healthcare, but when combined with breakthroughs in biotechnology we find ourselves in uncharted territory. From genomic's and advances in medical devices to new diagnostic tools and treatments, technology will present unprecedented opportunities but these will be accompanied by new challenges to our bioethical concerns with privacy, risk, end-of-life care and cost.
The 10 Crises Healthcare Leaders Will Face in the 21st Century
While we are living longer and better than ever, we are simultaneously heading toward a future in which chronic disease, frailty, and a variety of long-term health problems will be pervasive. From mass dementia and the caregiving crisis to intergenerational equity and "Geriassic Park," we are heading into uncharted ground. As our 50 population grows by 10,000 per day, and the 65 grow from 34 million today to 70 million by 2030, our emphasis on community-based care services will need to grow dramatically. These consumers will be both "sick and well." Is our delivery system designed for this future? This presentation explores success strategies and pathways to solutions for healthcare organizations attempting to redefine their future.
The Future of Healthcare in the Age of the "New Mature Consumer"
As the 80-million strong baby boom migrates to the second half of life, the impact on healthcare will be dramatic. This generation has transformed every stage of life that they have passed through, and now, the baby boom is about to get sick. In this session audiences learn the findings of a national survey Impact Presentations conducted with Roper Worldwide, revealing current research about this "New Mature Consumer" - from the service demands they will place on their healthcare providers to the alternative and complementary therapies they seek. Included are the findings of more than 500 physician interviews that explore their unique perspectives on the future of healthcare, career concerns, and the practice of medicine. This generation will not only be the largest mature consumer segment, it will be the longest lived. The discussion will also illustrate the profound impact this social revolution will have beyond healthcare to education, leisure, the family, media, marketing, and other American institutions.
Will We Be Good Ancestors?: The Implications of Genomics and Aging for 21st Century Healthcare
From the evolution of the "New Mature Consumer" to the influence of the sequencing of the human genome, healthcare as we know it is about to change - permanently. Will the advent of genomic medicine prove to be "a terrible gift"? How will breakthroughs in the brave new world of genomic medicine and the rising age wave dramatically alter our abilities to diagnose, treat and prevent disease? What is the profile of this "New Mature Consumer"? How will healthcare leaders address the unprecedented challenges to our concerns with privacy, risk, ethics, and cost? What are the physical, social, economic and political crises healthcare leaders will face as we age into this new future? This unique presentation/ workshop frames the key issues, explores strategies, and seeks answers to key questions healthcare leaders are about to confront in 21st century healthcare.
Marketing in the Age of the "New Mature Consumer"
Over the next decade, leading industries, companies, governments, and major institutions will be challenged to transform their strategies, marketing, branding, distribution, product development, and workforce management to fully prepare for and capitalize on key trends created by a rapidly aging population. As the 80-million strong baby boom migrates to the second half of life, the impact on marketing and sales will be dramatic. This generation has transformed every stage of life that they have passed through. This generation will not only be the largest mature consumer segment, it will be the longest lived. Are you prepared to deliver your product or services to this New Mature Consumer?
Navigating the Second Half of Life
Somebody pushed the "reset" button on life as we know it. Healthcare reform has resulted in unprecedented social division and distrust. Recent economic events have permanently changed the business and social landscape - and the dust has not settled yet. Unlike previous one-dimensional revolutions, this economic, demographic, social and technologic revolution, will impact each of us personally and professionally. All aspects of our lives will be affected as we prepare for the second half of life, and seek to successfully navigate the new life stages of maturity.
From mass aging and the caregiving crisis to intergenerational equity and the reinvention of work and retirement, American consumers and businesses alike are unprepared for this future. Are you prepared for this future?

Dr. Bruce Clark Keynote Excerpt
Dr. Bruce Clark examines how longer life spans and improved quality of aging are disrupting traditional career trajectories and the concept of "retirement." Career changes and professional reinvention at midlife (think age 50 or so) are becoming increasingly common and acceptable, erasing the idea that you need to choose what you want to do with the rest of your life at age 18.
This drastic shift also comes from the need to create a new model of "old age," a life stage that stereotypically comes with a great deal of baggage as it is often associated with frailty and decline. "We haven't yet determined a modern purpose of a healthier old age," Dr. Bruce Clark states. "We need a heroic model of what we are going to do with those extra years."