* Please note that while this speaker's specific speaking fee falls within the range posted above (for Continental U.S. based events), fees are subject to change. For current fee information or international event fees (which are generally 50-75% more than U.S based event fees), please contact us.
Top25 Speaker Voting

Donna Cardillo needs 5 vote(s) to make it into the Top 25 speakers on Speaking.com!
Speaker Booking Tip
"Tip: some speakers might provide one of their popular book titles as a free gift to your audience. "
For Event Planners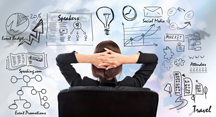 • Keynote Speaker Booking Toolkit.
• Booking a Celebrity Speaker.
• How to Find and Book the Right Speaker.
• Google+ Event Planning Forum.
• Tips for International Clients Booking U.S. Based Speakers.
Similar Speakers
Fran Solomon

Fran Solomon, Senior Vice-Empress of Playfair, is a Registered Nurse with Master's degrees in education and theater. An inspirational teacher and irresistible motivator with a…

Zonya Foco

As an author, TV host, and national speaker, Zonya Foco is leading America in the fight against obesity, diabetes, cancer, and heart disease through smart…

David Meinz

When organizations want to make a valuable investment in their greatest asset, they call David Meinz, MS, RDN, FAND, and CSP. David helps companies raise…

My Account Executive was able to work within my quick turn around time and price limitations to find the perfect speaker for the job. Although I thought finding and booking a speaker for our sales meeting would be the most difficult part of the planning process, your agency made it the easiest.
Ales Group USA, Inc.
About SPEAKING.com
Established in 1994, we are exclusive agents for some of the world's leading experts, celebrities and professional speakers.
We offer event planners a fully staffed speaker logistics planning team, plus a personal SPEAKING.com Account Executive – a knowledgeable and trustworthy partner. We guarantee your satisfaction with your speaker and a smooth booking process.
Contact us today to book your favorite speaker.

"Thank you for a magnificent presentation. Your seminar was just what we needed: engaging, encouraging, and packed full with vital information that was timely and specific. You did all this in a style that was dynamic and of good humor. You immediately built trust and everyone felt your genuine friendship."
Eleanore Sudbrock, Director of Recruitment/Retention, Catholic Medical Center
"I heard from many of the convention attendees how impressed they were with your personable character and how approachable you were. Even our exhibitors commented on how you took the time to meet them. "
Jessica Samela, President, Connecticut Student Nurses Association
"You are a very talented and gifted speaker. You even inspired me!"
Cliff Wood, EdD, VP of Academic Affairs, County College of Morris
"Donna is a dynamic speaker who rejuvenates her audience with well-organized, informative presentations."
Robert Hess, PhD, RN Director of Continuing Education, Nursing Spectrum Magazine
"You are such an informative and dynamic speaker. Your commitment to motivating health care professionals is clearly noted throughout your presentation. You are a very warm, caring, and exceptional person. We applaud you and thank you."
Joseph A. Fiorentino, RN, Vice President of Patient Care Services and Administrator, Human Resources, Parkway Hospital
"The enthusiasm and motivation Donna projected made me feel like I can conquer the world."
Susanne Batesko, Red Bank, NJ,Seminar Attendee
"D. Cardillo is the most motivational, dynamic speaker I've heard in recent memory."
Theresa Mackin, Red Bank, NJ,Seminar Attendee
"I just wanted to stand up and applaud. Enjoyed Donna's great sense of humor and passion for what she says."
Robert Girotti, Stamford, CT,Seminar Attendee
"Ms. Cardillo was beyond excellent. Best speaker yet. Thank you!"
Nursing Spectrum Extravaganza, Philadelphia, PA
"Inspirational, motivating experience being here, not only for the information, but your style was stimulating."
Alicia Corlew, Melville, NY,Seminar Attendee
"Donna is extremely professional, upbeat and reality based. Her enthusiasm is contagious!"
Christine Decker,Coopers & Lybrand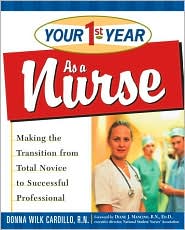 Your 1st Year As a Nurse: Making the Transition from Total Novice to Successful Professional
Survive and Thrive As a Nurse from Day One!
Welcome to the compassionate and caring world of nursing! You are entering a profession that offers great rewards and endless opportunities. But you must prepare for the challenges ahead and do everything you can to ensure that you experience the best that nursing has to offer. This invaluable book will get you started!
Written by an experienced R.N., Your First Year As a Nurse provides practical, real-world solutions to the profession's most common and difficult issues. Inside, you'll find out what you really need to know, who you need to know, how to avoid missteps, and where you can go for help when you need it. Gritty, witty, and full of invaluable tips and advice from first year nurses, this book is your personal mentor for your new career.
Ensure a healthy first year by knowing how to:
Acquire the job that's perfect for you
Create your own patient-centered style of nursing
Develop positive relationships with doctors, patients, and other nurses
Stay positive, deal with conflict and adversity, and avoid burnout
Network, enhance your education and career, and become a leader

"Combines common sense with the wisdom of a seasoned professional. A valuable resource for new graduates as they begin practice."
Lucille A. Joel, R.N., Ed.D., FAAN, professor, Rutgers College of Nursing, and former president, American Nurses Association

"A must-read for all nurses, not just new graduates!"
Joan Orseck, R.N., president, National Association for Health Care Recruitment




A Daybook for Beginning Nurses
Novice and well-seasoned nurses share their insight and wisdom in this new inspirational book for beginning nurses. This perpetual daybook offers 365 motivating tips and quotes from bestselling author and speaker Donna Cardillo. Thought-provoking essays exploring themes significant to the new nurse, begin each monthly chapter. Each month s topic is reinforced through daily suggestions and advice to help the beginning nurse thrive in the workplace. Journal space following each entry encourages readers to record their reflections, allowing them to document their life-changing journey into nursing.



Becoming Fearless in Career and Life
If you're a member of the human race, you've experienced more than one obstacle, set-back, or otherwise dark time in your life. Perhaps you've had a major life event (illness, divorce, job loss, aging) that has left you feeling disoriented and afraid. Maybe your current circumstances don't stimulate you and you are desperate for a change but don't know what direction to move in. Possibly there's something you really want to do but fear has you frozen in place. This uplifting program will teach you how to develop the energy and the courage to move beyond fear and leave you feeling inspired, empowered and ready for action.
Participants will learn how to:
Move from fear to freedom
Create positive momentum in their life and work
Discover how to use current and past challenges as a springboard for success
Triumph over self-doubt, disappointment and heartache
Live fully and authentically
Life Transitions: Where Do I Go From Here?
Different phases of life bring new challenges and rewards for women. Some life events are anticipated, some unexpected. One thing that remains constant is change. And as the nature of life, family, health and work evolves for each of us, it is vital that we reexamine our goals, our happiness quotient, and even our heart's deepest desires…at any stage of life. Spend a fun-filled session creating a life plan (including a back-up plan) that will keep you energized, engaged, and excited…possibly in a whole new way!
Participants will learn how to:
You Can't Change the Wind But You Can Adjust Your Sails
This transformational program confronts the inevitability of change in our lives and careers, understanding why we resist change, strategies to embrace change and stay relevant, and how in the end, change will help us to create a vibrant future for ourselves and our profession. Without change there is no growth and if you're not growing you're stagnating!
Participants will learn:
How to overcome their fear of change
Specific ways to build 'change stamina'
How to maintain inner calm in the midst of outer chaos
Strategies for personal and career transformation
The importance of avoiding obsolescence
Taking Care of You, Inc.—The Business of Self-Care
n the hectic, fast-paced, and high-pressure world we live and work in, it's not enough to manage our time; we also have to manage our energy. Energy reserves, depleted by increasing demands, must regularly be replenished. Neglecting this need results in negativity, poor focus, reduced productivity, and ultimately burnout.
Join Donna in a refreshing and upbeat program about the whys and hows of renewal, rejuvenation, and energy management guaranteed to make you happier, healthier, more focused, and yes, even more productive!
This upbeat program offers practical strategies for:
Keeping a fresh perspective year after year
Creating, innovating and inspiring when those around you are wilting
Staying energized and focused in the midst of chaos
The power of disengagement—what it is and how to do it
Formulating a dynamic for future success
Nurse Power!™
Harnessing the power, the passion, and the pride of nursing
This uplifting program is designed to remind nurses of their own greatness and empower them for future success. It's guaranteed to make nurses feel good and proud about who they are, what they do, and how they contribute to healthcare. Get ready to be pumped up, turned on, and super-charged with Nurse Power!
Participants will learn:
What they already have going for them
How nurses have already changed the face of healthcare
How to be a nursing advocate
Techniques for assertive behavior/communication
Strategies for elevating the profession to new heights
Nursing—The Future is Ours!
Nursing and healthcare stand at the precipice of radical change. As such, a unique opportunity presents itself for us to take on a larger and more pivotal role in healthcare beyond anything that most of us could have ever imagined. As this new role takes shape, nurses will need to change their way of seeing themselves, their profession, and their capabilities. It's time to stop whining and start owning our power!
Participants will learn:
What's in store for the healthcare delivery system over the next 20 years
Why nursing must reinvent itself
How nursing will evolve into a 'superpower' in healthcare
Which behaviors, mindsets, and patterns no longer serve us
How to get in shape to meet the challenges—and opportunities—of the future
Passionate Leadership: Soaring to New Heights
Today's nursing leaders are challenged like never before. At the same time they are in a unique position to have greater impact on the future of nursing and of healthcare. So how can you stay inspired and continue to grow and evolve as a leader when chaos reigns, morale is low and change is a constant? Spend a high-content, high-fun hour (or longer) with Nurse.com's Dear Donna and get primed, pumped-up and supercharged for the coming decade!
Participants will learn how to:
Identify and avoid the perils and pitfalls of being an experienced leader
Become stronger by softening yourself
Create physical and emotional accessibility
Stay relevant and inspired year after year
Self-management strategies to support your success
Donna Cardillo: Nursing Professional Event
Donna Cardillo talks to nurses about the daily opportunities they have to seize teaching moments and make a difference in their community. "I was on the airport shuttle going from my hometown to the airport...and because I ride the shuttle regularly I know most of the drivers. We're friendly. The driver that day was a man who had previously told me that he was diabetic...I was sitting up front, we were having a friendly conversation, and I noticed he had a 1 liter bottle of diet soda that he was drinking."
"I said, 'Patrick, how many of those sodas do you drink a day? He answered, 'About three or four of them.' I said, 'Patrick, you may not be aware of this, but you're consuming a lot of artificial sweeteners when you're consuming that soda...You might be interested in knowing that consuming that many artificial sweeteners can give you some headaches, can cause confusion-' and I gave him a couple of other symptoms...His eyes started to get wide as I said that and he said, 'Oh my God, I never would have equated the soda with some other issues that I was having.'
"The other people in the van heard the conversation and said, 'Oh you're a nurse? Can I ask you a question?' So pretty much we had a free clinic on the way to the airport."
Donna Cardillo: Speaking Excerpts
Donna Cardillo: "Why You Need a Business Card"
Donna Cardillo: Demo Video