* Please note that while this speaker's specific speaking fee falls within the range posted above (for Continental U.S. based events), fees are subject to change. For current fee information or international event fees (which are generally 50-75% more than U.S based event fees), please contact us.
Top25 Speaker Voting

Donald Sull needs 1 vote(s) to make it into the Top 25 speakers on Speaking.com!
Speaker Booking Tip
"Tip: speakers bureaus provide added value that you cannot get by booking speakers directly. "
For Event Planners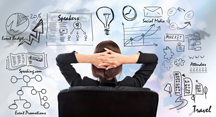 • Keynote Speaker Booking Toolkit.
• Booking a Celebrity Speaker.
• How to Find and Book the Right Speaker.
• Google+ Event Planning Forum.
• Tips for International Clients Booking U.S. Based Speakers.
Similar Speakers
Vikram Mansharamani

Experienced global equity investor and business trends expert, Vikram Mansharamani helps you anticipate your future. The popular Yale University professor is a highly followed authority…

John Mattone

One of only nine executive coaches in the world to hold the prestigious Master Corporate Executive Coach certification, John Mattone is globally recognized as a…

Carey Lohrenz

The first ever female F-14 Tomcat Fighter Pilot in the U.S. Navy, Carey Lohrenz brings her experience of fast-moving, dynamic environments, where poor decision-making can…

Our Account Executive was a pleasure to work with to arrange our keynote presenter for the Sustainable Brands Sydney Conference. He was swift to respond and his communication was always clear. If I am looking for international speakers, I will think of SPEAKING.com in future.
Sustainable Brands
About SPEAKING.com
Established in 1994, we are exclusive agents for some of the world's leading experts, celebrities and professional speakers.
We offer event planners a fully staffed speaker logistics planning team, plus a personal SPEAKING.com Account Executive – a knowledgeable and trustworthy partner. We guarantee your satisfaction with your speaker and a smooth booking process.
Contact us today to book your favorite speaker.

"I wanted to thank you for your outstanding keynote and share the sensational scores we have received for it...Comments included ′Superb keynote!′ and ′One of the best presentations I′ve ever seen.′ Your contribution to the Summit was invaluable."
Julian Jung, Director, Gartner

"Thanks again for addressing our management team this past week. You were outstanding and the ground you covered hit home with respect to where we are as a company in transition. Feedback from my colleagues, well, is over the top--you were a big hit and the input gained will definitely contribute to our progress."
Richard Adamonis, New York Stock Exchange

"Dr. Sull gave me deep insights into leadership issues and setting strategic directions. I will implement many ideas, step by step, into my organisation."
Tony Setter, Managing Director, Viterra Energy Services GmbH, Germany

"Without doubt the work that I did with you in May was a great help and will continue to help me as I prepare to develop my new organisation."
Tim Rideout, CEO, Leicester City Primary Care Trust

Keynote speaker at various management symposia around the world including:

Microsoft CEO Summit (Redmond)
McKinsey Americas Strategy Summit (New York)
PIMCO Managing Director Offsite (Newport Beach)
Burberry Executive Offsite (London)
Capgemini Senior Leaders Meeting (Paris)
New York Stock Exchange Euronext Leadership Forum (London)
A.P. Moller-Maersk Strategy Conference (Copenhagen)
KPMG Client Conference (Athens)
Gartner Enterprise Architecture Summit (London, Orlando)
Institutional Investor European Institute (London)
Young Presidents′ Organization (various locations)
Hewitt Global Leader Forum (Chicago)
Accenture Leadership Development Master Class (Cambridge)
Siemens Business Leadership Forum (Berlin)
Commonwealth CEO Symposium (Taiwan)
Baker & McKenzie Annual Partners Meeting (Chicago)
Scandinavian International Management Institute (Denmark)
Vedomosti CEO Forum (Russia)
Exame Magazine CEO Forum (Brazil)
Royal Bank of Canada Leadership Forum (Toronto)
Hurriyet Business Leader Forum (Istanbul)
Deloitte & Touche Global CFO Conference (Miami)
Chartered Institute of Personnel and Development (UK)
Industrial Asset Management Conference (New York)
American Magazine Conference (Palm Springs)
Irish Management Institute Leaders′ Forum (Dublin)
Analytic & Life Science Systems Association (Boston)
Upside of Turbulence: Seizing Opportunity in an Uncertain World


A provocative user′s guide to a world where the only thing that doesn′t change is change itself

"Before I die," Albert Einstein once said, "I hope someone will clarify quantum physics for me. After I die, I hope God will explain turbulence to me." Einstein might have been more confused today: Turbulence, in all its manifestations, is on the rise. Financial markets gyrate. Commodity prices zig and zag. New technologies disrupt long-standing businesses and entire industries. Scientific discoveries overturn historical truisms. Dirty bombs and pension busts, natural disasters and flu pandemics, add to the tumult. We live in a world beset by turbulence.

We often respond to turbulence by accelerating activities that worked in the past. We lapse into inertia when we should adapt with agility, and we cling to rigid dogmas when we should improvise. But throughout history, volatility has not only dethroned incumbent leaders, it has also created untold possibilities to create economic value. Turbulence has an upside, and companies that seize the opportunities arising out of seething markets will become tomorrow′s champions.

Based on more than a decade of research, The Upside of Turbulence draws lessons from companies that have consistently spotted and exploited opportunities that rivals have missed. The book explores realms ranging from improvisational comedy to the U.S. Marine Corp′s combat doctrine. The result is a series of provocative insights that defy conventional wisdom. The book also introduces practical tools, which have been field-tested by executives around the world, to wrestle triumph out of turmoil.
Order Here

Made In China: What Western Managers Can Learn From Trailblazing Chinese Entrepreneurs
Recently, several major events have catapulted the issue of Chinese businesses in America to the front pages of every major national and international newspaper and on network news broadcasts around the world: China′s $18.5 billion bid for US company Unocal and China′s Haier bid for US-based Maytag . Chinese entrepreneurs are reshaping China's economy, and now it looks like they could reshape ours.

In Made in China, Donald N. Sull profiles eight of these formidable ventures to reveal the secrets behind their surprising success. Based on extensive research, including in-depth interviews and access to corporate archives, Made in China explores these entrepreneurs' winning strategies, from how they anticipate and maneuver through emerging threats and opportunities ("active waiting"), to how they manage risks, to how they consistently out-execute rivals. Taken together, these principles represent a comprehensive model for managing in unpredictable environments worldwide.

An insider's look at the playbook of some of the world's savviest and most resilient entrepreneurs, Made in China is essential reading for anyone doing business in China or in any volatile industry or market.
Order Here

Why Good Companies Go Bad and How Great Managers Remake Them
How to keep your company from being blinded by its own success?and how to put a firm on the path to sustained greatness.

Organisations must change to survive. But a blind commitment to success formulas that worked in the past often render companies unable to adapt when new competitive situations arise. This book spells out the common pitfalls managers fall into, and outlines specific processes managers can use to help their organizations overcome their inertia before it?s too late.
Order Here

Strategic Agility for Unpredictable Markets
Is your firm in an unpredictable market? By 'unpredictable market,' Don Sull means, for example:

Established industries undergoing swift change and high uncertainty (e.g., banking, pharmaceuticals, airlines, telecommunications, fast moving consumer goods), high-tech sectors (e.g., enterprise software, consumer electronics), regulated technology-intensive industries (e.g., medical devices, telecommunications), and emerging markets (especially, China, India & Brazil).

The key to thriving in environments like these is strategic agility - developing the capacity to:

strategically anticipate the changes that are about to affect your business- and understand them;
adapt your strategy with a balance of offense and defense and a portfolio of internal initiatives; and
absorb uncertainty with traditional strategic shock absorbers.

The role of timing. Even in extremely unpredictable markets, there are long periods of calm between the storms of positive and negative factors—between the moments of golden opportunity and/or serious threat.
Donald Sull Full Speech
Donald Sull - Interview - Simplify Your Strategy
Speech Clip