* Please note that while this speaker's specific speaking fee falls within the range posted above (for Continental U.S. based events), fees are subject to change. For current fee information or international event fees (which are generally 50-75% more than U.S based event fees), please contact us.
Top25 Speaker Voting

Don Mann needs 8 vote(s) to make it into the Top 25 speakers on Speaking.com!
Speaker Booking Tip
"Tip: ask your speaker to do a book signing or attend a VIP meal with your guests. "
For Event Planners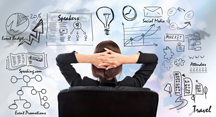 • Keynote Speaker Booking Toolkit.
• Booking a Celebrity Speaker.
• How to Find and Book the Right Speaker.
• Google+ Event Planning Forum.
• Tips for International Clients Booking U.S. Based Speakers.
Similar Speakers
Alan Hobson

Mountaineer and cancer survivor, Alan Hobson embarked on ten high-altitude expeditions and a decade of raising millions of dollars before finally reaching the summit of…

Chris Bashinelli

Perhaps best known for his role on the worldwide hit HBO show The Sopranos, Chris Bashinelli is a motivational speaker who focuses on cross-cultural issues…

Robert Van Arlen

Jazz pianist and speaker to over 250,000 salespeople across the world, Robert Van Arlen takes the title of his book, Focused Synergy, and shows you…

I'm extremely impressed with your speakers bureau's follow-through, responsiveness and willingness to understand our needs so that he could match the best speakers with what we are looking for. I will definitely work with you again in the future. Thank you for all that you did to help us create an exceptional learning experience for our attendees.
American Society of Association Executives
About SPEAKING.com
Established in 1994, we are exclusive agents for some of the world's leading experts, celebrities and professional speakers.
We offer event planners a fully staffed speaker logistics planning team, plus a personal SPEAKING.com Account Executive – a knowledgeable and trustworthy partner. We guarantee your satisfaction with your speaker and a smooth booking process.
Contact us today to book your favorite speaker.

"Wow... you are truly amazing! People in the group have been calling, and texting about how much they loved your presentation. You have inspired them all! For about an hour after your talk people just gathered around and I heard comments like "when he told that story of being in that hole... I physically felt sick to my stomach". Other comments were "by breaking it down with micro goals and macro goals I think I can really step up my game".
Branden M., SEAL Team TWO, Midland Triathlon Team
"Thank you so much for joining us yesterday. Your participation was beyond impactful for all 900 attendees. I was so amazed to hear each individual member speak with you at the book signing. The message clearly resonated with them… each in a unique and amazing way. "
Gabriel F., Chicago Traffic Club
"Your presentation about the challenges/achievements will help our team tremendously this year. The "combat mindset" is something that is definitely applicable to our sport. After travel, lack of sleep and injuries start to set in there are many excuses that can be made. Having everyone hear about how strong the mind is will help us overcome those obstacles and make us a better team. Not to mention they were extremely intriguing stories! You have done and seen a lot of things that fascinated the entire team."
Kevin Bieksa, NHL Vancouver Canucks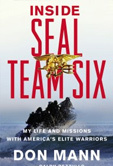 Seal Team Six
When Osama bin Laden was assassinated, the entire world was fascinated by the men who had completed the seemingly impossible mission that had dogged the U.S. government for over a decade. SEAL Team 6 became synonymous with heroism, duty, and justice. Only a handful of the elite men who make up the SEALs, the US Navy's best and bravest, survive the legendary and grueling selection process that leads to Team 6, a group so classified it technically does not even exist.
There are no better warriors on Earth. Don Mann knows what it takes to be a brother of this ultra-selective fraternity. As a member of Seal Team Six for over eight years and a SEAL for over 17 years, he worked in countless covert operations, operating from land, sea, and air, and facing shootings, decapitations, and stabbings. He was captured by the enemy and lived to tell the tale, and he participated in highly classified missions all over the globe, including Somalia, Panama, El Salvador, Colombia, Afghanistan, and Iraq.
As a current training coordinator for several civilian SEAL training programs, and as a former Training Officer of SEAL Team 6, he was directly responsible for shaping the bodies and minds of SEALs who carried out the assassination of Osama bin Laden. But to become a SEAL, Mann had to overcome his own troubled childhood and push his body to its breaking point-and beyond. INSIDE SEAL TEAM 6 is a high octane narrative of physical and mental toughness, giving unprecedented insight to the inner workings of the training and secret missions of the world's most respected and feared combat unit.
Reaching Beyond Boundaries
In this inspiring presentation Mann reveals stories and personal anecdotes from his many years working with the SEAL teams and competing as a world-class athlete. He shares insights into his personal philosophy of setting micro-goals to achieve macro-goals, while instructing organizations how to employ that same philosophy to achieve both personal and professional success.
Don's message includes equal doses of inspiration and strategy. As he likes to say, "Anybody with the proper mindset can achieve anything imaginable." Setting macro goals is an important way for organizations to identify what it is they want to accomplish, although sometimes reaching those goals can be a daunting task. By breaking those macro goals down into micro goals, they become much more manageable and easier to handle.
Seal Adventure Challenge
When not conducting world-class competitions, Don conducts team-building programs for business and government personnel through Don Mann Enterprises, Inc. (DME).
DME's leadership programs are effective by modeling each program to fit the client's specific needs. The training provides activities that build individual and team strength and confidence. Participants are introduced to activities that bring them out of their "comfort zone". Various adventure sport and/or military training evolutions are implemented in which the strong must help team mates, such that all participants find their own individual strengths and weaknesses.
DME programs are designed to meet individual or organizational goals and training objectives, and do it in a way that participants enjoy, and find life affirming.
Don Mann is an excellent choice for addressing the following topics within his programs:
Developing a "combat mindset"
Goal development (micro and macro)
Confronting challenges
Conflict aversion
Developing team synergy
Delegation of duties
Effective communication
Team dynamics
Observation skills
Working in a stressful environment
Iceland Team Building Event
These courses can be modified to meet the specific needs of the client
Don Mann - Introduction
Don Mann shares what his experience with the elite Navy Seal Team Six taught him about success and what it takes to be the best - and talent does not top his list. Most people, he observes, never push themselves beyond the minimum of their potential; however, it is "really hard to beat a person who never quits."
Mann encourages people not to fear overdoing it, because once they reach their physical limit, they'll be able to feel it and take things down a notch. "Stepping out of your comfort zone hurts, but you get so much more done, and reaching for that line is such a great experience," he remarks, admitting that he has no regrets about giving his maximum effort in everything he's tried.
Don Mann: GTN Presents: Seal Training
Don Mann: GTN Presents: SkyDiving