* Please note that while this speaker's specific speaking fee falls within the range posted above (for Continental U.S. based events), fees are subject to change. For current fee information or international event fees (which are generally 50-75% more than U.S based event fees), please contact us.
Top25 Speaker Voting

Don Hutson needs 5 vote(s) to make it into the Top 25 speakers on Speaking.com!
Speaker Booking Tip
"Tip: speakers bureaus can provide: speaker fee negotiation, insurance, smooth logistics and value add-ons such as extra sessions. "
For Event Planners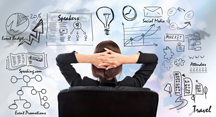 • Keynote Speaker Booking Toolkit.
• Booking a Celebrity Speaker.
• How to Find and Book the Right Speaker.
• Google+ Event Planning Forum.
• Tips for International Clients Booking U.S. Based Speakers.
Similar Speakers
Bridget Brennan

CEO of business strategy firm Female Factor, nobody is better placed than Bridget Brennan to explain the customer service women want and how to gain…

John Spence

Driven by an insatiable curiosity to understand the fundamental aspects of what it takes to achieve and sustain excellence in business and life, John Spence…

Gregg Lederman

Gregg Lederman is the founder and CEO of Brand Integrity, a passionate engagement company with disruptive and sustainable solutions that don't just work, they matter.…

Our Account Executive is an extraordinary person. Always available, very kind and funny. Eager to help and always quick to respond. I have so much fun working with him. A very delightful experience. I hope continue working together for years to come!
Credicorp Bank
About SPEAKING.com
Established in 1994, we are exclusive agents for some of the world's leading experts, celebrities and professional speakers.
We offer event planners a fully staffed speaker logistics planning team, plus a personal SPEAKING.com Account Executive – a knowledgeable and trustworthy partner. We guarantee your satisfaction with your speaker and a smooth booking process.
Contact us today to book your favorite speaker.

Clients Are Saying:

"Your messages were both motivational and educational, and were right on target with our corporate philosophy of teamwork and customer service. We especially appreciated your ability to effectively incorporate information about our organization into your remarks."
--- Gail Silverman, Prudential Home Mortgage

"Thank you for the fantastic presentation you gave to our clients, industry associates and company personnel. You accomplished exactly what we were looking for: a presentation that incorporated valid, usable information with humor that would stimulate thought while creating an atmosphere of enthusiasm and excitement. As they say ′enthusiasm is contagious′ and I believe you must have infected everyone in the room that morning!"
--- Peter A. Lawless, The Coast Distribution System

"I knew when we asked you to be with us in Spokane that you would be the most rare of guest speakers, one who has actually done his homework and whose message is absolutely right on. Your remarks were outstanding and relating them to what we are trying to accomplish made a big impact on our people."
--- Larry Samuelson, Genuine Parts Company

"Your focus on leadership and accountability as leaders to ′create our future′ accurately highlighted the fundamental theme of the conference. Your commitment to tailor the material to suit our particular needs certainly paid off. From the conference feedback, your presentation received the highest overall score of all the presentations and many of my leadership team found your presentation to be the most valuable item on the agenda."
--- J. P. Reidenbach, AT&T

"Thank you for all of your work and energy that went into making the NAMM Sales Training Institute such a success. Clearly the message I heard repeatedly from participants was how the training had exceeded their expectations."
--- Randy Beck, The International Music Products Assn.

"Because of your reputation, we expected great things from you. However, you went above and beyond what we expected by investing additional time to work with us to understand our challenges and to customize your message at both sessions. The feedback was universally exceptional."
--- William P. Thompson, Cylix

Satisfied Clients Include:

Medical

Marion Merrell Dow
Continental Medical Systems
National Pharmaceutical Alliance
Merck & Co.
Eli Lilly
Datex Medical Instruments
Beckman Instruments
Abbott Laboratories

Manufacturing/Retail

Navistar
BASF
Otis Elevator
Rowe Furniture
Great Dane Trailers
True Value Hardware/V&S Variety
Jansport
Chrysler
Eastman Kodak
3M
Shaw Industries
Sony

Associations

National Tour Association
Sales & Marketing Executives
Lumbermen′s Merchandising Assn.
IRSA
National Assn. of Music Merchants
National Pest Control Association
National American Wholesale Grocers
Packaging Machinery Manufacturers
Financial/Insurance

CIT - Industrial Financing
Nationwide Insurance
Farmers Insurance
LIMRA
Barclay′s Business Credit
Aid Association for Lutherans
Prudential Home Mortgage

Services

Illinois Central
Professional School Photographers
Sir Speedy
Hampton Inn
Northwest Airlines
Club Corporation of America

Communications/Computers

Lexmark
AT&T
Cylix Communications
Ameritech
Northern Telecom
U.S. West Direct
Telecommunications Resellers Assn.
Turner Program Services
Zenith Data Systems
MCI
Hewlett-Packard
The One Minute Negotiator: Simple Steps to Reach Better Agreements
The One Minute Negotiator uses an engaging business parable to tell the story of a high-level sales professional who learns the value of understanding and executing a simple yet profound approach to negotiations – an approach that can be applied to getting the best loaner car while your cars in the shop, seeking a fair solution after a hotel messes up your reservation, closing a deal to get your product in a big-box retail store, or settling on the price for your new home.

There are two primary schools of thought when it comes to negotiation skills. One essentially comes from the Harvard Business School camp, and it's perhaps best described as "Thou Shalt Collaborate." This approach teaches that negotiating parties should always work together toward common interests. The other school of thought, mostly pushed by author/consultant Roger Dawson, takes an opposite approach. Call it "Thou Shalt Compete," this approach is always overtly or subtly adversarial. The One Minute Negotiator differs in that it doesn't single-mindedly push one strategy over the other—in the real world every negotiation differs depending on the participants and the circumstances. The authors provide an easy-to-use tool that allows you to understand your own negotiation strategy and quickly match it to the negotiation strategy used by the other side and to the situation.

Too many people lose out in negotiations because of apprehension and misunderstanding about the process—what the authors call "negotiaphobia". By providing a simple, straightforward process anyone can use The One Minute Negotiator to help conquer their fears and achieve the most beneficial outcome in all their dealings.
Order Here




The One Minute Entrepreneur: The Secret to Creating and Sustaining a Successful Business
Mega-bestselling author Ken Blanchard and celebrated business leaders Don Hutson and Ethan Willis present an inspiring story that reveals the secrets to becoming a successful entrepreneur.

In THE ONE MINUTE ENTREPRENEUR, Ken Blanchard (coauthor of the #1 bestselling business classic The One Minute Manager), Don Hutson, CEO of U.S. Learning, and Ethan Willis, CEO of Prosper Learning, tell the inspiring story of one man's challenges in creating his own business. Through a powerful and engaging narrative, we confront many of the typical problems all entrepreneurs face in starting up their business, from finding new sources of revenue to securing the commitment of their people and the loyalty of their customers. More important, we learn the secrets to becoming a successful entrepreneur, including how to build a firm foundation, how to ensure a steady cash flow, and how to create legendary service. In addition, the book offers invaluable advice, delivered through One Minute Insights, from such entrepreneurs and thinkers as Sheldon Bowles, Peter Drucker, Michael Gerber, and Charlie "Tremendous" Jones.

Today, in the midst of the largest entrepreneurial surge in U.S. history, four out of five small businesses continue to fail. THE ONE MINUTE ENTREPRENEUR offers businesspeople and would-be entrepreneurs a treasure trove of wisdom on how to think, act, and succeed in creating and sustaining a business, no matter what their industry.
Order Here





Sell Value – Not Price!
Tactics for building immediate Trust and Rapport
How to be Outstanding! The 7 Keys to differentiation to BLAST by your competitors
Re-margin your Profit Zone: Build Value-rather than cut price!
Do you have what it takes? Attributes of consistent high performers
Learn the latest skills of Needs-Analysis and the development of targeted solutions to get the YES!
The One Minute Negotiator

Moving from Victim to Victor in a Life Filled with Negotiations
The rampant disease of "Negotiaphobia" and the 3-Step E-A-S-Y Process to Treat it
The Flawed Tactic of Compromise
The Four Viable Negotiation Strategies and when to use each one
Pearls of Wisdom for Experiencing More Success with Less Stress in your Life
The One Minute Entrepreneur

The "Four P′s" for Solid Results (Passion, Profit, People, Priorities)
How Differentiation helps you be their best choice
The Keys for Success in Business
The Attributes of Entrepreneurial Leaders
How to Turn Success Into Significance
The High Performance Selling Edge

Learn the latest cutting edge selling skills & strategies that make clients say WOW!
Relationship Selling: Keys & Strategies that build immediate rapport
How to be Outstanding! The 6 Keys to differentiation to BLAST by your toughest competitors
Re-margin your Profit Zone: Build Value-rather than cut price!
Do you have what it takes? Attributes of consistent high performers
Twenty-first Century Leadership

Creating a break-through high performance team
5 Powerful Leadership Strategies that Work
Coaching – Gold Medal focus for Outstanding Results
The Secrets of Exceptional Managers : Managing Different People Differently
Leadership Style: Earning Loyalty from Top Producers
The Art of Selling to Different People Differently

Developing your Personal Power: 4 Keys to Understanding Human Behavior
The "A" Factor – The key to high productivity
Personality Plus: How to project an authentic image of excellence
How To Attract and Retain Profitable Customers The philosophy of
Abundance: 4 Steps to Boundless Market Share
Motivation to the Max!

Learn to tap into our greatest Source of personal power
The KEY to getting and staying motivated
Information Overload – the 3 "P"s to your Personal best
Discipline Dynamics: Finding the key to personal excellence
What is a "Contented Achiever" and how to become one?
Keeping Customers Happy for LIFE!

Developing Customer Centric Service Strategies
Wow your Customers – Performing Customer Service Miracles!
How to provide EXTREME customer care
Meeting & Exceeding the 10 New Consumer Service Demands
Building & Developing your own USP – Personal Branding
Don Hutson - Speech Excerpt
"The product pitch and the hard sell don't work any more, because they are high stress tactics which cause stress to go up and trust to come down," Don Hutson explains as he advocates new ideas for new market circumstances. He proclaims: "We ought to be doing such a great job of dealing with people that we are creating trust."
Don Hutson - High Performance Selling
Don Hutson - Speech Excerpt