* Please note that while this speaker's specific speaking fee falls within the range posted above (for Continental U.S. based events), fees are subject to change. For current fee information or international event fees (which are generally 50-75% more than U.S based event fees), please contact us.
Top25 Speaker Voting

Don Cooper needs 6 vote(s) to make it into the Top 25 speakers on Speaking.com!
Speaker Booking Tip
"Tip: some speakers might provide one of their popular book titles as a free gift to your audience. "
For Event Planners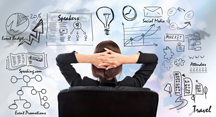 • Keynote Speaker Booking Toolkit.
• Booking a Celebrity Speaker.
• How to Find and Book the Right Speaker.
• Google+ Event Planning Forum.
• Tips for International Clients Booking U.S. Based Speakers.
Similar Speakers
Emory Austin

Specializing in building bridges between subjective human choices and the complexities of the modern electronic world, Emory Austin's vibrant and delightfully humorous presentations provide practical…

Billy Riggs

At the age of 29, Billy Riggs founded one of America's fastest-growing churches. Since 1995, he has been delivering his secular presentation, "The Magic of…

Teri Yanovitch

Along with 85 percent of business leaders today, Teri Yanovitch thinks quality customer service is how your business can set itself apart. Through her enthusiastic,…

The retreat was extraordinary, professional, and personable. Everyone is still raving about it. They said it was the best experience of their lifetime. And, I would have to agree. I most certainly hope we have the opportunity to work together in the future.
YPO: Young Presidents' Organization
About SPEAKING.com
Established in 1994, we are exclusive agents for some of the world's leading experts, celebrities and professional speakers.
We offer event planners a fully staffed speaker logistics planning team, plus a personal SPEAKING.com Account Executive – a knowledgeable and trustworthy partner. We guarantee your satisfaction with your speaker and a smooth booking process.
Contact us today to book your favorite speaker.

"I have used Don′s techniques for the past year and have increased sales by 30%!"
Darren Fredrickson, Pacific Boatland

"Thanks to the marketing tools you gave us to promote the event, we set an all-time attendance record!"
Tracy Taylor-Sea, Longmont Chamber of Commerce

"Thank you for such a wonderful seminar. Later the same day I was able to close a contract I had not expected to!"
Rick Keaton, Ricksticks

"Don Cooper is an excellent speaker and the information was right on!"
Susan Hertzler, Cell Tech

"The best I've heard with the greatest immediate impact."
John Williams, Sport Boats USA

"11 out of 10!"
Kenneth Kihiv, Twin Century Investments

"A few hours after attending your program, I got a call from a prospect who compared my price with a competitor's, which was $500 less. Instead of lowering my price to match (as I've always done in the past), I used one of the tactics you had just shared with us and it worked perfectly! I made the sale and the extra $500!"
MaryAnn Probert, Acomoclitic Laser & Wax Studio

"Excellent! I will refer to my notes again and again."
Linda LaManna, American Express Financial Advisors

"This was a great presentation. (Don is) an authority in his field."
Sibo Ncube, Mastercraft Interiors

"I would highly recommend him for any company looking to increase sales!"
Deidra Gonzales, Calvada Surveying

"I have attended a lot of seminars in my sales career. Many are useless. There are a few that get you pumped up for a couple of days. But none of the seminars I have been to gave me 22 ideas in a simple and functional format. Each of the ideas can be easily implemented into any sales team. Don′s seminar is thought provoking, entertaining and most importantly, useful. The trifecta!!!"
Cole Coker, GEM Products, Inc.

"Loads of wonderful info—didn't want it to end!"
Rebecca Gasaway, Budget Rent a Car

"A must-see! Best 1-hour sales tools presentation I've attended!"
Bradley Nathan, American National Bank

"Fantastic! Thank you so much! All the information was very valuable and powerful. I learned so much and can't wait to put it into practice."
Susan Thornton, APTUS Therapy Services

"Don Cooper presents a fantastic seminar! His entertaining style, and methods for incentivizing participants to voice their opinions make the entire experience a fun way to learn."
Daniel Sanders, Noesis, Inc

"Great presentation! Fantastic! Thanks!"
Jeanice Henson, KGBT-TV Channel 4

"The most useful, direct, and down to earth training I've had."
Mike Jones, Ross Motorsports

"It was tremendous! I learned a lot."
Tina Solis, First National Bank

"Wow! I walked away from (this program) full of great ideas I can put into practice immediately. I got my money's worth 100% and more!"
Heather Lutze, Lutze Consulting, LLC

"Best seminar I've EVER attended—hands down!"
Ron Christensen, Minnetonka Marine

"Thank you for doing a fantastic job at our event in Las Vegas. You were extremely well-received and not only informative, but also entertaining."
Richard H. Middleton, Jr., Middleton, Mathis, Adams & Tate, P.C.

"Awesome! I look forward to more seminars."
Charel Daehr, Manpower

"Ready to make millions $$$!"
Jeremy Barfoot, Courtyard by Marriott

"I came away from this one-day course with more useful information and skills than I did spending two years at a post-secondary school in a marketing program."
Brent Morrison, Walt Healy Motorsports

"Very educational & inspiring!"
Belinda Merla, Cingular Wireless

"After 28 years with two Fortune Fifty companies, I felt I was a good networker. But at Don Cooper′s seminar I learned new skills that gave me an immense payoff the following day!"
Larry Allen, Transition Solutions

"Great! The ideas were very helpful. It will help me a lot."
Maribel Mercado, The Valley Morning Star

"I incorporated your points into my sales presentation and I have achieved a 65% closing rate!"
Scott Field, Kitchen Tune-Up

"This has been the best 3 hours of sales training that I've received in 20 years of being in business."
Jeff Uetrecht, Lake Drive Marine

"Don′s energetic style is contagious. He has definitely earned our 'invite again' status!"
Linda Zenker, American Association of Home-Based Businesses

"Your dynamic presentations brought a significant lift to our retail-training program. I know of several success stories that resulted from the ideas and strategies you shared."
Scott Iverson, Watkins Manufacturing Corporation

"I am still amazed by your energy and ability to "carry the floor" for over 5 hours and still keep your audience in the palm of your hand."
Robert Luna, Medical Management Consultants

"Great presentation! Great content!"
Grant Marsh, Merrill Lynch

"I picked up more practical information in your hour and a half seminar than in wading through several books over the past seven years. Thank you!!!"
Tom Schafer, Orion Industries, Inc.

"This was the best training I have ever attended!"
Christine Grant, Eden Talent Agency

"Don′s mastery of the subject matter really gets the point across."
Martin Cooley, Network Computing Technologies

"I appreciate the fact that Mr. Cooper took the time to research Line-X and was able to implement technical terms, lingo and existing Line-X programs and goals instead of a generic presentation."
Michael Osman, Line-X of Miami

"Informative and captivating!"
Tiffany Whitner, TCF Bank

"Packed with solid information, presented with no waste!"
Bernie Cohen, National Association for the Self-Employed

"Go see his presentation—you'll learn a lot!"
Oksana Doncila, Morgan Stanley

"A three hour investment for a lifetime of referrals."
Joe Allen, Net 2000

"Thank you for a wonderful presentation at Top Gun. My staff was very excited about their newfound tools. Also, your suggestions regarding using visual tools have inspired some great ideas for displays in the showroom."
Kimberly Desler, Oregon HotSpring Spas

"Lots of value and good information in a short time."
Bill Sinclair, Agelio Networks

"The entire session was directed at exactly what we do and there was no wasted or useless information. That was the best sales seminar I have ever attended! Thank you!!!"
Katy McDaniel, Lakeshore Sport

"Excellent presentation! Don presented concepts I can put to immediate use."
Courtney Berg, Courtside Consulting

"I made $5,000 more in commissions this year thanks to Don's program."
Ron Wells, Boyd's Marine

"Great information, very well delivered! I′m looking forward to hearing Don again!"
Sharon Fountain, Performance Development Corporation

"You were a big hit at our WACE conference, receiving the highest rating of all of our general session speakers."
Dave Kilby, Western Association of Chamber Executives

"I have heard lots of professional speakers and got more useable information tonight than any before."
Jodi Turner, The Pampered Chef

Partial Client List:


Harley-Davidson
National Art Materials Trade Association
Cobalt Boats
Las Vegas Chamber of Commerce
Nissan Canada
George Fischer Corporation
Hot Spring Spas
Metzger Associates
Correct Craft, Inc.
Association. of National Account Executives
Pet Products Plus
Line-X
Middleton, Mathis, Adams & Tate
Big Rock Sports
Texas Chamber of Commerce Executives
Leapfrog Solutions
Mincom, Inc.
Completed Systems
NASA
Flowserve Corporation
National Marine Manufacturers Association
Spectra Logic
American Cancer Society
Yamaha Motor Corporation
All programs are custom-tailored to your specific industry, company and/or meeting theme. The following presentations are available as keynotes or highly-interactive seminars, and can run from 45 minutes to 3 hours. Two or more programs can be combined to create a half-day or full-day program.
The Future of Selling
How to be a sales leader in the 21st century
The old ways of selling are dead. The archaic sales models of the last century are becoming increasingly ineffective. Today's economy and today's buyers demand a fresh approach. Those who master it first will be the most successful, both today and tomorrow. In this eye-opening program, you'll discover:
Why the techniques that worked in the past don't work now
What buyers really want
The single biggest mistake most salespeople make and how to avoid it
How to make your sales presentations shorter and more persuasive
The ten things salespeople do that buyers hate most
How to sell with honesty, integrity and confidence
The two most important sales skills and how to master them
How to completely lower your prospect's defenses
Why your features are irrelevant
How to position your product or service as your prospect's best choice
Five Keys to Selling in Tough Times
How to grow your sales in a shrinking economy
Selling in a good economy is easy. Selling in a bad economy is a lot more challenging. But there are still sales to be made. The only question is, will they be made by you or your competitors? In this practical, no-holds-barred presentation, Don will share with you:
How to deal with diminished budgets
What matters most in a bad economy
Why your price isn't your real problem
Where and how to find new clients now
How to get a huge edge over your competition
What you should be doing less of and more of
How to uncover new sales opportunities
Why a positive attitude can actually work against you
How to get people to stop delaying and make a decision
Where to invest your time, money and energy for maximum returns
The Myth of Price
Why you should charge more and how to do it
Stop throwing your profits away! You can make a lot more money by simply discounting less and charging more. Don't think you can? Just wait-immediately after this revealing presentation you'll be raising your prices and reaping the rewards. Because you'll discover:
Why you should probably increase your prices today
The keys to outselling your low-price competitors
Why you should (almost) never discount
What to do when your prospect pressures you for a discount
How to make your higher prices a selling point
The Jedi mind-trick prospects use against you and how to combat it
The one thing you must always do with your prospect
The huge problem with "value-added" selling and what to do about it
What people really mean when they say price is important
The big secret your prospect doesn't want you to know
How to make your price seem like a bargain
The Tao of Selling
An enlightened approach to increasing your sales
Forget the old, hackneyed sales gimmicks. Forget about high-pressure. And forget the manipulative, self-serving tactics that today's prospects know and hate. Instead, discover a fresh, innovative approach that lets you sell with integrity, confidence and enthusiasm. In this fast-paced, highly-interactive program, you'll learn:
The two most important sales skills and how to master them
The three different types of prospects and how to deal with each of them
How to quickly build rapport with your prospect
The one thing you should never say to a prospect
How to completely lower your prospect's defenses
The key to making the sale (It isn't what you think!)
How to uncover your prospect's hidden concerns
How to get a huge edge over your competition
The secret to creating a great sales presentation effortlessly
How to position yourself as your prospect's best choice
Never Sell Ice to Eskimos
A practical program for powerful prospecting
Want more sales? You need more prospects. (And not just any prospects-quality prospects!) But most salespeople avoid prospecting because it's traditionally frustrating, time-consuming and unproductive.
It doesn't have to be, though. In fact, prospecting can be relatively easy and highly effective. That is, if you know the secrets to doing it right. In this powerful, hands-on session, Don will share with you:
What you must do before you start prospecting
The simple tool that will make your prospecting much more effective
How to find great prospects quickly and easily
How to make prospects want to hear from you
More than a dozen ways to reach your prospects
The secret to getting their attention
What to do with their attention once you've got it
How to get prospects to call you
Why perseverance is overrated
How to interest a prospect who's already using another company
How to get the best return for your prospecting efforts
Talking Your Way Into the Sale
How to create and deliver powerful presentations
A great sales presentation grabs the prospect's attention, holds their interest and makes them want to buy now. A poor presentation costs you the sale.
Whether you're selling to consumers or businesses, you need your presentations to be as effective as possible. In this dynamic program, you'll discover:
The big problem with most sales presentations
The secret to creating a great sales presentation effortlessly
How to make your presentation superior to everyone else's
Why your features are irrelevant
How to eliminate skepticism so your prospect believes everything you say
What not to say during your presentation
The #1, most important word in sales (and other great words to use)
How to position yourself as your prospect's best choice
Why you don't need to have a better product or service to outsell your competitors
How to cut your presentation by 50 to 90% (and improve your closing ratio!)
The Physics of Closing
How to make the hardest part of the sale easy
There's no magic to closing. (Although if you do the right things, they work like magic.) Effective closing is about physics. Physics?? That's right, physics. (Along with a little psychology, economics and cryptology thrown in.)
Fortunately, you don't need a PhD to improve your closing ratio. (You don't even need any previous science classes.) This eye-opening presentation will provide you with the insights and tactics you need. You'll discover:
Why closing is the #1 challenge for salespeople
The single biggest obstacle to closing the sale and how to overcome it
How to resolve objections more effectively than ever before
The "Dandelion Principle" and how it can make or break the sale
Why the old adage "Always Be Closing" is terrible advice
The hidden code your prospects use and how to break it
Why buying signals can be dangerously misleading
The absolute, clear-cut, no-question-about-it, single, best time to close your prospect
How to make closing quick, easy and painless (both for you and your prospect)
The secret to dramatically improving your closing ratio
How to increase your profit (and your commission) on nearly every sale you make
When Bad Things Happen to Good Customers
How to transform customers from enraged to ecstatic
Mistakes happen. No matter how hard you try to prevent them. Fortunately, mistakes can be overcome and even turned to your advantage if you know what to do. This program will enable you to uncover and resolve problems no matter how major or minor, resulting in loyal customers who buy from you again and again. You'll learn:
Why most customer service efforts fail miserably
Why an angry customer can be better for you than a happy customer
The first thing to do when your customer voices a problem
How to quickly calm a furious customer
The one thing customers want above everything else
What you should never do with an angry customer
The magic customer service question
The one word you never want to hear from your customer (It's not what you think!)
The two critical factors that determine how happy a customer is with your service Why you never want to satisfy customers (Yes, you read that correctly.)
The secret to getting more feedback from your customers
How to get your customers to brag about you to everyone they know
It's NOT Who You Know
Making the most of meeting and mingling
To succeed in today's world, you need networks of strong relationships to provide you with support, information, and opportunities. But how do you build relationships with people you don't know? What do you say to total strangers? And where do you go from there? In this fun, highly-interactive session, Don will show you:
How to have confidence in any networking situation
The secrets to approaching total strangers with ease
Who to seek out when you enter a room
How to create a positive and memorable first impression
The one thing you must do every time you meet someone
How to meet more people in less time
The keys to starting and maintaining a great conversation
How to remember everyone you meet and make sure they remember you
Tactics for increasing your visibility and credibility
The easy way to get more referrals
Standing Room Only
How to boost attendance at your next event
Whether you're planning a monthly meeting, a public seminar or an international convention, you want as many attendees as possible. The more people you have at your event, the more revenue you generate from registrations, the more exposure your sponsors receive and the more value your attendees derive from networking.
In this illuminating program, Don will share with you the secrets he's used to help associations and other organizations shatter attendance records, in some cases more than doubling their registrations. You'll discover:
How to position your meeting as a "must attend" event
4 meeting myths that are costing you money
How to select the right speakers for your meetings
The biggest mistake chambers make when promoting their events
More than 20 tactics for marketing your event (many of which are free)
How to get other people to do your marketing for you
The most overlooked element of effective marketing pieces
How to get people to register now rather than later
How to raise your prices and your attendance at the same time
And much more!
Speech Excerpt
Don Cooper teaches how companies can easily raise their profits by simply raising their prices, debunking the idea that setting low prices has a major impact on sales. "According to the American Retail Association, only 14% of people buy solely on price," Don reports. "Which means that 86% of people buy based on factors other than price. That's your market."