* Please note that while this speaker's specific speaking fee falls within the range posted above (for Continental U.S. based events), fees are subject to change. For current fee information or international event fees (which are generally 50-75% more than U.S based event fees), please contact us.
Top25 Speaker Voting

Dianna Booher needs 8 vote(s) to make it into the Top 25 speakers on Speaking.com!
Speaker Booking Tip
"Tip: find a speaker in your local area to save on travel costs. Most speakers will also reduce their keynote fee for local events. "
For Event Planners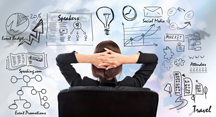 • Keynote Speaker Booking Toolkit.
• Booking a Celebrity Speaker.
• How to Find and Book the Right Speaker.
• Google+ Event Planning Forum.
• Tips for International Clients Booking U.S. Based Speakers.
Similar Speakers
Inma Martinez

Hailed as one of the world's top digital media strategists by Time, Fortune and Fast Company, experienced brand builder and serial entrepreneur, Inma Martinez delivers…

John Rives

Rives's way with words has been called a "demonstration of what the English language is capable of." The poet, performing artist, and event host touches…

Lenora Billings-Harris

Noted for her ability to take complex diversity concepts and distill them into practical applicable strategies, Lenora Billings-Harris weaves inclusion, leadership, management and African-American history…

Our speakers were absolutely outstanding and top class. Once again, thank you for making this happen for us. You have been outstanding and the best speakers bureau we have ever worked with!
Volkswagen
About SPEAKING.com
Established in 1994, we are exclusive agents for some of the world's leading experts, celebrities and professional speakers.
We offer event planners a fully staffed speaker logistics planning team, plus a personal SPEAKING.com Account Executive – a knowledgeable and trustworthy partner. We guarantee your satisfaction with your speaker and a smooth booking process.
Contact us today to book your favorite speaker.

"Your presentation, The 10 Cs of Effective Communication, aligned perfectly with our Career Management System′s development strategy. I appreciate your willingness to work with us and to get to know Principal Financial Group and particularly the IT community. And I really appreciated your flexibility and ability to adjust so quickly to the time allotment. Everyone I talked to has commented on your effectiveness in sharing a lot of information and yet still making it fun, entertaining and interactive."
John D. Carlson, Training and Performance Analyst - Senior, Principal Financial Group
"...Thank you for the outstanding support you rendered toward making our Enlisted Leadership Symposium a success. Your energy and enthusiasm for your craft is contagious. The degree of information you shared with our audience on...Communicate with Confidence was outstanding! The feedback that we have received has been phenomenal and the symposium has been phrased as "the best ever." Of course, this feat could not have been accomplished without the delivery of relative information and a quality speech..."
Valerie Benton, Command Chief Master Sargeant, National Guard Bureau
"Thank you very much for presenting "Leader as an Effective Communicator"...people are still commenting on it! Here are just two of the numerous comments received after your talks: "Presentation was excellent. Ten C′s of Communication makes sense. Great way of presenting examples of methodology." "Great information for thinking or responding to questions--"thinking on your feet" will be an exceptional tool! Performing six times in two days is very difficult, yet you did it. In fact, it was noted that the sixth session was one of the liveliest!"
Casey Casort, PTL Administrator, Boeing
"Ms. Booher did an excellent job tailoring to our audience and relating her personal experiences to our mission of supporting the warfighter."
Defense Finance and Accounting Service
"Thanks Dianna for your kind remarks. . . . And, thank YOU again for the session yesterday. You were present with the group, made it relevant to our line of work and we felt significant even if we are a small organization in the range of your clientele. You certainly demonstrated effective communication in a comfortable yet challenging way and provided concrete skills that we will definitely follow up on here. You gave me much to work with."
Maryjane A. Wurth, President and CEO, Illinois Hospital Association
"Everyone is still talking about the Leadership Conference and the first thing they are mentioning still yet is how much they loved your content and your style (engaging, dynamic, etc.). I hope this is the beginning of us staying connected, and your firm making a new on-going client relationship."
Cheryl Cavanagh, Senior Vice President, Executive Leadership Program, PNC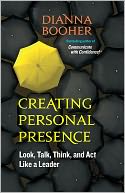 Creating Personal Presence: Look, Talk, Think, and Act Like a Leader
Personal presence is difficult to define but easy to recognize. People with presence carry themselves in a way that turns heads. When they talk, people listen. When they ask, people answer. When they lead, people follow. Personal Presence can help you get a date, a mate, a job, or a sale. It can help you lead a meeting, a movement, or an organization.
Presence is not something you're born with—anyone can learn these skills, habits, and traits. Award-winning speaker and consultant Dianna Booher shows how to master dozens of small and significant things that work together to convey presence. She details how body language, manners, and even your surroundings enhance credibility and build rapport. You'll learn to use voice and language to demonstrate competence, deliver clear and memorable messages, and master emotions. You'll learn to think strategically, organize ideas coherently, and convey to others genuine interest, integrity, respect, and reliability.
Take her self-assessment to measure your progress. With Dianna Booher's expert, entertaining advice, you can have the same kind of influence as the most successful CEOs, celebrities, and civic leaders.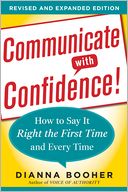 Communicate with Confidence, Revised and Expanded Edition: How to Say it Right the First Time and Every Time

The classic business communication guide—updated for smart phones, social media, and other digital platforms. Communicate clearly, tactfully, and confidently in any situation, including:
Being persuasive
Running productive meetings
Asking the right questions
Coaching
Negotiating
Resolving conflicts
Responding to insults
Offering praise
Delegating responsibilities
Crossing cultural divides
Networking at events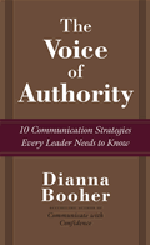 The Voice of Authority

Would you like to compel others to act? Command more attention for your ideas? Build credibility across department lines? Communicate as a respected leader? Discover the most effective ways to deliver sensitive messages or bad news? In The Voice of Authority, communications guru and bestselling author Dianna Booher shares her proven, powerful guidelines that have worked for some of the largest corporations in the world.
The Voice of Authority is loaded with practical tips to help you
sell your ideas and expand your influence
inspire and motivate others to be part of a winning team
handle crises in a way that builds rather than destroys trust
identify critical characteristics that increase your personal and organizational credibility
improve the flow of communication across your organization
Effective communication can be the most important asset on your balance sheet. With Dianna's expert advice, you'll be able to create and deliver your message as the voice of reason that earns respect.
The difference between providing information and communicating a meaningful message can be as different as lighting a match and building a bonfire.
Be Complete. Be Consistent. Be Concerned. These rules—and the seven others Booher outlines in this book—sound simple enough. But these essentials of good communication mark the difference between failure and success for any business, career, or relationship. Even if your communication technology changes—from email and voice mail to teleconferencing, blogging and social media—the rules remain the same. You have to be credible as a communicator.
From the most routine messages to more sensitive "bad news" subjects, you'll be able to manage reactions, communicate with clout, and lead others with success.
What's Your Communication Challenge or Strategy?
Communication Keynote Presentations from Dianna Booher
When you have a large group of employees together for a meeting and need a dynamic speaker to engage them and focus their thinking on how effective communication affects their productivity, image, and results, call us.
Most Popular Topics:
Creating Executive Presence: Thinking on Your Feet in the C-Suite
Personal Presence: Look, Talk, Think, and Act Like a Leader
10 Communication Strategies Every Leader Needs to Know
Communicate with Confidence®
Get a Life Without Sacrificing Your Career: How to Find balance and Increase Productivity
Your Signature Life®
Speaker Demo
Dianna Booher explores one of the topics on which she receives many e-mails; how to persuade others to change their minds when they simply won't open them. She says, "Getting someone to open a closed mind is very much like getting someone to open a closed home."
Recalling her time has a military wife on Okinawa, where she was frightened to do anything but go to the military base or her own home, she says, "I noticed some other people were moving about freely and shopping in local stores, something the military had told us was very unhealthy. Within a few weeks I had flung open the doors to enjoy the experiences of Okinawa, I was sunbathing on the rooftop, I was walking downtown alone to shop…"
Explaining the relevance of this, she asks, "What made the change in that situation? Well one, I was feeling safe. Two, others were operating freely in that same environment. Three, nobody was forcing me, I was totally on my own, it was my choice."
Three Stupid Things Leaders Shouldn't Say by Dianna Booher