* Please note that while this speaker's specific speaking fee falls within the range posted above (for Continental U.S. based events), fees are subject to change. For current fee information or international event fees (which are generally 50-75% more than U.S based event fees), please contact us.
Top25 Speaker Voting

Diana Kander needs 6 vote(s) to make it into the Top 25 speakers on Speaking.com!
Speaker Booking Tip
"Tip: speakers bureaus can provide: speaker fee negotiation, insurance, smooth logistics and value add-ons such as extra sessions. "
For Event Planners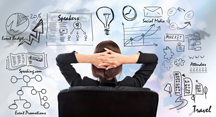 • Keynote Speaker Booking Toolkit.
• Booking a Celebrity Speaker.
• How to Find and Book the Right Speaker.
• Google+ Event Planning Forum.
• Tips for International Clients Booking U.S. Based Speakers.
Similar Speakers
Faisal Hoque

One of the prime forces behind business technology convergence, technological entrepreneur Faisal Hoque began his first business at age 14 assembling stereos from scrap parts…

David Nour

Growth strategist David Nour is the creator of the groundbreaking concept, Relationship Economics®, the art and science of strategically investing in people to meet goals…

Aaron Ross

Aaron Ross's ideas and techniques have sparked record levels of growth, helping companies increase their prosperity at some of the fastest rates in history. The…

Our Account Executive is an extraordinary person. Always available, very kind and funny. Eager to help and always quick to respond. I have so much fun working with him. A very delightful experience. I hope continue working together for years to come!
Credicorp Bank
About SPEAKING.com
Established in 1994, we are exclusive agents for some of the world's leading experts, celebrities and professional speakers.
We offer event planners a fully staffed speaker logistics planning team, plus a personal SPEAKING.com Account Executive – a knowledgeable and trustworthy partner. We guarantee your satisfaction with your speaker and a smooth booking process.
Contact us today to book your favorite speaker.

"The Partnership was extremely happy with Diana Kander's presentation at our annual breakfast. We received a significant number of positive comments from a cross section of the community; economic development investors, elected officials and entrepreneurs. Diana's presentation was thought provoking and left attendees with an understanding of how they can become involved and assist growing startup companies in our community. Diana was very engaging, entertaining and gave timely advice. Obviously Diana is an expert in the field."
- Lincoln Partnership for Economic Development
​ ​​"Diana Kander's All in Startup and the training that she provided my product management team contains the principles that can make a significant impact on our organization's business results. My team really enjoyed the hands on interaction with Diana and the mentoring that she provided. The level of engagement from Diana made it really meaningful and much more personal. Most importantly the training has provided a roadmap for transforming our business into a more entrepreneurial company."
- Vice President of Product Management | Perceptive Software/Lexmark
​ "Diana's keynote address set the perfect tone for our annual chamber conference. Articulate, poignant, thought-provoking and fun, Diana's remarks hit the target we were looking for... after discussing with her the goals of the conference and her presentation she delivered right on the mark!"
- Mid-America Gay and Lesbian Chamber of Commerce
​ ​​"Our program, Lean Startup Machine, trains entrepreneurs how to develop their ideas into scalable companies. We were lucky to have Diana serve as a keynote for one of our programs to help attendees understand the importance of finding problems worth solving. We can't take Diana with us to every program we run, but we now use this video every time I teach. Diana's message is concise and easy to understand. I've used it in training programs all over the world. From just a 5 minute video I have had teams reciting the key takeaways throughout the entire workshop and even as I continue to coach them afterwards."
- Director of Entrepreneurial Science, Lean Startup Machine
​ "Diana's talk was amazing. It was one of the most talked about presentations at our two day event - both over social media and in person at the event itself. She was funny, engaging, thought provoking and truly able to connect with the audience - and it definitely showed. The gushing praise we received from our attendees was overwhelming."
- Co-Founder, Big Omaha ​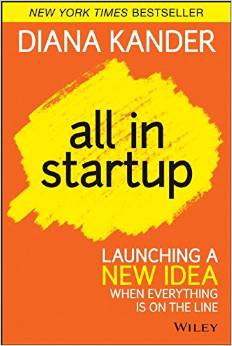 All In Startup: Launching a New Idea When Everything Is on the Line
If Owen Chase can't find a way to turn his company around in the next nine days, he'll be forced to shut it down and lay off all of his employees. He has incurred substantial debt and his marriage is on shaky ground.
Through pure happenstance, Owen finds himself pondering this problem while advancing steadily as a contestant at the World Series of Poker. His Las Vegas path quickly introduces him to Samantha, a beautiful and mysterious mentor with a revolutionary approach to entrepreneurship. Sam is a fountain of knowledge that may save his company, but her sexual advances might prove too much for Owen's struggling marriage.
All In Startupis more than just a novel about eschewing temptation and fighting to save a company. It is a lifeline for entrepreneurs who are thinking about launching a new idea or for those who have already started but can't seem to generate the traction they were expecting.
Entrepreneurs who achieve success in the new economy do so using a new "scientific method" of innovation. All In Startup demonstrates why four counterintuitive principles separate successful entrepreneurs from the wanna-preneurs who bounce from idea to idea, unable to generate real revenue.
You will likely get only one opportunity in your life to go "all in" in on an idea: to quit your job, talk your spouse into letting you drain the savings account, and follow your dream. All In Startup will prepare you for that "all in" moment and make sure that you push your chips into the middle only when the odds are in your favor. This book holds the keys to significantly de-risking your idea so that your success appears almost lucky.
Join Owen and Sam for this one-of-a-kind journey that will set you on the right path for when it's your turn to put everything on the line.

Innovation Health Check:​ The Questions Leaders Need To Ask To Create A Culture Of Innovation
​​Best Fit Audience: Executives
Question: Is your company positioned to compete in the next 10 years?
​ Description: The life-cycle of existing business models is getting shorter and shorter every year. Built-to-last doesn't exist anymore. The question now is whether your company is built to last the next 10 years. This riveting talk will give you the necessary questions to conduct an innovation health check to help you figure out if you run an innovative organization that's taking the necessary steps to deal with impending change.
​ Key Outcomes & Takeaways:​
Find out how your organization needs to innovate to keep the customers you have
Discover new sources for inspiration to create innovation
Understand how to create an internal culture of innovation so that every employee​ is​ a resource to the effort
The Innovation Mindset: How Every Employee Can Contribute To A Culture Of Innovation
​​​Best Fit Audience: all-company meeting (any level)
​Description: This all-company keynote empowers employees at every level to seek opportunities for innovation. You can't expect your entry level employees to come up with new $100 Million product lines, but you can ask them to recognize opportunities for innovation through their everyday interactions with customers.
​ Key Outcomes & Takeaways:
Empower employees at every level to understand how they can impact innovation and the future direction of the organization from their existing positions.
Teach them opportunity recognition so that every encounter with a customer becomes a potential source of new revenue
Entrepreneurial Selling: Understanding Your Customers Better Than They Understand Themselves
​​​Best Fit Audience: Sales Groups/Sales Teams
​ Description: Entrepreneurs seem to sell differently than everyone else. They don't just create customers, they create raving fans who love to broadcast their loyalty and admiration to anyone who will listen. How can established companies create this level of excitement and passion? This keynote presentation will help you not only identify them but understand what's driving their purchasing decisions.
​ Key Outcomes & Takeaways:
Learn how to identify your raving fans
Understand the psychological barriers that keep most sales professionals from getting honest answers from customers
Learn how to interview customers to understand them better than they understand themselves and reveal truths about what they really think of your product
Entrepreneurial Mindset: The 4 Counterintuitive Reasons Most New Businesses Fail
​​​Best Fit Audience: entrepreneurs/people who advise entrepreneurs (start-up groups, associations, educators)
​ Description: Most entrepreneurs have heard the phrase "follow your gut!" Well it turns out that most of our guts are leading us in the wrong direction. After many years of researching what separated successful serial entrepreneurs from those who couldn't seem to get a business off the ground, Diana Kander has discovered 4 Counterintuitive principles that separate the two groups of people. This talk will help you understand and apply these principles to your work, no matter what innovation you are trying to achieve.
​ Key Outcomes & Takeaways:
Learn the 4 Counterintuitive principles that differentiate successful innovations from failures
Understand why most people follow their gut and violate these principles even after they know what they are
Find out how to significantly reduce the risk involved with launching a new venture
​ ​

Our Approach to Innovation is Dead Wrong | Diana Kander | TEDxKC
In this TED Talk, Diana tells a compelling story from her past about how her training failed her when she needed it the most, and how the same problem is happening all over the world today in the way that entrepreneurship is taught to young business leaders.
TEDx ICC
Diana Kander - Lean Startup Conference
Big Omaha - Diana Kander