Top25 Speaker Voting

Dennis Snow needs 4 vote(s) to make it into the Top 25 speakers on Speaking.com!
Speaker Booking Tip
"Tip: some speakers might provide one of their popular book titles as a free gift to your audience. "
For Event Planners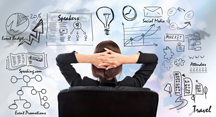 • Keynote Speaker Booking Toolkit.
• Booking a Celebrity Speaker.
• How to Find and Book the Right Speaker.
• Google+ Event Planning Forum.
• Tips for International Clients Booking U.S. Based Speakers.
Similar Speakers
Thomas Kolditz

Retired Brigadier General Tom Kolditz is an internationally recognized expert on crisis leadership and leadership in extreme contexts. His time as a Leader Development Expert…

Antonio Nieto-Rodriguez

Global business strategist Antonio Nieto-Rodriguez equips multinational executives to focus their company and themselves, so they can elect, manage, and execute projects more efficiently even…

Rana Florida

When the world's leading corporations need direction or winning market strategies, they turn to Rana Florida, the CEO of the Creative Class Group. The influential…

Our event was what I would call 'over the top'... The survey results were at 92% very favorable. The speakers formed such a good relationship with myself and others at the conference. I am confident we will bring them back to do more. I will definitely contact you when we are in need of additional services. You have been the best!
American Express
About SPEAKING.com
Established in 1994, we are exclusive agents for some of the world's leading experts, celebrities and professional speakers.
We offer event planners a fully staffed speaker logistics planning team, plus a personal SPEAKING.com Account Executive – a knowledgeable and trustworthy partner. We guarantee your satisfaction with your speaker and a smooth booking process.
Contact us today to book your favorite speaker.

"Dennis was literally one of the best speakers we've ever experienced... phenomenal! A++! Incredible!"
Julianne Potter, American Express
"I consider your presentation the high water mark of 20 years of professional training and conferencing."
Timothy Quinnan, Ph.D, Assoc. V. P. for Student Affairs, Florida State University
"I have seen literally hundreds of speakers over my career and I have to say that your talk was the best I have ever seen. We have been holding the conferences now for eight years, and if my memory serves me right you were the first standing ovation a speaker has ever received!"
Chris S. Reynolds, Investment Planning Counsel
"I don't think there was anyone in the room who wouldn't have been absolutely thrilled if your presentation had stretched long into the night… people are talking about the issues you presented, and hopefully, we are inspired to build on the momentum you started in a way that will make our customers wonder what happened in our company!!!"
Lois Carlson, Cummins Bridgeway LLC
"You were the highlight of our conference and helped us set a great tone. I'm confident that we will be able to use the tools you shared with us and that they can have a vital impact on our ability to build customer loyalty."
Rob Freeman, Childtime/Tutor, Time Learning Centers
"Never before had I attended a seminar where the speaker took the time to visit with the employees and get a feel for our jobs before the program... I truly enjoyed the presentation and I feel it has made a difference in the way I perform my job."
Heather Wileaver, Carle Clinic Association, Program Attendee
"You've done it for Texaco and Shell Oil again! Their committee was blown away by your customized seminar. The breakout sessions allowed us to plot some very achievable next steps back home."
Lamar Berry, International Marketing Systems
"To use the metaphor of the season, you hit a long ball, my friend. Your remarks were finely-honed, professional and studied but relaxed, and humorous. A moment of magic."
Cornell University
"Your presentation was the hit of the conference, and you certainly gave the participants a lot of useful ideas together with a very moving message. It was a pleasure to work with you."
Karl Albrecht, Author of Service America
"Thank you so very much for making our conference such an incredible success. Clearly from our survey results, you were the highlight of the entire event. Your presentation, enthusiasm and talent inspired our managers to take back a great amount of energy to create a new level of excitement in our call centers."
Wells Fargo Bank
"You did an excellent job sharing customer-focusing concepts in an entertaining format... thank you for helping us make this year's conference the best yet."
A.J. Olivera, Sr. Vice President Power Systems, Florida Power & Light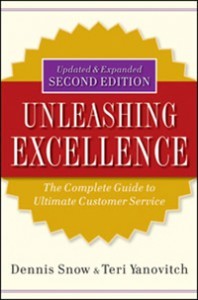 Unleashing Excellence: The Complete Guide to Ultimate Customer Service
Unleashing Excellence: The Complete Guide to Ultimate Customer Service has been used by organizations around the world for designing and implementing customer service strategies. The new and expanded edition of Unleashing Excellence includes the latest tools, best practices, and invaluable lessons learned from companies who have actually applied the authors' comprehensive system for building a first-rate customer service culture from the ground up!
Filled with vital information, Unleashing Excellence literally walks you through every aspect of the nine leadership actions required to compete in a global marketplace where products and services are becoming increasingly commoditized and the Internet provides dissatisfied customers with a powerful forum.
Just some of what you'll learn from reading Unleashing Excellence ...how to establish a Service Improvement Team, including selection criteria, member responsibilities, and meeting agendas; develop the Service Philosophy and Standards that become the non-negotiable service expectations every employee will be expected to follow; construct a communication strategy for getting your employees on board, and keeping them informed, involved and engaged in your service initiative; a clear strategy for delivering effective service training to every person at every level of your organization; select the right candidate for the right role, including the best recruitment methods and interviewing techniques; measure those factors that truly matter to customers, then incorporate the results for continuous improvement; recognize and reward superior service to keep employees motivated; identify and solve service obstacles that can emotionally disengage employees; and revise your accountability tools to include the elements of your service initiative.
The tools and methods provided in Unleashing Excellence are user-friendly, flexible and, best of all, practical.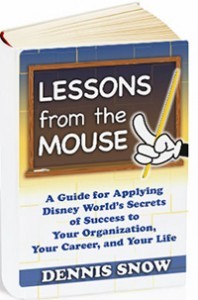 Lessons From the Mouse
Lessons From the Mouse is written by someone who actually worked on Disney World's rides, controlled the crowds at parades, and stood in the rain for hours telling guests Space Mountain was closed. At one point, Dennis Snow even had to reprimand Goofy for poor attendance. It is from this first-hand point-of-view that Snow peels away the veneer to show the day-to-day operation. Lessons includes things he learned from his early days as a front-line cast member to the business imperatives he lived as a member of the management team.
The Disney organization is not presented as perfect or infallible in this book. In fact, Snow humorously shares some of the company's missteps. However, readers will see that the things Disney does well, it does very well. The proof is that Disney World is usually ranked the single most popular vacation destination on earth.
Lessons From the Mouse is constructed as a series of lessons because therein lies the secret to discovering Disney's magic – understanding and applying these ideas every day in a disciplined way. The title of each chapter is a snapshot of the lesson within. The beginning of each chapter explains how a particular lesson was taught and reinforced when Snow worked at Disney World — and why it's important. The lessons are then applied to various "real world" work situations. Each chapter ends with questions and ideas for implementing the lesson.
Readers can apply the principles in this book in several ways. Lessons From the Mouse can be used to raise the bar of individual performance, it can work as a guide for a series of staff meetings, or each chapter could be a training module for the entire organization. Many readers will just want to open the book periodically for a quick dose of inspiration. However you decide to use Lessons From the Mouse, the important thing is to put the lessons to work.
Over the past eight years Dennis Snow has helped organizations from all over the world apply the principles in this book — the principles he learned over his 20 years at Disney. The results for these companies have been positive: improved customer satisfaction; reduced employee turnover; and increased profitability. These lessons have proved to be applicable to any industry, any organization, and any job.
Creating A World-Class Service Organization
World-class customer service is not simply a matter of smiling employees who say "please" and "thank you." Everything your customer sees, hears or touches impacts their experience. "Everything speaks." This program highlights how delivering world-class service requires careful orchestration of the entire customer experience.
Attendees will discover:
The key points of contact that make or break the customer experience
How to elevate the customer experience from ordinary to extraordinary
Customer service processes that make service excellence "business as usual"
Leading Excellence
Employees watch to see how committed we are as leaders and take their cue directly from us. As customer expectations are at an all-time high and business competition is fierce — exemplary leadership today is critical. This presentation helps today's leaders step into their multi-faceted role as visionary, facilitator and idea champion.
Attendees will discover:
The benefits of leadership that creates a culture of accountability among employees
How to build organizational commitment to a vision
Specific "walk the talk" leadership behaviors that reinforce organizational values
Performance Excellence — The Employee Factor
The number one reason that customers become disenchanted with an organization is because of employees' attitudes of indifference. This program is designed to change that. In order to motivate excellence, organizations must "engage the heart" of employees. When this happens, customers can see it, hear it and feel it in every interaction with an organization.
Attendees will discover:
Ways to identify employee behaviors that align with the organization's mission
Employee selection, training and communication processes that reflect the organization's values
Internal processes that support and engrain customer service-oriented behaviors
Dennis Snow Demo Video
Drawing from 20 years of customer service and management experience for Disney, Dennis Snow explains that the missing ingredient holding back most organizations is a focus on the customer experience. Even though a hospital may have state of the art medical care or a theme park may have adrenaline-pumping rides, the employee/customer interactions are what make or break people's impressions of an organization as well as whether they recommend it to others or choose to use its products or services again.
Although Disney World may be touted as "the happiest place on earth," Snow assures audiences that it is not the happiest place on earth to work, and just like many other industries, employees must deal with a number of stressful situations daily; the important factor is that they do so in a way that expresses empathy and respect for each customer. "It's different from what you do," he acknowledges, "but I think that when we talk about service whether it's with patients, family members, or guests at Disney World, we can all learn from each other."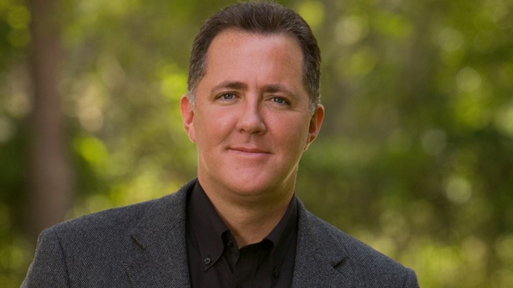 Dennis Snow's customer service abilities were honed over 20 years with the Walt Disney World Company. Today he is a full-time customer service speaker, trainer and consultant who helps organizations achieve goals related to customer service, employee development and leadership. He is the author of the book, Lessons from the Mouse: A Guide for Applying ... more