* Please note that while this speaker's specific speaking fee falls within the range posted above (for Continental U.S. based events), fees are subject to change. For current fee information or international event fees (which are generally 50-75% more than U.S based event fees), please contact us.
Top25 Speaker Voting

Debra Peppers needs 6 vote(s) to make it into the Top 25 speakers on Speaking.com!
Speaker Booking Tip
"Tip: some speakers might provide one of their popular book titles as a free gift to your audience. "
For Event Planners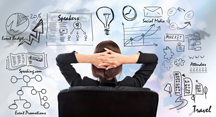 • Keynote Speaker Booking Toolkit.
• Booking a Celebrity Speaker.
• How to Find and Book the Right Speaker.
• Google+ Event Planning Forum.
• Tips for International Clients Booking U.S. Based Speakers.
Similar Speakers
Marilyn King

Former Olympian Marilyn King is an extraordinary speaker, providing business leaders and educators with the tools and skills they need to dig deep–and reach for…

Jimmy Cabrera

Raised in a segregated Latino community, Jimmy Cabrera made his way out of prejudice and racism to become one of the most successful inspirational speakers…

Zoe Jackson MBE

Multi-award winning entrepreneur Zoe Jackson MBE, is proof that a young person with passion and determination can move mountains. At age 16, she launched a…

Our account rep was great to work with. He helped facilitate some specific requests on our part, kept us in the loop of any issues, and promptly replied to all communications. Thanks for making this a great event!
Foundation for Economic Education
About SPEAKING.com
Established in 1994, we are exclusive agents for some of the world's leading experts, celebrities and professional speakers.
We offer event planners a fully staffed speaker logistics planning team, plus a personal SPEAKING.com Account Executive – a knowledgeable and trustworthy partner. We guarantee your satisfaction with your speaker and a smooth booking process.
Contact us today to book your favorite speaker.

"Dr. Peppers did an excellent job in motivating and electrifing the audiance. Her personnalization of her presentation was well received and added relavance to her topic. Afterwards, many of our employees thanked us for bring in such a fantastic speaker who kept them entertained as well as focused on their role as educators."
Edcouch-Elsa ISD
(Event booked by Speakers Platform)

"Dr. Peppers′ presentation at our annual patriotic event was outstanding! We′ve asked her to come back again next year."
Todd Akin, United States Congressman
(Event booked by Speakers Platform)

"It is my distinct pleasure to commend Dr. Peppers on her accomplishments. Her devotion underscores the importance of civic participation and the shared goal of improving our state and our country."
Claire McCaskill, United States Senator

"Adjectives used to describe Dr. Peppers presentation were "Excellent", "Wonderful", "Great". We would recommend Dr. Peppers as a speaker for any educational organization."
Diane M. Beedy, Director of Professional Development

"Dr. Peppers did an excellent job! Her high energy level and commitment to excellence is highly contagious. Thanks for a great day!"
William T. Konzal, Superintendent, Tuscarora Schools

"Dr. Peppers fills her speeches with insight, wisdom, and warmth. She speaks about the philosophy that helped her meet life′s obstacles and overcome them. Dr. Peppers is a real person that speaks from the heart."
Larry W. Williams, Superintendent, Allen County Schools

"Debra is one of the most personable people I have ever known! Her message was an inspiration to all. She is wonderful! She sings, she dances and she tells wonderful stories!"
Pam P. Sansbury, Director of Finance, City of Hartsville

"Dr. Peppers will leave your audience laughing, crying and ready to take on the world"
Dr. Gene Engelhardt, past President, Kiwanis International

"Dr. Debra Peppers, of the National Teachers Hall of Fame, overcame setbacks to become a huge success. She now inspires others to better themselves for real life success as well."
Bob Costas, sportscaster and television personality

"Debra did an excellent job! Very well prepared and personable. Would love to have her again."
Cecil Boothe, Asst. Executive Director, Arkansas Assoc. of Ed. Administrators

"I congratulate you on your ability to generate so much enthusiasm! If you can bottle it, then I can sell it and we both will be millionaires."
Jack R. Whaley, Principal, Gibraltar High School

" Dr. Peppers was wonderful! The light beams from her and pulls all those around her in close. We thank her so much."
Alesia Skinner, President, Basket of Ideas

"Dr. Peppers received a 100% "very good to excellent" rating for her presentation. That is why we have had her back every year for the past six years."
Diane Kambeitz, Investor Education Coordinator, ND Securities Dept.

"I have attended numerous talks and seminars over the past thirty years and I can say with absolute certainty that this was THE BEST I have ever attended! Dr. Peppers is amazing"
David Migliorino, Principal, OSF

"Debra′s personal story is incredible and her style and energy level are unequaled!"
Mary Lou Retton, Olympic Gold Medalist/Author
If you are looking for a high-energy, humorous keynote speaker or presenter for your next event, Dr. Peppers is your choice. Debra mixes wit with wisdom tailored especially for your group, for she "does her homework" in advance. She devotes herself to finding the specific needs and intentions of each particular group and incorporates stories, quotes and research specifically relevant for your audience, some of it contributed by audience members themselves beforehand.

Teachers, administrators, staff, parents and school board members, love how Debra brings a timely relevant message wrapped in fun and passion. Interacting with the audience comes easily for her as a ten year radio and television host. Dr. Peppers has a knack for spontaneity and will have your participants both laughing and yet deeply moved and inspired as she shares "her story" and those of others as well.

One of her unique abilities is writing humorous poetry or songs specifically for the group and weaving it in at the perfect time! Because of her expertise in the area of humor, inspiration and motivation, Debra is often invited back year after year as every presentation is an original!

Sample Keynote Titles:

Bam! Kick it up a Notch!
Of Course We're laughing with You!
Teachers Have Class
Stumbling Blocks to Stepping Stones
Is it Summer Yet?
No Teacher Left Behind
On Fire or Burned Out
The Faculty Lounge

Breakout Specialties of Dr. Peppers′s

Succeeding with Challenging Students
At sometime or other, teachers today find themselves in challenging situations with students. However, when a struggle seems to be with the same students over and over, they often feel they have literally tried everything. Yet there is always something more.

This session offers tried and true strategies used by the most successful teachers throughout the world. As a 25 year high school teacher and a 10 year consultant for Lee Canter, Dr. Peppers helped initiate her district's Discipline Plan by visiting and incorporating the best from schools nationwide.

Preventative strategies bring a more peaceful and productive classroom from Kindergarten through High School. Debra has been teaching this course as a 3-hour graduate credit course for ten years and helped initiate her district's Alternative School. Educators learn how to develop management techniques that meet both the needs of challenging students and the needs of the teacher in the classroom.

Building on positive interactions, this workshop includes understanding why a student misbehaves, how to respond proactively in a calm, professional manner, strategies for establishing positive relationships and developing individualized behavior plans. The result is increased learning and a more peaceful classroom.

WhAt makes yOu think I'm StreSsed?!
In this high paced society in which we live, all educators need practical tools and guidelines for getting or keeping the momentum going, both short term and long term. Dr. Peppers has the right prescription by incorporating both research and humor, while leaving the audience with real tools and guidelines for personal as well as professional applications.

Learning how our physiological and intellectual responses are often dictated by our emotions, we learn to realize the enormous amount of time and energy we spend on the petty things that don′t really matter. Dr. Peppers incorporates the "urgent vs. the important", rekindling enthusiasm, and practical tools for not internalizing situations. The most content, peaceful, joyous people have several traits in common, and most are acquired not innate. While the audience is having fun, they will learn how to play upon their strengths, find their niche, and develop the style best suited to them to enjoy the great profession of education.

Teaching: The Ultimate Juggling Act
(Balance/Health/Wellness)
All of us sometime feel like our lives are chaotic and out of control. But we cannot properly function when we are constantly overwhelmed and overextended. Dr. Peppers compares our hectic lives to a balancing act as she shares 30 years worth of practical information for much needed relief. Whether you're a first year teacher, long-timer, principal or other staff member, Debra presents keys that will help you learn to dissect your time and as you value experiences, and find how to live with more joy, vitality and peace in the midst of mounds of papers and everyone vying for our time. Debra will provide the keys to reduce tension and find greater balance in our complicated, stressful life.

Most of us are more able to help our students, co-workers and family than we are ourselves and need to bring ourselves back into the equation. Even when we think we have no time, me must begin to attend to our forgotten needs and longings. Dr. Peppers shares strategies of successful teachers throughout the world in balancing work responsibilities and obligations with enjoyment, play, activity and rest.

The Legacy of Leadership: Who's Leading Whom?
Like it or not, every educator and staff person is called to be a leader in some capacity. If leaders are "born" that way why do so many who achieve leadership status seem the most unlikely? Most great leaders have several traits in common: and most are acquired not innate.

In this motivational presentation Debra examines different styles of leadership while she teaches the audience how to play upon their strengths, find their niche, and develop the style of leadership best suited to them. From an office worker, to a teacher leading a classroom to the superintendent leading a district, the measure of one′s success as a leader, is not in what you get others to do but how well you can lead them in doing it.

Dr. Peppers encourages the audience to realize that the particular leadership role we each hold, is both a responsibility and an exciting opportunity to encourage others by example as we all achieve a higher degree of success together!

Communication: It's What You Say AND How You Say It!
The number one most "costly" error in education, business and even family, is miscommunication. Dr. Peppers presents proven strategies all can learn to make the classroom, workplace and even the home more peaceful and productive. Because people process and impart information in different ways, we can learn tools to make life easier on everybody. Dr. Peppers shows how to create rapport, nip conflict in the bud, deal effectively with different personality types, and model body language in a way that connects more profoundly with others.

Teaching ways to develop plans to be proactive rather than reactive in interactions with others, Debra shares strategies for remaining professional and calm, while responding with confidence. She also shares how to de-personalize and redirect conversation when needed. In our fast paced, technical world, written, oral and non-verbal communication must all be addressed. Dr. Peppers shares the "do's and don'ts" in the areas of tone, body language, facial expression and gestures. We all have areas in which we can improve, both with children and adults and it is crucial that we learn to integrate them both personally and professionally.

Best Practices for Best Educators
What do award winning, highly successful teachers seem to all have in common? We hear so much today about "Best Practices" in all aspects of curriculum; but it is not usually the curriculum itself that elicits the greatest results. Research has found that the manner in which the educator implements the curriculum, and deals with students both collectively and individually is what makes the greatest difference. The "Top Ten Traits of Successful Teachers" has nothing to do with age, race, personality or even length of time in teaching.

In examining the common denominators of the most successful teachers, an amazing secondary inherent byproduct emerged – contentment. The most successful teachers were also the most peaceful, joyous and fulfilled both in and out of the classroom. Since most of the associated traits are acquired not innate, Debra teaches the audience to play upon their strengths, find their niche, and develop the style best suited to them.

She encourages the audience to be willing to follow the model and learn by example. Although this is not a "one size fits all" recipe, research shows most can certainly benefit from personal application.

Character Counts
In today's turbulent society, a return to ethics and manners sometimes seems all but lost. Most schools are now incorporating Character Education into the classroom but teachers are already so overloaded it seems impossible at times. Most agree the need is definite, but our classes and curriculum are already filled to capacity.

Dr. Peppers shares with educators how to incorporate character-centered instruction and lessons on character into the regular curriculum – no matter what the subject. Using an anticipatory opening to the lesson, modeling by example, and incorporating "teachable moments", character education is not an "add-on" program, but rather an "add-in" program.

The overall principles presented represent a common ground of basic understanding of society regardless of political leanings, race, religious convictions or gender. Whether required by a district, or initiated by a teacher, all educators and students alike will benefit from incorporating character into the classroom. Dr. Peppers takes it a step further by challenging educators with "Character Education for Teachers," reminding participants we must practice what we preach! The result is that the entire classroom environment is more peaceful, respectful and elevated. The Power of Two: Teaming with Parents
In a recent survey on educational needs, other than more funding, number one on the "wish list" of teachers nationwide, is increased parent involvement. When parents were surveyed they almost unanimously agreed but often felt as though they didn't have the knowledge, ability or a lot of time.

In this presentation Dr. Debra Peppers shares the experience and strategies of successful schools from all sizes, socioeconomics, and grade levels, in working with parents. Covering everything from grades, attendance, discipline and motivation, the information presented is hands on and personally applicable by all teachers, parents, schools and communities. Included are: how to get together, proactive steps for success in both the class and at home, consistency in communication verification tactics, differentiating behavior from class work, involving the administrator, involving parents and the child in the process, setting guidelines for communication and conferences, documentation, professionalism, and proactive measures.

Culmination and follow-up often include sharing success with others. As all schools and communities are different, Dr. Peppers shares the best strategies of the most successful and "turned around" schools and invites the audience to take and use as is best for them.