* Please note that while this speaker's specific speaking fee falls within the range posted above (for Continental U.S. based events), fees are subject to change. For current fee information or international event fees (which are generally 50-75% more than U.S based event fees), please contact us.
Top25 Speaker Voting

David Weinberger needs 6 vote(s) to make it into the Top 25 speakers on Speaking.com!
Speaker Booking Tip
"Tip: find a speaker in your local area to save on travel costs. Most speakers will also reduce their keynote fee for local events. "
For Event Planners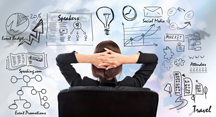 • Keynote Speaker Booking Toolkit.
• Booking a Celebrity Speaker.
• How to Find and Book the Right Speaker.
• Google+ Event Planning Forum.
• Tips for International Clients Booking U.S. Based Speakers.
Similar Speakers
John R. Patrick

For the past three decades, internet visionary Dr. John Patrick has been one of the primary forces driving technology innovation. As vice president of Internet…

Jonathan Harris

A computer scientist, storyteller, and "internet anthropologist," Jonathan Harris is known for his pioneering technique of documenting human emotions and behavior through the millions of…

Scott Klososky

Scott Klososky, former CEO of three successful startup companies, specializes in dreaming big by looking to the ways technology is shaping our future, and the…

Working with your speakers bureau has been a pleasure. Everyone on your team was extremely responsive and informative, and really helped us to customize our event. I will be sure to reach out to your agency again in the future with any speaker needs that I may have.
The Advisory Board Company
About SPEAKING.com
Established in 1994, we are exclusive agents for some of the world's leading experts, celebrities and professional speakers.
We offer event planners a fully staffed speaker logistics planning team, plus a personal SPEAKING.com Account Executive – a knowledgeable and trustworthy partner. We guarantee your satisfaction with your speaker and a smooth booking process.
Contact us today to book your favorite speaker.

TTI/Vanguard KM Conference


Hal Levin
Board member

"You were among the most passionate, prepared, and articulate speakers we have ever had; appropriately funny, sarcastic, and right on target. As a reinforcement, we just received an email that reads in part: I must say that having David Weinberger at the KM conference may turn out to be the most important choice made this past year..."

Vignette Users Conference


Bruce Milne
Marketing

David′s talk at our annual customer conference was entertaining, but more importantly challenged our customers to apply what they had learned to their businesses. His anecdotes and experience were invaluable in setting a business context for the how organizations can use content and information. it was perfectly suited to our audience. Thanks again David!

Delphi Group Integration Conference


Tom Koulopoulos
President, Delphi Group

"David is simply brilliant! He was an absolute smash hit! He makes complex technology simple without making it trivial; he makes you laugh loud and often; he conveys passion and sincerity; and he does all of this without arrogance, pseudo-intellectualism, or ra ra futurism. His wit, unassuming manner, and cut-the-hype style delivered one of the best presentations I have ever heard - and two-hundred hard-nosed, biztech professionals from seven countries all agreed. Simply brilliant!"

Nasdaq Global Marketing Roundtable


Denise Benou Stires
EVP, Global Marketing and Investor Services

"David Weinberger is an engaging, surprising and, most importantly, thought-provoking speaker. He sneaks up on his audience with his unassuming style only to completely captivate them with his controversial, intelligent and witty perspective. Whether or not you agree with his unique point-of-view, the exchange of ideas will leave you enriched."

Molecular


David Allen Forrester
Director, Practice Development

"Those of us still designing and building Web applications have been debating whether the industry has hit bottom or if this is just the eye of the storm. Through his considerable wit and intelligence, David reminded us why we continue to believe in the Web despite competitor bankruptcies and less fulsome client budgets. I′d hesitate to call it a ′pep talk′ or refer to David as a ′motivational′ speaker. But many in our battle-bruised group became a chortling mass of vigor and freshness by the time David finished."

Mass High Tech
in their report on the Nantucket Conference

Dyke Hendrickson


"Need a hilarious but informative speaker? Try Cambridge's David Weinberger. He is an author of the "Cluetrain Manifesto" and, most recently, "Small Pieces Loosely Joined." His theory is that the Web was created to be a free communications device and is succeeding in linking people in a way not envisioned a decade ago. He's not optimistic on e-commerce or selling on the Web. But boy, is he funny."

IBM Executive Forum


Michelle Han
Singapore

"On behalf of the IBM Exec Forum team in IBM, I would like to thank you for your highly entertaining & thought provoking presentation. Customers commented that your presentation was very refreshing and different/unorthodox, prompting them to think out of the box... One customer casually mentioned that he needs to halt all his web plans and review them again as he′s not sure if his plans make sense after listening to your presentation :-) We have definitely achieved our objectives of making our customers think about the changes that are happening around the world, around us and how the dynamism of the ′webolution′ will change our lives and the way businesses operate now and in the future."

SHARE
IBM Users Group

Tom Manning
Marketing and Communications Manager

"Your presentation was a great kickoff to our conference. Our audience of more than 1,500 hardcore IT pros was entertained and interested throughout, and they reflected their satisfaction in an average evaluation score of 4.7 (out of a 5.0 scale). Your address was a insightful combination of the theoretical and practical, with examples we can all identify with. It′s safe to say those of us who attended the presentation won′t be thinking of the Web in the same light than we did beforehand. "

Hyperion

Eric Waldschmidt
Director, Marketing Strategy

"It was an absolute pleasure having you speak at our event. It′s not often that people with really interesting perspectives and new ideas have even the faintest sense of humility. You′ve got both in spades and I loved working with you.

"Judging by literally every conversation I had (I′m certain a scientifically rigorous and statistically significant sample) regarding your presentation you scored high marks. Your performance you′ll be happy to know, seemed to rate (again in my scientific poll) consistently higher than Martin Short. And people loved him so I don′t see how you could have done much better.

"I′d recommend you in a heartbeat to anyone considering you."

Xplor

Ellen Dahlin
Director, Conference Activities

"David, you were just what we needed to kick off our event. You are consistently one of our highest rated speakers, and this year was no exception. Your presentations are always timely, you always lead us to think about things in new ways, and most importantly, we have an opportunity to laugh - sometimes at ourselves. And, you are a delight to work with. I′d recommend you as a speaker without hesitation."

Ernst & Young
(6-event seminar series)

Crystal Campbell
Marketing Associate

"Your presentation was a wonderful ending to a year of speakers. You presented ideas that encouraged our attendees to think, laugh and act on how they interact with their customers via the web. Based on the comments we received from your presentation, our attendees found your talk to be "timely," "one of the best presentations I attended" and "enjoyable."

We would not hesitate to recommend you to a company looking for someone who will bring thought-provoking ideas to their attendees. Thank you David - we appreciate your preparedness and willingness to share your ideas."

Steve Larsent
Conference Organizer

"I try to balance a mix of speakers in the "main event" area of the conference - the general sessions, with sessions that will inspire, motivate and make the audience think. You were in the "make them think" category and did a splendid job - as evidenced by the amount of emails and discussion about what you said after the event. That continuing dialog is something I care very much about and in the NY event, you were the one that provided that."

IBM WebSphere

Peter Moorcroft,
Creative Director for the event (PGI)

"Wow - what an extraordinary performance from a shy, retiring, introverted philosopher!

"Your inspired and inspiring presentation ′What′s the web for?′ was absolutely the hit of our opening session, and, just as I had dared to hope, set the tone for our whole event. Your message of a new world on the web, one of ′voice; fallibility; forgiveness; laughter; passion; and spirit′ resonated perfectly with our developer audience. The excitement was palpable and the audience riveted and ennobled by their role in the unfolding vision you described - who could ask for more!"

Jenny Szawlewicz
IBM

"On behalf of the IBM team, I wanted to thank you for your participation at WebSphere 2001. Your opening keynote was a great way to start out the conference. it was high-energy, thought-provoking and very funny. I know that the audience was very receptive to your presentation. We were so happy to have you at the conference, and I just wanted to express my appreciation in writing."

Pop!Tech

Harvey Ardman,
Co-program Chair

"At this year′s Pop!Tech Conference, "Being Human in the Digital Age," David Weinberger spoke to some 500 top Internet and computer executives about the future of work. He was funny, provocative and fascinating - an overall delight. The audience loved him without reservation. He told us truths about ourselves and our lives that we hadn′t realized, and he told them in a modest, appealing and truly hilarious way. I′d heard David before and I knew he′d be good - which is why, as co-program chairman, I signed him up for the event. But he far exceeded even my expectations. His talk was one of the highlights of the conference, which included luminaries as John Perry Barlow, Bill Joy, John Sculley and Gov. Angus King."

Experian

Carol Parker
Manager, Meetings and Events

"Your general session presentation provided us with insightful information and at the same time kept us delightfully entertained. There are very few speakers who have in-depth knowledge of technology and also have strong presentation skills. From the positive verbal feedback I received, along with the excellent written evaluations, it is obvious that you are one of those rare individuals."

National Breast Cancer Awareness

Ron Nicodemus Director, Conferences & Symposiums Disney Institute

"David Weinberger′s business concepts and presentation were the perfect way to jump-start our conference with the National Breast Cancer Awareness Month Board of Sponsors on challenging the current communications paradigm in the healthcare industry). He created the right mental atmosphere in getting the participants out of their boxes and stimulating their thinking."

Art Technology Group
(8-event seminar series)

Alison Howard Manager,
Field marketing, ATG

"The audience, which was made up of [our] partners, customers, and e-business executives, offered nothing but praise for David's presentation, "The New Context for CRM." David provided an entertaining and insightful reflection on the consumer's needs – and the company's role - in an increasingly customer-focused marketplace.."

Support.com User Conference

Tony Rodoni, VP Marketing,
Support. com

"David Weinberger is a guest speaker dream come true. He′s passionate, engaging, and entertaining. And just as important for Support.com, he is a speaker that listens before he talks. His keen interest to learn about the audience and customize his presentation to ensure he is not only insightful but relevant is unparalleled."

Hospitality Technology Conference

Larry Hausman, Publisher, Hospitality Technology Magazine

"David Weinberger brought inestimable value to the readers of Hospitality Technology magazine as they convened for the annual HT Lodging Conference in Orlando, Fla. His talk was warmly received and it inspired several attendees - and HT magazine - to consider further developments of their websites."

Interactive Summit

Sarah Faye, EVP, Managing Director, Carat Freeman

"David Weinberger was an absolute hit as the keynote speaker at the Interactive Summit 2000 in Boston. He is to be commended for actually putting new ideas and information in front of a crowd that has seen all of the new economy presentations! And best of all, he made us laugh! I would highly recommend David Weinberger for the toughest of crowds - and especially if your audience needs to wake up to the Internet tidal wave that has changed business forever."

Clickthings

John Underwoood, CEO, Clickthings.com

"David was the most entertaining speaker I have ever had the pleasure to listen to ( and laugh and laugh)..."

eBusiness

Mike Azzara
Editor-in-Chief
PC Expo & eBusiness Expo Conferences

"David Weinberger′s articulate passion, intelligence and wit riveted an SRO crowd of about 1,300 at the eBusiness Conference & Expo. With the crowd in his palm, and hanging on every word, he painted a rich aural tapestry about the Internet′s impact on marketing and the true meaning of the Web, culminating in a dramatic climax."

Netpreneurs
Washington, DC
Mary MacPherson

"On March 7, 2000, the Morino Institute′s Netpreneur.org hosted an event featuring The Cluetrain Manifesto in Washington, DC. One of the authors, David Weinberger, was a featured speaker before a crowd of over 1000 people. David′s best known mediums are perhaps the written word and the radio. But he′s also a wonderful presenter. With high energy, he moved around the stage and did not park himself behind the podium. This enabled him to engage the audience -- which he did for the entire session. He′s smart, funny, witty, very entertaining and also very genuine. In an interactive panel discussion, he was thoughtful in his answers, provocative and informative. We very much enjoyed having David in our program and hope that we′ll have many opportunities to work with him again in the future."

FOSE (AFFIRM)

Keynote to US government CIOs (Washington, DC)
Katie Hanusik, ENC Marketing

"I wanted to thank you for doing such a terrific job at the AFFIRM Breakfast at FOSE last week. It was such a pleasure working with you, and the attendees were thrilled."

ITAC

Keynote to Canadian government industry group (Ottawa)
Peter Broadmore, Conference Organizer

"At ITAC′s conference in Ottawa, David Weinberger stole the show. His sometimes irreverent delivery takes nothing away from the importance and relevance of his message. His analysis of most corporate communications is dead-on!"
Too Big to Know: Rethinking Knowledge Now That the Facts Aren′t the Facts, Experts Are Everywhere, and the Smartest Person in the Room Is the Room
We used to know how to know. We got our answers from books or experts. We'd nail down the facts and move on. But in the Internet age, knowledge has moved onto networks. There's more knowledge than ever, of course, but it's different. Topics have no boundaries, and nobody agrees on anything.

Yet this is the greatest time in history to be a knowledge seeker . . . if you know how. In Too Big to Know, Internet philosopher David Weinberger shows how business, science, education, and the government are learning to use networked knowledge to understand more than ever and to make smarter decisions than they could when they had to rely on mere books and experts.

This groundbreaking book shakes the foundations of our concept of knowledge—from the role of facts to the value of books and the authority of experts—providing a compelling vision of the future of knowledge in a connected world.
Order Here




Everything Is Miscellaneous: The Power of the New Digital Disorder
"Perfectly placed to tell us what's really new about [the] second-generation Web."—Los Angeles Times

Business visionary and bestselling author David Weinberger charts how as business, politics, science, and media move online, the rules of the physical world—in which everything has a place—are upended. In the digital world, everything has its places, with transformative effects:

Information is now a social asset and should be made public, for anyone to link, organize, and make more valuable.
There's no such thing as "too much" information. More information gives people the hooks to find what they need.
Messiness is a digital virtue, leading to new ideas, efficiency, and social knowledge.
Authorities are less important than buddies. Rather than relying on businesses or reviews for product information, customers trust people like themselves.

With the shift to digital music standing as the model for the future in virtually every industry, Everything Is Miscellaneous shows how anyone can reap rewards from the rise of digital knowledge.
Order Here




The Cluetrain Manifesto: 10th Anniversary Edition
Ten years after Cluetrain′s original publication, too many companies still ignore the idea that markets are really made up of people. In our rapidly changing world, this book′s message is more vital than ever. Companies may be wired for business, but they still struggle with how to talk to their customers like human beings.

The 10th Anniversary Edition features extensive new commentaries by industry leaders, but the core message of this modern business classic remains intact.
Order Here





David likes to work with clients to create customized presentations designed for their particular interests and needs. Here are some suggestions:
How Organizations Can Be Smart Now that There′s Too Much to Know
The world has always been bigger than our skulls. But with the rise of the Internet, we at last have a medium capable of embracing this over-large world. To do so, we are adopting new fundamental strategies of knowing, transforming the role and importance of experts, how we make decisions, and how we lead.
Organization Information in a Messy, Customer-Driven World
We′ve long assume that the owners of the info get to organize it. But in a digital world, if you don′t let users organize it their way, they′ll look elsewhere. The good news is that bottom-up organization, if done right, discovers hidden value in what your company offers. It just requires screwing your head on differently...
The Power of Disagreement
Stay on the Net long enough and you will learn one clear lesson: We will never ever agree about anything. But that disagreement is the power of the Net...both the Internet and the local webs that hold your organization together. But for disagreement to move us forward, it has to be of the right sort among the right people.
Online Markets are Weirder than You Think
The Cluetrain Manifesto in 1999 was right when it said "Markets are conversations." But that doesn′t mean that the right way to market in the weird, weird online world is by engaging in conversations. Understanding online markets requires undoing about a century′s worth of basic assumptions about marketing.

Keynote Speech
A lively Q & A session provides interesting observations from David Weinberger in regards to innovation. He says, "It seems so clear to me that this a period of the most massive innovation in virtually every field that humans have ever experienced."
Interview
Thought leader David Weinberger summarizes what he's learned about innovation with some key points:
"It turns out a lot of what we think about knowledge (at least in the West) is based upon the limitations of its old medium, of paper. So once knowledge is freed from paper and is put on the Net, it begins to form networks where different properties emerge. Rather than knowledge being simply that about which we agree and all differences are settled, network knowledge contains differences and disagreements."