* Please note that while this speaker's specific speaking fee falls within the range posted above (for Continental U.S. based events), fees are subject to change. For current fee information or international event fees (which are generally 50-75% more than U.S based event fees), please contact us.
Top25 Speaker Voting

David Wann needs 7 vote(s) to make it into the Top 25 speakers on Speaking.com!
Speaker Booking Tip
"Tip: speakers bureaus can provide: speaker fee negotiation, insurance, smooth logistics and value add-ons such as extra sessions. "
For Event Planners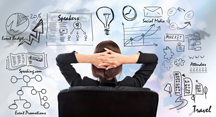 • Keynote Speaker Booking Toolkit.
• Booking a Celebrity Speaker.
• How to Find and Book the Right Speaker.
• Google+ Event Planning Forum.
• Tips for International Clients Booking U.S. Based Speakers.
Similar Speakers
Matthias Gelber

Voted "Greenest Person on the Planet" by 3rd Whale in Canada, Matthias Gelber shows organizations both big and small how they can be agents of…

Matthias Gelber

Voted "Greenest Person on the Planet" by 3rd Whale in Canada, Matthias Gelber shows organizations both big and small how they can be agents of…

Your speakers bureau was a tremendous resource for the NHL as we planned and executed our NHL Club Business Meetings. Their assistance with securing our keynote was invaluable. They provided detailed information in a timely manner which was crucial to the success of the event. The execution was seamless!
National Hockey League
About SPEAKING.com
Established in 1994, we are exclusive agents for some of the world's leading experts, celebrities and professional speakers.
We offer event planners a fully staffed speaker logistics planning team, plus a personal SPEAKING.com Account Executive – a knowledgeable and trustworthy partner. We guarantee your satisfaction with your speaker and a smooth booking process.
Contact us today to book your favorite speaker.

"Sam Houston State University was so fortunate to have Dave Wann come to our campus for two days of discussions, small group interactions, keynote addresses, and presentations. As he participated as a co-author of Affluenza in our Bearkats Read To Succeed common reader program (for 2,500 freshmen), Dave proved to be approachable, knowledgeable, and intellectually thoughtful with our faculty, staff, and students."
Keri L. Rogers, Ph.D., Assistant Vice President for Academic Affairs

"David was a keynote and workshop speaker at our annual Bridging the Gap conference and shared his perspectives about the need for cultural change in the world′s affluent nations; sustainable communities, and "biologic" in school curricula. In doing so, David gave everyone a lot to think about and did a great job in compelling everyone to reconsider their own paradigms. In both the content of his messages and the way in which he conveyed them, he showed himself to be a first class presenter."
James MacDonald, Deputy Headmaster, Yokohama International School

"David Wann recently spoke to an audience of 200 or more Metro State College students and professors about the symptoms and cures for affluenza. This topic resonated with the students, many of whom are well aware of the economic challenges that lie ahead in their careers, consumer choices, and quality of life. David opened with a lively, very amusing song, then spoke about how our current lifestyle unsustainable at the individual and cultural scale. He offered various solutions for meeting our needs more precisely and efficiently, leaving the students with a sense of curiosity and empowerment. About twenty or more students remained after the presentation to ask questions, always a good indicator of a successful presentation."
Brooke Dilling, Associate Director of Student Activities, Metropolitan State College of Denver

"When David Wann's best-selling book Affluenza was first published he spoke to a standing-room only audience of over 250 at the Tattered Cover, one of the largest independent bookstores in the country. As he spoke about the pitfalls of lifestyles built on materialistic values, the crowd was clearly engaged, evidenced by an extremely lively question and answer period. At the time, David was writing a weekly column for the Denver Post, and his comments struck a chord with an audience of both faithful and new readers of his work. He′s not afraid to challenge mainstream thinking, and always offers alternatives for addressing the challenges we face."
Jeff Lee, Coordinator of the Author Series co-presented by the Tattered Cover Book Store & the Rocky Mountain Land Library

"The Blue Sage Center for the Arts, a non-profit organization that supports the arts and humanities, recently hosted David Wann to speak as part of our Lecture Series. We were anxious to hear him speak about ways to make our community more sustainable. About 100 people attended his lecture/presentation, and many people later came up to me and expressed their appreciation for having him here. The following day David joined a discussion with locals who are concerned with the future development of the North Fork Valley. We had a lively discussion and David′s pioneering experience with creating sustainable communities and his suggestions were much appreciated. I highly recommend David as an engaging, knowledgeable speaker!"
Steve Lyons, Chairperson for The Blue Sage Center for the Arts Lecture Series, Paonia, Colorado


"In the last three years Dave Wann has consistently challenged and inspired my political science classes (often more than 100 students) to think about the impact of consumerism in our lives and environment and also to see signs of hope through restoring the bonds of community life. The latter is especially important because too often young people are very aware of ecological problems but don't know how to respond. Dave's creative multi-media media guest lectures include slides of cutting edge communities that are hospitable to people and the environment, clips from documentary films he has produced, excerpts from his books, and even his guitar as he sings a song called "Waking Up from the American Dream." Student engagement is very high and there are always lots of questions for Dave both during his presentations and after class."
Harvey Bishop, Professor of Political Science, University of Colorado

"I invited David to give a guest lecture at Front Range Community College on the topic of affluenza, and he came through with a variety of topics that were relevant to the course and stimulating to the class. His style was spontaneous and lively, and he engaged the students interactively, answering questions and asking for their own opinions. I am using his book, Affluenza, next semester when the class covers environmental ethics and plan on inviting him back to share his thoughts on this topic."
Diane Hergott, Professor, Front Range Community College
Simple Prosperity: Finding Real Wealth in a Sustainable Lifestyle (Paperback)
In his bestseller Affluenza, David Wann and his co-authors diagnosed the debilitating disease of over-consumption. In Simple Prosperity he shows readers how we can overcome this disease by investing in a variety of real wealth sources. To recapture a more abundant and sustainable lifestyle, try:
Creating a richer life story through personal growth incentives
Forming higher-yield friendships and stronger bonds through social capital
Taking preventive healthcare measures to build up wellness reserves
Balancing the biological budget through "greener" currency
Caring for people, not just cars, to improve your neighborhood wealth index
Resolving that pesky carbon conundrum through energy savings
Celebrating instead of desecrating! Cultural prosperity futures value the earth as a sacred place



In our age of hedge fund hysteria, Simple Prosperity is a new way of investing that will save our sanity and the planet.
Order Here


Affluenza: The All-Consuming Epidemic
In chapters with titles like "Swollen Expectations" and "A Rash of Bankruptcies," Affluenza, from the producer of the award-winning TV specials Affluenza and Escape from Affluenza, uses the whimsical metaphor of a disease to tackle a very serious subject: the damage done — to our health, our families, our communities, and our environment — by the obsessive quest for material gain. The authors examine the origins, evolution, and symptoms of the affluenza epidemic. But more importantly, they explore cures and suggest strategies for rebuilding families and communities and for restoring and respecting the earth.
Order Here

Reinventing Community: Stories from the Neighborhoods of Cohousing
Order Here

The Zen of Gardening in the High and Arid West: Tips, Tools, and Techniques
Drawing from his own considerable gardening experience and expertise, as well as leaning on the wisdom of the people he calls "The Zen Masters of the Western Garden," David Wann gathers a mix of stories, how-to advice, and simple, doable projects that are ideal for gardeners in the high and arid landscapes of the West. The Zen of Gardening in the High and Arid West is a friendly and invaluable guide to such topics as strategic gardening (how to coax fruits and vegetables from a sun-parched garden), pest-proof planting (how to protect those disappearing bulbs), choosing the right varieties of edibles for the region (apples, snow peas, tomatoes, etc.), how to become a seed-starting maniac, a Farmer′s Almanac approach to gardening (plant peas when the first cottonwood leaves appear!), as well as profiles of colorful local gardens and gardeners.

For gardeners of the high plains and mountains who are "meteorologically and topographically challenged," who routinely grapple with wild weather swings, high elevations, and scarcity of water, Wann offers inspiration and invaluable practical advice for success in the garden. Wann also shows how gardening can offer "a Zen exercise in mindfulness, discipline, and the joy of being right in the moment."
Order Here
David′s message is down to earth and at the same time, upbeat. He talks about alternatives that are compelling because the conditions that create and support our current lifestyle are changing. He also plays music (humorous songs), shows slides and occasionally shows clips of films that he has produced.
Affluenza: The All-Consuming Epidemic
David Wann presents the symptoms, causes, and cures for the social disease – affluenza – that impacts our health, families, communities, culture. Economy, and environment. This presentation updates the material in the best-selling book, Affluenza, that he and coauthors are now revising, and includes discussion grounded in the book's study guide and affluenza diagnostic test.
The New Normal: Creating an Affordable Civilization
Highlights 33 high-leverage, mostly collective actions that can propel our dysfunctional society into a new anthropological era in which production and consumption are no longer obsessive-compulsive goals. With the flip of a paradigm switch, the era will be characterized by the real wealth of cultural richness, efficiency, time affluence, cooperation, health, expression, ecological design, and biological restoration – providing twice the satisfaction for half the resources per capita that we now consume. Includes music, slides, and discussion.
Neighborhoods on Purpose
The author of several books on sustainable neighborhoods (Reinventing Community and Superbia!) and producer of 6 videos and TV programs on New Urbanism, Smart Growth, cohousing, and sustainable communities (including one produced for then-VP Gore's office and another that is now streaming on the Netfix website) David Wann shares his perspectives on how healthy, diverse, walkable neighborhoods can meet essential human needs directly, providing a high quality of life. Wann is a 15-year resident of Harmony Village cohousing community, which he helped design and now helps manage. Audiences learn how they can create a neighborhood culture, in any neighborhood. Includes slides and audience participation.
The Zen of Gardening: How to Grow a Gardener
David Wann is a Master Gardener and 30-year veteran of vegetable, fruit, and ornamental growing. Author of The Zen of Gardening and producer of the TV documentary, Sustaining America's Agriculture, he presents tips, tools, and techniques with a dry sense of humor appropriate to the dry region where he gardens.
He uses 16 rules of thumb as philosophical footing, including:
1. If at first you don't succeed, keep planting. Wipe the slate clean by burying the evidence or hauling it to the compost pile. Your Brussels sprouts may be covered with aphids from stem to stern, but nobody needs to know that. The spinach looks anemic? Now you see it, now you don't. Lupine seeds never came up? Plant right over 'em.
2. Think like a plant. Plants aren't engineers, and they don't know anything about last frost dates, inches of rain, or number of days to maturity. They just want to grow. Put them in the right places, and learn to read the signs of their vitality. Use your intuition. Weave together crop history, weather, plant vitality, and a cupful of compost to meet a plant's needs.
3. Garden with all your senses. You may not be able to see a billion microbes in a handful of soil, or smell subtle chemical messages constantly being sent from plant to plant, but you can see a glow on the leaves of a healthy stand of chard. You can smell the richness of a well-rotted bucket of compost, taste the season's first crunchy snow peas, and feel the feathery leaves of an asparagus plant.

David Wann: Creating a New Normal
David Wann talks about sustainability and keeping our planet healthy. "What I'm calling for here is a cultural revolution," David says, "because that's the only thing that ever works in the long run to change civilization's path." He then explains how a culture shift can help that revolution.
One is consumer disobedience, where we as consumers can exercise our right to say no to what we're urged to spend our money on and where to spend it. Another is what he calls "anthropolicy," a policy based on what humans actually need.
David then talks about the kind of technology that will best benefit us by stating, "I think the kind of technology we want is inspired by nature and fits into nature like a hand fits a glove."
Many of the examples David uses in his presentation come from his experiences in Harmony Village, the cohousing neighborhood he designed and helped build, and the people who are his neighbors.
David Wann: Saturday Morning Keynote
David Wann: Building Sustainable Communities