* Please note that while this speaker's specific speaking fee falls within the range posted above (for Continental U.S. based events), fees are subject to change. For current fee information or international event fees (which are generally 50-75% more than U.S based event fees), please contact us.
Top25 Speaker Voting

David Suzuki needs 6 vote(s) to make it into the Top 25 speakers on Speaking.com!
Speaker Booking Tip
"Tip: some speakers might provide one of their popular book titles as a free gift to your audience. "
For Event Planners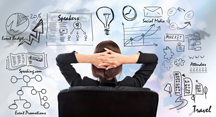 • Keynote Speaker Booking Toolkit.
• Booking a Celebrity Speaker.
• How to Find and Book the Right Speaker.
• Google+ Event Planning Forum.
• Tips for International Clients Booking U.S. Based Speakers.
Similar Speakers
William McDonough

Since 1995, William McDonough's Cradle to Cradle values and roadmap have guided organizations in realizing products and practices that benefit the health of people and…

Ron Garan

When veteran astronaut Ron Garan blasted up into space, his perspective of humanity and all the problems we face changed forever. During his 178 days…

Bjorn Lomborg

Bjorn Lomborg is an internationally recognized political scientist and economist known for his alternative views on responding to climate change and his work towards solving…

SPEAKING.com / Core Agency were very helpful in every way possible. I would recommend them to others and we will most definitely secure all our future conference speakers through them again.
Babcock & Wilcox
About SPEAKING.com
Established in 1994, we are exclusive agents for some of the world's leading experts, celebrities and professional speakers.
We offer event planners a fully staffed speaker logistics planning team, plus a personal SPEAKING.com Account Executive – a knowledgeable and trustworthy partner. We guarantee your satisfaction with your speaker and a smooth booking process.
Contact us today to book your favorite speaker.

"He is an inspiring speaker who shows where society can make changes that will matter to everyone."
Penn State University

"The relevance of your views regarding why we have removed oursleves from the natural world and now live in a mosiac of disconnected fragments so that we no longer see what our responsibilities are has given our participants many new ideas to take back to their districts on how to meet these challenges."
British Columbia School Superintendents Assocation
The Legacy: An Elderis Vision for Our Sustainable Future
In this expanded version of an inspiring speech delivered in December 2009, David Suzuki reflects on how we got where we are today and presents his vision for a better future. In his living memory, Suzuki has witnessed cataclysmic changes in society and our relationship with the planet: the doubling of the world's population, our increased ecological footprint, and massive technological growth.

Today we are in a state of crisis, and we must join together to respond to that crisis. If we do so, Suzuki envisions a future in which we understand that we are the Earth and live accordingly. All it takes is imagination and a determination to live within our, and the planet′s, means. This book is the culmination of David Suzuki's amazing life and all of his knowledge, experience, and passion — it is his legacy.
Order Here




More Good News: Real Solutions to the Global Eco-Crisis
In this edition of their bestseller, the sequel to the best-selling Good News for a Change, authors David Suzuki and Holly Dressel provide the latest inspiring stories about individuals, groups, and businesses that are making real change in the world. More Good News features the most up-to-date information about critical subjects, such as energy and the economy, not covered in the previous edition. These stories offer compelling proof from the front lines that sustainable solutions already exist.
Order Here




The Sacred Balance: Rediscovering Our Place in Nature
In this extensively revised and enlarged edition of his best-selling book, David Suzuki reflects on the increasingly radical changes in nature and science — from global warming to the science behind mother/baby interactions — and examines what they mean for humankind's place in the world.

The book begins by presenting the concept of people as creatures of the Earth who depend on its gifts of air, water, soil, and sun energy. The author explains how people are genetically programmed to crave the company of other species, and how people suffer enormously when they fail to live in harmony with them.

Suzuki analyzes those deep spiritual needs, rooted in nature, that are a crucial component of a loving world. Drawing on his own experiences and those of others who have put their beliefs into action, The Sacred Balance is a powerful, passionate book with concrete suggestions for creating an ecologically sustainable, satisfying, and fair future by rediscovering and addressing humanity's basic needs.
Order Here





The Challenge of the 21st Century: Setting the Real Bottom Line
In the past century, humanity has undergone an explosive change in numbers, science, technology, consumption and economics, that have endowed us with the power to alter the biological, physical and chemical properties of the planet.

It is undeniable that the atmosphere and climate are altered; air, water and soil are fouled with toxic pollutants; oceans are depleted; forests are being cleared; and species are disappearing.

Now that most people live in large cities, our relationship with nature is less obvious.

Computers and telecommunications fragment information so that we can no longer recognize the interconnectivity of everything in the world.

Globalization of the economy renders the entire planet a source of resources and all people a market for products, while local communities and local ecosystems are negatively impacted (for example, large scale pig farms are raised in Canada for an Asian market while the water, air and soil surrounding the hogfarms are negatively impacted).

Traditional people refer to the Earth as their "Mother" and tell us we are made of the four sacred elements: Earth, Air, Fire and Water.

Today science is verifying this ancient wisdom and defines a different set of priorities that should become our bottomline for the 21st century:

We are biological beings with an absolute dependence on clean air, water, soil and sunlight for our well being and survival.
The web of all life on Earth (biodiversity) is responsible for cleansing, replenishing and creating air, water, soil and captured sunlight.
Diversity at the genetic, species, ecosystem and cultural level is critical for longterm resilience and adaptability.
We are social animals with an absolute need for love to realize our full human potential; maximal opportunity for love is ensured with strong families, communities, full employment, justice, equity, freedom from terror and war.
We are spiritual beings who need to know that there are forces that impinge on our lives that lie outside our understanding or control; that nature that gave us birth, will persist after we die; that there are sacred places where humans come with respect and reverence.
Human beings are one species among perhaps 10 to 15 million other species on whom we are ultimately dependent for our well being.
Humanity needs to rediscover humility and our place in the world so that we and the rest of life can continue to flourish.
David Suzuki Speech
David Suzuki Interview
David Suzuki Speech Excerpt
David Suzuki Speech