* Please note that while this speaker's specific speaking fee falls within the range posted above (for Continental U.S. based events), fees are subject to change. For current fee information or international event fees (which are generally 50-75% more than U.S based event fees), please contact us.
Top25 Speaker Voting

David Logan needs 5 vote(s) to make it into the Top 25 speakers on Speaking.com!
Speaker Booking Tip
"Tip: speakers bureaus provide added value that you cannot get by booking speakers directly. "
For Event Planners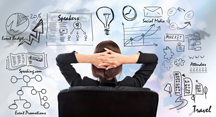 • Keynote Speaker Booking Toolkit.
• Booking a Celebrity Speaker.
• How to Find and Book the Right Speaker.
• Google+ Event Planning Forum.
• Tips for International Clients Booking U.S. Based Speakers.
Similar Speakers
Braden Kelley

Braden Kelley is the author of two best-selling books, Charting Change and Stoking Your Innovation Bonfire and has been advising companies on how to increase…

Simon Mainwaring

Simon Mainwaring is the founder of We First, a leading brand and leadership consultancy that provides purpose-driven strategy, content, and training that empowers businesses and…

Adrian Gostick

A global thought leader on corporate culture, employee relations and human resources management, Adrian Gostick has published several successful books on employee engagement. These include…

It was an extreme pleasure to work with our account rep. She was friendly, flexible, and knowledgeable about all their speakers. She made the process simple. I cannot begin to put into words the impact that our speaker had on our audience. People are still taking about his presentation and his program set a standard on all diversity programs.
FDIC: Federal Deposit Insurance Corporation
About SPEAKING.com
Established in 1994, we are exclusive agents for some of the world's leading experts, celebrities and professional speakers.
We offer event planners a fully staffed speaker logistics planning team, plus a personal SPEAKING.com Account Executive – a knowledgeable and trustworthy partner. We guarantee your satisfaction with your speaker and a smooth booking process.
Contact us today to book your favorite speaker.

"Dave is one of the most energising academics I have met. His work on Tribal Leadership is accessible and inspirational and can directly be picked up by management at all levels across complex and large global organisations such at TNT."
- Peter Bakker, CEO TNT N.V., Global Express and Mail
"Dave's recent class about Tribal Leadership at Qualcomm drew an enthusiastic crowd of managers, directors and vice presidents. I have received so many positive comments from people who felt Dave really connected with them. They liked his presentation style and said they learned useful management tools. Some managers have even formed a discussion group called "Tribal Leadership" to share ideas and principles introduced by Dave and to bolster their management skills. It's definitely one of the most engaging presentations my team has experienced."
- Desi Rosado, Senior Director, IT, Qualcomm, Inc.
"Dave and John [King]'s presentation at our annual leadership meeting ignited a dialogue about collaboration and leadership that continues to this day. Their clear and engaging description of the Tribal Leadership model encouraged our leaders to look at organizational challenges through a new lens. They offered simple suggestions for leaders to move their organizations to the next cultural stage, and increase employee engagement and performance. Today, it is common to hear about an organization described as Stage Two or Three and the actions Dave and John suggestion being discussed."
- Jay Allen, Executive Vice President, Human Resources, Charles Schwab & Co. Inc.
"When I first heard Dave, John, and Halee describe the Five Cultural Stages they had identified, the world became much clearer to me. Here was a description of individual and group behavior that reflected with much greater clarity the world we live in! And here was a model that everyone who heard the explanation identified with – instantly. The Cultural Stages map [the basis of Tribal Leadership] has been an invaluable tool working with high performing professionals and clients. It enables us to set the bar at new heights and quickly and positively influence behavior to seek and reach the new bar."
- Skip Beebe, retired Chief Learning Officer, CB Richard Ellis
"Dave Logan is an inspirational and engaging speaker. His five culture stages have been a thought provoking breakthrough for our organization as we strive to be a global, seamless and integrated, service provider. His highly interactive talks and teachings on Tribal Leadership have helped to 'redefine what is possible' for our people and organization as a whole."
- Andrew Cohen, Executive Director, Gensler
"Dave Logan's presentation was spot on! Dave really took the time to learn about our company and build his presentation to fit our needs. We are a company very focused on creating and maintaining a culture where our employee like what they do, where they do it, and who they do it for. Dave presented to our entire company at a time when our company was going through change at a tsunami pace and we needed to be reminded of our sacred flame and cultural map! Our employees truly enjoyed Mr. Logan's presentation and were re-engergized and re-engaged and are looking forward to keeping our sacred flame burning bright! Thanks for the lift, Dave!"
- Elise Mollman, PHR, Human Resources Manager, T2 Systems, Inc.
"Dave was part of an executive education faculty session done in Lisbon, Portugal in October 2007, both as a session leader, and as a standout member of a distinguished panel. In formal evaluations from the participants, they remarked on Dave's ability to provide clarity to confusing and complicated concepts, his natural energy, and turning ideas into actionable steps that moved us toward greater collaboration and profitability."
- Paulo Rocha, Director, International Areas, Odebrecht (Brazil)
"Dave Logan spoke to a large group of executive leaders at the University of Southern California on February 13, 2008 to present the concepts in his book on Tribal Leadership. The audience was truly captivated by David's highly charismatic, quick-witted presence – They found him to be extremely credible and knowledgeable, and appreciated how effectively he was able to help them connect the concepts to their current workplace challenges which is a real gift. Above all, these executives overwhelmingly reported the relevance and practical solutions offered in this book made this one of the best sessions we have ever hosted. They're still talking about it!"
- Mary Campbell, Ph.D.. Assistant Vice President, Career Services, University of Southern California
"Dave Logan made a presentation of his book Tribal Leadership at the Lusk100 Annual Retreat in May 2008. Lusk is the Center for Real Estate…and the members include senior management of a variety of real estate development companies, financial institutions involved in real estate, public officials and academics. Dave's presentation was well received, extremely informative and quite timely. He clearly brought t some new cutting edge thinking on corporate management and leadership, which was timely for an industry going through a major transition."
- Stan Ross, Chairman of the Board of the USC Lusk Center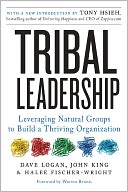 Tribal Leadership: Leveraging Natural Groups to Build a Thriving Organization
Every organization is composed of tribes—naturally occurring groups of between 20 and 150 people. Until now, only a few leaders could identify and develop their tribes, and those rare individuals were rewarded with loyalty, productivity, and industry-changing innovation.
Tribal Leadership
shows leaders how to assess, identify, and upgrade their tribes′ cultures, one stage at a time. The result is an organization that can thrive in any economy.
Order Here
Tribal Leadership: Leveraging Natural Groups to Build a Thriving Organization
Ever since there have been people, there have been tribes. Within each corporation exist anywhere from a few to hundreds of separate tribes. Tribal Leadership and Logan's presentations show how these tribes develop, how to assess them, and how to lead them to maximize productivity and growth. Tribal Leadership shows corporate leaders how to first assess their company's tribal culture and then raise their companies' tribes to unprecedented heights of success. In a rigorous eight-year study of approximately 24,000 people in over two dozen corporations, Logan discovered a common theme: the success of a company depends on its tribes, the strength of its tribes is determined by the tribal culture, and a thriving corporate culture can be established by an effective tribal leader.
Other Suggested Speaking Topics:
Creating Cultures of Excellence
Creating One Firm
Networking Gone Wild
Recession-Proofing Your Company or Career
Why Culture Eats Strategy for Breakfast And What To Do About It

Dave Logan: Tribal Leadership TED Talk
"As people see the world, so they behave. When people see the world so that life sucks then their behavior will follow automatically from that, it will be despairing hostility," explains Dave Logan as he expounds his theory of tribal leadership. He says that although people in organizations may not be dumb themselves, "the culture makes them dumb."
Dave Logan: Micro Strategy Model
Dave Logan: Agile Leadership
Dave Logan: Tribal Leadership