* Please note that while this speaker's specific speaking fee falls within the range posted above (for Continental U.S. based events), fees are subject to change. For current fee information or international event fees (which are generally 50-75% more than U.S based event fees), please contact us.
Top25 Speaker Voting

David B. Yoffie needs 5 vote(s) to make it into the Top 25 speakers on Speaking.com!
Speaker Booking Tip
"Tip: find a speaker in your local area to save on travel costs. Most speakers will also reduce their keynote fee for local events. "
For Event Planners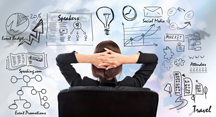 • Keynote Speaker Booking Toolkit.
• Booking a Celebrity Speaker.
• How to Find and Book the Right Speaker.
• Google+ Event Planning Forum.
• Tips for International Clients Booking U.S. Based Speakers.
Similar Speakers
Marc Randolph

With over 40 years experience, Marc Randolph, co-founder and former CEO and Netflix, has proved to be an expert on business strategies and innovations. By…

Peter Guber

Peter Guber brings his experience in communication, entrepreneurship and leadership to his keynote addresses, experience gained as founder and CEO of Mandalay entertainment. This visionary…

Kevin Abdulrahman

Better known as "the man inspiring millions," international author, speaker, coach, and mind nutritionist Kevin Abdulrahman is the new voice of motivation around the world.…

Working with your speakers agency on our training projects during the year proved to be a great business choice. I felt that my account reps were always around when I needed them, willing to help and listen. They showed flexibility when it was required and were reliable and dependable.
KPMG, Europe
About SPEAKING.com
Established in 1994, we are exclusive agents for some of the world's leading experts, celebrities and professional speakers.
We offer event planners a fully staffed speaker logistics planning team, plus a personal SPEAKING.com Account Executive – a knowledgeable and trustworthy partner. We guarantee your satisfaction with your speaker and a smooth booking process.
Contact us today to book your favorite speaker.

Reviews for David B. Yoffie′s Judo Strategy:

"…a lively, detailed analysis of how small companies can compete against larger ones."
Steve Hamm,
"Martial Arts in the Corner Office," Business Week, 17 September 2001

"a good read, with lots of salient business lessons for small and large companies alike seeking to 'gain a grip' in this shaky economy."
Jennifer Reingold,
"Flip Your Competition," Fast Company, July 2001

"Since the beginning of time, entrepreneurs have been told to find a niche and fill it. This book advises entrepreneurs who follow that strategy about how to deal with big-company competitors they may meet along the way."
Paul B. Brown,
"A New Leaf," Inc., August 2001

"…a crash course in how to maximize impact while minimizing effort."
Steven MacLaughlin,
The Foundry, September 2001

"Even if you've sworn never to read another business book that translates ideas from some other discipline, take a look at this one."
"Executive Reading," American Way, August 2001

"So who's used the judo strategy successfully? …Dell …Palm …[a]nd, of course, Microsoft …"
Robert Weisman,
"Business Battles of the New Economy Call for Added Kick," The Boston Globe, 27 August 2001
Judo Strategy: Turning Your Competitors′ Strength to Your Advantage
Just as judo students learn to use their Goliath opponent′s superior size to their own advantage, entrepreneurial Davids can learn to topple towering rivals. Yoffie and Kwak′s empowering advice helps managers create an environment where size doesn′t really matter.
Order Here


Competing On Internet Time: Lessons From Netscape And Its Battle With Microsoft
Competing on Internet time means competitive advantage can be won and lost overnight. In this penetrating analysis of strategy-making and product innovation in the dynamic markets of commercial cyberspace, bestselling Microsoft Secrets co-author Michael Cusumano and top competitive strategy expert David Yoffie draw vital lessons from Netscape, the first pure Internet company, and show how it employs the techniques of "judo strategy" in its pitched battle with Microsoft, the world′s largest software producer.

With a new afterword updating the events of the year following publication of the hardcover edition, Competing on Internet Time is essential and instructive reading for all managers, engineers, and entrepreneurs who want to succeed in ultra-fast-paced markets. Managers in every high-tech industry will discover a wealth of new ideas on how to create and scale up a new company quickly; how to compete in fast-paced, unpredictable industries; and how to design products for rapidly evolving markets.
Order Here



Suggested keynote topics:

Competition


Anti-Competitive Practices

Competitive Advantage

Competitive Strategy

Goods and Services

Market Shares

Monopoly and Oligopoly

General Management


Business Policy

Corporate Governance

Corporate Strategy

Strategy


Business Planning

Competitive Advantage

Competitive Strategy

Corporate Strategy

Growth Strategy

Strategy Planning

Technology


Entrepreneurial Management


Business Models

Emerging Market Strategies

Entrepreneurial Strategy

Entrepreneurial Technology
Full Keynote Speech