* Please note that while this speaker's specific speaking fee falls within the range posted above (for Continental U.S. based events), fees are subject to change. For current fee information or international event fees (which are generally 50-75% more than U.S based event fees), please contact us.
Top25 Speaker Voting

David Avrin needs 7 vote(s) to make it into the Top 25 speakers on Speaking.com!
Speaker Booking Tip
"Tip: find a speaker in your local area to save on travel costs. Most speakers will also reduce their keynote fee for local events. "
For Event Planners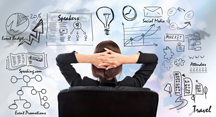 • Keynote Speaker Booking Toolkit.
• Booking a Celebrity Speaker.
• How to Find and Book the Right Speaker.
• Google+ Event Planning Forum.
• Tips for International Clients Booking U.S. Based Speakers.
Similar Speakers
Roberto Carlos (RöC)

One of Latin America's most influential leaders in innovation, Roberto Carlos (RöC) is the creator of Factor WOW, a methodology that is revolutionizing the way…

Kaplan Mobray

Career expert and author of the acclaimed bestseller, The 10Ks of Personal Branding, Kaplan Mobray's energy and insights drive individuals and organizations to maximize their…

Karen Post

The Branding Diva®: A branding enthusiast, entrepreneur, and resilient businesswoman For more than 29 years, Karen Post has been developing solutions and implementing methods that…

Our agent was great to work with. Very easy to reach when needed and promptly returned messages. Thank you for making our event such a big success, we are looking forward to working with you again soon!
American Lung Association
About SPEAKING.com
Established in 1994, we are exclusive agents for some of the world's leading experts, celebrities and professional speakers.
We offer event planners a fully staffed speaker logistics planning team, plus a personal SPEAKING.com Account Executive – a knowledgeable and trustworthy partner. We guarantee your satisfaction with your speaker and a smooth booking process.
Contact us today to book your favorite speaker.

"Our group voted you as the #1 speaker we've hired in over three years. Wonderful!"
Barbara Edwards, President/CEO California Host Meeting & Event Management
"David was our first speaker to receive a 100% approval rating on our post event evaluation. We've already hired him to speak for two more events!"
Rich Viola, President/CEO, Hotel Interactive Inc.
Wow! You have such a gift for speaking. Engaging, funny and very informative!"
Davis Federspiel, International SPA Association
It's Not Who You Know, It's Who Knows You! How to Build Your Business by Building Your Brand
With so many choices confronting prospective customers and clients, the question is: Why should they choose you? In his eye-opening, energetic and entertaining signature-presentation, internationally-renowned business marketing speaker and expert David Avrin, the Visibility Coach, reveals what it takes to recognize and promote true competitive advantage while building a category-leading brand identity. Based on the lessons in his breakout book It's Not Who You Know, It's Who Knows You!, Avrin's eye-opening and engaging business marketing presentation leaves audiences with a new perspective of what it takes to stand out, and a head full of new ideas and actionable strategies to become top-of-mind with top prospects. This program is ideal for human resources, recruiters, staffing professionals, professional associations, business owners, entrepreneurs and sales professionals.
Winning in Business When Everyone is Good: How to Create VISIBLE Advantages to Become the BEST Choice in a Sea of Good Choices
For the first time in human history, everyone in business is good. When competency reigns supreme, how can a business stand apart? In this high-energy, content-rich and entertaining presentation, acclaimed business marketing expert David Avrin shows teams how to align organizational strategy, hiring, research and development, sales, messaging and culture around their greatest competitive advantages. Based on the lessons in his new book, Visibility Marketing, David challenges the audience to dig deep and move beyond mere high-level competency to discover and craft meaningful differentiation so they can own their space and out-message their competitors.
Live Your Brand! How Everything You Do, and Don't Do at Work Impacts Your Organization and Your Job
When it comes to a company's brand, everything and everyone matters. Each interaction, every project and all the daily activities help to reinforce how companies are seen by customers, clients and competitors. In this enlightening and entertaining presentation, international marketing and branding expert David Avrin shows teams what their role is in supporting and reinforcing a brand promise. Through a combination of profound lessons, engaging stories and eye-opening example of companies that do it right, Avrin shows teams how to deliver on their brand promise each and every day. Audiences walk away with a clearer sense of purpose and a better understanding of their role in supporting mission and growth. This program is ideal for employees, staff, leadership, business owners, entrepreneurs and customer service and front-line staff.

David Avrin - Top-Rated Marketing Keynote Speaker Preview Video
David Avrin, the Visibility Coach, presents his top-rated marketing keynote speeches are designed to demonstrate to his audiences how they can create branding for their products, their companies and for themselves personally, which will ensure that they are at the forefront of the minds of prospective clients and customers. David doesn't hide the fact that in today's world this is not easy; as he says, "Here's the reality in today's marketplace: being very, very, very good at what you do–that's the entry fee. Today that gives you permission to do business in the marketplace; it is no longer a differentiator."
Using his experience in the modern world of business, David explains that a new mindset is needed to involve your customers in a meaningful and enduring relationship. "Business is just like high school, much as we would like to think we have transcended that world, we have not. Much as we would like to do business with people we like, and people we trust, people who are funny, people who are pretty, we get all that. Those cliques persist later in life, but the question is how do we help people to know you better, so that they like you better, so they trust you more?"
David makes his audience aware that if they are not prepared to commit to extraordinary performance and extraordinary effort, they are simply wasting their time. He tells them, "The new normal is a marketplace populated by great companies, who are smart, who are lean, who are having hard conversations just like this today, because I speak to them all the time."
VRMA Annual Conference: David Avrin, The Visibility Coach
It's Not Who You Know David Avrin
Asia Pasific HRM Congress, DAVID AVRIN