* Please note that while this speaker's specific speaking fee falls within the range posted above (for Continental U.S. based events), fees are subject to change. For current fee information or international event fees (which are generally 50-75% more than U.S based event fees), please contact us.
Top25 Speaker Voting

David Allen needs 6 vote(s) to make it into the Top 25 speakers on Speaking.com!
Speaker Booking Tip
"Tip: speakers bureaus can provide: speaker fee negotiation, insurance, smooth logistics and value add-ons such as extra sessions. "
For Event Planners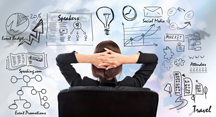 • Keynote Speaker Booking Toolkit.
• Booking a Celebrity Speaker.
• How to Find and Book the Right Speaker.
• Google+ Event Planning Forum.
• Tips for International Clients Booking U.S. Based Speakers.
Similar Speakers
Ram Charan

World-renowned consultant, author and speaker Ram Charan has made an extraordinary life journey, from working in the family shoe shop in a small town in…

Geoff Colvin

Senior Editor-at-Large, FORTUNE Magazine Geoff is an award-winning thinker, author, broadcaster, and speaker on today′s most significant trends in business. As a longtime editor and…

Gabor George Burt

As an expert on overstepping boundaries, Gabor George Burt helps companies expand and succeed by teaching them how to eliminate perceived limitations. He provides an…

This has been one of the most outstanding speaker agencies I have had in my 25+ years in the hospitality industry. They have helped my company secure speakers for years to the delight of my attendees. They have secured high profile speakers, even within the confines of a tight turnaround and an even tighter budget. I recommend their services without hesitation. They are truly leaders in their profession looking out for their clients: excellent is all I can say!
AHIMA
About SPEAKING.com
Established in 1994, we are exclusive agents for some of the world's leading experts, celebrities and professional speakers.
We offer event planners a fully staffed speaker logistics planning team, plus a personal SPEAKING.com Account Executive – a knowledgeable and trustworthy partner. We guarantee your satisfaction with your speaker and a smooth booking process.
Contact us today to book your favorite speaker.

Aerospace/Defense
General Electric
Jet Propulsion Labs
Lockheed Martin
Los Alamos National Labs
NASA
SAIC
Consumer Goods
Adidas
Clorox
General Mills
, Inc.
Green Mountain Coffee Roasters
L.L. Bean
M&M Mars
Nestle
Nike
Pitney Bowes
Ralston Purina
Sony
The Coca Cola Company
Consulting/Business Services
Accenture
Arthur D. Little
Deloitte Touche
KPMG
McKinsey & Company

Education
Babson College
Emory University
Georgia Tech College of Management
Georgetown University
Harvard University
Mt. Holyoke College
Stanford University
University of Kansas
University of Massachusetts
University of Texas
USC Marshall School of Business
Financial Services
American Express
Bank of NY Mellon
Edward Jones Company
Fidelity Investments

First Union National Bank
Investco
Visa
World Bank
Healthcare
Baystate Health Systems

Blue Cross
/Blue Shield

Children's Hospital of Philadelphia
Humana

Massachusetts General Hospital
Novartis
UK National Health Service
WellPoint Health Systems
General/Industrial
BMW
Canadian National Railway
DuPont
Herman Miller
John Deere
Mead Westvaco
Moen
Monsanto
Phillips Petroleum
Government
Department of Interior
Department of Veteran Affairs
Federal Aviation Administration (FAA)
Federal Reserve Bank
Housing and Urban Development (HUD)

Social Security Administrations
U.S. Air Force
U.S. Army

U.S. Department of Defense

U.S. National Guard Bureau

U.S. Navy
U.S. Marines

Information Technology
Bluecoat
Cisco
Hewlett Packard
IBM
Infosys
Invensys
Lotus Development

Microsoft Corporation

Oracle
Qualcomm
Sapient
Siemens
Sun Microsystems
Xerox
Yahoo!
Insurance
American Automobile Association (AAA)
Integrated Insurance
John Hancock
Met Life
New York Life Insurance Company
Zurich
Media/Communications
British Telecom
Comcast
Houghton Mifflin
Knight Ridder

Lucasfilms
Nextel
Pitney Bowes
Turner Broadcasting
Washington Times
QVC
Non-Profits
American Red Cross
Boston Museum of Science
The East-West Institute
Pharmaceutical/Bio-Tech
Amen
AstaZenica

Millennium Pharmaceuticals
Pharmacia
Retail
Green Mountain Coffee Roasters
L.L. Bean
McDonald's
Meijer Grocery
Panda Restaurants
Starbucks
Target
The Container Store
Walmart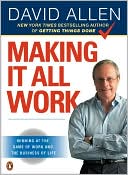 Making It All Work: Winning at the Game of Work and Business of Life
The long-awaited follow-up to The New York Times bestseller Getting Things Done.
David Allen's Getting Things Done hit a nerve and ignited a movement with businesses, students, soccer moms, and techies all the way from Silicon Valley to Europe and Asia. Now, David Allen leads the world on a new path to achieve focus, control, and perspective. Throw out everything you know about productivity—Making It All Work will make life and work a game you can win. For those who have already experienced the clarity of mind from reading Getting Things Done, Making It All Work will take the process to the next level.
David Allen shows us how to excel in dealing with our daily commitments, the unexpected, and the information overload that threatens to drown us. Making It All Work provides an instantly usable, success-building tool kit for staying ahead of the game.
Making It All Work addresses:
how to figure out where you are in life and what you need
how to be your own consultant and a CEO of your life
moving from hope to trust in decision-making; when not to set goals
harnessing intuition, spontaneity, and serendipity
and why life is like business and business is like life.
This eagerly awaited follow-up to Getting Things Done is guaranteed to find an audience in today's competitive business environment and among David Allen's many fans.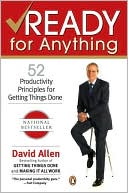 Ready for Anything: 52 Productivity Principles for Getting Things Done
In his bestselling first book, Getting Things Done, veteran coach and management consultant David Allen presented his breakthrough methods to increase efficiency. Now "the personal productivity guru" (Fast Company) shows readers how to increase their ability to work better, not harder—every day. Based on Allen's highly popular e-newsletter, Ready for Anything offers readers 52 ways to immediately clear your head for creativity, focus your attention, create structures that work, and take action to get things moving.
With wit, inspiration, and know-how, Allen shows readers how to make things happen—with less effort and stress, and lots more energy, creativity, and effectiveness. Ready for Anything is the perfect book for anyone wanting to work and live at his or her very best.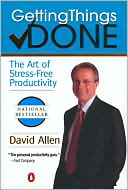 Getting Things Done: The Art of Stress-Free Productivity
In today's world, yesterday's methods just don't work. In Getting Things Done, veteran coach and management consultant David Allen shares the breakthrough methods for stress-free performance that he has introduced to tens of thousands of people across the country. Allen's premise is simple: our productivity is directly proportional to our ability to relax. Only when our minds are clear and our thoughts are organized can we achieve effective productivity and unleash our creative potential. In Getting Things Done Allen shows how to:
Apply the "do it, delegate it, defer it, drop it" rule to get your in-box to empty
Reassess goals and stay focused in changing situations
Plan projects as well as get them unstuck
Overcome feelings of confusion, anxiety, and being overwhelmed
Feel fine about what you're not doing
From core principles to proven tricks, Getting Things Done can transform the way you work, showing you how to pick up the pace without wearing yourself down.
Speaking engagements are an excellent way for your group to experience the GTD methodology in a very condensed format.
Sample speech topics include:
Keys to Mastering Workflow
Managing Commitments - the Key to Relaxed Control
Creating Order Out of Chaos - Staying Afloat in a World of Too Much to Do
Getting Things Done: the Art of Stress-Free Productivity
Getting Projects Off Your Mind and Moving - Why Natural Planning is Not Normal
Mastering the Art of Work
What′s On Your Mind? How to Stop Unproductive Thinking and Get Things Done
Making Change Stick - the Two Magic Ingredients
Getting Things Off Your Mind and Getting Them Done - The Zen of Inbox Maintenance
Leveraging Focus and Vision - Harnessing the Power of Imagery in Life and Work
Ready For Anything
The Art of Making It All Work
David Allen: The Art of Stress-Free Productivity - TEDxClaremontColleges
David Allen shows his audience how they can increase their productivity simply by better management of their attitude to what is going on around them. He explains that it is very easy to become rapidly stressed in a work environment: "All the stuff piling up in your e-mail inbox and in baskets while I'm speaking right now, all of that now floods into your psyche, and that can easily create a sense of being overwhelmed, a sense of confusion, a sense of conflict; every single thing seems to demand an equal kind of attention from you."
Demonstrating that most of us blame our stress on a lack of time instead of looking for the real culprit, he tells us: "Well, I'm sorry, Leonardo da Vinci, Thomas Jefferson, Einstein, Mother Teresa, they all only had 24 hours! Johann Sebastian Bach only had 24 hours–I know he didn't have e-mail but he had 20 kids… and you say 'just give me 2 more hours, please…' You know what you would do with 2 more hours? You would have 2 more hours of overwhelm and stickiness."
How David Allen Gets Things Done