* Please note that while this speaker's specific speaking fee falls within the range posted above (for Continental U.S. based events), fees are subject to change. For current fee information or international event fees (which are generally 50-75% more than U.S based event fees), please contact us.
Top25 Speaker Voting

Dave Horsager needs 6 vote(s) to make it into the Top 25 speakers on Speaking.com!
Speaker Booking Tip
"Tip: some speakers might provide one of their popular book titles as a free gift to your audience. "
For Event Planners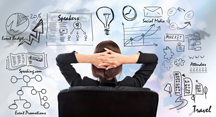 • Keynote Speaker Booking Toolkit.
• Booking a Celebrity Speaker.
• How to Find and Book the Right Speaker.
• Google+ Event Planning Forum.
• Tips for International Clients Booking U.S. Based Speakers.
Similar Speakers
Don Hutson

Don Hutson is an expert on entrepreneurship and successfully selling value. After graduating from the University of Memphis with a degree in sales, he became…

Roberto Carlos (RöC)

One of Latin America's most influential leaders in innovation, Roberto Carlos (RöC) is the creator of Factor WOW, a methodology that is revolutionizing the way…

Nick Sarillo

Nick Sarillo has proved that successful small businesses are driven by visionary leadership. The success of his company Nick's Pizza & Pub (the sixth busiest…

My Account Executive was able to work within my quick turn around time and price limitations to find the perfect speaker for the job. Although I thought finding and booking a speaker for our sales meeting would be the most difficult part of the planning process, your agency made it the easiest.
Ales Group USA, Inc.
About SPEAKING.com
Established in 1994, we are exclusive agents for some of the world's leading experts, celebrities and professional speakers.
We offer event planners a fully staffed speaker logistics planning team, plus a personal SPEAKING.com Account Executive – a knowledgeable and trustworthy partner. We guarantee your satisfaction with your speaker and a smooth booking process.
Contact us today to book your favorite speaker.

"Our only problem is how to top Dave next year!"
Josh Band, Wells Fargo

"He didn′t just hit a home run, he hit a grand slam! Everyone from the CEO on down said he was enthralling." Julie Blind, Sierra View Hospital

"Informative and entertaining! We all walked away with some new tools to put to use in our everyday lives."
Kelly Herrick, Specialized Transportation, Inc.

"I was especially please with how you tailored the inspirational message and the amount of background work you did to gain an understanding of the uniqueness of our company."
Fred Stelter, President, Interbank 
The Trust Edge: What Top Leaders have and 8 Pillars to Build it Yourself
Trust is a fundamental, bottom-line issue. Without it, leaders lose teams, salespeople lose sales, and organizations lose reputation, retention of good people, relationships and revenue. But with trust, individuals and organizations enjoy greater creativity, productivity, freedom, and results. Through academic research and firsthand experience, David Horsager has learned what it takes to gain – and keep – The Trust Edge. Through a captivating presentation, Dave combines humor and illustrations with business insight and analysis. He will show you how the little things, done consistently, add up to huge results. Attendees will walk away with concrete steps they can immediately use to improve their lives and careers.
Learn:
The 4 pillars of the most successful leaders and organizations.
The 3 ways to build connection.
What top leaders and organizations have & how you can enjoy it yourself.
Keys to build morale, sales, and customer loyalty.
How to never have a day where you say, "I didn't get anything done."
The greatest need for a motivated staff and how to fill it.
The "why" and "how" behind the most foundational key to real success.
How to boost daily productivity by using DMA's (Difference Making Actions).
PLUS, you will have FUN!
The Sales Edge
Trust is the foundation of all sales. Without trust in the sales person or the product a sale will not be made. Trustworthy people and organizations attract business, build the bottom line, and make a significant impact. David's TrustEDGE for Sales presentation is full of substance and style. The CEO of STI Delivers said, "Your production provided the perfect finale to motivate our people to take action to close the sale."
Your team will learn:
How to attract new business.
How to become memorable.
The 6 Phrases that can change your life.
The foundation of all sales.
How to sell yourself in 90 seconds.
The greatest key to connection.
How to build trust.
How to create customer loyalty.
The Leadership Edge
The Secret to Outrageous Outcomes
We all have the opportunity to become better leaders. In David's dynamic style, "The Chemistry of Leadership" presentation offers a practical blueprint for effective leadership. Leaders will not only be entertained and motivated to make a difference, they will also gain practical insight they can use the very next day. Director of North Ridge Care Center wrote Dave the following: "The leadership and guidance you have provided our program and staff has been the backbone for our success."
You will learn:
The 4 Little things that make the BIG Difference.
How to avoid the deceptions that detour success.
The 3 kinds of Vision that must be shared to create customer loyalty, high morale, and powerful productivity.
The 4 ways to motivate your team.
The ingredients to building and enjoying team momentum.
A secret to making a lasting difference in work and life.
The Daily Edge
Do you want to avoid ever having a day where you feel like you work hard but don't get anything important done? Do you want to be more effective and efficient? The Productivity Edge is an interactive seminar with great tips for getting more done in less time with less resources. This seminar is said to have been worth tens of thousands a month to orgaizations.
Learn:
How to have 10 or less emails in your inbox every day.
How to have a completely clear desk every day.
How to get the best stuff done every day.
How to increase productivity, but not at the expense of relationships.
How to increase creativity.
Leave A Legacy
The Keys to making a lasting difference in work and life
Everyone leaves a legacy of some kind. What will yours be? David inspires people to leave a lasting legacy at work and in life. Great people leave great legacies of courage, character, and impact. Through this entertaining and moving keynote, Dave reveals the little things that make the BIG difference when done on a daily basis over time. You really can have a significant impact! Be inspired to do great things.
The Magic of Momentum
4 Keys to create, build, and enjoy lasting momentum
Through a magical and moving keynote audiences learn to create, build, and enjoy lasting momentum. Most often it is the seemingly little things that start momentum. Done consistently those things can make an organization virtually unstoppable. You can learn the little keys to mighty momentum. Event Planner Julia Blind said, "Dave didn't just hit a home run, he hit a grand slam, bottom of the 9th, 2 outs, 7th game of the World Series!!! Everyone from the CEO down said he was ENTHRALLING!"
The Extraordinary Entrepreneur
Not only is this program fun and highly engaging but people leave with key tips, techniques, and take-a-ways they can use the very next day. This is a needed and memorable kick-start for franchisee events and small business owner events.
Learn:
What makes the most successful entrepreneurs in the world.
How to attract new business.
How to get the best stuff done every day.
How to become memorable.
The foundation of all sales.
How to sell yourself in 90 seconds.
The greatest key to connection.
How to build trust.
How to create customer loyalty.
David Horsager: TEDxUMN
Dave Horsager surveys the latest headlines to reveal our preoccupation with trust: Can we trust our doctors? Elected officials? Other countries? It's pretty clear, David observes, that most people feel "everything is built on trust," but when organizations and individuals are faced with cultivating it, many discover that trust is much more complex than most of us realize.
David breaks down the hidden costs and benefits of increasing trust while zooming in on the key ingredients needed to foster it and debunking some common misconceptions, as well. "We can sometimes think it takes a long time to build trust," he comments. "But in a crisis like 9/11, strangers trusted each other in moments."
Keynote Speech
Demo Video