Top25 Speaker Voting

Daniel Levine needs 13 vote(s) to make it into the Top 25 speakers on Speaking.com!
Speaker Booking Tip
"Tip: speakers bureaus provide added value that you cannot get by booking speakers directly. "
For Event Planners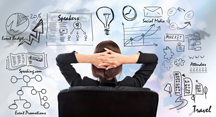 • Keynote Speaker Booking Toolkit.
• Booking a Celebrity Speaker.
• How to Find and Book the Right Speaker.
• Google+ Event Planning Forum.
• Tips for International Clients Booking U.S. Based Speakers.
Similar Speakers
Ryan Estis

Ranked one of the top speakers in his field, Ryan Estis is known for his innovational strategies for improving communication and company culture. His methodology…

Scott Duffy

A successful serial entrepreneur, Scott Duffy has had the rare opportunity to learn from some of the most brilliant innovators and business professionals working today.…

Simon Mainwaring

Simon Mainwaring is the founder of We First, a leading brand and leadership consultancy that provides purpose-driven strategy, content, and training that empowers businesses and…

Our client rep was a pleasure to work with. He was well organized and kept me updated every step of the way. The level of professionalism and the quality of the materials received were excellent. I will be in touch for future speakers!
Mattel
About SPEAKING.com
Established in 1994, we are exclusive agents for some of the world's leading experts, celebrities and professional speakers.
We offer event planners a fully staffed speaker logistics planning team, plus a personal SPEAKING.com Account Executive – a knowledgeable and trustworthy partner. We guarantee your satisfaction with your speaker and a smooth booking process.
Contact us today to book your favorite speaker.

"In over 19 years of organizing events — in which I've booked more than 250 keynote speakers — Daniel Levine is without a doubt one of the top four or five we have ever had…. Audiences can't stop talking about his presentations. He really makes us look good."
—Terrence Williams, President, Event Services
"I feel really excited, proud and lucky to have hired Daniel Levine. He was instrumental in helping us create our most colorful and successful event ever."
—AmEx National Summit
"Almost all the ratings Daniel received on our delegate Exit Survey were all 5 out of 5. Except for several which rated him even higher! I think his program is the highest rated we have ever had. I know it was the best attended."
—BrandMarker
"The response to Daniel's high-energy presentation was phenomenal. He is like a whip-smart double shot of espresso. There's always attendees who find something negative to say about a speaker, but not this time. Each and every comment about Daniel's keynote was enthusiastically positive."
—Harney and Sons Teas
"Daniel is Levine is a master of the "a-ha!" moment. I can't believe how many delegates came up to me gushing about Daniel saying that he alone was worth the price of the conference."
—Caribbean Marketing Conference
"Daniel Levine's presentations are dynamic, inspirational and thought provoking. He offers essential information about the latest social trends and has great examples to illustrate them… This kind of presentation makes EIBTM meaningful"
—Reed Exhibitions
What Your Customers Really Want… And How to Give It to Them
Why do some people choose to buy from you… while others choose to go elsewhere? Understanding social trends is a critical part of your sales process and if you want to thrive – and not just survive – you need to be able to pinpoint exactly why your customers do what they do. In this thrilling presentation, global trends expert Daniel Levine will take you on a deep dive to reveal what your customers are actually thinking and feeling. You will discover the real values and attitudes behind why they buy, understand trends that are quickly changing the consumer landscape, and learn from organizations, brands, and products that are embracing trends and change with spectacular results. In the space of an hour, Daniel will arm you with powerful tools your business can use to ride these same trends, attract more customers, and increase sales – in ways your competitors simply can't. New trends and fresh rules are creating new winners and losers every day. Which will you be?
Killer Customer Service: Trends With Benefits
Is your next customer a hair-trigger away from abandoning your business… forever? What your customer expects from you is increasingly set and shaped outside your industry, which means your customer experience has probably fallen behind. If you don't know how to meet these mysterious demands – let alone what they even are – your customers will go elsewhere. But it doesn't have to be that way. In this mind-blowing presentation, Daniel Levine will tear aside the curtain and reveal the new trends and expectations that are raising the bar on customer care. Clearly see the real ways your customers are researching, trying and buying, and discover how the world's best companies are serving their customers in ways you can replicate – and exceed. While this presentation is inspirational, funny and packed with amazing visuals, the emphasis is on the practical: Daniel will equip you with the real-world tools and strategies you need to surpass customer expectations, stay ahead of the trends, and generally up your game.
5 Trends Shaping the New World of Business
As a business leader, knowing what is now isn't enough – you also need to know what will be, or you're gone. Tomorrow's world will look vastly different from today's, so strap on your jetpack and get ready for an exhilarating "advance preview" of the most spectacular and useful tech-driven trends that are guaranteed to shake up your world. In a rollicking presentation packed with keen insights, you will get a "sneak peek" into the contemporary culture of tomorrow – and the changes that are revolutionizing the way you work, live and consume. Daniel will treat you to a glimpse of everything that matters – from the future of ecology, technology, transportation and medicine, to communications, business, and human relationships. And he will put it into perspective and connect the dots so you know what it means for your business. If you aren't ready for tomorrow's world you'll be swallowed up by more nimble competitors. Don't miss out on this opportunity to stay ahead of the game.
Luxury Trend Secrets: How to Sell Stuff To Rich People. Trends Intensive: Hands‐On Masterclass
You can learn a lot by attending a presentation. But true working knowledge comes from rolling up your sleeves and putting it all into action. Now that you have experienced one of Daniel Levine's world-class trends presentations, this is your opportunity to open your mind, explore possibilities and put your new-found expertise to work. In this intensive interactive workshop you'll get hands‐on experience creating real, actionable products, services and marketing initiatives – all inspired by the innovative power of trends. With personal supervision from the world's most respected trends expert, you will learn exactly how embracing trends can lead to higher consumer engagement and more revenue for your company. Then you will discover a simple methodology to create trends‐based initiatives – and walk away with the confidence to implement them. Some of the world's highest-ranking CEOs have made huge changes in their business as a result of what they learned from Daniel. Don't pass up on your chance to get that same expertise for your business.

Keynote Speaker and Trends Expert Daniel Levine
"One of the biggest differences between a trend and a fad is longevity. Trends represent demand. They are what people are thinking and feeling."
One of the best in his business, consumer trends keynote speaker, Daniel Levine illustrates the potent power and impact his line-of-work has on organizations across all sectors, pointing out that companies that have a greater understanding of their consumers' or viewers' psyches can answer their wants and needs in better and more creative ways.
Daniel Levine
"It's important to understand that if you're looking at your business from your customers' perspective, [you need to] understand what they're doing now and see if you can answer that in a creative way."
Daniel Levine hits on the potential of tapping into patrons' love of mobile devices and screens, noting that the majority of social media posts and conversations have to do with what the writer is doing at that moment, whether he or she is dining at your restaurant or purusing your establishment.
WYSTC - Welcome and Keynote by Daniel Levine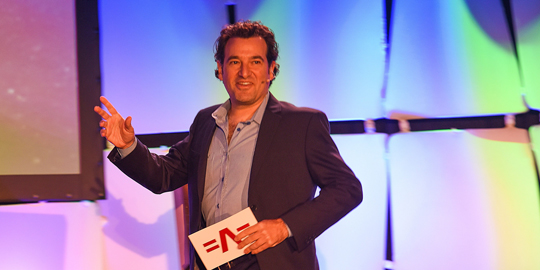 One of the world's leading trends analysts, consumer trends keynote speaker, Daniel Levine heads an international team of over 9,000 trend spotters who research and chronicle the latest ideas, products, and experiences from around the globe. As director of the Avant-Guide Institute trends consultancy, he gets to the heart of what's driving consumers and guides ... more