* Please note that while this speaker's specific speaking fee falls within the range posted above (for Continental U.S. based events), fees are subject to change. For current fee information or international event fees (which are generally 50-75% more than U.S based event fees), please contact us.
Top25 Speaker Voting

Dan Thurmon needs 3 vote(s) to make it into the Top 25 speakers on Speaking.com!
Speaker Booking Tip
"Tip: some speakers might provide one of their popular book titles as a free gift to your audience. "
For Event Planners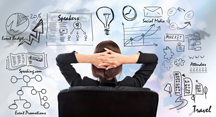 • Keynote Speaker Booking Toolkit.
• Booking a Celebrity Speaker.
• How to Find and Book the Right Speaker.
• Google+ Event Planning Forum.
• Tips for International Clients Booking U.S. Based Speakers.
Similar Speakers
Mike Rayburn

Three-time Carnegie Hall headliner, keynote speaker, humorist and captivating musician, Mike Rayburn uses his multifold skills to deliver inspirational and motivational speeches that will never…

The Water Coolers

For nearly 15 years, THE WATER COOLERS have entertained audiences around the world, as far reaching as Singapore and Australia, with their high energy, uncommonly…

The Passing Zone

Owen Morse and Jon Wee met in 1986 at a juggling convention and instantly knew they were destined to be a team. But they decided…

My Account Executive was able to work within my quick turn around time and price limitations to find the perfect speaker for the job. Although I thought finding and booking a speaker for our sales meeting would be the most difficult part of the planning process, your agency made it the easiest.
Ales Group USA, Inc.
About SPEAKING.com
Established in 1994, we are exclusive agents for some of the world's leading experts, celebrities and professional speakers.
We offer event planners a fully staffed speaker logistics planning team, plus a personal SPEAKING.com Account Executive – a knowledgeable and trustworthy partner. We guarantee your satisfaction with your speaker and a smooth booking process.
Contact us today to book your favorite speaker.

I have had a number of attendees tell me that Dan was the best keynote speaker they have ever heard. They were so impressed with his unique delivery, and his presentation contained a great deal of content which spoke directly to their needs. He takes his audience through a wide range of emotional experiences including fear, happiness, sadness, and amazement. He motivates people to set high goals, seek challenges, and strive to be who they were meant to be. Truly inspirational!
Pam Goedde, SHRM Indiana
The feedback about your presentation has been absolutely outstanding. Even my "jaded" board of directors, who have seen many keynotes, told me you were terrific. You were the perfect combination of entertainment, personality with a strong and very relevant message. Please feel free to use me as a reference, should anyone wish to talk to a completely satisfied customer!
Sue Wolk, Senior Director, National Court Reporters Association
Dan Thurmon was, by far, the highest rated aspect of our conference, based on attendee survey results. His presentation was inspirational, energetic, and captivating. Best of all, he took the time to understand our conference objectives and seamlessly wove them into his presentation. Highly recommended!
Scott Frymire, Sr. Manager, Activant Solutions
We would like to convey our immense appreciation for your motivational performance. It was the highlight of our event!! Your extraordinary skill to inspire, entertain, and advance us all to the next level in life is simply incredible.
Abraham Ekstein, VP Sales and Marketing, Brooklyn Financial Group
It was incredible!... one of the BEST, if not the VERY BEST we've ever had. It has been a couple months, and I'm still getting comments from our leaders on what a phenomenal job you did. You have such an inspiring message that it really hit home with everyone. Thank you again!
Sandy Duncan, Leadership Development Chairman, Saint Francis Medical Center
I can honestly say I'm having difficulty finding the adjective that would best describe your presentation. A few do come to mind but I think the attendees' comments on your evaluations really say it best:
"Excellent. EVERYONE should see this speaker."
"Absolutely phenomenal & truly entertaining but moving."
"Awesome speaker and presentation!"
"The program could not have been better—it was extremely powerful!"
"Unforgettable!"
"Dan should be a speaker at every NAA conference!"
They go on and on... and I couldn't agree more. Yours is a wonderful message delivered in a unique, entertaining, eye-popping, thrilling format.
Sally Scott, Assistant Director of Education
National Apartment Association
The power behind your motivating speech helped our field force to make sure about the importance of attitude, take commitment with action and how looking up is superior to looking down!
Elaine M. Acosta, District Sales Manager, GlaxcoSmithKline P.R.
The valuable strategies you were able to visually convey through presentation gave our participants a strong image and affiliation with our goals and objectives.
Pam Elledge, Director of Business Development, Delta
Your presentation was absolutely the highlight of our Leadership Summit!
Laura Missitzis, Manager, Executive Offices, National Association of Realtors
You took the issues, challenges, every day stresses and strains of our plant and turned them into part of an educational but entertaining action-packed message.
Jack L. Murphy, General Plants Manager, Johnson Controls, Inc.
Your ability to put such a positive spin on something like multi-tasking—which many people dread—is a testament to your skill and ability.
Miki Wilson, Regional VP, AIMCO
Your presentations at our eleven "In Focus Events" delivered an important and inspiring message, unlike anything out deals have ever experienced.
Blane Haywood, Director, Shaw Flooring Alliance
This was the most vibrant reaction to a speaker and meeting I've ever been associated with both inside and outside the IBM Corporation.
Denise Billups, IBM Corporation
After hiring you three times, I manage to still find tremendous nuggets of wisdom to take away from your exhilarating presentations.
Reed A. Lynn, VP of Sales, North America, WILD Flavors, Inc.
I have heard numerous attendees say that you are the BEST presenter they have ever seen, and I would have to agree! Your energy and enthusiasm are evident from the moment you take the stage, and it's infectious.
Ellen H. Wentz, Marketing Associate, Deloitte
Well, once again you knocked their socks off! Your performance goes beyond motivation—you managed to stimulate everyone present to reach beyond their perceived limits and attain new levels of achievement and success in their personal and professional lives.
Jack E. Middleton, President/CEO, SMC3
Wow! What a fabulous job... taking what you heard and incorporating the themes into your presentation. People still stop me in the hall to tell me what a wonderful job you did. I'm appreciative of your effort in contributing to one of the best Forums we have ever had! We have been hiring speakers three to four times per year for the past ten years. Far and away, your presentation received the highest ratings ever!
Bryan Kindred, President/CEO, DCH Health System
Your session was the perfect end to a very successful day. I'm still getting positive feedback on your message four weeks later! Your session really hit home – as you are aware, my team has been struggling with prioritizing the demands of the new business sales, delivery on our existing portfolio, and their people management responsibilities. Your message and delivery really helped reinforce my priorities with my team.
John Nyland, Managing Partner, IBM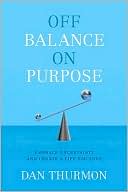 Off Balance on Purpose: Embrace Uncertainty and Create a Life You Love
Every day, we are inundated with messages about the importance of finding "balance" in our lives. How does this make us feel? Overwhelmed, out of touch, and unfulfilled. The problem isn't us—it's the message. Perfect balance is unachievable and, upon closer inspection, undesirable. The perpetual quest for balance ends up limiting growth, progress, and the quality of life.
In Off Balance On Purpose, Dan Thurmon frees you from the "balance" dilemma and empowers you to adopt a new approach to creating a happy, fulfilling life: embrace reality, get aligned with your purpose, lean forward, and initiate positive changes. These steps will give you the knowledge, strength, and motivation to:
Accept and take advantage of the contradictions in your daily life
Integrate the five vital areas of life—work, relationships, health, spiritual growth, and personal interests—into a workable, fluid, sustaining pattern
Adopt a practical, concrete process for orchestrating changes and staying aligned with your purpose
With an engaging style and a storyteller's gift, Thurmon combines profound insight, humor, compassion, and practical examples to offer you a realistic path towards a rich and rewarding life.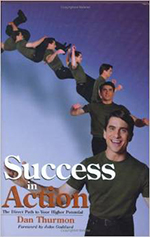 Success in Action
It can be said that this self-help book starts where others end. Instead of merely informing or inspiring you, this book will lead you to action. It is infused with hundreds of actionable suggestions that you can adopt immediately to create positive life changes. Success in Action blends Dan's extensive experience as a professional entertainer and entrepreneur with stories from fascinating authors, athletes, and public personalities. The result is a well rounded and comprehensive treatment on the subject of getting things done.
KEYNOTES
Important note: Every presentation Dan delivers is personalized to specifically address the audience, client objectives, and desired outcomes. Often, based upon pre-conference conversations, Dan will create a "synthesized" program, pulling relevant themes and segments from his experience and body of work. The end result is always an experience that is guaranteed to be exactly on target.
Perform-ability
How to Be your Best when it Matters Most
Throughout your life and career, you've been told to "always be at your best because every moment counts." While this may sound like good advice, it isn't really possible, or all that effective. And the truth is: Some moments count much more than others. For that reason, you must learn to be your best when it matters the most.
Dan will explain why some individuals are excellent in practice yet fail under pressure and why others seem to naturally rise to handle critical moments with ease and excellence. This isn't an innate talent. It is an ability that can be learned and mastered. Dan calls this "Perform-Ability."
The key to being able to "perform," or deliver excellence when it matters the most, is to prepare properly and understand the mindset and methods of top performers. Dan will teach and demonstrates these elements in his signature high-impact style. Audiences will leave the session energized and ready to tackle their challenges with new tools.
Learning Objectives
As a result of attending this program, attendees will be able to:
See themselves as performers, capable of delivering excellent results under pressure.
Understand the three aspects of an effective performance.
Clarify what they are trying to achieve.
Develop strategies to succeed.
Recognize critical moments and rise to the occasion.
Adopt the mindset and methods of peak performers.
Commit to ongoing learning and disciplines to aid their efforts.
Beyond Balance
How Work Life Integration Leads to Fulfillment
Everyone seems to recognize the difficulty of "balancing" the demands of work with the complexities of life. And yet, the present approach to addressing this challenge is entirely inadequate. In pursuit of "balance," we are selling short our best efforts, burdening ourselves with guilt, and exhausting our energy. What we need is a new approach and an ongoing effort to infuse "life" in the workplace.
In this empowering program, Dan provides a new model for viewing work objectives not as separate or competing with life, but as a vital and connected component. He will provide practical, reality-based solutions to help leaders and employees support one another personally, as well as professionally.
Benefits to the Organization
The results of these efforts are significant. Work/life integration fosters excellence, innovation, and loyalty among employees. For that reason, this keynote becomes the catalyst for an ongoing and transformational conversation and plan of action.
Learning Objectives
As a result of attending this program, attendees will be able to:
Manage their energy and time more effectively.
Improve their ability to focus on the task at hand.
Understand that "Perfect Balance" is an unachievable goal.
Adopt an Off Balance On Purpose approach as a realistic and empowering alternative.
Name the Five Spheres of "Complete Success."
Utilize "Lifelines" to integrate the aspects of life.
Have supportive and appropriate conversations with their peers about life outside the workplace.
SAFE Danger
Respect Risk. Accept Responsibility.
It may seem counter-intuitive to learn about safety from someone who performs back flips from chairs, balances on moving objects, and juggles axes. But, upon closer examination, it makes absolute sense. All jobs and endeavors contain elements of risk. Dan will demonstrate how, by adopting the right approach, you can effectively eliminate the worst-case scenarios and ensure a long and healthy career.
High performers, specifically those who must embrace certain, very real risks in order to succeed, must be ultra aware of their environments. They must develop complete mastery of their skills. They must also learn how to avoid or minimize the most risky aspects.
What we are looking for is not just a one-time "stunt," but rather a sustainable career. And longevity requires a different mindset and level of discipline.
Learning Objectives
As a result of attending this program, attendees will be better equipped to:
Think ahead and anticipate surprises.
Adopt routines to ensure safe practices.
Focus on the task and do one thing at a time.
Avoid the "DROPs"—Distractions, Rushing, Omitting Steps, and Panic.
Learn to "fail safely."
Embrace continuous learning, regular practice, and daily disciplines.
WORKSHOPS
To extend the impact of a day with Dan Thurmon, you may wish to incorporate an interactive workshop into your agenda. This allows the audience to increase their understanding important ideas, and ads another energy packed event to your day.
Accelerated Learning Workshop (our most popular bonus session)
During this hands-on experience, attendees will break through previous conceptions of their abilities. Everyone in the audience will practice, both mentally and physically, the process of learning at today's increased pace. Taking the juggling analogy one step further, all the participants will learn to juggle while Dan teaches key concepts including:
Where you place your focus and attention determines ultimate results.
Gaining feedback from your actions is vital for self improvement.
To attain new levels of success, you have to let go of old, limiting patterns of thought and action.
Consistency and repetition are the keys to success.
You have more time than you think you do—expand it.
Audiences across the US and as far abroad as Lisbon, Portugal, have experienced this powerful program.
You'll be amazed at the excitement, fun and transformation that takes place when the everyone learns a new skill, as well as the process for tackling any new challenge with a positive approach.
This program also includes the Personalized Juggling Kit (with each ball printed with your corporate logo), as well as a follow up Juggling for Life DVD for every audience member.
Celebrating Your Style
At one time in life we have all heard the encouraging words "just be yourself." This advice is, in many ways, the key to fulfillment and effectiveness. If you can hone in on the things you are really good at, you can build upon those strengths. If you can understand what you enjoy doing, you can find ways to make work more like play. You need to understand your strength and apply them. In this participative and entertaining session, Dan will take you on a journey to bring out your best. You will also learn to build better relationships and connect with people in a powerful way, engaging "multi-sensory" experiences. You will leave this session with a defining "style statement" and the confidence to put all of YOU in what you do.
Targeting Your Destiny
Dan will lead you on a powerful goal setting workshop that will help you define your future and develop action plans to propel you forward. We all have a vision of the future. But, is it crystal clear or fuzzy around the edges? This session will help you take action and succeed where you may have struggled before. You will discover your personal and professional goals, and then set a balanced approach toward achievement. You'll get excited about the most positive and compelling aspects of your future and leverage that excitement to build momentum and follow through. You'll also learn how to inspire those around you to "see" the possibilities of your vision.
Off Balance On Purpose: The Future of Engagement and Work-Life Balance: Dan Thurmon at TEDxPSU
In this presentation at TEDx PSU, Dan discusses the future of engagement and work-life balance. He begins by stunning the audience with his acrobatic skills by doing a handstand on a stool. He shows how he is not perfectly balanced on the stool, but constantly making adjustments while performing this feat. He uses the handstand to illustrate how "we're engaged in the art, the process, of balancing throughout our lives, which is making those adjustments, making decisions, making corrections over time… but balance is something we will never obtain."
Dan explains that no one "will ever achieve perfect balance," and that "the pursuit of balance has a negative impact on our lives." He encourages the audience to "live off balance on purpose." He says that it is necessary to be off balance "in order to learn, in order to grow, in order to love or serve others, or improve yourself in any meaningful way."
Dan Thurmon on Focus
Dan Thurmon: The Rhythm of Success
Dan Thurmon: 1000 Catches - Speaking Demo Video