* Please note that while this speaker's specific speaking fee falls within the range posted above (for Continental U.S. based events), fees are subject to change. For current fee information or international event fees (which are generally 50-75% more than U.S based event fees), please contact us.
Top25 Speaker Voting

Dan Pallotta needs 1 vote(s) to make it into the Top 25 speakers on Speaking.com!
Speaker Booking Tip
"Tip: speakers bureaus can provide: speaker fee negotiation, insurance, smooth logistics and value add-ons such as extra sessions. "
For Event Planners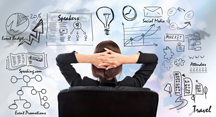 • Keynote Speaker Booking Toolkit.
• Booking a Celebrity Speaker.
• How to Find and Book the Right Speaker.
• Google+ Event Planning Forum.
• Tips for International Clients Booking U.S. Based Speakers.
Similar Speakers
Joseph Baladi

Many speakers claim to have worldwide experience, but Joseph Baladi really does know branding and business communication across the world, having worked from Melbourne to…

Jennifer Pahlka

Tech savvy Jennifer Pahlka is leading the campaign to upgrade the U.S. government. Her non-profit organization Code America uses technological innovation to make it easier…

Hans Rosling

Hans Rosling is the founder of the Gapminder Foundation, an organization that strives to make statistical data freely available and easily understandable online. He is…

Working with your speakers bureau has been a pleasure. Everyone on your team was extremely responsive and informative, and really helped us to customize our event. I will be sure to reach out to your agency again in the future with any speaker needs that I may have.
The Advisory Board Company
About SPEAKING.com
Established in 1994, we are exclusive agents for some of the world's leading experts, celebrities and professional speakers.
We offer event planners a fully staffed speaker logistics planning team, plus a personal SPEAKING.com Account Executive – a knowledgeable and trustworthy partner. We guarantee your satisfaction with your speaker and a smooth booking process.
Contact us today to book your favorite speaker.

"Hats off to Dan for a truly spectacular talk. It's really rare to see someone change the thinking of so many people in such a short period of time. Humor, vulnerability, perfectly-judged visuals, and laser-like logic combined to make one of the best talks we saw this year at TED 2013. I was in awe in the room, and even more in awe now, watching the massive public response to this one."
- Chris Anderson, Head of TED
"Best speaker we have had."
- Teri Hansen, President/CEO, Gulf Coast Community Foundation
"Star of the show. Everyone loved you."
- Former Congressman Steve Gunderson, President Council on Foundations
"Dan's message was incredibly well-received...he has a dynamic presentation style and content that resonates with anybody who understands the challenges facing those in the non-profit world."
- John Mallory, Managing Director, Goldman Sachs & Co.
"My team and I were inspired by his ability to articulate innovation in a poignant and personal way...His approach and presentation were thought-provoking...we were honored to have him..."
- Scott Seese, Chief Information Officer, eBay, inc.
"So powerful. I can't think of a better speaker or way to end the conference. I have told so many people about him and his speech in just 4 days. Thanks for lining him up!"
- Guenevere Morr, Bigger Game Expo Attendee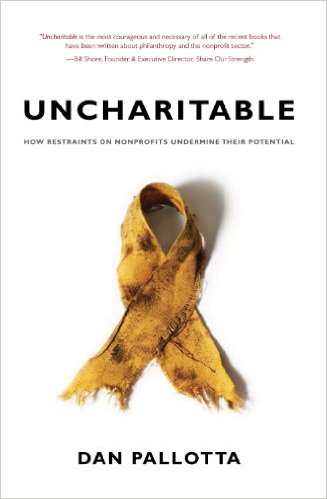 Uncharitable: How Restraints on Nonprofits Undermine Their Potential (Civil Society: Historical and Contemporary Perspectives)
Uncharitable
goes where no other book on the nonprofit sector has dared to tread. Where other texts suggest ways to optimize performance inside the existing paradigm, Uncharitable suggests that the paradigm itself is the problem and calls into question our fundamental canons about charity. Author Dan Pallotta argues that society's nonprofit ethic acts as a strict regulatory mechanism on the natural economic law. It creates an economic apartheid that denies the nonprofit sector critical tools and permissions that the for-profit sector is allowed to use without restraint (e.g., no risk-reward incentives, no profit, counterproductive limits on compensation, and moral objections to the use of donated dollars for anything other than program expenditures).
These double-standards place the nonprofit sector at extreme disadvantage to the for profit sector on every level. While the for profit sector is permitted to use all the tools of capitalism to advance the sale of consumer goods, the nonprofit sector is prohibited from using any of them to fight hunger or disease. Capitalism is blamed for creating the inequities in our society, but charity is prohibited from using the tools of capitalism to rectify them.
Ironically, this is all done in the name of charity, but it is a charity whose principal benefit flows to the for-profit sector and one that denies the nonprofit sector the tools and incentives that have built virtually everything of value in society. The very ethic we have cherished as the hallmark of our compassion is in fact what undermines it.
This irrational system, Pallotta explains, has its roots in 400-year-old Puritan ethics that banished self-interest from the realm of charity. The ideology is policed today by watchdog agencies and the use of "efficiency" measures, which Pallotta argues are flawed, unjust, and should be abandoned. By declaring our independence from these obsolete ideas, Pallotta theorizes, we can dramatically accelerate progress on the most urgent social issues of our time. Pallotta has written an important, provocative, timely, and accessible book—a manifesto about equal economic rights for charity. Its greatest contribution may be to awaken society to the fact that they were so unequal in the first place.

Uncharitable
This is Dan's flagship talk about how the way we think about charity is dead wrong. The talk has been delivered in 38 states and eight countries to wide acclaim and standing ovations. Based on Dan's book, Uncharitable, the best-selling title in the history of Tufts University Press. The Stanford Social Innovation Review said it, "deserves to become the nonprofit sector's new manifesto."

The Power of Purpose
A counter-cultural take on innovation. Great innovation doesn't come from the desire to win. It come out of a deep desire to contribute to the lives of others. Where most talks on innovation offer a list of tactics and how-tos, this talk comes at the subject from an inspiring contextual perspective. People don't leave with a new list, but with epiphanies, and a new understanding of what it really takes to innovate.

The Dream We Haven't Dared to Dream
Based on Dan's 2016 TED Talk on being. It's about dreaming as boldly in the dimension of our being and our emotional lives as we do in science and technology. A powerful talk with a universally inspiring message for corporate, nonprofit, and college audiences. It teaches us all to dream different.
All of Dan's talks are available to be delivered live via remote interactive video. It's the same powerful message, with better economy for smaller budgets. These presentations regularly get standing ovations. The talks transcend the distance and it's completely interactive, so your audience can ask questions and engage in conversation.
Dan Pallotta, Philanthropy Speaker: TED Talk
Marveling at the technological and scientific quantum leaps we've taken in recent decades, Dan Pallotta asks what would happen if we were to apply the same amount of curiosity, dedication, and passion to furthering our understanding of our own humanity. He invites people to create a world in which we nurture our present and share our dreams with others, rather than shutting them out because we're so fixated on our own agendas to create a better future.
Dan believes that by admitting our fears and dreams to one another we will be better able to tap into our compassion and connect with our humanity while actually increasing our probability of meeting our goals. "I think what we fear most is that we will be denied the opportunity to fulfill our true potential," he explains the neglect we often display for those around us. "That we are born to dream and we might die without ever having the chance."
Dan Pallotta, Philanthropy Speaker: Keynote, NYU
Dan Pallotta, Philanthropy Speaker: Keynote, "Scared to Death and Doing it Anyway"
Dan Pallotta, Philanthropy Speaker: TED Talk, "The Way We Think of Charity is Dead Wrong"