Top25 Speaker Voting

Dan Goods needs 12 vote(s) to make it into the Top 25 speakers on Speaking.com!
Speaker Booking Tip
"Tip: find a speaker in your local area to save on travel costs. Most speakers will also reduce their keynote fee for local events. "
For Event Planners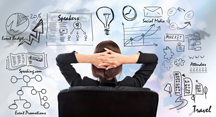 • Keynote Speaker Booking Toolkit.
• Booking a Celebrity Speaker.
• How to Find and Book the Right Speaker.
• Google+ Event Planning Forum.
• Tips for International Clients Booking U.S. Based Speakers.
Similar Speakers
AnnMarie Thomas

Dr. AnnMarie Thomas works (and plays) to empower, support, and inspire today's innovators, engineers, and inventors, as well as those of tomorrow. A seasoned maker,…

Lisa Seacat DeLuca

With 300 patents granted, Lisa Seacat Deluca is one of the most accomplished inventors in IBM history. The IBM engineer draws from her extensive field…

James Mapes

Author of the acclaimed book Quantum Leap Thinking, James Mapes is the authority on the psychology of applied imagination. Drawing from his unique background in…

Everyone at your speakers bureau was incredibly attentive and easy to work with; you have been a conference organizer's dream!
ABS Capital Partners
About SPEAKING.com
Established in 1994, we are exclusive agents for some of the world's leading experts, celebrities and professional speakers.
We offer event planners a fully staffed speaker logistics planning team, plus a personal SPEAKING.com Account Executive – a knowledgeable and trustworthy partner. We guarantee your satisfaction with your speaker and a smooth booking process.
Contact us today to book your favorite speaker.

"Dan Goods recently keynoted a COCAbiz premier event. Our audience is challenging because of its diversity, including corporate leaders from technology, finance and consumer goods as well as engineers, educators, and creatives from a wide variety of organizations. Business leaders are often skeptical about the value of talks by artists.
Dan's presentation was an absolute home run, reaching across disciplines and industries to fully engage our audience of over 400. We could have continued Q & A for another hour! COCAbiz received a large number of comments remarking on Dan's powerful story telling, especially the way he wove his personal story as an artist with the romance and science of space exploration. He brilliantly illuminated the challenges of creative work within any large organization.
The audience was moved and inspired by his authenticity, humor and memorable examples. He brought home the essential role of creative vision and a playful spirit in shaping the highest business, scientific and technical achievements of our time.
I would unreservedly recommend Dan Goods as a speaker for any group exploring the deep connection between art, technology and business."
Steve Knight
Director COCAbiz
"I flew Dan out to be the closing keynote for Australia's largest digital innovation event, and I have to say I've rarely seen anyone change an audience's state so quickly. His delivery, his passion, and his way of telling a story that engages and enthralls an audience are second to none. I've subsequently flown Dan out to speak at other events and have been equally impressed. I can't recommend him enough!"
Chris Edwards, Content & Program Director, ad:tech and iMedia
Australia / Thailand
"The thing that inspires every member of every audience to keep creating, keep growing, and keep pushing and innovating is awe and wonder. When wonder dies, so does everything else. Dan is one the best communicators in the world at inspiring audiences to keep that awe and wonder alive. I'd have a hard time thinking of someone more gifted and qualified to recommend for such a purpose. He totally crushed his talk at STORY Conference for a room full of cynical artists and creators and received rave reviews. Get him while you still can."
Harris III, Director of STORY Conference
Nashville, TN
"Dan Goods took the audience to another world, although our audience were from all over the Middle East and the world, Dan still made us feel we're in this world all together going on this journey to discover the universe with its limitless possibilities. We felt as one."
Ramy Alawssy, Director -ING Creatives
Dubai, UAE
You were an AWESOME speaker and truly inspired our students, teachers and principals! Thank you!!!
Vanessa Wilkins, Director, Nike School Innovation
Beaverton, OR
"When you started I wondered what your talk had to do with anything, by the end I realized that it had to do with everything."
Attendee at REMIX
New York, NY
Seeing the Unseen
There are many things in the universe that exist, but cannot be seen with human eyes. This applies to the physical world as well as it does to politics, your business or your personal future. These thoughts have made an impact on Dan Goods life and work. Dan will share his remarkable artwork that brings you closer to an invisible world you never knew, while at the same time sharing his personal story of creating a career that did not formerly exist. With humor and grace, Dan distills complex and weighty concepts into stories that can be universally understood. Through his presentation, you will see that sometimes new technology is needed to see the invisible, but sometimes you just need a new perspective.

Seeing the Unseen: Dan Goods at TEDxSMU
Dan engages the audience at a TEDx Talk at SMU explaining how you can interact every day with something beautiful, meaningful, and/or possibly profound. Dan talks about intellectual curiosity and how to turn those concepts and ideas into real life tangible things.
Dan graduated valedictorian from the graphic design program at Art Center College of Design and last year he was select as "One of the most interesting people in Los Angeles" by the LA Weekly.
He currently works as "Visual Strategist" at NASA's Jet Propulsion Laboratory, where he and his colleagues create works that help transform complex concepts into something that can be universally understood.
Keynote Speech
Keynote Speech
Keynote Speech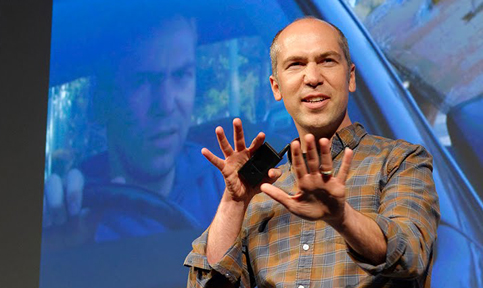 Named "One of the Most Interesting People in Los Angeles" by LA Weekly, innovation keynote speaker Dan Goods created his own dream position as "Visual Strategist" at NASA's Jet Propulsion Laboratory. Dan, along with his team of developers, creates works that help transform complex concepts into something that can be universally understood. Their work can ... more