* Please note that while this speaker's specific speaking fee falls within the range posted above (for Continental U.S. based events), fees are subject to change. For current fee information or international event fees (which are generally 50-75% more than U.S based event fees), please contact us.
Top25 Speaker Voting

Dan Coughlin needs 6 vote(s) to make it into the Top 25 speakers on Speaking.com!
Speaker Booking Tip
"Tip: find a speaker in your local area to save on travel costs. Most speakers will also reduce their keynote fee for local events. "
For Event Planners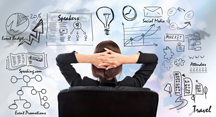 • Keynote Speaker Booking Toolkit.
• Booking a Celebrity Speaker.
• How to Find and Book the Right Speaker.
• Google+ Event Planning Forum.
• Tips for International Clients Booking U.S. Based Speakers.
Similar Speakers
David Avrin

Known across the globe as the "Visibility Coach," marketing professional David Avrin is highly sought-after as a speaker, author and executive coach. Audiences across North…

Matthew Luhn

With over 25 years of experience as a Pixar Storyteller, Matthew Luhn is a master at creating dynamic characters and compelling struggles that make audiences…

Roberto Carlos (RöC)

One of Latin America's most influential leaders in innovation, Roberto Carlos (RöC) is the creator of Factor WOW, a methodology that is revolutionizing the way…

My account executive was very professional as well as patient with us. The entire experience of working with your agency was cordial and professional, with attention to all the, sometimes complicated, important details.
U.S. Department of Agriculture
About SPEAKING.com
Established in 1994, we are exclusive agents for some of the world's leading experts, celebrities and professional speakers.
We offer event planners a fully staffed speaker logistics planning team, plus a personal SPEAKING.com Account Executive – a knowledgeable and trustworthy partner. We guarantee your satisfaction with your speaker and a smooth booking process.
Contact us today to book your favorite speaker.

For the past eleven years Dan Coughlin has emphasized the importance of business basics to management audiences at Toyota, McDonald's, Marriott, Abbott, Boeing, St. Louis Cardinals, Eli Lilly, Prudential Capital Group, Coca-Cola, YPO, Vistage, Shawnee Mission Medical Center, BMC Software, and more than 100 other organizations. Today more than ever Dan's message on business basics is critically important to the short-term and long term success of business managers and executives.
"Dan Coughlin is one of the favorite Boeing St Louis Leadership Association (BSLLA) guest speakers! He continues to motivate, educate, and inspire our Members in terms of Leadership as it applies to them in their daily roles. Our attendees at his recent workshop walked away with practical examples that they can apply right away since Dan makes things so relatable, whether you're a new-hire or have been with the company for a while. His knowledge regarding what makes leaders at all levels successful was shared thru his passionate real-world stories that kept our Members engaged and learning valuable insights!"
Arnie Troy, Vice-President, Boeing St. Louis Leadership Association
"Dan, on behalf of the Jack in the Box Franchisee Association and myself, we appreciate your full of energy and interactive presentation at our annual convention in Hawaii. I have seen and heard many keynote speakers, but your presentation and content were aligned with what we are facing in today's environment. We loved the fact that you actually worked in one of our Jack locations in order to prepare. You truly understood our culture and process. As a speaker, your back-to-basic and specific approaches to our daily challenges were perfect. You also shared many useful ideas on continuous improvement and reminded us all of the importance of collaborating in order to improve and sustain long-term business results. Our group walked away with a refreshed enthusiasm around how we can accelerate our impact as leaders."
Anil Yadav, President, National Jack in the Box Franchisee association
"Dear Dan, I wanted to take a moment and thank you for speaking with all of us at our Leadership Meeting in August. With our focus on improvement and innovation, your conversation on the leader's role was both timely and inspiring to the group. You shared techniques to help us, as leaders, fuel the efforts of our associates and be accountable for innovation success. Clearly you spent a lot of time prior to our event to get to know us and we appreciate your focused message as a result."
Tommy Holder, Chairman and CEO, Holder Construction
"We couldn't be more thrilled with our choice of Dan Coughlin for our annual conference. The professional snow management industry, while appearing simplistic to outsiders, is much more complicated than people realize. Our attendees, entrepreneurial business owners ranging from $1 million to $200 million in sales, expect a high-end business conference from us. Dan delivered! From his in-depth research of our industry, site visits, and interviews with our attendees, Dan came more than prepared to lead and educate. His presentations were built with industry knowledge and incorporated sound fundamental ideas to help 'accelerate' the growth of our attendees' businesses. I look forward to working with Dan again soon. He is a true professional."
Kevin Gilbride, Editor, Snow Magazine
"On behalf of Ronald McDonald House Charities, thank you for your participation in the 2011 RMHC International Conference 'Strength in Numbers'. Building the capacity of our local Chapters is a core function of the RMHC Global organization. A primary way that we do this is through our Educational Sessions. The mission of our educational program is to provide relevant, practical and needs-based programming to our network of worldwide organizations. As a speaker during this year's International Conference, you were a vital part to achieving this goal and we would like to thank you."
Donell M. Bullock, Manager, International Field Relations, Ronald McDonald House Charities, Inc.
"Thank you again for sharing your boundless energy and insights with our audience… your presentation not only lifted spirits, but also provided focus to deliver results in a very challenging market environment."
Jim Mallozzi, Chairman and CEO, Prudential Real Estate & Relocation Services
"Dan's presentation was a big hit! Folks are still talking about utilizing their strengths and bringing this culture into our organization. He definitely met and exceeded our expectations."
GE Capital (Event booked by Speaking.com)
"Dan Coughlin lives up to his promise of being an accelerator. He definitely puts the pedal to the floor when it comes to putting in the extra effort needed to exceed expectations and deliver a first-rate learning experience. This is extremely important to us as an organization. We value motivated individuals that can help inspire our already high performing associates to even greater levels of achievement. Dan cares about the people he works with and this shines through when he leads a team."
Mike Scully, Toyota Financial Services, National Manager—Insurance Products
"Dan, thank you for delivering a great message to our global sales and operations team last week. You had instant credibility as a result of the hard work you did in advance to understand our business. And, you gave our team advice that they can turn into action immediately after they return. I know this will help us achieve our goals for the second half of the year!"
Jeff Ray, CEO, SolidWorks Corporation
"Dan, your course 'Keys To World-Class Leadership' is the most powerful class I have taken in my 15 year hotel sales career! It has, without a doubt, been the tool that I utilize throughout each day in both my professional and personal life. The knowledge I gained through the highly interactive class has strengthened my communication skills and helped me achieve better results in my sales career with Marriott International. It's truly an inspiration and I recommend 'Keys To World-Class Leadership' to anyone wishing to be a successful leader."
Stephanie Quarnstrom, Marriott Lodging Sales, Director
"Knowledgeable. Thorough. Interested. Professional. Polished. That would be part of what Dan Coughlin would bring to the table. His presentation to our All Sales Meeting went very well. I would say our group is a tough crowd, especially at 8:00 in the morning. His presentation was such that the reps could relate to it."
Dan Flynn, IKON Office Solutions, Vice-President Of Marketing
Partial Client List:
GE Capital Leadership Conference
The Prudential Forum International Conference
Toyota Financial Services National Sales Conference
Abbott Laboratories Global Regulatory Conference
McDonald's National Leadership Council
Boeing St. Louis Leadership Association Annual Conference
Marriott International Sales & Marketing Western Region Conference
Denny's Franchisee Association International Conference
Kiewit Construction Leadership Conference
BMC Software International Sales Managers Conference
Jiffy Lube Association of Franchisees Annual Conference
SolidWorks International Sales Conference
Bodycote Global Sales Conference
Shawnee Mission Medical Center Board & Management Retreat
Trimble Partner International Conference
Jack in the Box International Conference
Parker Drilling International Conference
And many, many more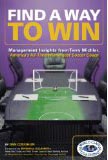 Find a Way to Win
Learn insights from the powerful simplicity of the Dutch Coaching Methods. Business consultant Dan Coughlin spent four months studying the coaching approaches of Terry Michler, America's all-time winningest soccer coach and a practitioner of the Dutch Coaching Methods. He wanted to uncover Michler's methods for creating extraordinary group performances year after year.
In 39 seasons, Terry Michler's CBC High School soccer team has won over 800 games, six state championships, and six state runner-up trophies. He has been named National Coach of the Year by the NSCAA. Terry Michler's coaching approaches are based in large part on the Dutch Coaching Methods, which he learned from his nine trips to Holland. Coughlin interviewed Terry Michler's former players, opposing coaches, assistant coach, mentors from Holland, and proteges to increase his understanding of Michler's proven approach to building championship teams. Coughlin then converted Terry Michler's ideas into management insights for improving group performances inside businesses.
Find a Way to Win is packed with winning strategies that have worked for Terry Michler in soccer and will serve as a compass for business managers who dream of building first-class businesses.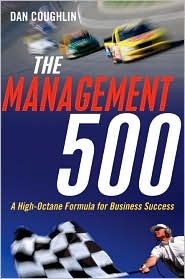 Management 500: A High-Octane Formula for Business Success
The world of auto racing is thrilling, energizing, and runs at break-neck speed. But it also requires incredible accuracy, shrewd strategy, and impeccable performance to ensure a win. These same qualities are essential for every manager who wants to build and sustain a profitable business.
The Management 500 provides practical management lessons drawn from the history of professional auto racing. With insights and stories from some of the most successful people in Formula 1, IndyCar Series, and NASCAR over the past 60 years including Lee White, President of Toyota Racing Development and Ed Laukes, head of Toyota Motorsports, consultant Dan Coughlin shows busy managers how they can rev up their skills in areas like leadership, teamwork, strategy, branding, problem-solving, change management and innovation, and get their company running in high gear.
From Enzo Ferrari to Kyle Busch, and from the Indianapolis 500 to the Daytona 500, this inspiring book takes invaluable tips from the fast, furious world of racing and shows how every business manager can combine passion with precision to compete and win in today's competitive business world.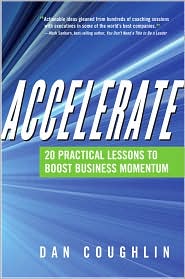 Accelerate: 20 Practical Lessons to Boost Business Momentum
Management consultant and author Dan Coughlin has provided over 1,500 executive coaching sessions, spent more than 3,000 hours on-site observing executives and managers and given over 500 presentations on business acceleration.
In Accelerate, Coughlin shares the secrets he's learned from a wide array of Fortune 500 corporate executives and top private companies in over 20 different industries, including AT&T, Boeing, Citigroup, Coca-Cola, Eli Lilly & Sons, Marriott, McDonald's, the St. Louis Cardinals, and Toyota, to help accelerate your career, your team and your organization to impact the ultimate shareholder—the consumer.
Accelerate is not filled with business theories and complicated concepts—it is filled with practical suggestions from real-world business situations. Packed with case studies and Acceleration Tips, Accelerate is a must-read for those managers who want to take their organization to the next level or simply want to breathe new life into their own career.
Committed to gaining a deep understanding of his customers and customizing his message.
Dan Coughlin feels that every keynote speech and seminar has to be built around an understanding of the customer's desired business outcomes. Once he clarifies those outcomes he then customizes his message through a combination of in-depth interviews with employees, on-site visits, being the customer and/or studying the organization's materials, website, and customers. His presentations focus on the role of a business leader in improving execution, innovation, and branding.
Accelerate Your Impact as a Business Leader
Can one person make a real difference in a business? In this highly interactive, high-impact session, Dan Coughlin explains why the answer is a resounding yes. Leadership is influencing how other people think so they make decisions that improve results. Coughlin explains practical ways to lead in any size organization. Based on his 3,000 hours of on-site observing and advising of executives in over forty industries and on the more than 2,100 Executive Coaching sessions he has provided, he debunks the traditional myths of leadership and shows how any employee can impact the way other people think and drive better sustainable business results.
Learning Objectives:
See the enormous impact of value and values.
Answer the 4 Critical Leadership Questions and how your answers can sustain high performance throughout your organization.
Understand ten ways to influence how other people think.
Realize the ten disastrous leadership approaches that ruin your impact as an influencer.
How to effectively give candid feedback to employees about poor performances and still maintain a strong working relationship with them.
How to leverage your strengths and passions as an individual to effectively create greater value for your organization and your customers.
How to maintain the genuine, daily, and purpose-driven enthusiasm necessary to guide a lasting impact in your organization.
Retain your ability to choose how to deal with major changes.
Answer the four questions in The Raise Your Performance Bar Process.
Every attendee will receive a copy of Dan Coughlin's Leadership Action Guide that will help him or her convert the ideas from this session into a personalized plan of immediate action upon returning to work.
Feed Your Brand Every Day
Your organization's brand is like a person. It needs to be fed intelligently every day in order to stay healthy for long-term success. In this session you will learn practical ways to feed your brand every day to differentiate your organization in the marketplace. A great brand is a magnet that attracts people to you who want to buy from your organization. When your brand is strong, it makes selling exponentially easier. When your brand is weak, it makes selling exponentially harder. Your brand is the value customers think they receive when buying from your organization or potential customers think they will receive if they do buy from your organization. Your brand is not what you want to be. It's what customers and potential customers believe you are right now.
Dan Coughlin, who has worked with executives at such great brands as Toyota, McDonald's, Marriott, GE, Coca-Cola, Subway, RE/MAX, Jack in the Box, Shell, Abbott Laboratories, and the St. Louis Cardinals, provides penetrating insights into the dos and don'ts of building the brand you want. He explains the importance of defining and owning a performance category that matters deeply to customers and will generate the financial outcomes your organization desires. He demonstrates how an obsession with undisciplined experimentation can ruin a brand and destroy the sustainable, profitable growth of an organization.
Learning Objectives:
Understand thirteen brand-feeding approaches you can use today. (Just don't try to use all of them each day.)
Establish how to differentiate your organization by answering the question, "Why us?"
Use The Wagon Wheel Approach that guides every spoke in your business into a central hub of value for your customers.
Realize the long-term financial strength in sustained, value-added relationships.
Clearly define what your brand is and what it is not.
See how long it takes to build a brand and why a sustained, consistent effort is critical to success.
Leverage a brand audit to strengthen decision-making throughout your organization.
Value the importance of staying true to what got your organization to where it is today and understand why good business leaders are good historians.
Every attendee will receive a copy of Dan Coughlin's Branding Action Guide that will help him or her convert the ideas from this session into a personalized plan of immediate action upon returning to work.
Build Teamwork that Works to Win
Many business groups are not teams. They're a collection of silos. Teamwork happens when individuals support one another toward achieving meaningful objectives. This requires focused collaborative effort and open, honest, and respectful communication over the long term. At the heart of debilitating communication is a lack of respect for other members of the group.
Dan Coughlin has worked closely with business teams in more than forty industries and interviewed more than 800 people to understand what they feel makes their organization effective and ineffective. He has seen the disciplined, selfless attitude necessary to win consistently in a constantly changing marketplace as well as the multiple issues and drama that bubble up from self-centered behaviors that ruin business performances.
Learning Objectives:
Determine a cause that resonates more than individual rewards.
Establish who is going to do what when and why that is going to happen.
Understand how effective collaboration can become the highest form of business acceleration.
Use the ten approaches of effective communication that build stronger working relationships.
Avoid the ten approaches of ineffective communication that ruin working relationships.
Clarify your communication needs and meet the communication needs of your team members.
Know you are unlikely to change at your core, and know it is impossible for you to change anyone else.
Be aware of and accept your strengths and passions and the strengths and passions of other people.
Don't resent differences in other people, leverage them.
Every attendee will receive a copy of Dan Coughlin's Teamwork Action Guide that will help him or her convert the ideas from this session into a personalized plan of immediate action upon returning to work.
Innovate to Generate Sustainable, Profitable Growth
A business innovation is the creation of more appropriate value for customers that they will pay for at a profitable margin to the organization. It has to be both: more appropriate value than the customer already has and a profit-generator for your business. One without the other is insufficient. Companies that avoid continuous innovation put themselves at risk of becoming extinct.
Dan Coughlin demystifies the process of innovation, and makes it simple, clear, and practical. He explains how successful business innovators boldly walk away from a lot of good ideas so they can focus on a few great ideas. He explains the importance of prototyping to save time and money. If you want your organization to propel itself beyond today's performance level to generate sustainable, profitable growth, this is a must-attend session.
Learning Objectives:
Understand the Five Myths of Innovation and why innovation is a necessary daily activity.
Know the four steps in The Process of Innovation and how the creation of value is based on carefully studying your desired customers.
See how to search for hot spots of too much value or too little value for your customers in current products and services. A hot spot is the starting point of a new innovation.
Leverage conversations, observations, experiences, and connections to improve performance.
Realize the power of iterating and eliminating existing products and services.
Learn how to master the four phases in The Cycle of Innovation that produce a steady flow of profit-generating ideas for sustained excellence.
Learn how to find the profit-generating gap between a customer's expectations and desires.
Learn to schedule thinking and non-thinking time and how they drive innovations month after month.
Learn how sacrifice accelerates innovation and why "N" and "O" are the most important letters in i-n-n-o-v-a-t-i-o-n.
Learn how to find organizations that have matching definitions with yours and how they provide a steady stream of ideas for improving your performance.
Learn to study Centers of Excellence and how to extract useful ideas from them for your organization.
Every attendee will receive a copy of Dan Coughlin's Innovation Action Guide that will help him or her convert the ideas from this session into a personalized plan of immediate action upon returning to work.
Dan Coughlin′s Keynote Demo Video
Dan explains that the greatest challenge that businesses face today isn't how to achieve success, but rather how to "sustain success" in the long run.
"We all know of people, individuals, groups, and organizations, who have achieved amazing success just in the turn of the century back in 2000," he remarks. "However many times these people have achieved incredible results only to fall back down."
Dan Coughlin: Answer the Four Critical Leadership Questions
Dan illustrates how delivering values to a customer is key to sustaining success in an organization. He gives an example of this, telling how he went to Nordstrom with his then three-year-old son Ben to get four or five pairs of shoes polished by their shoeshine salesman Johnny. "I paid Johnny for the shoes and I leaned over to pick up the bag of shoes and Johnny said, 'Can I help you?'" Dan recalls. "I thought that Johnny was going to put the bag of shoes under my arm so that I could hold Ben's hand and we could walk out to the car together. Instead Johnny picked up the bag of shoes, he left the shoe area at Nordstrom's completely unattended, he walked through Nordstrom's, he walked through the parking lot, and he put the bag of shoes in the trunk of my car for me so that I could put all of my focus and all of my attention on Ben."
Touched by the experience, three weeks later, Dan returned to Nordstrom's to talk with the manager. "I said 'Where do you find all these friendly people?' And she said, 'Oh it's our interview process.' I said, 'Well, what do you ask?' She said, 'Well one of the questions on our interview questionnaire is: 'Are you a compulsive smiler?' And if the person doesn't break into a smile right away, we probably don't hire them.'"
Dan Coughlin: See the Equity in Value
Dan Coughlin: Every Sale is a Value—And a Values-Based Experience
Dan Coughlin: Sacrifice to Accelerate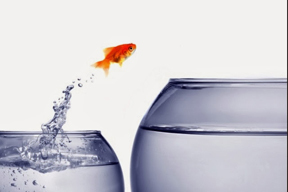 Recently I completed a wonderful three-year experience of being an assistant coach for a boys club soccer team. The players went from being 10-year-old boys to 13-year-old young men who were extremely hard-working, supportive of one another, and respectful to themselves, their teammates, their parents, and their coaches. In so many ways, they were an ... more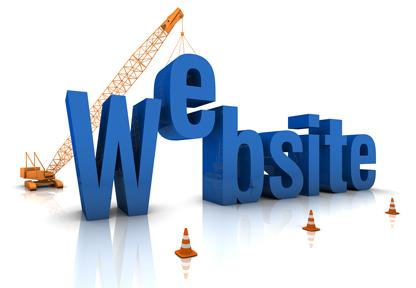 If your website is the first thing your potential customers see, then study it carefully. Does it clearly explain what business you're in and how you add value to customers? Is it clear what you sell and why those products and services are of value to other people? Is it clear how a person can ... more