* Please note that while this speaker's specific speaking fee falls within the range posted above (for Continental U.S. based events), fees are subject to change. For current fee information or international event fees (which are generally 50-75% more than U.S based event fees), please contact us.
Top25 Speaker Voting

Dan Clark needs 8 vote(s) to make it into the Top 25 speakers on Speaking.com!
Speaker Booking Tip
"Tip: find a speaker in your local area to save on travel costs. Most speakers will also reduce their keynote fee for local events. "
For Event Planners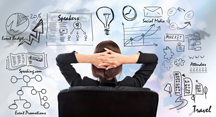 • Keynote Speaker Booking Toolkit.
• Booking a Celebrity Speaker.
• How to Find and Book the Right Speaker.
• Google+ Event Planning Forum.
• Tips for International Clients Booking U.S. Based Speakers.
Similar Speakers
Freddie Ravel

Freddie Ravel is a Grammy-nominated composer, pianist, educator and visionary business leader. He began performing worldwide with Brazilian master, Sergio Mendes, when he was 23…

Alexandra Cousteau

Alexandra Cousteau carries the name made famous by the work of her grandfather and father with honor and pride. She not only films the underwater…

Jean Houston

Since the 1960's, Dr. Jean Houston has been an influential figure in spirituality, human potential, and social activism. A long-time consultant to the United Nations,…

My account executive was very professional as well as patient with us. The entire experience of working with your agency was cordial and professional, with attention to all the, sometimes complicated, important details.
U.S. Department of Agriculture
About SPEAKING.com
Established in 1994, we are exclusive agents for some of the world's leading experts, celebrities and professional speakers.
We offer event planners a fully staffed speaker logistics planning team, plus a personal SPEAKING.com Account Executive – a knowledgeable and trustworthy partner. We guarantee your satisfaction with your speaker and a smooth booking process.
Contact us today to book your favorite speaker.

"I would like to let you know that the event with Dan yesterday went terrific! Dan is a wonderful guy and made a good impression on the audience. I have the feeling that he enjoyed it too."
KPMG Advisors A.E.
(Event booked by Speakers Platform)
"Dan Clark is THE primary contributing author to our New York Times Best Selling series, ′Chicken Soup for the Soul′ and author of his own ′Little Souls--Best Night Out With Dad.′ Dan is bigger than life, one of the greatest story tellers in the workd and one of our most popular and beloved authors. His stories are powerful, unforgettable, motivational masterpieces!"
-- Mark Victor Hansen & Jack Canfield
Creators of Chicken Soup for the Soul
"My good friend, Dan Clark, is one of the truly outstanding speakers in our country. Dan has a lot of good information and delivers it in an inspirational and humorous manner. He speaks from his head and heart to your head and heart. Most importantly, Dan Clark is a man of integrity. I had him speak to my company. I encourage you to invite him to speak to your group. You′ll be glad that you did."
Zig Ziglar
World Renowned Motivational Teacher
"As an event planner for 15 years, I have hired over 150 of the biggest names in professional speaking. Dan Clark stands out among them. Dan is so prepared he will customize his message to meet your newest needs - even the day of his speech; so flexible he will easily deal with any sudden on-site changes in time and staging; so full of life and incredible experiences he will captivate your crowd. Dan Clark is clearly one of the TOP TEN SPEAKERS IN THE WORLD!"
Les Hewitt
Achievers Canada, & Co-founder Achievers Europe
"...he′s an international speaker, Achievers North America and Achievers Canada named Dan one of the top ten speakers in the world. He′s a New York Times Best Selling Author, adventurer, athlete. He′s funny, he′s inspirational, he′s Dan Clark! You′ll love him!"
Larry King
CNN
Financial
G.E. Capital (3X)
Alex Sheshunoff Management (10X)
National Mortgage Brokers Association
National Independent Bankers Association
California Mortgage Bankers Association (3X)
Republic Mortgage Insurance Company (20X)
Texas Bankers Association
Missouri Bankers Association
Bank Holding Company Association
Utah Bankers Association
Nations Bank (16X)
Bank of Nova Scotia (Canada)
Montreal Trust Bank (Canada)
First Security Bank (Utah)
Ozark Mountain Bank ( Missouri)
Sequoia National Bank (Maryland/Virginia/D.C.)
Centier Bank
Spirit Bank (Oklahoma)
Union Savings Bank
Capital Corp of the West (California)
Bankstar One (Missouri)
Bank Directors Magazine
Fleet Mortgage
Inland Mortgage
Freedom Mortgage
Crossland Mortgage
Firstplus Financial
Healthcare / Insurance
Orthopedic Nurses Association National Convention
Columbia Health Care
Intermountain Health Care (4X-National Convention)
Kansas Orthopedic Nurses Association
South Dakota Health Care (2X)
Idaho Health Care Association
Lincare, Inc.
Texas Hospital Association
Utah Hospital Association
Wyoming Hospital Association
Milliman and Robertson Consulting
LIMAC -Life Insurance Managers Association of Canada
Prudential Insurance Presidents Club
Utica National Insurance Group (7X)
Central Insurance Agencies of New York (15X)
Security National Life Insurance Co.
Utah Life Underwriters Association (2X)
Illinois, Missouri and Wisconsin Mutual Insurance Agents
Missouri Association of Insurance Agents
National Rehabilitation Association
Alabama Rehabilitation Association
MARC Center (Arizona-2X)
Sportscare, Inc.
Technology / Communication
IBM
SCT
3M
Motorola (International)
NCR (National)
AT&T
Lucent Technologies (8X) (International & Regional)
IXC Telecommunications
Sprint (3X)
U.S. West Communications (2X - National)
Computer Language Research, Inc.
LINK Corporation
PSI - Engineering (3X)
Software Solutions (2X)
Sales
Boeing
Mobil Oil
Shell Oil
Nordstrom (3X)
Video Software Dealers Association
Ingram Entertainment - Books and Videos
International Association of Shopping Center Developers
Footlocker (8X)
Kinney Shoes (7X)
Jostens
Easton
Fairway Foods
First American Title (3X)
Title West
Texas Automobile Dealers Association
The Service Group
Montana / Idaho / Wyoming Automobile Dealers
Utah Auto Mall Dealers/Reps
Houston Automobile Dealers Association
Edmonton (Canada) Motor Dealers Association
Edmonton Journal (Canada)
Montana / Idaho / Wyoming Association of Realtors
Texas Association of Realtors
Nutrition For Life
Education
High School Athletic Directors (National)
100′s of Colleges and Universities (International)
National School Board Association
School Board Associations: California, Missouri, New York, Texas, Alabama, Idaho, Utah, Nevada, Indiana
ASBO- International School Business Officials (Int′l Convention and 25 state Conventions)
National Elementary School Principals Assoc. Leadership Conf.
National High School Activities Assoc. (National)
100′s of School Administrator, Teacher In-Service and Coaches Clinics
Calgary (Canada) Teachers Assoc. (2X)
American Association of Educational Service Agencies (National)
American School Counselors Association (3X National, 6 state)
AVA- American Vocational Association (National, 4 state)
Many State PTA Conventions
All of the National Student Vocational Leadership Conferences
International Key Club (3X)
National Junior Achievement Conference
National 4-H Congress (7X)
International Hugh O′Brien Convention (3X)
Special Interests
United States Olympic Team Members
Professional and NCAA Athletic Teams
Madison Square Garden Entertainment, Inc.
Miss USA Beauty Pageant Contestants
Dallas Cowboys Cheerleader Retreats
Kentucky Derby VIP′s
NCAA "Final Four" VIP′s
Alcatraz Federal Prison Employees and Guests
U.S. Jaycees National Convention
American Legion National Convention
Kiwanis International, Alberta Provincial Kiwanis and International Key Club Convention (3X)
Rotary International
Boy Scouts of America
Make-A-Wish Foundation
Boys and Girls Clubs of America
California Youth Authority
Utah Youth Village
Fellowship of Christian Athletes
U.S. Army Installation Commanders (worldwide conference)
U.S. Army BOSS (3X)
Rock Island Arsenal
United Nations Leadership Training (6X, 5 countries in Asia and Russia)
Forgotten Fundamentals: The Answers are in the Box
For decades we have heard corporate trainers tell us, Think outside the lines, you′ve got to think outside the box. What if the answers are still in the box?

Most attend meetings and read books in search of new answers, when what we should be looking for are right answers. Too many suffer from the paralysis of analysis, over-thinking the simple until it is complicated.

You Will Discover:

Some things are true whether you believe them or not.
Everybody is entitled to their opinion, but nobody is entitled to the wrong facts.
Change from the outside-in is reactive and creates pressure.
Change from the inside-out is proactive and creates power.
We must stretch before we strengthen and all the strengthening occurs in the area past the point of discomfort.
Potential is never exceeded, only misjudged.
Competitive advantage comes not from doing more than the competition is doing, but from doing what they are not willing to do.


Order Here





Most Popular Programs:
MOTIVATION
Living A High Performance Life - The Answers Are In The Box!
Living A High Performance Life (Part Two) - The Answers Are STILL In The Box!
CHANGE
No Matter What Your Past Has Been You Have A Spotless Future!
TEAM BUILDING
Are You Willing To Win?
SALES
High Performance Productivity
LEADERSHIP
Wealth Flows Through You, Not To You
CUSTOMER SERVICE
Creating Wows!
CRISIS MANAGEMENT
Don′t Waste A Good Recession: The Six Secrets To Crisis Management
AUTHENTICITY / EMOTIONAL QUOTIENT / DIVERSITY
You′ll Make A Lousy Somebody Else
EDUCATOR IN-SERVICE
(Positive Discipline/ Classroom Management)
Teaching Is The Profession That Makes All Other Professions Possible!
STORY POWER / STORY SELLING
Once Upon A Time...
Devotional Address at Brigham Young University
Dan Clark shares that we should not rely on outward factors to mold our identity and goals; rather, we need to look inside ourselves to become more of whom we already are. He illustrates this with his hilarious tale of his anticipated flight of an F16 jet and the required training he had to undertake. He recalls the attitude of the air force officials at the flight center:
"When I showed up they all looked at me like 'You ain't getting a ride unless you go through five hours of training just like everybody else does.' And they made it clear that Chuck Norris didn't pass the training and they didn't let him fly...And now I've got this custom-made flight suit with the steel-toed boots and the helmet and the gloves and the harness and the safety vest. Eighty pounds of equipment and now they take me to the aquatic center where I have to swim two laps of an Olympic-sized swimming pool in full combat gear. I almost drowned fifteen times."
Dan goes on to describe his experience finally flying, the sense of awe that stuck with him afterwards, and the conversation he had with his pilot, Bill Kutz "Kooter." "'Kooter, how did we fly this magnificent F16?' [I asked.] He says 'You become the plane.' I said, 'What do you mean?' He said, 'Dan, when you climbed up that ladder and slid into the F16, did you strap into the F16 or did you strap the F16 onto you?'"
Motivational Keynote Speech