* Please note that while this speaker's specific speaking fee falls within the range posted above (for Continental U.S. based events), fees are subject to change. For current fee information or international event fees (which are generally 50-75% more than U.S based event fees), please contact us.
Top25 Speaker Voting

Craig Karges needs 9 vote(s) to make it into the Top 25 speakers on Speaking.com!
Speaker Booking Tip
"Tip: speakers bureaus provide added value that you cannot get by booking speakers directly. "
For Event Planners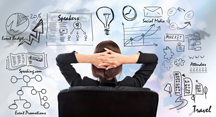 • Keynote Speaker Booking Toolkit.
• Booking a Celebrity Speaker.
• How to Find and Book the Right Speaker.
• Google+ Event Planning Forum.
• Tips for International Clients Booking U.S. Based Speakers.
Similar Speakers
Greg Bennick

Having recently returned from a humanitarian aid trip to Haiti, Greg Bennick practices what he preaches about teamwork, leadership and creative solutions. On that trip,…

Marilyn King

Former Olympian Marilyn King is an extraordinary speaker, providing business leaders and educators with the tools and skills they need to dig deep–and reach for…

Jeff Tobe

Jeff Tobe is a Certified Speaking Professional with a background as an award-winning sales and marketing entrepreneur. He is the author of the popular book,…

Everyone at your speakers bureau was incredibly attentive and easy to work with; you have been a conference organizer's dream!
ABS Capital Partners
About SPEAKING.com
Established in 1994, we are exclusive agents for some of the world's leading experts, celebrities and professional speakers.
We offer event planners a fully staffed speaker logistics planning team, plus a personal SPEAKING.com Account Executive – a knowledgeable and trustworthy partner. We guarantee your satisfaction with your speaker and a smooth booking process.
Contact us today to book your favorite speaker.

What a spell-binding performance you made at our annual conference in Atlanta earlier this month! Your presentation of "explore the extraordinary" actively engaged our members and more than lived up to our high expectations. It was the perfect close to our event and left everyone wondering ′how did he do that?′

Our spontaneous standing ovation when you ended the program said it all - truly an extraordinary demonstration that captured and held everyone′s full attention and stretched their minds for nearly an hour, and after a large dinner!"
Office Furniture Dealers Alliance
(Event booked by Speakers Platform)

"Craig was phenomenal! Our group was absolutely astonished by his presentation, so suffice it to say that we really are completely satisfied. He is also a very nice guy and a personable entertainer with which everyone felt comfortable. We couldn′t be more pleased. Thank you so much."
American Office Products Distributors, Inc.
(Event booked by Speakers Platform)

"WOW!...Fantastic!...Mindblowing! These are but a few comments heard following your program that kicked off our National Conference. We always begin our conference with a winner and you certainly are that. An even bigger benefit to us was your workshop presentations the following day that received great comments as well."
Douglas Shaw, VP Planning
National Management Association

"Your presentation as our keynote speaker and subsequent Intuitive Edge management workshops has left me with a BIG PROBLEM! What do I do next year to top Craig Karges??? Adding the Intuitive Edge workshop to complement your presentation was well worth it. While I got many compliments on your keynote, I think attendees enjoyed the smaller group workshops even more. Everyone loved your sessions, and I did too since they set a very positive and exciting tone for the remainder of the conference."
Robert "Sandy" Parker, VP
EPL Customer Sales and Marketing

"What a show! Your presentation was tremendous! It was an energetic performance which left each of us saying WOW! I would be happy to speak to anyone who is looking for a highly charged speaker. Especially if they are looking for a speaker who delivers a great message in an outrageous presentation."
Dan Fagan,
Training Manager Ames Tools

"WOW! Thank you for an outstanding performance. Having planned scores of meetings and conventions for the insurance industry, I can tell you that sending them home amazed, amused and even empowered is not easy. And you managed to do all three for our six hundred guests."
John Carson,
Director of Administration Independent Insurance Agents of Georgia

"Mesmerized. Spellbound. Captivated. These describe our top customers′ reactions to your presentation. Thank you for creating such a positive impact with our group. You could feel the energy in the room - it was electric!"
Nancy Larson, Manager, Marketing Communications
Firestone Building Products Company

" You were absolutely phenomenal!"
Deb Barton, Recognition Consultant
US West Communications
Ignite Your Intuition
Extraordinist Craig Karges is known to millions of television viewers for his remarkable demonstrations of extraordinary phenomena on The Tonight Show with Jay Leno, Larry King Live, and many other TV shows. He presented his one-man touring show "Experience the Extraordinary" at performing arts centers, universities and corporate events in over 150 cities worldwide in 1998.

Readers will learn how to use their intuition to solve problems, make decisions, come up with creative ideas, forecast their future, and even learn how to be in the right place at the right time. Karges reveals to readers proven techniques to program the subconscious mind for success including visualization, affirmations, and goal setting. They will learn how to use their subconscious to achieve personal goals and become the individuals they truly want to be.

Karges also delves deeper into the power of the subconscious disclosing how to use dreams to solve problems and gain powerful insights about life. He reveals how it may be possible to know the unknown - how to exploit your natural psychic abilities. Readers will learn how to recognize these powers, develop them, and use them in daily life. Karges includes exercises, games, and stunts that help readers test and enhance subconscious skills, while amazing their friends at the same time.
Order Here





About Craig′s Popular Programs:
Discover what thousands of meeting planners within corporate America have experienced with extraordinary results by making Craig Karges a part of your next event.
Craig has traveled globally for fifteen years delivering his extraordinary presentations to corporations and associations.
Craig energizes, entertains and motivates his audiences. He combines intuition, psychology and illusion with amazing facts about our potential as human beings. His use of audience participation guarantees that you don′t just watch this presentation, you experience it!
Craig is not just an entertainer and he is much more than a speaker. He was named as one of the top five variety entertainers in the country by Performance Magazine. He is a Certified Speaking Professional as designated by the National Speakers Association. His television credits include The Tonight Show with Jay Leno and Larry King Live as well as appearances on CNN Headline News, CNBC, Lifetime Television, The Nashville Network, E! Entertainment Television and United Paramount Network.
Craig will be the most talked about presenter that you will ever engage. He can incorporate a company′s product or sales message, include a strong motivational content or just provide you with the most entertaining and unique program you will ever see! And the Craig Karges experience can be heightened by arranging for Craig to present "The Intuitive Edge" workshop in conjunction with his primary program.
Craig Karges creates a first class presentation that not only thoroughly entertains but challenges the mind and leaves people talking. Call today to experience the extraordinary!
Which events would you like to turn from ordinary into extraordinary?
keynote presentations
general sessions
spouse programs
luncheons
closing night galas
incentive meetings
sales meetings
awards programs
client meetings
Experience the Extraordinary!
Craig Karges combines the art of magic with the science of psychology and the power of intuition to create the impression that nothing is impossible. Tables float, minds are read, metal bends and your imagination is challenged because you won't believe your eyes!
Using total audience participation, Karges dazzles the mind as he challenges you to question what is real and what is unreal. You don't just watch this presentation, you experience it! He baffles, mystifies and thoroughly entertains the audience and then, at the end of the presentation, when he has them in the palm of his hand, he delivers a powerful message concerning the potential of the human mind. "Experience the Extraordinary" is business theatre and motivational entertainment at its best!
Ignite Your Intuition
In a shift of focus from entertainment to empowerment, Craig Karges created "Ignite Your Intuition." This one-of-a-kind presentation does more than simply amaze and entertain. Participants learn memory techniques; their intuition is tested; and they are taught how to tap into their subconscious minds to enhance creativity and decision making.
"Ignite Your Intuition" is a hands-on, interactive session that awakens participants to the possibility of reaching their full potential while experiencing greater personal power and achieving success more easily.

Demo Video
We invite you to "Experience the Extraordinary" with Craig Karges. In this demo video, you can witness some of the amazing, imagination-challenging feats Craig performs. You will see tables float, books topple, and minds being read.
Craig gives four audience members a chance to describe a car. They have to pick the model (a Mini Cooper), the color (Kelly green), create a license plate (NY1983), and come up with a cost. The young woman that comes up with the cost of $37,851.27 changes a number at the last minute, from 30 to 37. Still, when a sealed envelope is taken from Craig's wallet and the contents of a pre-written note are read, every detail is correct—including the $37,851.27 on the dot.
Blindfolded, Craig still manages to astonish audiences as he correctly guesses the objects in front of him, down to the name and state of issue on a driver's license.
Second Demo Reel