Top25 Speaker Voting

Corey Blake needs 12 vote(s) to make it into the Top 25 speakers on Speaking.com!
Speaker Booking Tip
"Tip: speakers bureaus provide added value that you cannot get by booking speakers directly. "
For Event Planners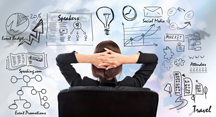 • Keynote Speaker Booking Toolkit.
• Booking a Celebrity Speaker.
• How to Find and Book the Right Speaker.
• Google+ Event Planning Forum.
• Tips for International Clients Booking U.S. Based Speakers.
Similar Speakers
Marjorie Brody

Marjorie Brody has gained a reputation as one of the best speakers for professional development in the USA. Her clients from the Fortune 100 and…

Jack Sims

"It′s not how much you want, but how much you want it!" – Jack Sims Jack Sims – Founder and CEO of America′s largest marketing…

Ira Blumenthal

A visionary business development expert, Ira Blumenthal has been invited to open for speakers like President George H. W. Bush, General Colin Powell, Bob Dole,…

I just wanted to send a quick follow-up note to say – THANK YOU! I appreciate your partnership, and perseverance in helping us to find the right speaker for our group. Our speaker was absolutely excellent! The group loved him; it was perfect.
DeVry Education Group
About SPEAKING.com
Established in 1994, we are exclusive agents for some of the world's leading experts, celebrities and professional speakers.
We offer event planners a fully staffed speaker logistics planning team, plus a personal SPEAKING.com Account Executive – a knowledgeable and trustworthy partner. We guarantee your satisfaction with your speaker and a smooth booking process.
Contact us today to book your favorite speaker.

"Thanks again for showing up so enthusiastically and wholeheartedly and for delivering so much value. We Love you!"
—Julie Van Amerongen
Director of Programs and Events, Conscious Capitalism
"We got great reviews on the night, and Corey's presentation specifically."
—John Tota, President, Edulence
Learning Chair, EO New York
"I am still hearing from colleagues how amazing you are. Makes my heart swell..."
—Kristie M. Williams, M.A., LPC
Career Services Supervisor, Cuyahoga County Public Library
"You are profound. You are immense. You are loved, admired, and appreciated by those that you touch. You changed my life today and I hope you know how important the work that you're doing is and how much you inspire those around you."
—MEGHAN FRENCH DUNBAR
Co-Founder Conscious Company Magazine
"Corey Blake's breakout session rocked! It was rich with great content; highly creative, experiential and hugely entertaining: and it was practical and applicable to business. I can't say enough good things about it—and we received such great feedback from everyone who was in there. Huge thanks to Corey for adding more awesomeness to our event."
—Michelle James
CEO, The Center for Creative Emergence Producer, Creativity in Business Conference
"Corey personifies the qualities of enthusiasm, dedication, hard work and commitment–and did I mention enthusiasm?"
—Shelley Ginsburg
Director of Marketing and Public Relations, Make-A-Wish Foundation of Greater Los Angeles
"I hope I can find the words at some point to appropriately articulate how grateful I am for you and this amazing gift you have given Savage. THANK YOU!!!!!!!
—Catherine Harris
Director of account services, brand strategist, Savage Brands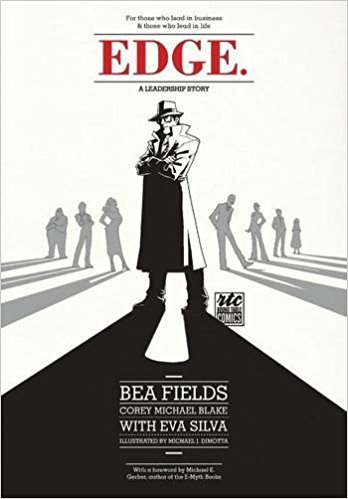 EDGE! A Leadership Story
Edge the Comic
cuts right to the heart of a leader's challenges. When Global Trade Management Corporation's shining star, CEO Mitchell James, begins to lose his luster, key members of the executive team head for the door. With a not-so-subtle nudge from the company's Board Chairman, Mitch reluctantly accepts the help of executive coach Kate Nelson. The diminutive dynamo strikes at the core of Mitch's obstacles and navigates him through a step-by-step process to lead more dynamically. Faced with a crisis, his leadership rebirth is put to the test. Can he regain his "Edge" and become the leader his company needs?
Vulnerability is Sexy

Business is built on relationships. We've all heard the mantra. Yet most of us in life have only a handful of people we feel close with, and then a long list of acquaintances—often including folks we do business with.
But what would our work, our time, and our relationships—both inside and outside of the business—look like if we trusted, respected, and admired everyone in our stakeholder model to the degree that we trust, respect, and admire those we are closest to?
Vulnerability is Sexy explores how communicating differently can help us more quickly achieve the kind of success we're after.
Learning Objectives:
• Recognize that typical company language is likely creating confusion around your brand.
• Consider an approach to attract your tribe while repelling those who would waste your time and energy.
• Understand where you default on the vulnerability ladder.
• Experience the value and impact of extending intimacy in business.
• Raise your awareness around vulnerability as a business development strategy.
Corey Blake, Leadership Speaker: TEDxSalisbury
Round Table Companies CEO, Corey Blake explores what makes or breaks our ability to connect with the rest of the world, and how sharing our weaknesses can lead to powerful relationships and results. "We want to be seen by the world as we are seen by the eyes of the ones who love us most," Blake points out.
He takes this idea a step further, demonstrating how "the dating process" can be applied to building professional relationships. Guiding us up a metaphorical ladder, he highlights that we typically enter relationships projecting what we think the other person needs to see to like us. In the case of personal relationships, we usually progress further up the ladder, eventually revealing stories about ourselves that do not show us in the best light, yet may resonate with an experience the other person has had.
Offering a highly personal example from his own past, Blake abruptly shifts the atmosphere of the room. "When I lean into vulnerability, I give you two options. One of them might be, 'Corey I did not like that story...I don't want to be in a relationship with you,'" he says. "And then there's the other reaction, which might be, 'Corey, thank you for allowing us to see you as a human being. In hearing your story I actually see a piece of myself, and maybe I've hurt some people that I've really loved through a mistake I've made in the past, and maybe some of that shame...that I've been carrying for a long time dissipated a little."
Returning to his initial idea that we want to be seen by the world as we're seen by those who love us the most, he asks why then do we keep most of our relationships at the bottom rungs of the ladder instead of advancing to the top rungs "where so much is possible."
Corey Blake, Leadership Speaker: Keynote, Creating Connections
Corey Blake, Leadership Speaker: Vulnerability is Sexy Trailer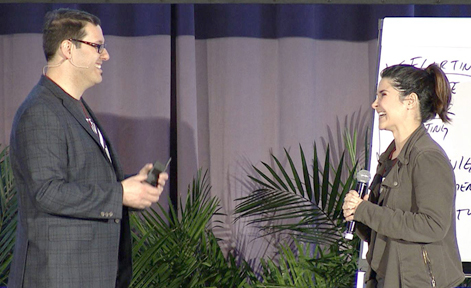 With over two decades of experience as a master communicator in Hollywood and the fine arts, leadership speaker Corey Blake's talent for creatively and emotionally connecting with audiences is unrivaled. As the CEO of Round Table Companies, the veteran storyteller helps senior executives, entrepreneurs, and companies reach customers' hearts and minds by letting their humanity ... more